Greetings! Thank you for visiting our blog. My name is Alexander Skibinskiy and I'm the owner of ALLDGT – a digital marketing and web development agency. I have also been in the retail and online jewelry business since I was 16 years old. Businesses development, jewelry, and digital marketing are my passions. Below you will find a short case study, plus further pieces of advice aiming to improve your jewelry business significantly. If you don't understand something, please use the comment section. I or someone from my team will answer with more exemplifications.
Let's get started.
It's a story about taking a dying retail jewelry business to a new level. Using only three digital marketing strategies we succeeded in boosting said retail jewelry brand. We helped it grow stronger with e-commerce. Now online store outperforms retail. However, we made retail and online realms work harmoniously well and bring better results together.
We have managed to create a loyal customer base which is still expanding. I call them jewelry hunters. They are continually seeking out unique estate jewelry pieces we sell. With a range from 50EUR up to 35.000EUR, below are a few examples of newly arrived pieces, so you can understand what type of jewelry we sell. For many years no one seemed willing to purchase them at the retail shop until we exposed them to the precisely targeted audience who visit the e-commerce store.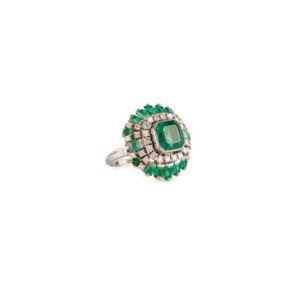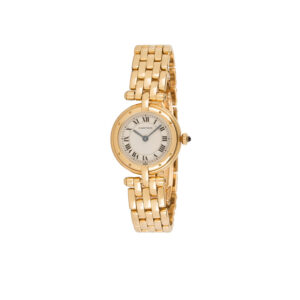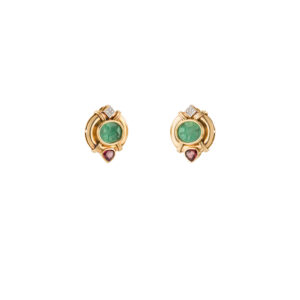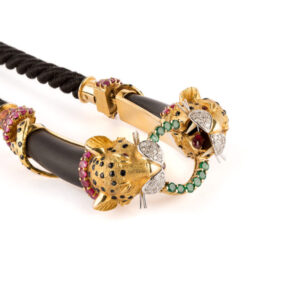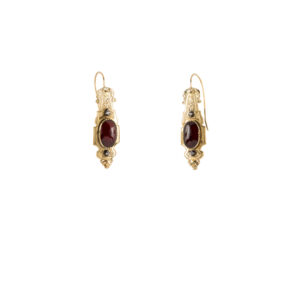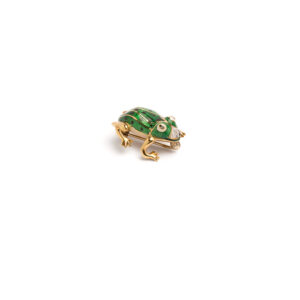 Luxury Jewelry Marketing Strategy We Are Using
Firstly, we developed the e-commerce store and upload over 200+ products. Having enough inventory to promote, we started directly with two advertising channels. Facebook and Instagram. We tested out over 38 advertising campaigns. Further, we established and optimized 4 of them by interest, age, and placement. Four campaigns that drive us better ROAS. Those 4 Facebook and Instagram jewelry marketing campaigns form a marketing FUNNEL: Awareness-Consideration-Conversion-Loyalty-Advocacy.
*** ROI: Return on Investment. If you invest 1$ and get 10$ in return it's 1000% ROI.
*** ROAS: Return on Advertising Spend.  The same principle.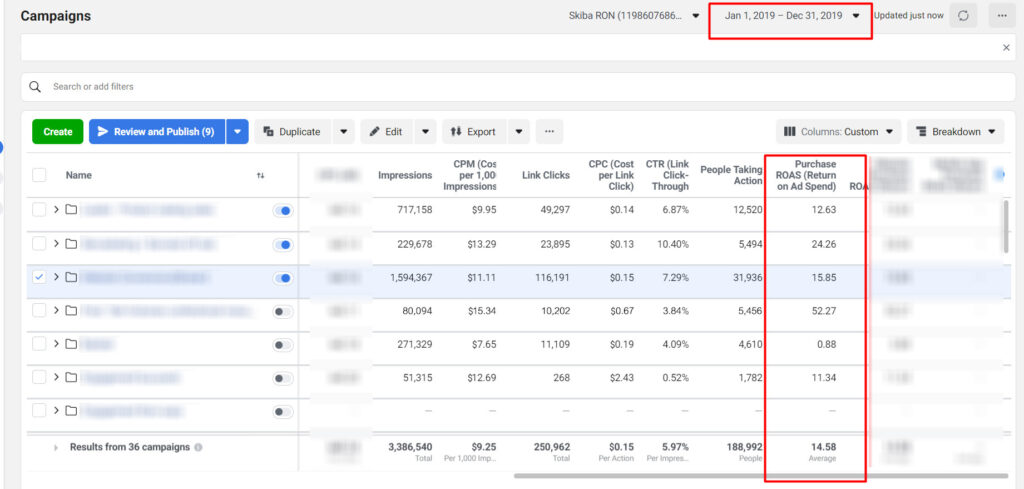 Secondly, we created a Content Marketing strategy in combination with search engine optimization (SEO). In a nutshell, driving traffic from Google for different types of keywords aimed to target the desired customer. For examples, people who are searching for: Gold Earrings, Diamond Earrings, Citrine Earrings, Art Deco Earrings, and so on. At this moment we have 500 keywords; each keyword is an idea for a blog post.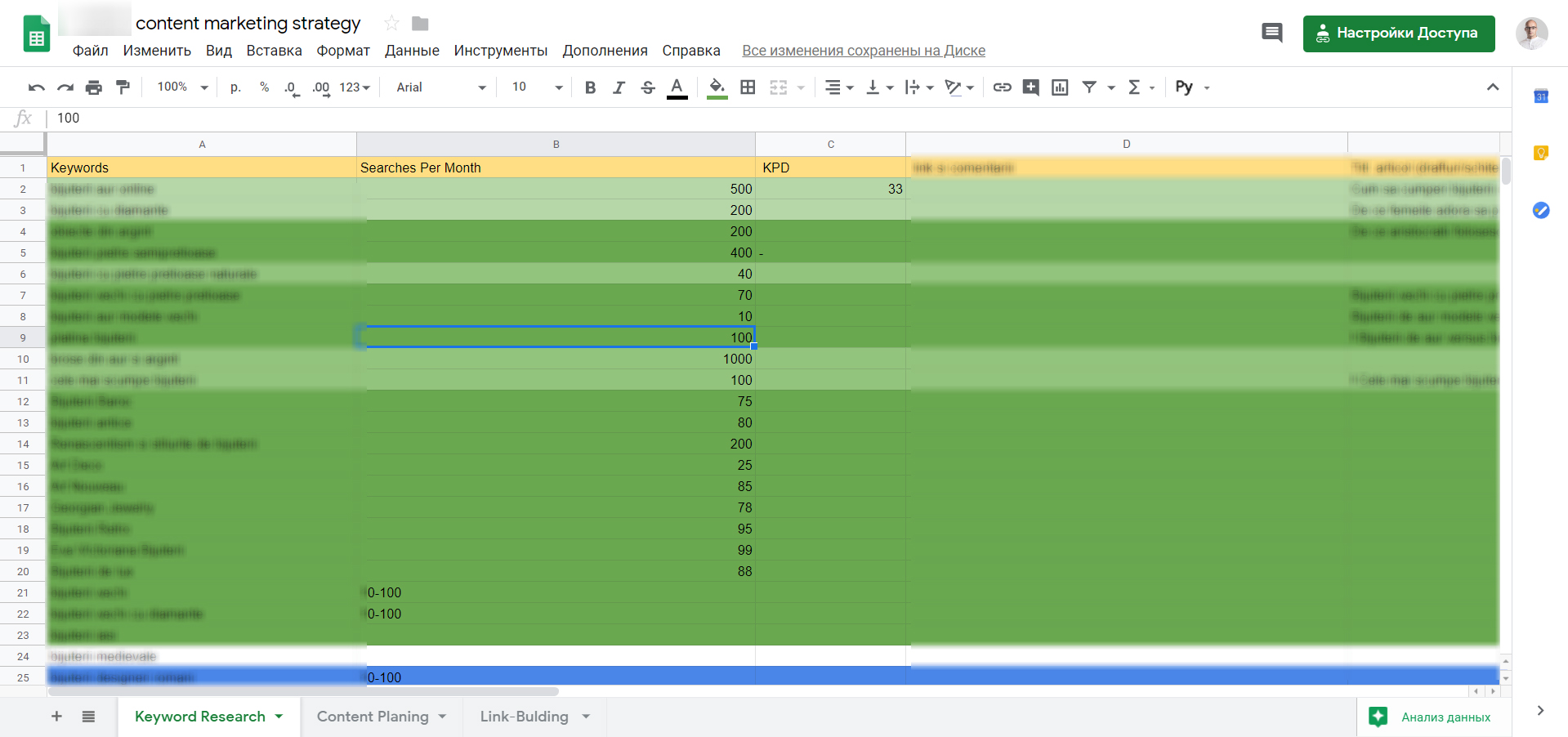 We have created almost 100/500 blog posts; totaling 25% of our content marketing strategy.
How does it help? It helps to target a customer with a higher intent to buy, which is a must for every business.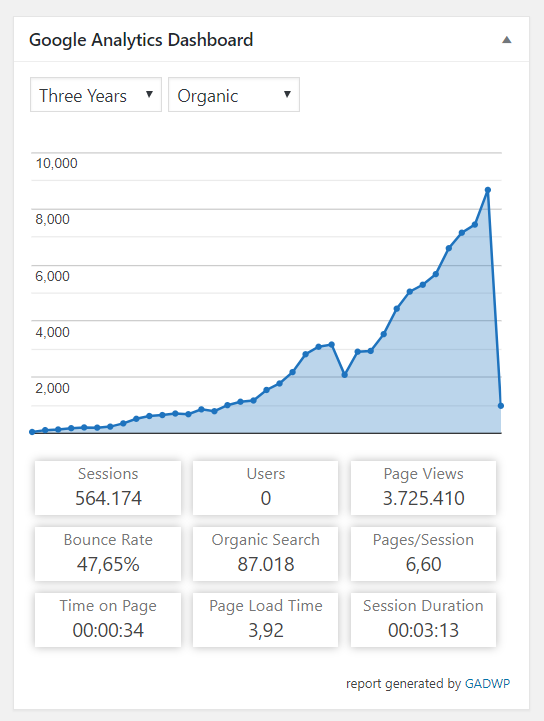 From the illustration above, you can observe an impressive growth from 0 to 8000 unique monthly users from Google search alone. We have finished just 25% of our content strategy, and I plan to triple these stats in the coming year, in fact, I expect 25-30K monthly organic visitors. For a country with 11.000.000 internet users, this would be an excellent result!
These two strategies support each other — Facebook with Instagram and content marketing.
Those users who are arriving from Google see remarketing advertising on Facebook. Remarketing – remember that, as we will talk about it later. Those who are coming from Facebook are helping to rank our content on the first page of Google.
You may already know that Google has over 200+ ranking factors. Bearing that in mind, people who arrive at the website from Facebook are reading and sharing the content.
So, How Does This Help?
It gives ranking algorithms a signal that the website is good to be on the first page for any topic :).
Google loves it when people spend their time reading, looking through jewelry, and visiting and sharing your pages on social media.
Google also loves when someone types the exact brand name into their search engine – this is a large ranking factor, and Facebook Advertising can help significantly with that. After seeing your advertising on Facebook, people will naturally use Google search to find out more about your brand.
Google considers this and gives you more authority. Having more authority from Google is an advantage to beat your competitors easily and taking place on the first google page for the desired keyword. Of course, you need to a compelling content people will read and share, content that humans love, not robots.
More than that, if you are using google wisely, for every search mentioned on your website, you can quickly drive the customer to your retails stores. Google considers each keyword as a mention, and showing your place to your potential customer like this: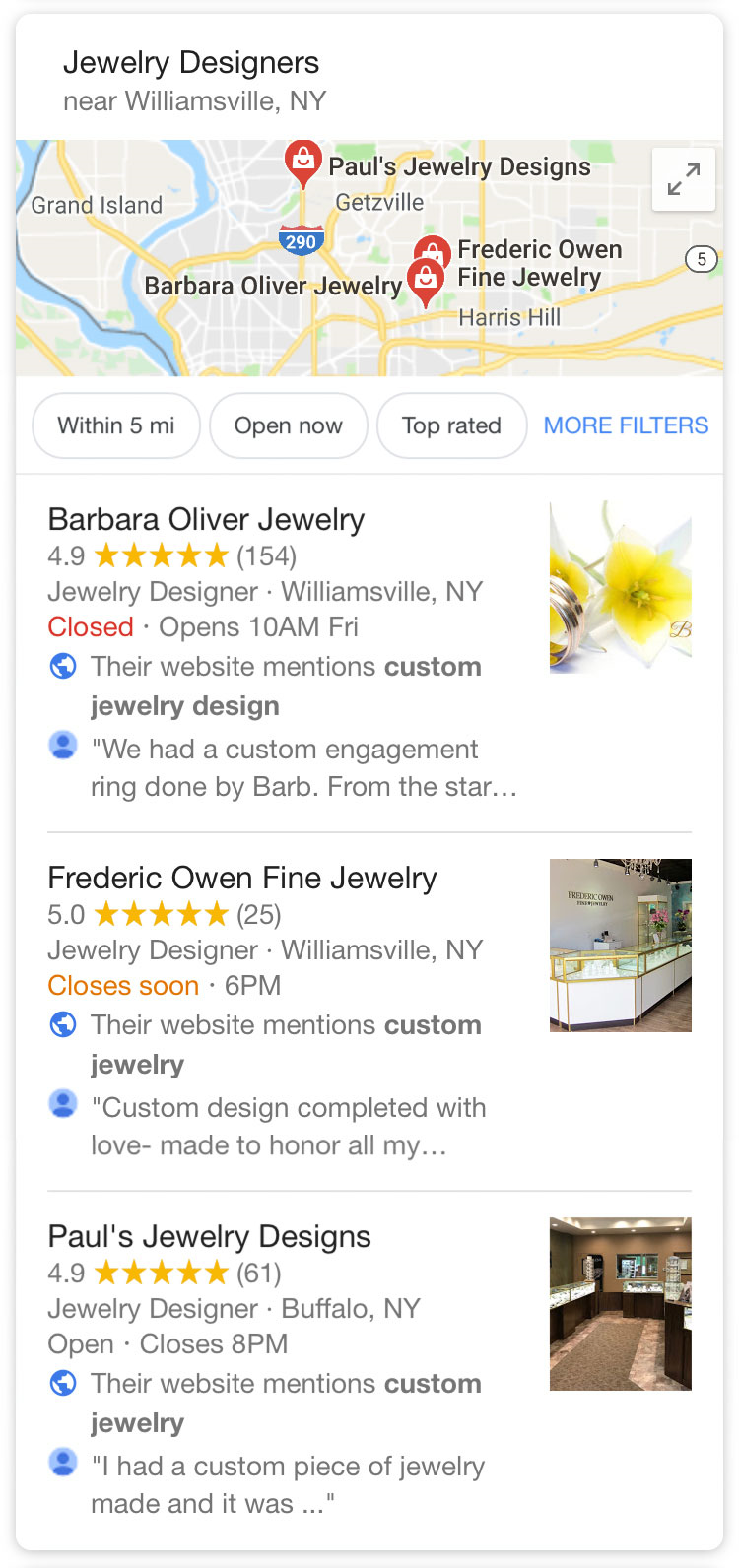 Having an effective content strategy has helped us tremendously to increase both our retail and online jewelry sales. If Facebook and Instagram bring us an average 1000% ROI, the other 500% comes from content strategy.
Up to know, we have discussed three strategies that help each other:
1. Facebook and Instagram Ads
2. Content Marketing
3. Google Local Business Mentions
Now, let's talk about the audience you need to target, mistakes to avoid when investing in jewelry marketing, CRO/AOV optimization, and strategies and channels to use when scaling a jewelry brand.
Audiences to Target for Your Jewelry Marketing Campaigns. 
In our particular case, we were targeting the same audience that frequented our retail store, that is, the audience likely to buy gold jewelry and jewelry with precious stones:
Doctors: A ROI-winning audience. They give us the best ROI, considering just how many of them are in our loyal client base and lifetime customer value (LCV).
Lawyers.
Business Owners.
University Professors.
Artists, and
People that are interested in other jewelry brands, like this: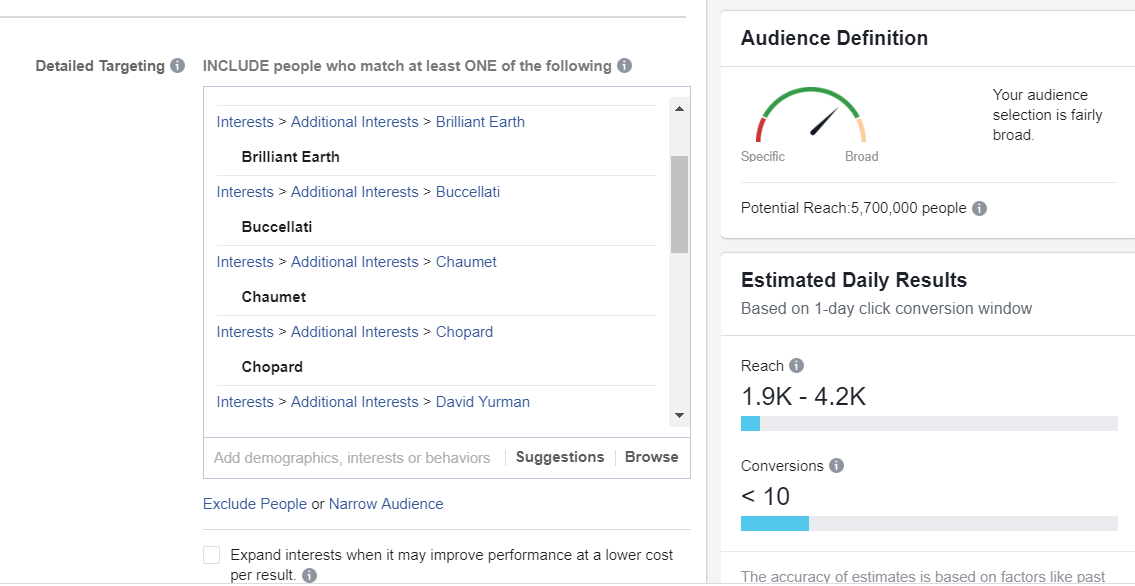 Every advertising channel has its own way of targeting – Google, for example, gives you many different possibilities, one which I will outline for you. You can create an audience based on people's searches, covering everyone who typed words in Google such as: Diamond earring, Gold Ring, Cartier, and so on. So, bearing that in mind, now you can use a simple jewelry marketing funnel:
1. Show a video ad on YouTube to people from a "custom audience."
2. Extract those people who watched 50% of the video and remarket to them with banners everywhere.
3. Remarket those who visited the website but had not made a purchase with Google Dynamic Ads.
Do remarketing until they buy something from you.
Yes, that how it works. A prospect needs 7-10 interaction with a brand to make a decision, a purchase. It's for low-cost jewelry. Hundreds of interactions for the luxury jewelry segment that are 1000+. Here comes remarketing.
60% of Sales Come From Remarketing 
If you have substantial traffic to your website and you are not using remarketing. You are just leaving 40%-60% of your revenue on the table. If you are making, for instance, 100.000$ in revenue with your online store and you don't use remarketing it means that you don't like to get additional 40.000 or 60.000 in revenue.
100.000 without Remarketing, 160.000$ with Remarketing. Which one is better?
Remarketing everywhere. As Mr. Putin said, "we will find them everywhere" and make them buy. (Joke)
A few years ago any good marketer was able to achieve profitability without remarketing. These days, many brands are surviving and making a profit with remarketing. Without it, they are at the break-even point or worst. Of course, will you be at the break-even point or better than that, depends on your Jewelry designs, CRO and AOV and Email Marketing We will talk about it soon.
Return on Advertising Spend Depends on Designs, Prices, and Use of Jewelry Sales Promotion in Your Marketing and Product Pages
The guarantee of your ROI is your jewelry designs. You can hire the GURU of jewelry marketing, if your jewelry designs are usual, standard, don't expect to get a higher return on investment, loyal customer, or brand advocacy.
A good jewelry design needs to have an average ROAS of 300% from your marketing efforts. Everything above 400% is winning! So, yes, Facebook and Instagram are also useful instruments when you wish to validate your jewelry line/designs. 
The primary role of a marketer is to help you to find these designs and optimize your return on investment. Sometimes, we need to tell the truth: I can't help you sell your jewelry, but maybe you need to consider focus more on producing/finding new designs.
Advertising-winning designs guarantee a better return on investment. Jewelry is an incredibly competitive niche and pushing bog-standard designs will only cause stress to jewelry owners and marketers alike.
Mistakes Business Owners Make When Doing Digital Marketing for Jewelry
Starting a marketing campaign without setting a reasonable budget you can comfortably maintain. Consistency. Dream big but be prepared for a long run of testing and optimization. Producing, finding and advertising more jewelry designs that bring better ROI — trying different advertising channels as well.
Giving up on marketing too early.
Misunderstanding the principle of growing a brand before making a profit.
Investing in marketing without measuring and optimizing the results.
Not optimizing your ads and store for better conversion rates (CRO) and better AOV (Average ORDER VALUE)
Conversion rate optimization (CRO) and (AOV) Optimization Before Scaling A Jewelry Brand.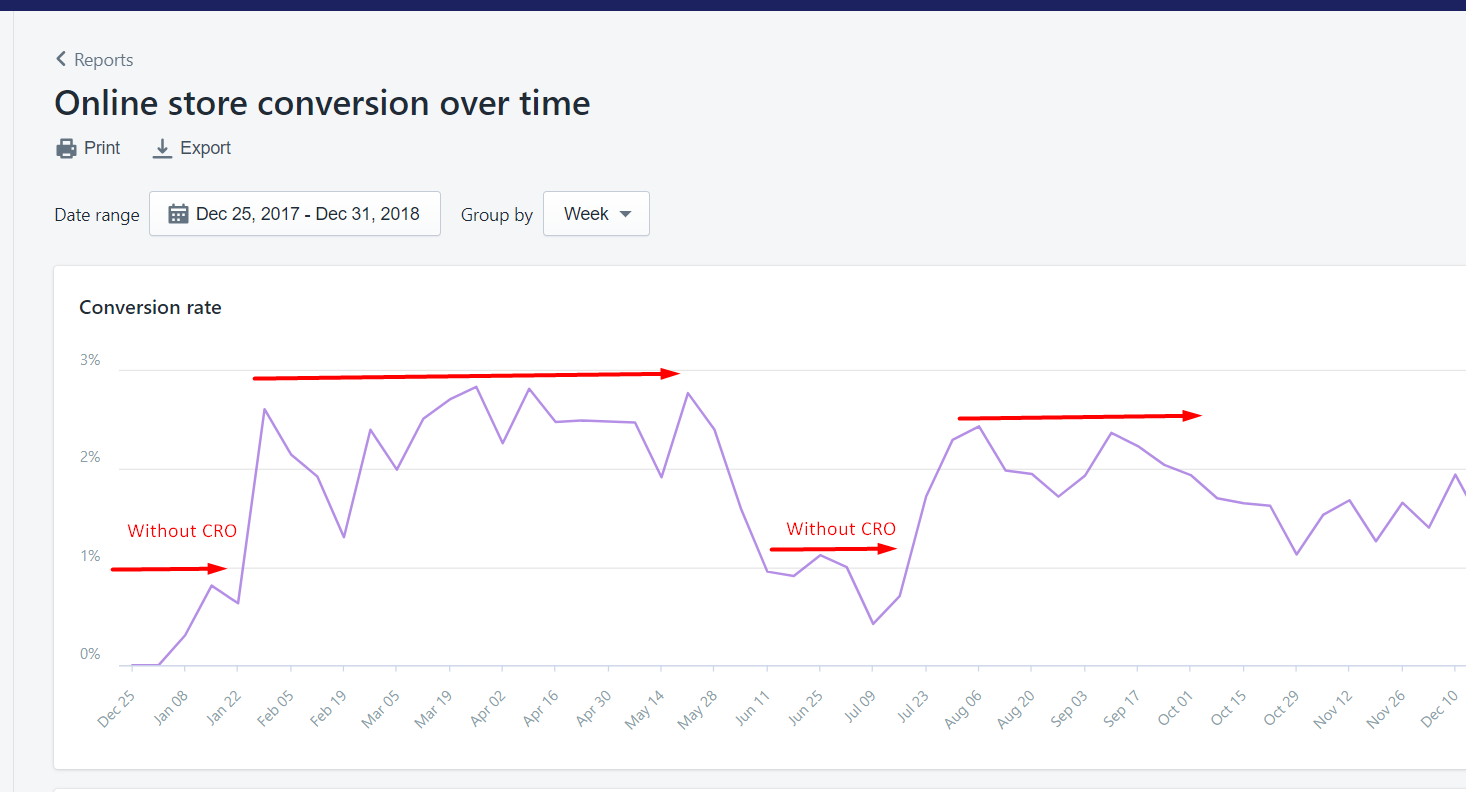 CRO is an art, the psychology of persuading people to buy. There are hundreds of technics, courses, and books.
How does this help? Imagine you are selling a jewelry piece with a 1% conversion rate, as in one customer out of every 100 is making a purchase. This means the CR is 1%.
Let's imagine the next situation. Your store operates at a 1% conversion rate, and you earn 100.000$ in revenue that year. After conversion rate optimization, your store operates at a 2% conversion rate.
Which one is better, to operate at 1% and having 100.000$ in revenue or having 2% and 200.000 in revenue with the same marketing budget?
Everything needs to be optimized and tested for better conversion rates. Your description, your photos, your videos, your advertising campaigns – everything! Even your average order value (AOV) and email marketing need to be optimized.
The (AOV) is additional technique that on average helps to increase your revenue by another 10-20%! Amazon using this optimization managed to increase their average order value by 20% 🙂 

Upsell On a Product page.
Upsell On a Cart Page.
Upsell after Purchase.
Email marketing is simply about building a customer base and creating a different type of email flow, smart flows with specific rules, and this also means email marketing automation. This is a very powerful instrument that guarantees 20% additional revenue.

Your CRO, AOV + Email Marketing must be on point to maximize the ROI. It's a must before scaling your jewelry brand. When you are investing a significant amount of money in advertising your ROI is going down. It's normal.
Up to now, we have covered:
Remarketing: Helps to increase revenue by 40-60%.
CRO: Can double your revenue with the same marketing budget.
AOV: Help to increase revenue by 10-20%.
EMAIL MARKETING: Helps to increase revenue by 20%.
Scaling, Investing, and Creating more jewelry marketing campaigns and sales channels.
As a scaling Jewelry Marketing Strategies, I recommend using,
1. Youtube Ads.
2. Marketplace Distributions.
3. Google Shopping.
4. Google Network.
5. Google Search.
6. Bing Search.
7. Pinterest Ads.
8. Linkedin Ads.
Give it a try, especially for luxury jewelry. Expensive for prospecting, but you can retarget with Google Ads or Facebook both of which are cheaper.
9. Twitter Ads.
10. Influence Marketing.
11. Email Marketing.
12. Strategic Partnership Marketing.
13. Native Advertising.
14. Messenger Bots.
15. Snapchat Ads
16. Affiliate Marketing
And any other channels offering you the possibility to target your desired audience and, most importantly, to measure the ROAS.
When you have managed to successfully use these channels for your jewelry store nationally. Start international scaling – transferring the strategies that bring your better ROAS to other countries.
I'm currently writing a book about advertising channels for jewelry, so, stay with me, and I will share it with you.
And that's it. Thank you for reading!
If you like the information you've read, I kindly ask you to share this article with your network on Facebook and LinkedIn.
Also, I highly to recommend to read the following articles:
45 Skills Jewellery Marketing Expert or Director Must Have
Jewellery Marketing Budget How Much to Invest and What to Expect
Jewellery Website Design Examples Every Store Must Model
Looking for a perfect jewelry marketing company or expert?
I highly recommend contacting us, you will not find someone better when it comes to jewelry marketing.
Image source: Le'ador