If you have an online jewelry business, this article is for you. The idea of having an SEO friendly and well-structured title/product description – is to ease your level of discoverability in search engine results. And the person searching could be your next customer. But have you done it right?
Your product description must voice out detailed information regarding all of your items. Each must contain well-researched keywords and text describing its aesthetic features, evoking emotions from potential buyers. Your description must be clear and concise with the intention to flame their level of desire towards the jewelry piece in question.
In this blog, we will go over some fundamental rules regarding how to write jewelry product descriptions and what mistakes to avoid, the difference between emotional description and rational description, as well as show you how big brands write SEO-powered titles to boost their sales!

Emotional Description: How to properly attract your potential online jewelry buyers
Emotional description implies using words that will incite the shopper to go head over heels for your jewelry.
Skip boring repetitive words such as beautiful, lovely, or gorgeous. Instead, go for words such as lavish, splendid, chic, alluring, graceful, sparkling, fashion-forward, or majestic – just to name a few – to voice out vivid descriptions of the item and tickle the emotions of buyers. By choosing correct adjectives, your buyers will literally fall in love with the product.
You can see in the example below, a demonstration of emotional description for a necklace:
Rational Description: What is it and its use in jewelry portrayal
Rational also means "logical", and in the jewelry world, consumers who possess rational buying motives are concerned with the product price, overall quality, usefulness, sturdiness, and safety.
Customers who are targeted by rational jewelry descriptions will be presented with text depicting a more "straightforward" and minimalist approach to the product. It will highlight more of the physical attributes surroundings the materials used in crafting the piece itself.
Rational jewelry product description would look like this: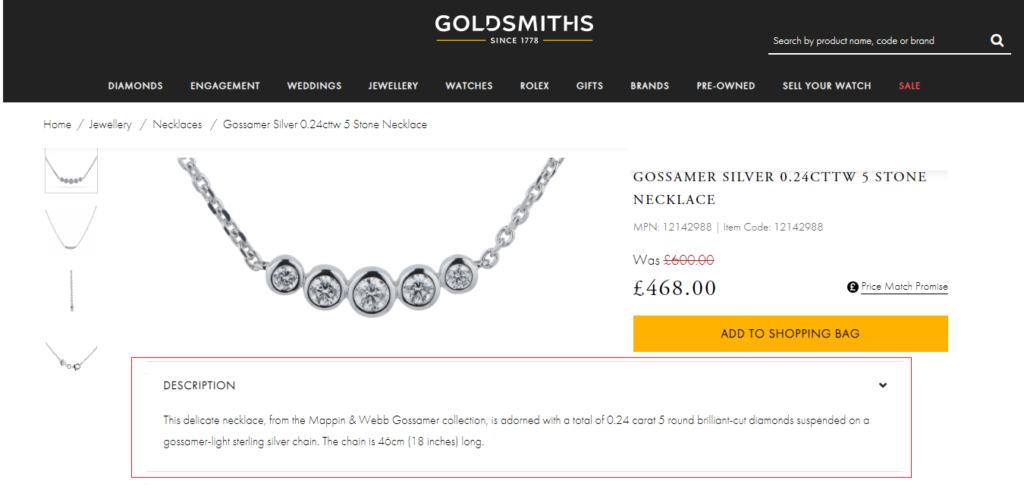 How to combine emotional and rational description
So what is the difference between emotion and reason? One works thru connotative language, a wording structure that sparks the reader to experience emotion. A feeling of belonging is sensed by your potential customer, and that is what makes them say "Gosh, I want this".
Now that you understand emotional vs. rational, you need to write product descriptions that'll combine both in order to satisfy consumers' emotional and material desires.
See an example below of how to properly combine these two together: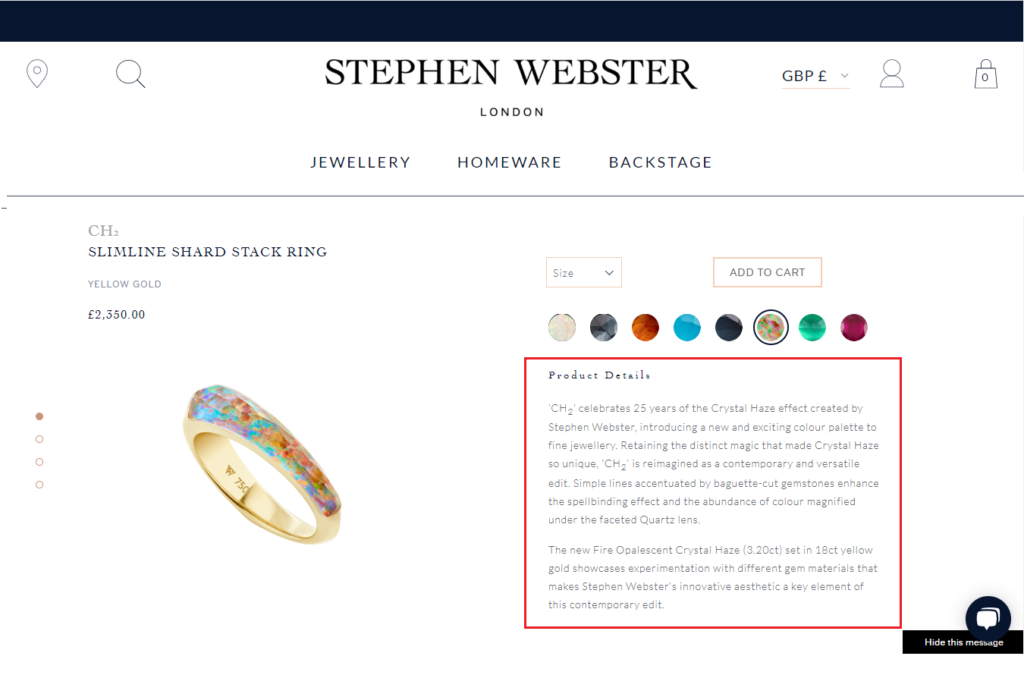 Fine jewelry description standards/rules
Taking into account the emotional and high-priced character of jewelry (for the most part), a pictorial style of writing is necessary. One that plainly illustrates its physical characteristics while bringing out the aesthetic side of your jewelry item as well.
The #1 rule in writing fine jewelry product descriptions is being precise and clear-cut when choosing words.
For instance, the size must be mentioned in millimeters. Answering any possible questions shoppers may have will be tremendously helpful in their decision-making stage while protecting you from after-sale headaches such as buying a jewelry piece improperly described.
The choice of fonts is important also because you want to make sure it is easily readable. I have covered this topic in an article I have written for this web-design and development magazine.
When uploading the images of your jewelry items to your site, you must aim to write accurate jewelry product descriptions and cater descriptive words correctly – Your greatest ambition here is to answer all possible questions your potential buyers may have while reading your product description and lead them to click on 'Buy Now' with true confidence.
Top 10 tips for better product descriptions in jewelry
Describe the item's visual appearance in detail
Provide fashion advice with clothing
Give mix-and-match tips with other accessories
Keep the word count between 40 and 100
Specify the type of metal, gemstone used and purity scale
Use easy-to-read fonts
Is it handmade?
Can it be engraved with a message or initials?
Mention if it's part of a collection
Always use words to uplift the buyer's motivation
Lastly, make sure to have a dedicated area called "specifications", where you can state more details such as type of recipient (for her, for him), the type metal used, type of gemstone, diameter, thickness, chain length, stone-setting method, pendant size, information about the 4C's (Carat, Color, Clarity and Cut), etc.
Get more buyers by writing eye-catching jewelry product titles
Ahhhhh titles!
They act similar to a fishing hook. In order to attract customers, your jewelry piece must have an intriguing and revealing title.
As a writer, it is imperative to come up with attention-grabbing catchphrases that'll spark your buyer's interest, well enough to click on your item and read more or even buy it. Let's observe a few examples:
A title such as "Dazzling Sapphire Engagement Rings for Your Soul Mate" or "Sumptuous Handcrafted Necklaces and Bracelets" are highly descriptive and stimulates emotions for the reader, rather than a dull title only citing products alone.
Truth be told, enhancing your item titles for Google search must be your definitive objective. An elegantly composed and accurate title will assist customers in finding your products without the hassle of continually going back and forth on their browsers.
How to write better titles & descriptions optimized for SEO
Marketing research suggests that 87% of shoppers carry out in-depth online product researching prior to making a purchase. Likewise, they consider product content to be the most fundamental element during their decision-making stage. Therefore, being meticulous and creative when writing descriptions is a skill you must develop if you haven't already.
Moreover, giants such as Etsy, Google Shopping, or Amazon have a particular page ranking system that is highly dependent on your product title. In the event that you are hoping to land on the first page of the SERP's (Search Engine Results Page), title optimization with proper keywords usage will enhance your level of visibility to consumers.
Descriptions also have to be SEO-powered. There are people who will look for a particular feature in an item and having the proper keyword and catchphrase is important to connect them to your products instantly.
Sprinkling precise and highly-searched keywords in your title are beneficial to both your e-shop and your potential buyers. With the right SEO strategy for your product's content writing, you will start noticing a boost in sales as well as better visibility in search results for your website overall.
How big brands are writing description bad and good examples
So how are big brands writing product descriptions?
No matter the name of these top sellers, one similar pattern I have noticed when comparing descriptions is the quality of being unique with words – and being bold about it.
Every piece of jewelry has a story of its own. Being able to properly voice out its design aspects, gorgeous hues and unique traits are what big brands do well because they hire the right copywriter to acquire such results.
Put your product's authentic features forward
A lot of products have similar designs and features. To make a strong impression on the prospect, emphasize on how your product is different from everyone else.
Tons of items online have identical features and designs. To stand out from the crowd, you must accentuate on what makes your products unique. Your potential customer may read your description once – and that may be your only chance to truly make an impact.
For example, you can state things such as:
Each piece of jewelry is handcrafted (no CAD modeling)
We use rare materials such as ammonite, malachite or mother of pearl
Your products are made from GIA-certified diamonds
You provide personalization services such as engraving and custom design
With such practice, your descriptions will act as a magnet for target buyers no matter how unfamiliar your jewelry brand may be to them.
Here's a comparison of good vs. bad description: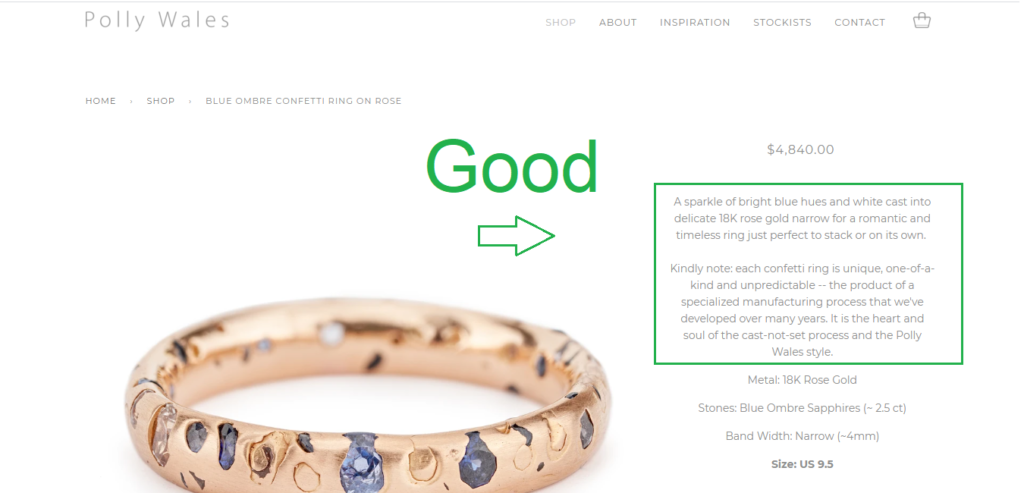 Conclusion
To sum it up, bear in mind that titles & product descriptions are only a piece of the puzzle when it comes to marketing your jewelry online.
In order to be two steps ahead of your rivals, you must have an e-commerce website that's easy to navigate, a good social media posting strategy, a fully-fledged SEO strategy that's serving you both on-page & off-page and a strong brand identity that's in sync with your reputation online.
When visiting random online jewelry e-stores, I am in a shock to witness so many of them that assume consumers will purchase their items simply by viewing product images, bypassing the importance of writing product descriptions completely. Before even thinking about running a paid ad on a new set of products – for example – I firmly believe hiring a proficient copywriter to do it for you would be a wise investment that will pay off in the long run.