The 2020 Covid-19 pandemic has had a huge impact on retail and how we market to consumers. With many stores still closed, and less footfall on high streets, marketing has become a vital tool in catching and retaining customers. For luxury jewelry brands that rely on beautiful in-store displays to entice customers, looking at new ways to market products in this new environment is more important than ever.
With many countries locked-down, and many people still reluctant to spend time outside of their home, consumers have been driven online. In fact, social media consumption increased by at least 60% during the pandemic, according to Nielsen. While this means that the potential reach of online advertising has increased dramatically, so has the competition. With more brands competing for consumer's attention online, effective marketing is key to winning customers.
Let's take a look to see how successful jewelry brands are marketing their products on social media channels.
Successful Jewelry Brand Marketing Campaigns
1. Mejuri
www.mejuri.com
Trust plays a very important role in increasing sales. Mejuri knows that. Their marketing campaign focuses on reviews left by consumers. At the same time, the brand promotes its products as a high being of good quality and great value. Which, after all, is what every customer wants.
2. Monica Vinader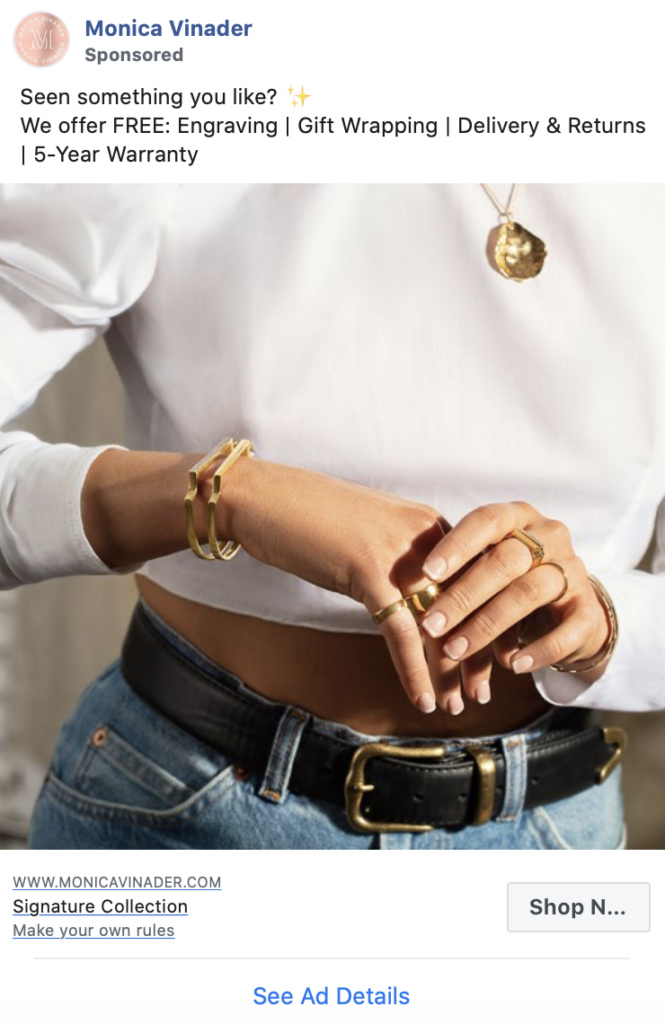 www.monicavinader.com
Jewelry brands utilizing beautiful images in their marketing strategies have a greater chance of generating a high return on ad spend (ROAS). In this ad, a young lady with a nice figure dons the brand's jewelry. Using images with attractive models can prompt the audience to buy as they want to be like those they see in ads.
3. Jennifer Zeuner Jewelry
www.jenniferzeuner.com
Social proof plays a large part in jewelry brand marketing. The fact that a brand's jewelry was worn by celebrities such as JLo or Rihanna, or was mentioned in publications such as Elle or Vogue denotes their quality. These marketing campaigns can bring sales growth in a very short time because consumers trust publications or celebrities.
4. Tous Jewelry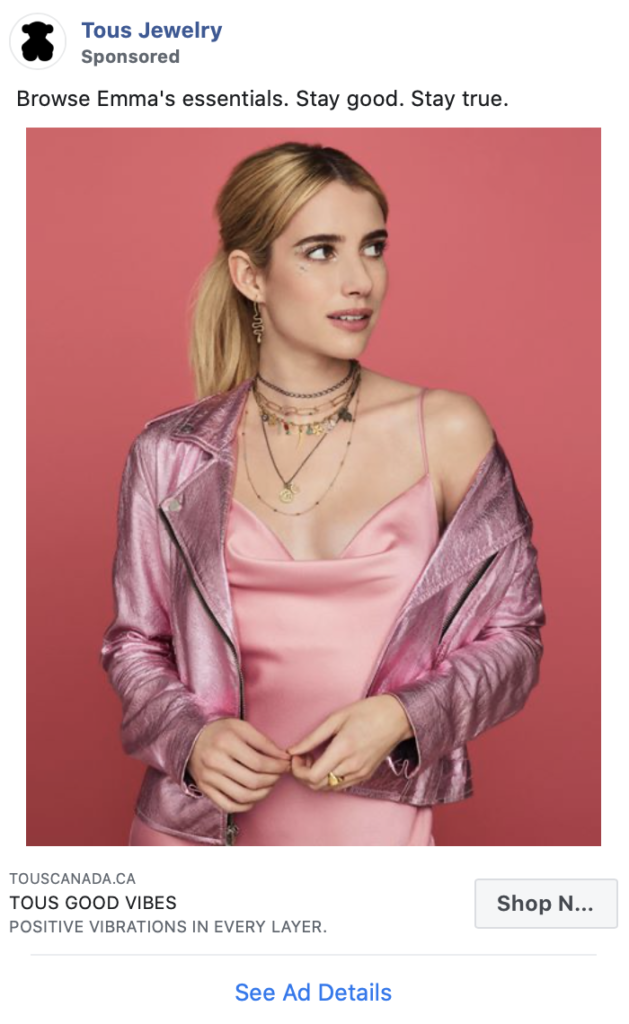 www.tous.com
Similar to Jenifer Zeuner Jewelry, Tous Jewelry uses a well-known actress, Emma Roberts, in their marketing campaign. The fact that she wears their brand and matches it with her outfit should prompt consumers to enter the brand's website. Luxury jewelry marketing campaigns featuring celebrities effectively capture the public's attention and boost the brand's reputation, increasing sales, and brand trust.
5. Gorjana
www.gorjana.com
Presenting jewelry in a beautiful setting that consumers desire to be in, sells a lifestyle, not just a product. The emotion it conveys makes consumers want to be there, and while that might not be possible, purchasing the jewelry will make them feel one step closer.
6. Stephen Webster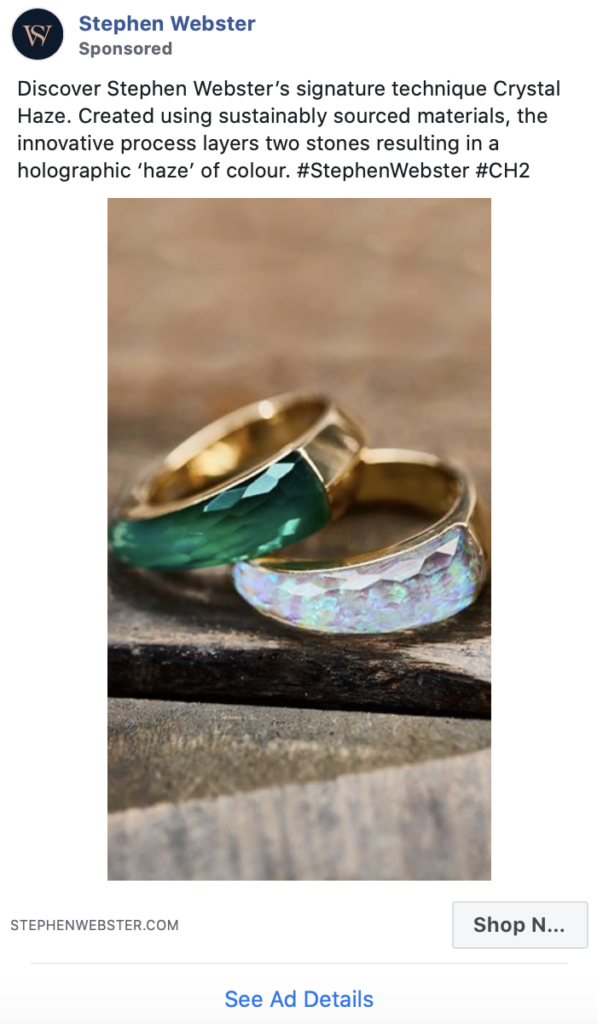 www.stephenwebster.com
One negative to shopping online can be that the minute details of products are difficult to see. To address this issue, it's important to ensure every beautiful element of your jewelry is emphasized. The writer emphasizes the unique 'holographic' colors, drawing attention to its main selling point, as a sales assistant in-store would.
7. Daniella Draper Jewellery
www.danielladraper.com
Luxury products are truly set apart from the rest by the amount of detail that goes into the manufacture of each item. Daniella Draper offers behind-the-scenes images showing the creation of each beautiful piece. In this way, the audience can observe the craftsmanship that goes into each item, elevating it from a product to a work of art. This aspect raises the perceived value of the jewelry and gives consumers confidence in its quality. These marketing campaigns can very easily increase sales and brand awareness.
8. Pragnell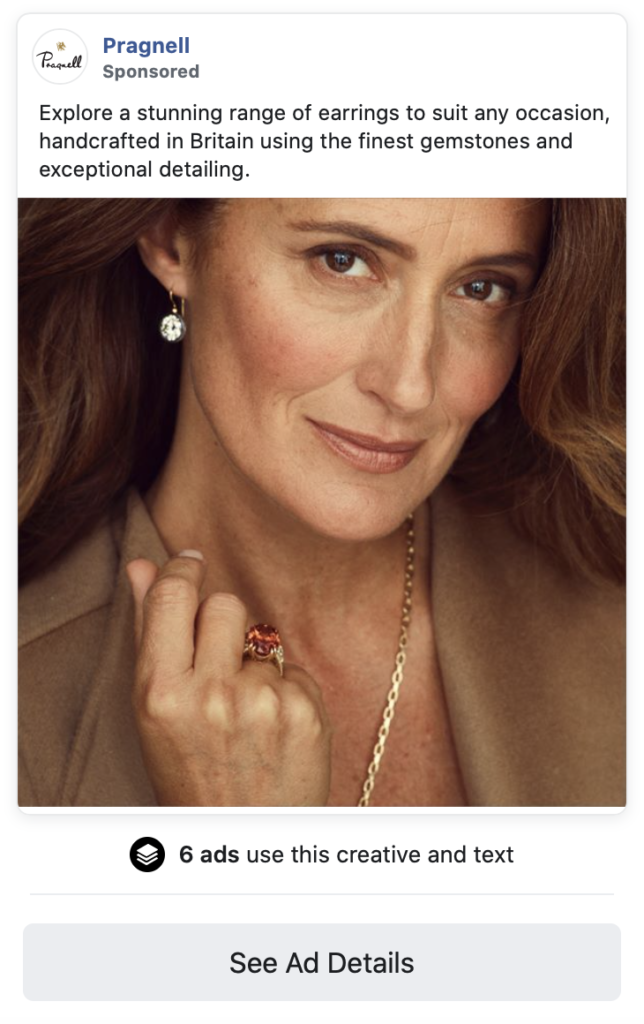 www.pragnell.co.uk
Pragnell addresses a different category of older consumers. By using an older model, they make their intentions known, and will no doubt attract the attention of this target audience. Along with tailoring the ad to make it more relevant to their demographic, they can also target social media advertising specifically to their desired age group. If your company offers products to a certain demographic, ensure that the targeting is done correctly, to boost the ROAS.
9. Moon Magic
www.moonmagic.com
Moon Magic promotes its future jewelry collection, inviting consumers to pre-order and receive a discount. Such campaigns boost sales through the desire to be the first to have a product, and, the financial reward from the discount. Both the customer and the company have something to gain from this.

10. Jacquie Aiche Jewelry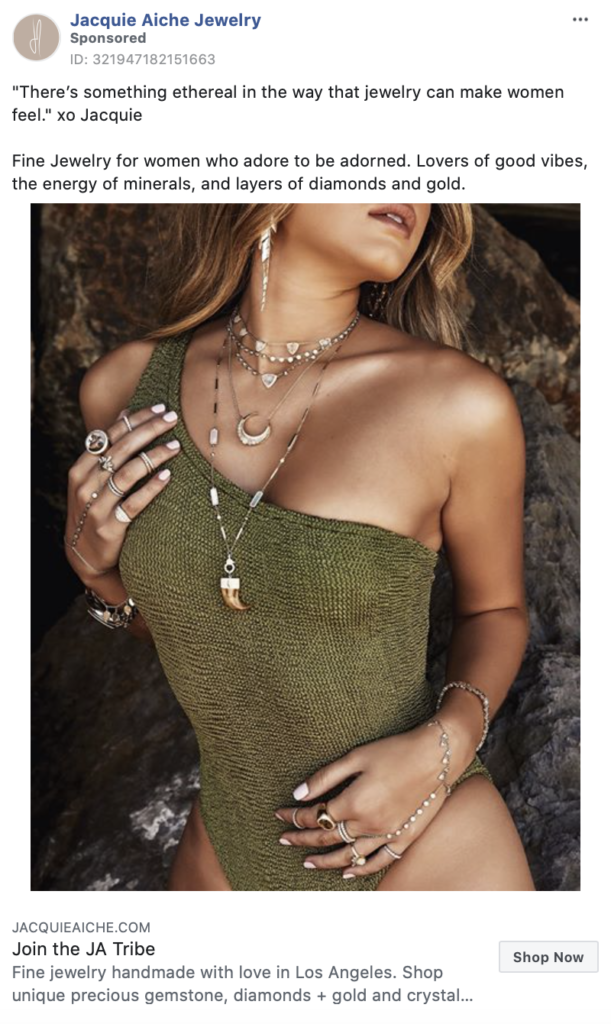 www.jacquieaiche.com
This brand grabs the attention of both men and women with the help of a very attractive image. In this way, the conversion rate can be higher, increasing sales. Such marketing campaigns bring companies high revenues because they stop consumers from scrolling through social channels and get them to their website.
11.Drippy
www.drippy.amsterdam
Drippy Amsterdam chooses to promote its products through videos of someone unwrapping their jewelry. From receiving the box to opening it, the videos give insight into how it feels to receive one of their items. It shows that their products offer a lot more than simply jewelry. The consumer is purchasing pure joy.
By selling the experience instead of the product, they're increasing the perceived value of the item. They also boost confidence in the brand as they know what to expect from their purchase.
12. Auvere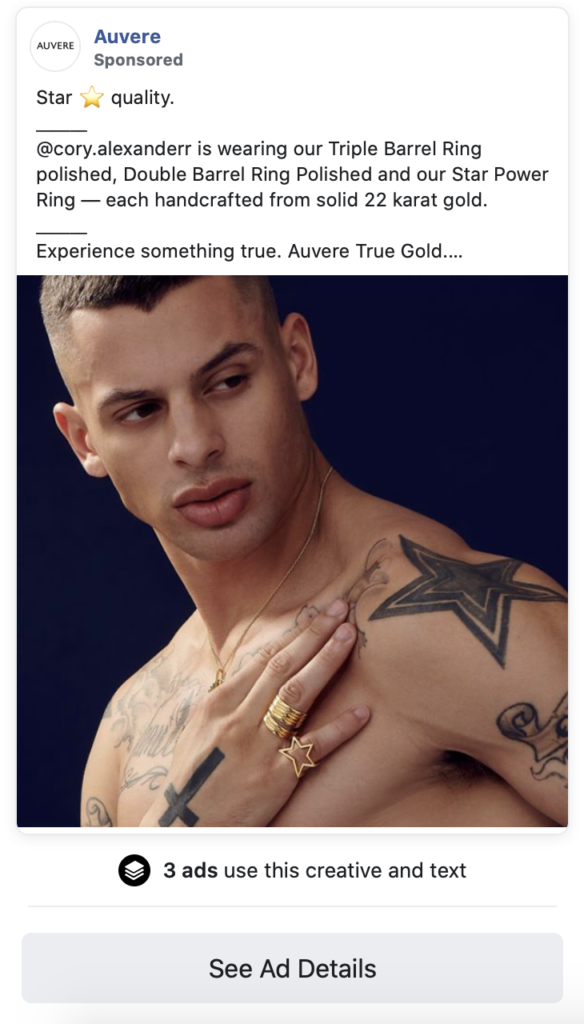 www.auvere.com
Auvere uses a male model to promote his products. This type of ad will attract attention from both sexes, increasing the number of potential customers. As luxury jewelry items are often bought as gifts, it's important to market to both genders to increase sales.
13. Noémie
www.hellonoemie.com
Noemie also advertises its products through customer reviews. But, as well as the opinions of the consumers, videos of the products are presented in the background of the ad, offering the consumers two overviews. They can see customers' experiences of the jewelry, but also make up their own opinion on how the products look.
14. Two Jeys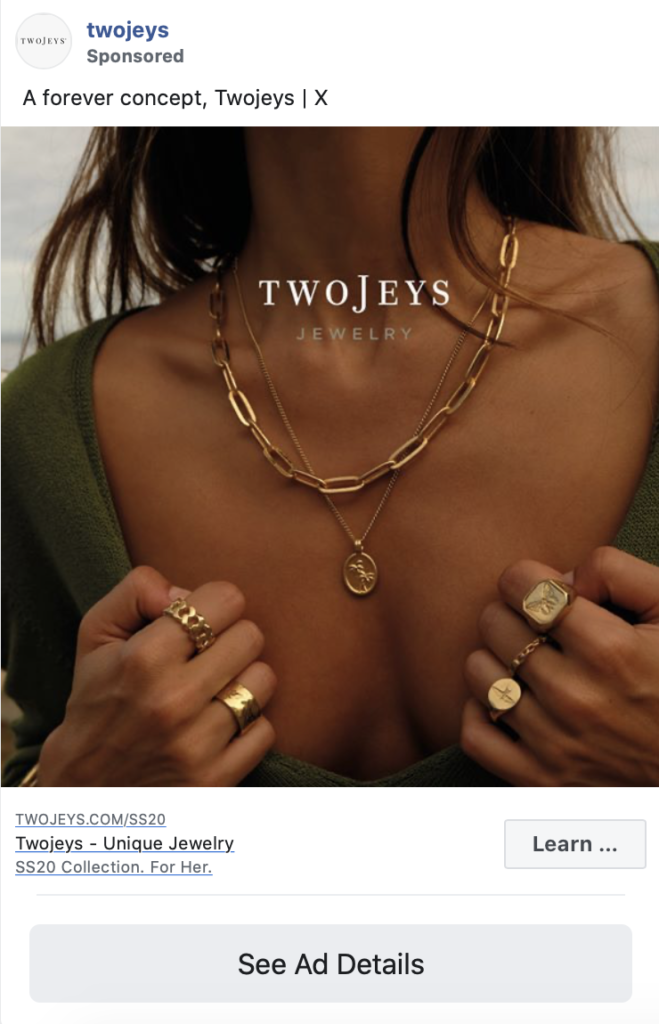 www.twojeys.com
It's pretty easy to see what Two Jeys is trying to do. They want to attract attention. With the help of this picture, any consumer will stop for a few seconds, if not to buy, at least to look. Brand awareness will increase, and with it, sales.
15. AUrate New York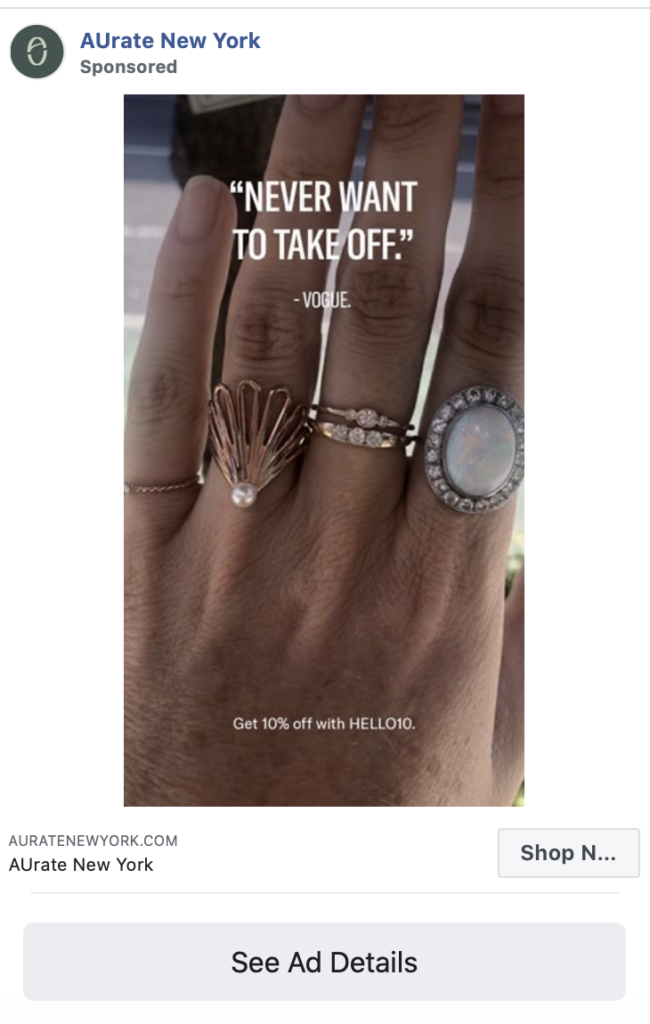 www.auratenewyork.com
Social proof in combination with a discount works very well. Therefore, if you offer confidence, but also a price reduction, the chances of increasing your sales are very high.
16. Adina's Jewels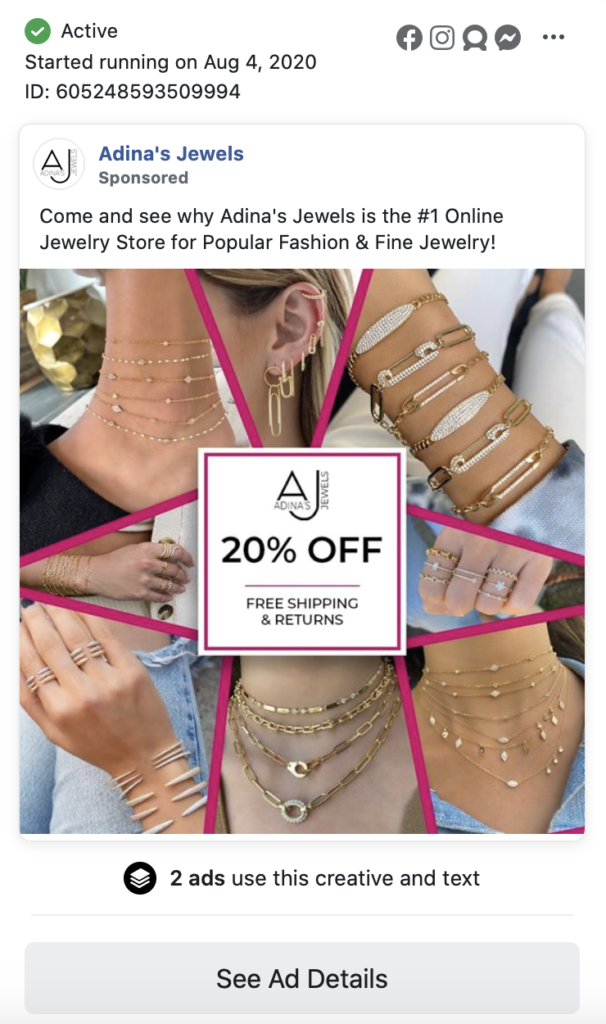 www.adinasjewels.com
One concern potential customers have about buying online, is the risk of them not liking the product when they see it in person. One of the most popular jewelry brands in the online environment, Adina's combats this concern by offering free shipping, free return, and a 20% discount. So, in addition to the attractive price, even if the products do not meet expectations, they can be returned without additional costs for customers. Reducing the initial barrier to purchase with the promise of free returns could be what's required to secure the sale.
17. Pricilla Ma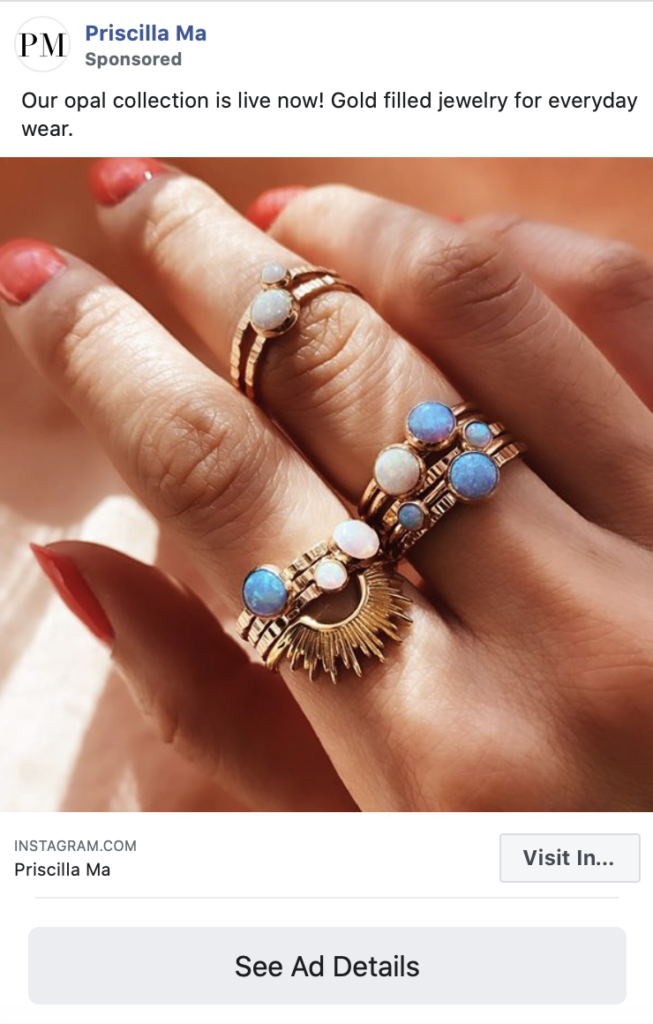 www.priscillama.com
The jewelry presented by Pricilla Ma can't help but catch your eye. They are colorful, introduced well, and above all, they are presented as jewelry that can be worn daily. For many customers, this is an important aspect of deciding to buy. Many of them do not want to invest a sum of money in a piece of jewelry that can only be worn at special events.
18. Stone and Strand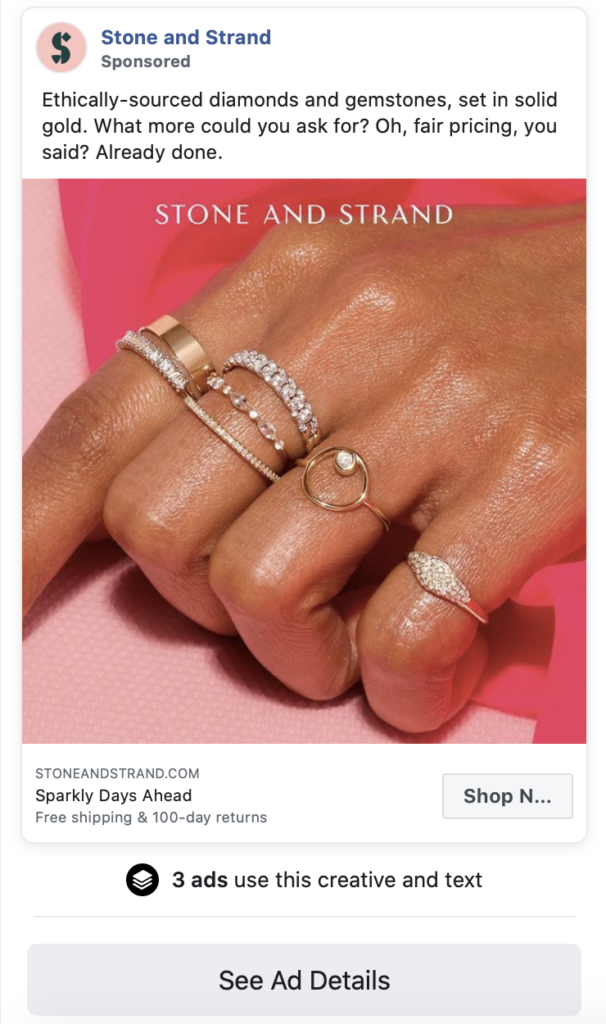 www.stoneandstrand.com
The pandemic has hit the world's economy hard, and with lower GDP, pricing is becoming more important to almost everyone. Stone and Strand use this ad to promise fair pricing while also promoting their important unique selling point – ethical diamonds.
They offer consumers free shipping, and more than three months for customers to return their products. Offering such a long period shows that the brand has confidence in the quality of the products made.
19. Vanessa Mooney Jewelry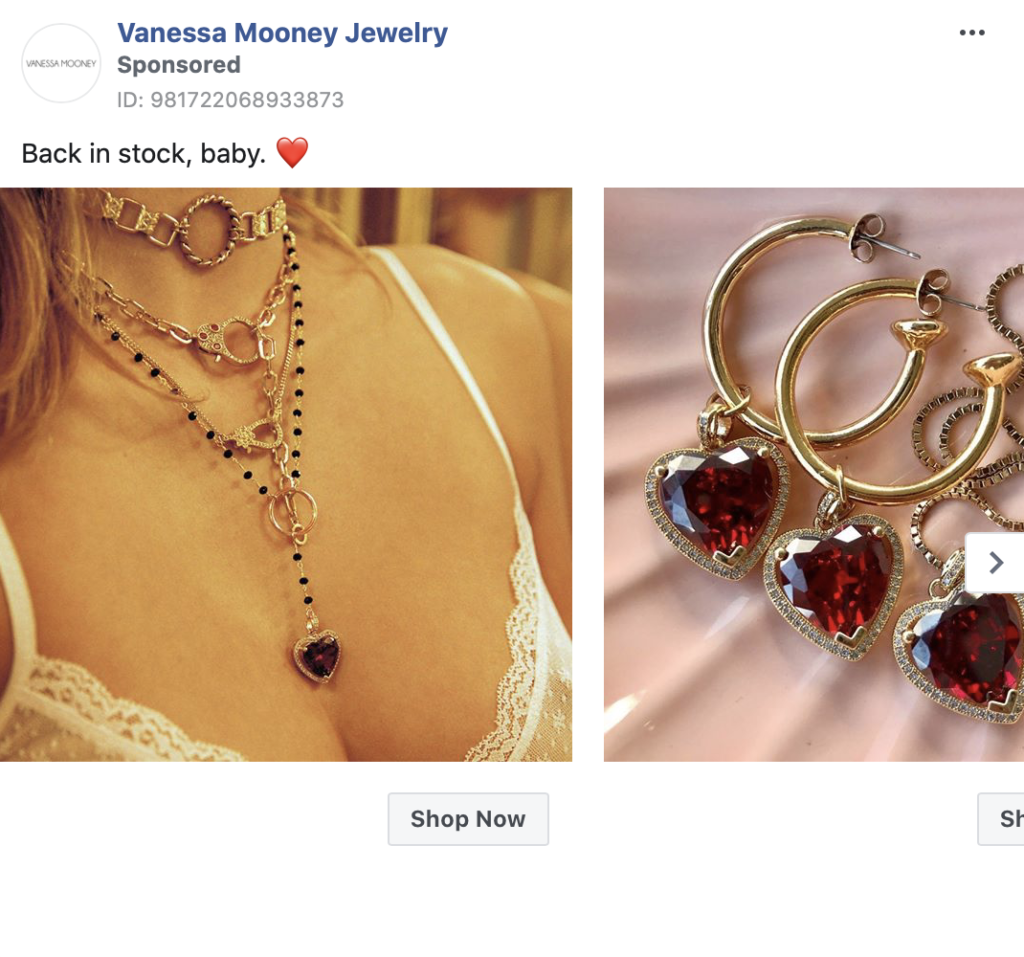 www.vanessamooney.com
This provocative image will stop anyone from doing what they are doing, stealing their gaze for a few seconds. The way the jewelry is presented gives confidence that anyone could look like this if they wear such precious stones.
20. BaubleBar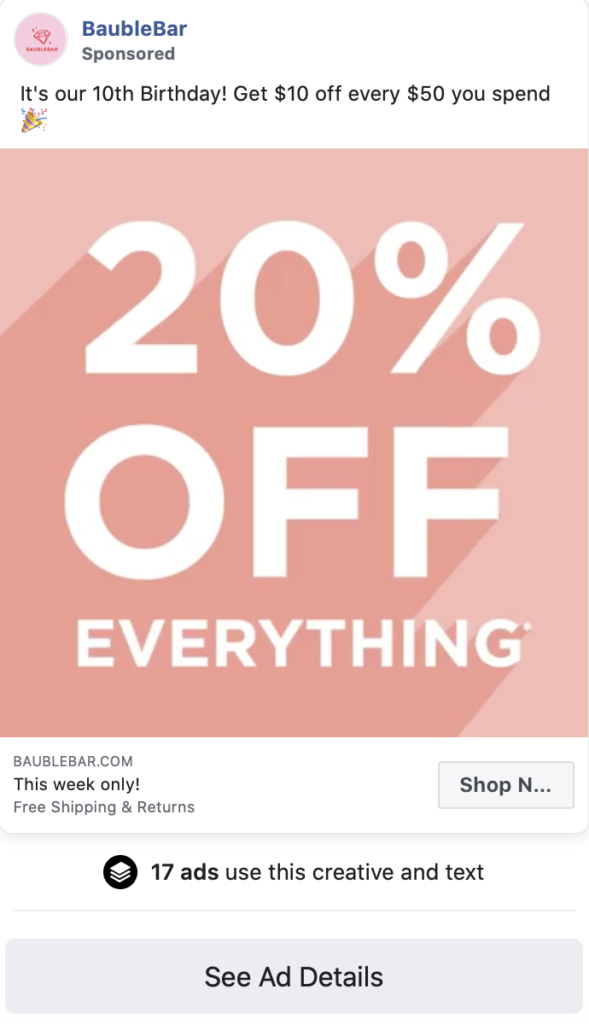 www.baublebar.com
We all know that consumers love discounts. The bigger, the better. The wider the range of products, the happier they will be. Therefore, BaubleBar offers a considerable discount on the entire range of products, the delivery and return of products being from them. This type of marketing campaign increases sales in the short term, and in the long term, brand awareness.
Conclusion
Jewelry Brands have had to change their marketing strategies during the pandemic, and with second waves and a global recession possible, it's likely that they'll need to keep adapting to this new environment.
Taking inspiration from what successful brands are doing is likely to help boost your advert's ROAS, but to avoid the learning curve, hiring an expert in promoting luxury brands is invaluable.