Want to use a proven jewelry audience in your marketing campaigns?

If you are selling fine jewelry online or other luxury products, watch the video or read this text until the end. I will offer a few proven fine jewelry audiences targeting ideas for your Facebook And Instagram advertising. These targeting ideas are proven, and you can get more loyal customers and a higher return on advertising spent using those in your ads.

Audience targeting is an important part of any marketing strategy.

How do I know what is the perfect audience? Who wants to buy my flawless diamonds, expensive emeralds rings, and other high-end jewelry pieces.

Before starting an advertising campaign, ask yourself a few questions.

Where my customers are buying luxury products?

Are they buying from auction houses?

Using Facebook and Instagram ads, you can target people interested in action houses like Crhistis, Banhamas, and Sotheby's for example.

Ask yourself what brands they like?
Tartge JEWELRY AUDIENCE BY BRANDS: Graff Diamonds, Van Clef, Chopard, or Cartier for example.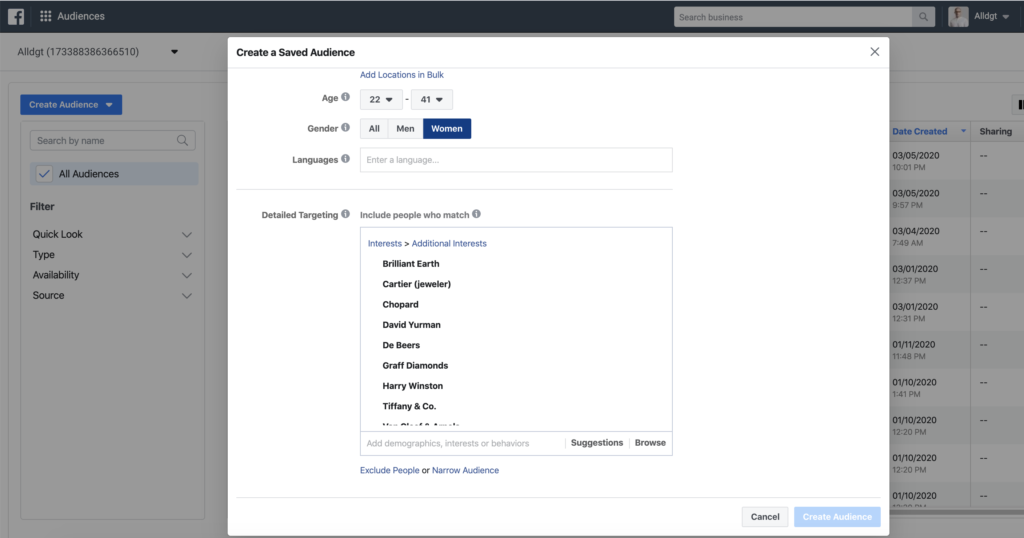 Facebook and Google both make it easier for you to reach people that are interested in specific brands.

Another question to ask.

Where they work and what is their profession?

Doctors, lawyers, politicians, well-known artists, or actors?

What their hobbies are?

Do they enjoy hunting, horse riding, playing tennis?

There are hundredths of audiences to use in your advertising and reach luxury buyers.

As a rule, don't combine all the audiences together, create separate advertising sets for each audience. See which audience does better, and increase your marketing budget for audiences that performs the best.


Don't target man in advertising unless you selling high-end jewelry for man or engagement rings. Otherwise, focus mostly on women between 28 and 55 years old.

I hope you enjoyed this content, if you would like to see more follow me on Instagram, YouTube, Facebook, and Linkedin. Links are in the descriptions.

Thank you.

Read More:
Jewelry Website Design Examples Every Store Must Model
Jewelry Marketing Budget How Much to Invest and What to Expect
45 Soft and Hard Skills Jewellery Marketing Expert or Director Must Have
Luxury Jewelry Marketing 1500% ROI from Facebook Advertising [Case Study]
Jewelry Branding, How to Dominate the Customer and Sell More
34 Jewelry Conversion Rate Optimization Strategies
Jewelry Advertising Mistakes, Analytics, Examples, and Channels