Jewelry Advertising seems to be easy for everyone. Up to the moment of measuring the performance (Analytics). What is working in traditional marketing channels is not performing well online. Fancy creative ideas, big banners don't mean that they can deliver results. In online, it often happens that the product itself outperforms any complicated idea or banner. Advertising jewelry online allows you to get any data fast to make the right decision. Moreover, to adjust marketing campaigns for better performance with lightning speed. In one click you can change your marketing campaign from being unprofitable to profitable. As well as validating any advertising for much less money.
Jewelry Advertising Measuring the Performance
Your analytics is the first priority when advertising online. What gets measured, gets improved. Always pay attention to details and KPIs, and improve them. Once you start making it, you will understand how to win in marketing. Also, how to outperform your competitors. And finally how to outperform retail sales and all traditional marketing strategies.

Always lower your CPC – cost per click.
Lower your CPC by testing different products, creatives, and audiences. Marketing objectives such as traffic, brand awareness, video views, conversions also influence CPC. Do you want to reduce your customer acquisition cost? Start reducing your CPC by testing audiences, products, and different creatives. For instance, a video may bring lower CPC for an advertising campaign than a photo or vice versa.

Aim for High CTR – click-through rate.
Over 5% is god. Everting below 2% is bad. Click-through rate is an indicator showing us if a specific audience like the product or not. Moreover, it helps is to find am the audience and the product that will deliver positive ROAS. That's why when a product and audience delivers high CTR you can consider it as a mini-success.

Always Lower ATCs – cost per add to cart.
This indicator tells whether it is worth investing in an ad or product. Ensuring that the marketing budget is not wasted.

Cost Per Checkout.
Sometime you might get lots of ATC, but no one is initiating checkout. This means that something is wrong with the targeting audience or marketing goal. You have to analyze and fix both. And If you get ATC and Checkouts, it's good to sign to continue investing in a specific marketing campaign.

CPA. Cost Per Action.
CPA has to be enough to make profits and scale the brand. The higher your profit margin, the more space you'll have for marketing. If you sell an item for $10.000 and your profit is $5000. What is the reasonable price to get a single customer? It depends on many factors. From my experience, a realistic number would 20% ($1000) – 50%(2500) from the profit margin. Wich makes you profitable and scalable as a business. I always strive to deliver a sale at 20-30% from the profit margin for luxury brands.
Sometimes you can spend all the profit on acquiring one customer or worse. Usually, it happens to entrepreneurs who neglect analytics, brand experience, photos, videos, testing products on marketing channels. Even in situations like this, you can be profitable, because of the customer returning rate. This is the long term indicator that can make any marketing campaign profitable.

ROAS. Return on advertising spent.
This is something that you can improve over time. Especially, if you have a strategy that focuses on returning customers.

Conversion Rate.
This indicator, as well as others, influenced by many factors. Visuals on the websites, structure, and website design itself. Product descriptions. A photo with a model helps to convert better. Social proof like reviews, microcopy like free and easy return increases CR. Even the presence of a phone number can help you to convert better.
I do have customer acquisition costs for 50$ for a product that costs 3000-4000$ dollars. These results are driven by 3-4 years of continuous work data optimization.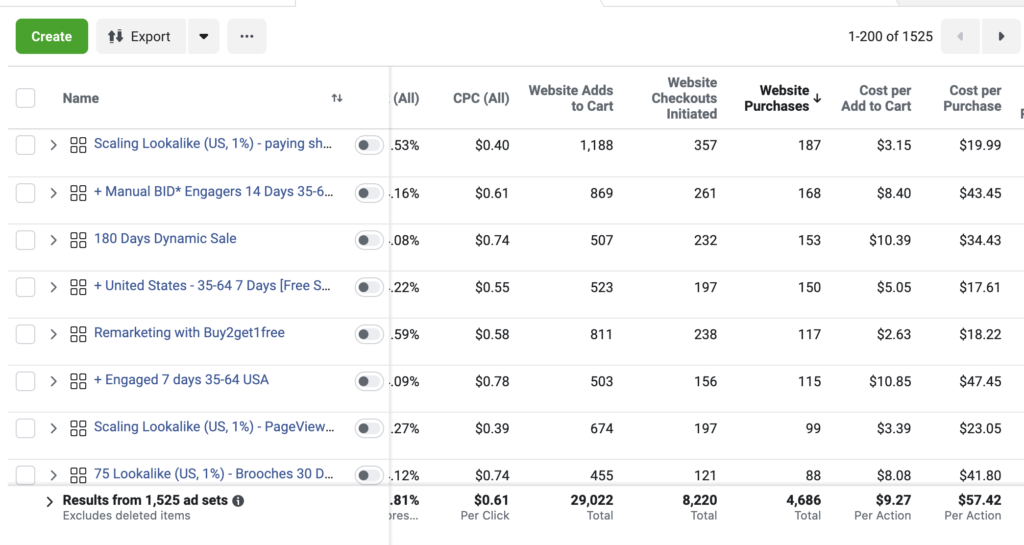 Analytics is not hard. It may require 1-2 years of practice before you can master it. I invested, around, $300.000 to master it, so now I make better decisions and prevent a marketing campaign from failure. It's a new feeling, a new skill that you have to learn as a business owner. The image above is a few examples of data you need to track. There are many more microdata sets. You have to track everything to ensure you are not wasting money. If you hire a marketer who doesn't know about this, you will lose your money. Now it's a trend to hire the "expert" and digital marketing agencies who use your money to sharpen their skills.
Jewelry Advertising Mistake
Before focusing on advertising, please make sure your website is sales driven. See the good and bad example below. The first one increases your advertising performance when selling online. You will pay less for CPC, ATC, IC, CPA and you will get a higher conversion rate. Especially when scaling the brand online ensure an experience like this, for each product: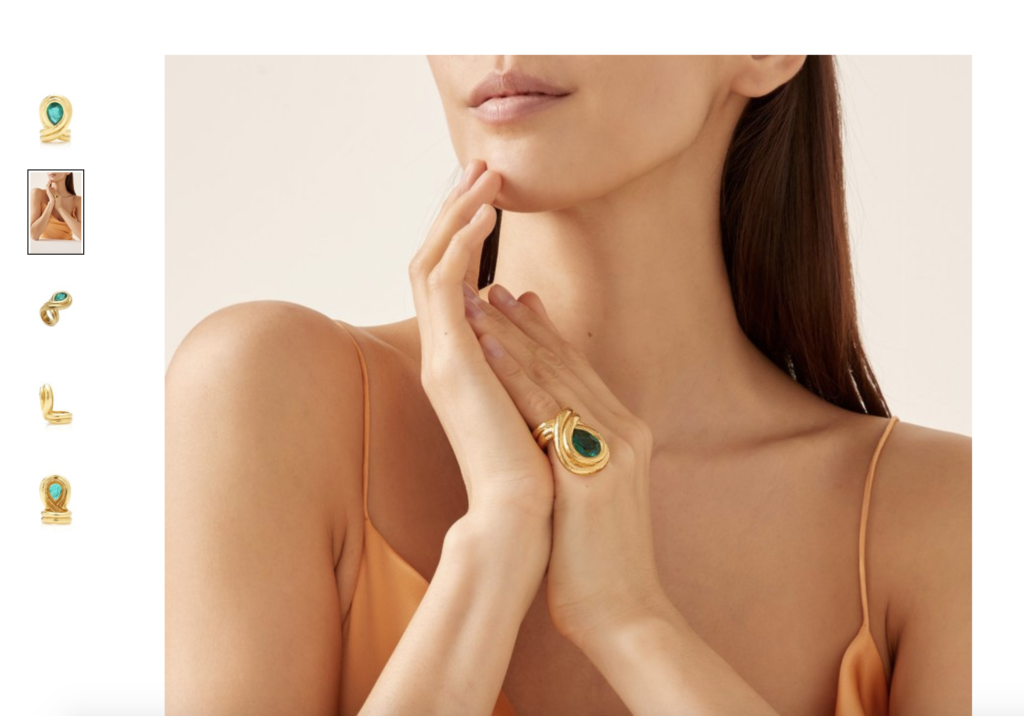 People buy pictures and not products. Which picture woud you buy one on the top or on the bottom? The answer is clear. You may need to get an in-house photo-artist, with experience in product photography. Also, all the expenses for photo production can be included in the product cost.

Alexander Skibinskiy
Jewelry Advertising how to spy on competitors
Spying on competitors is for getting inspiration. This doesn't mean that the ads running by your competitors are performing well. There is plenty of business who waste money on marketing so you don't have to take them as the right example. For example, I don't have to use visual without a clear focus on the product. Usually, this type of image falls behind for brands that starting out. For Tiffany, it may perform good, becouse they already build their brand. Tiffany invested millions in ads. They have a strong community that supports any visual they may use.
When you have an established brand, your ads also will perform better. Below is the instrument called Facebook Ads Library. Where you can spy on ads campaigns used on Facebook and Instagram.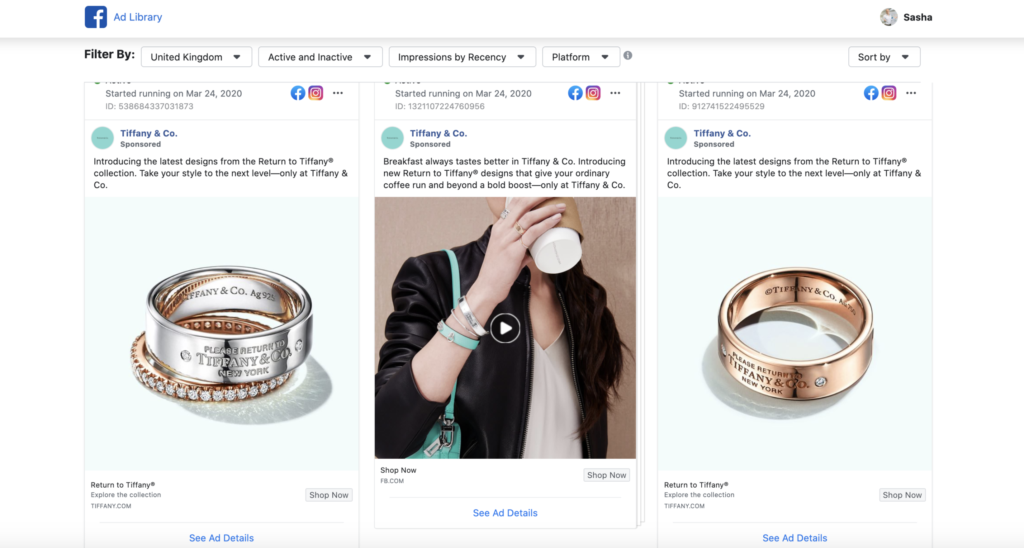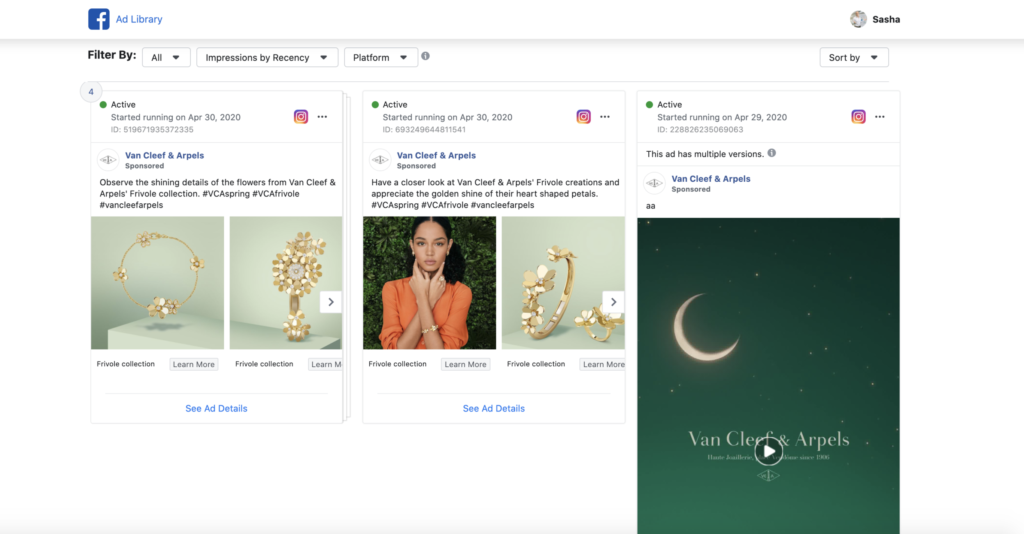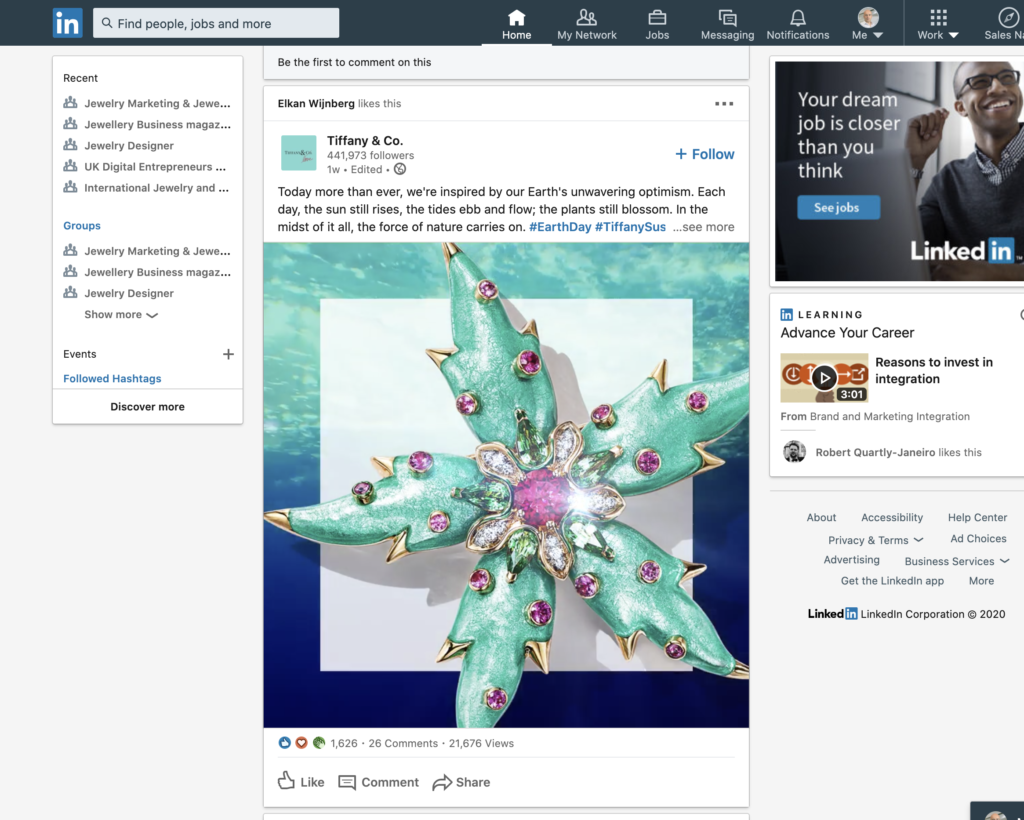 Above is an example of the most popular Tiffany posts on Linkedin. It's a good example that shows and empowers the product.
Inspire from ads that are getting more attention. Also look at the number of reactions, comments, shares, and views. The more attention it gets the better you will sell.

Alex Skibinskiy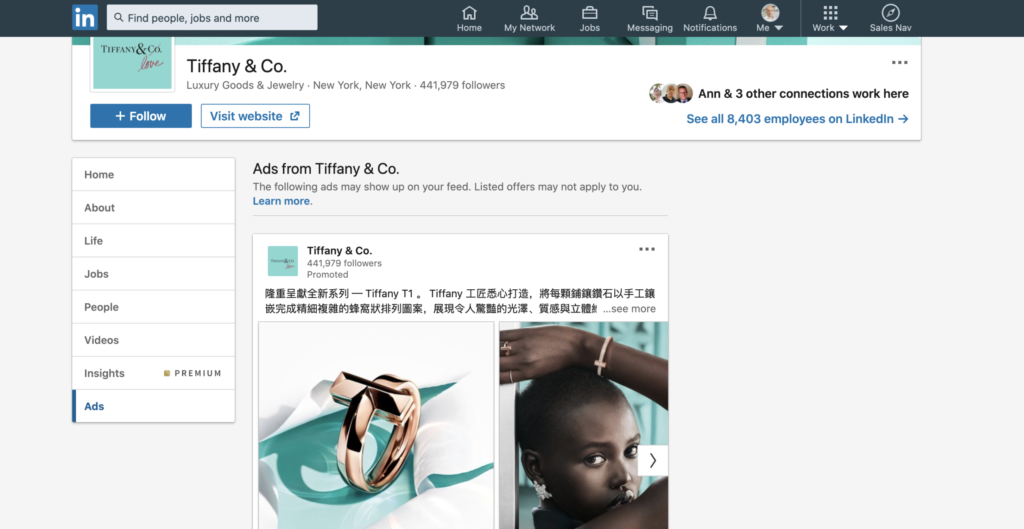 SpyFU allows you to see and Download Your Competitors' Most Profitable Keywords and Ads For Paid and Organic Search. This is a decent way to spy if you are using Google CPC Ads, Google Shopping Ads, SEO, and Content Marketing as strategies.
Big Spy helps you to see adverting campaigns for Youtube, Twitter, Pinterest as marketing channels.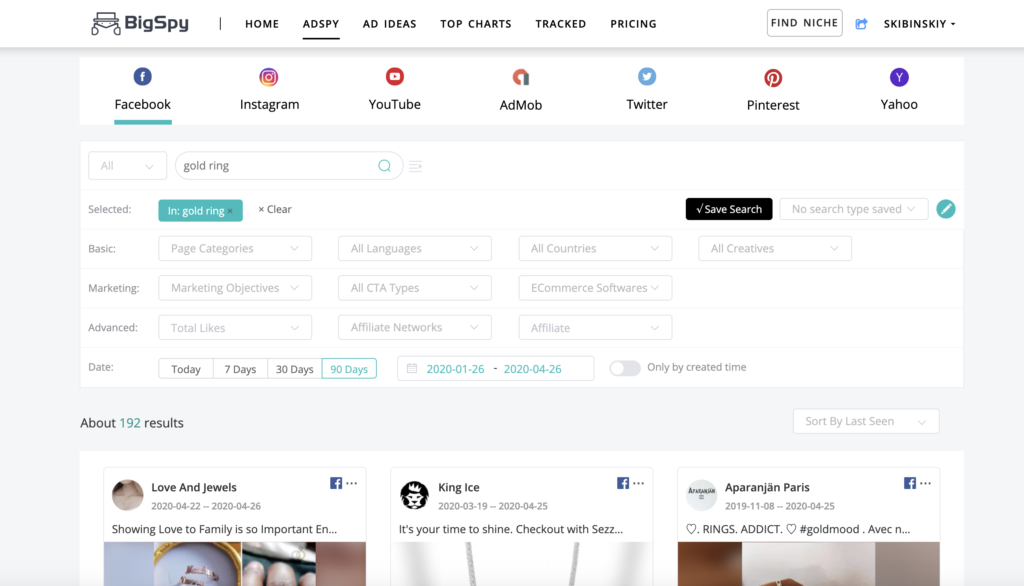 There are many solutions like this where you can spy on ads for different marketing channels. Just google them, Facebook ads library is free, the rest have FREE trials to see if there is a fit for your needs.
Every marketing channel has the power to sell your jewelry or luxury product. The only way to make is by testing audiences, products, different creative, and formats. Of course, measure the performance of your tests. It sounds hard, but this is the only way to get predictable and scalable results.

Alexander Skibinskiy
Jewelry Advertising Video Examples
There are two types of video advertising, organic and paid. Yes, you can advertise your organic videos. People can watch it as a movie, which results in huge brand awareness growth, brand followers, and sales. On the other hand, you can use commercial videos and promote and get faster results and sales driven experience. Let me show you a few examples.

The first one is organic. The last two are commercial videos. Feel the difference?
Jewelry Advertising Channels
I always start with Facebook, Instagram and Google Shopping at a time. I suggest it to you as well if you have budget over 10.000$. If less, use Facebook and Instagram only. When you use multimple channels it's called OMNICHANNEL Marketing, and it's usually suitable for big coprarations or brands spengind over 100K in marketing per month.

Alex Skibinskiy
Facebook Ads
Instagram Ads
Google CPC
Google Display Ads
Google Youtube Ads
Google Shopping Ads
Tik Tok Ads
Content Marketing + SEO
Pinterest Ads
Twitter Ads
Microsoft Ads
Linkedin Ads (Only for high-end brands)
Amazon Ads
Email Marketing
Influencer Marketing
Taboola ads and other native adverting platforms. For example Pandora is using Taboola Ads.


In conclusion
Invest in a good website, in photography, add photoproduction costs in your product cost. Always measure your data. Make a decision only when you have enough data (1 sale is not enough data). Test audiences, products, and creatives to find a winning marketing campaign and channel.

Thank you!