Social media channels allow you to advertise specifically to your target audience, narrowing down to certain sectors and decision-makers. By improving your ad targeting, you're able to reduce ad wastage and boost return on ad spend (ROAS).
Many B2B brands in a variety of niches choose to utilize social media in their marketing strategies, promoting their messages specifically to their desired audience. This is particularly true in eCommerce, where effective social media marketing can have a dramatic impact on website visits and sales.
We've taken a look at how numerous eCommerce sectors are using social channels to boost sales.
Standard Targeting
Facebook and Instagram, along with other social channels, now allow you to target your ads to people with specific job titles, interests, and geographical locations. By targeting your ads, you're less likely to pay to have your ad shown to undesirable or ineffective audiences, decreasing ad wastage. You're also able to tailor your content to certain sectors or roles.
Lightspeed HQ has developed a product specifically for golf courses, so use social posts to target the decision-makers in that industry. Targeted posts like these are much more effective at gaining the attention of your desired audience.
AAA specifically target shop owners, service writers managers, and technicians in their latest promotion. Role and sector-specific content are much more likely to stand out due to their relevance to the audience. As a result, these posts are more likely to generate interest in your product and bring you a greater return on your investment.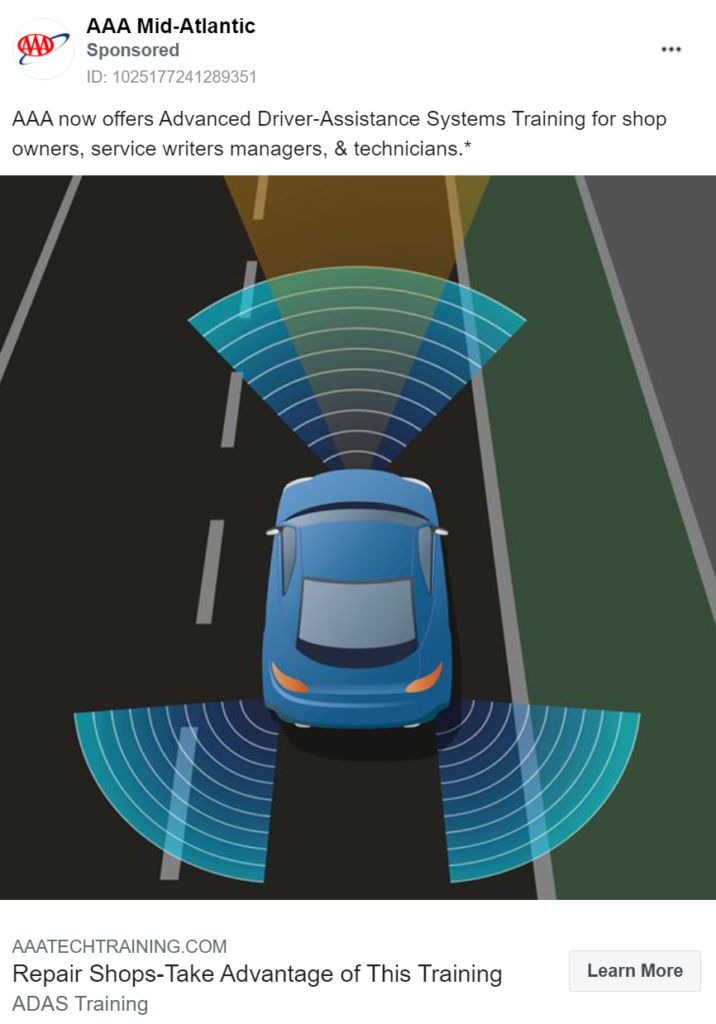 Construction B2B eCommerce Marketing Campaign Examples
With such a specific target audience, construction companies are frequent users of social media's targeting software. Posts immediately catch builders' attention with the use of high-vis jackets, a uniform that represents the industry.
Messages promise to help businesses 'solve your toughest challenges' and 'find the solutions you need to take on your next job.' By promising to enable businesses to take on more work and make more money, they're suggesting that their products are well worth the investment.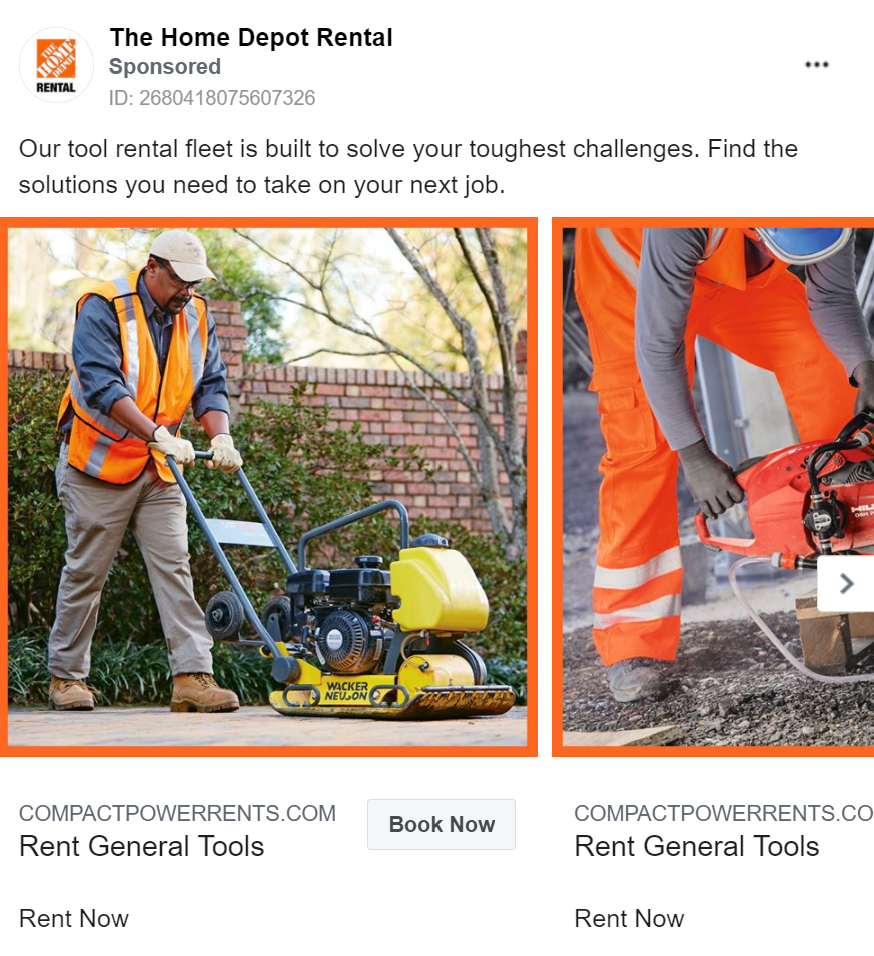 JCB, a construction equipment company, generates a sense of excitement about their latest product with a teaser post. By suggesting viewers keep the new product quiet, the B2B audience feels like they're being let in on an exclusive secret. Being partners in a secret increases their perceived relationship with the business, boosting brand loyalty, and encouraging more purchases.
The post uses the unusual technique of getting viewers to read the comments to find out more. It's likely that they've done this to encourage their audience to read others' excitement about the new release, igniting their own and building a sense of community among their customers.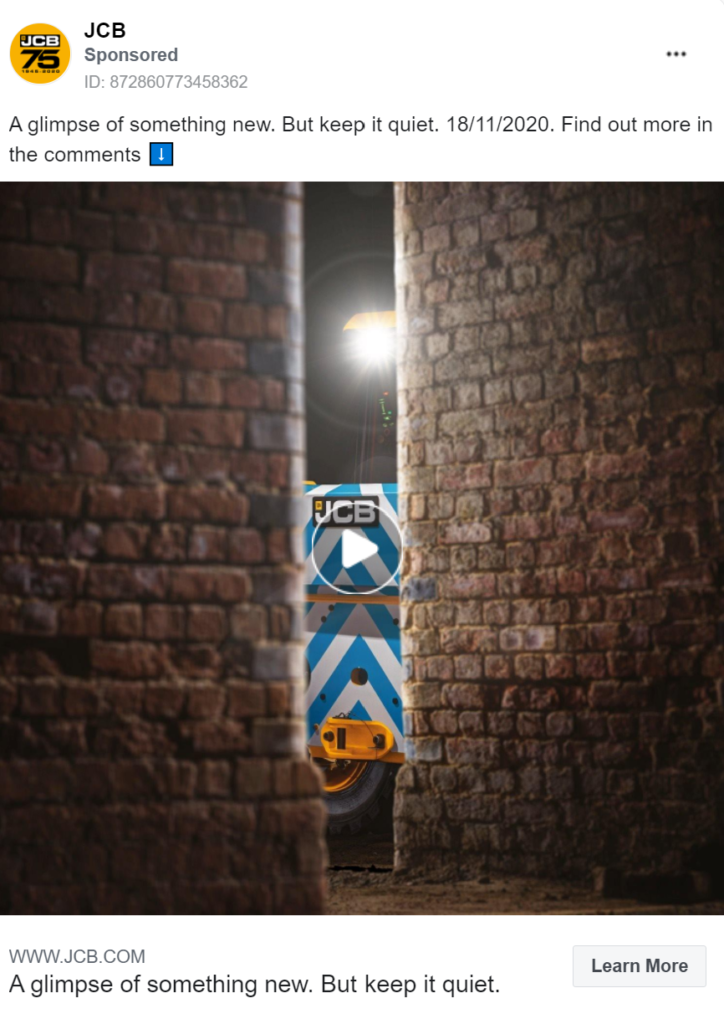 Healthcare and Medical Device B2B eCommerce Marketing Campaign Examples
Communicating product benefits to doctors and healthcare professionals used to involve lengthy meetings, inclusion in prestigious journals, and costly conferences. Now social media allows medical device companies to promote their products directly to doctors at a fraction of the price.
Here, Pfizer has succeeded in promoting its community to its targeted audience 35k-40k times for only $2000-2500 USD. Once healthcare professionals join the 'community' Pfizer will be able to send them product information directly to their email inbox, moving them to the next section of their sales funnel.
Using the emotive subject of 'patient's lives' and 'no cures' is likely to grab the attention of doctors. While their use of words like 'innovation' and 'future' positions them as leaders in the industry, attracting professionals in search of knowledge.
While videos require a greater investment, they are particularly effective at grabbing attention and prompting action online.
Jewelry B2B eCommerce Marketing Campaigns Examples
Faire and Tundra are wholesale jewelry retailers promoting their products to B2C brands. Faire understands the basic principle of retail – sell your stock. Their message of 'find your store's next sold-out item' promises that their products will lead to that. By knowing their audience's desires they're able to compose a compelling message.
Faire makes their post as simple as possible to understand by highlighting the key message in the center of their picture – 'Purchase Wholesale', 'Stock Your Store'. Tundra calls out managers of stores and boutiques directly. A technique that's bound to be effective at grabbing their attention.
They also highlight key selling points for their business customers: a huge range of products, local brands, low prices, free shipping, and net terms. Having added value offerings like free shipping strengthen the value proposition, increasing the chance of generating a sale.
Find out more about targeting posts to jewelry audiences.
Automative B2B eCommerce Marketing Campaigns Examples
Expertec offers auto parts for commercial vans and trucks. They know that for businesses, time is money so their ads get straight to the point. They have the products you need for a good price.
The clean simple images mean that the products stand out and are quickly identifiable as for sale. While this seems like a small benefit, it can make a dramatic difference in catching someone's attention as they scroll through a newsfeed. The message is equally simple and makes references to its customers 'commercial, trades, and cargo vans', no doubt grabbing the attention of anyone that owns one.
Food & Beverage B2B eCommerce Marketing Campaign Examples
Sysco again promotes the ease of using their services – a huge benefit for their busy business target audience. By knowing their audiences' needs, sales barriers, and problems they're able to sell themselves as the solution. The art is conveying that message in a short, simple social post.
Their promotion goes a step further and offers to analyze their menu for free if they sign up. This is a great marketing technique to collect the email addresses of warm leads and push them further through your sales funnel.
Covid-19 has brought new challenges to all sectors but it has hit the food and drink sector particularly hard. Many restaurants have turned to providing takeaways to survive. Brands that enable businesses to evolve to these new demands are likely to excel, attracting new and loyal customers. Sysco and JJ Foodservice have both realized this and become part of the solution by offering takeaway assistance.
Electrical & Electronic Manufacturing B2B eCommerce Marketing Campaign
It's important for B2C brands to know that their end product will result in satisfied customers. The B2B businesses that serve these brands must have that in mind when promoting their products. Sony does this by providing customer testimonials on its electrical products. Its message 'The people have spoken' perfectly persuades B2C brands that this product will be appreciated and desired by their customers.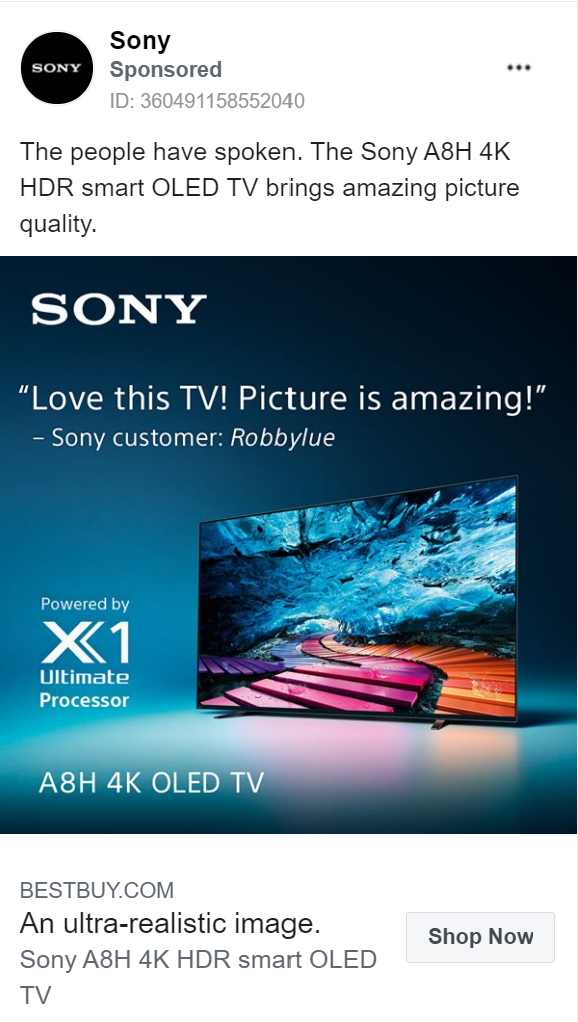 Panasonic offers free webinars to introduce organizations to their products. While this provides a great opportunity for organizations to learn about how to use electronic systems, it also gives Panasonic the chance to promote their products to a potentially untapped market.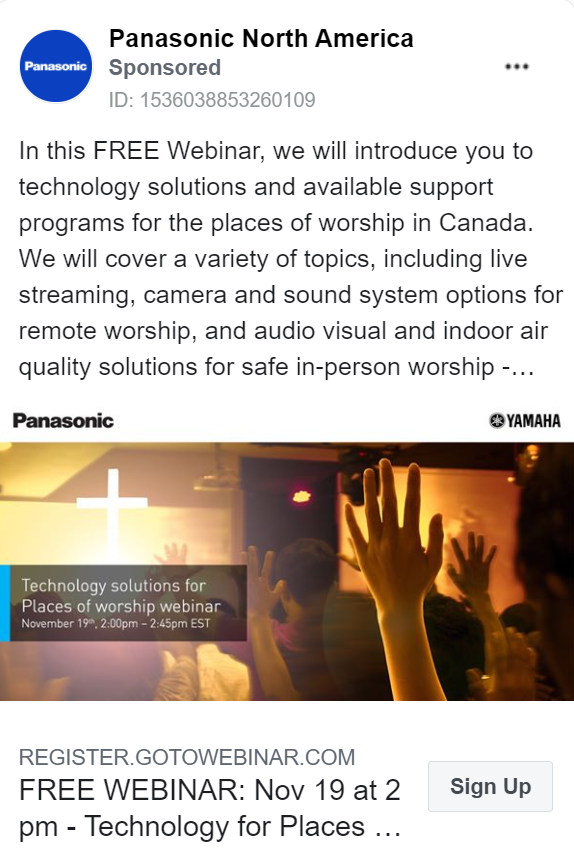 If like most B2B businesses, you have a very specific target audience, you should definitely be using social media's targeted advertising to communicate with them. No matter what eCommerce business niche you fit into, you'll almost certainly find your audience online.
Summary
When producing targeted posts remember:
Create easily identifiable sector and role-specific content. That includes messaging and imagery.
Remember to keep it simple. Businesses are busy and the less time it takes them to make a decision about your brand, the more grateful they'll be.
Offer them free services to secure their contact details, turning them into warm leads.
Give them confidence that their customers and staff will appreciate the product.
Be the solution to their problems.
For more advice on producing targeted marketing campaigns get in touch with our team.