When it comes to luxury products, real estate tends to command the highest price. The higher the price of a product, the greater the importance of effective marketing.
While marketing used to rely on adverts in publications or (for those who could afford it) television commercials, times have changed. Advertising has moved online and social media marketing has been born. The nature of social media has given businesses the opportunity to reach their audience anytime, anywhere. Most importantly, it's allowed for unprecedented ad targeting which has reduced ad wastage and boosted return on ad spend (ROAS).
Few industries have utilized this new channel quite as much as real estate. Let's take a look at how successful realtors have been marketing their luxury real estate online.
Sell A Lifestyle
Use beautiful imagery, and well-worded messaging to sell more than a house. Sell a new lifestyle. Sell a new life.
Dan Urbach Luxury Real Estate use the messaging 'live luxuriously in Brentwood' and 'experience living in Santa Monica'. Their beautiful descriptions of each city (vibrant, luxe, idyllic views, upscale, tranquil) complement the stunning imagery used. All in all, they make for a very desirable lifestyle and a very compelling advert.
JamesEdition goes a step further. They use the phrase 'Realize the life you envision', to suggest that their properties will elevate you from your current drab life to the life you consider your ideal – your vision. They accompany this messaging with beautiful imagery that allows you to picture yourself there.
Promote Your USPs
With so many real estate companies vying for attention, promoting your unique selling points is key to capturing custom. They should be the focus of your luxury real estate marketing campaigns. Luxury Porfolio International promote their listings as being 'homes with history'. History can't be bought, making their homes invaluable.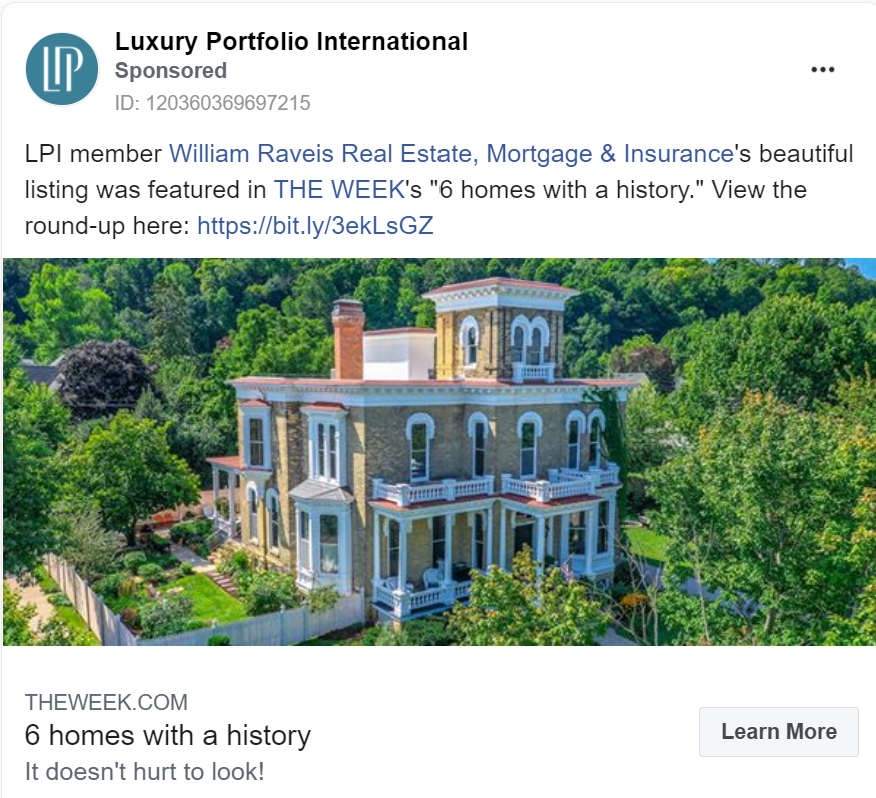 JamesEdition promotes its 1000's of properties, highlighting all the choices you'll receive by using their services. Its catchphrase 'discover one destination for the best homes in luxury real estate' suggests that its unique selling point is the ability to use one brand to search for any and all luxury homes. This is a big benefit for busy people who can use one point of contact without sacrificing their choice range. Moreover, they advertise having these properties in Italy, making their offerings international.
Build Trust to Market Luxury Real Estate
As a large commitment, property buyers must trust their sellers. Unusually for modern business, a large amount of importance is placed on the client's relationship with the individual realtor. As a result personal brands (brands for each realtor) are prolific in the industry.
By marketing your personal brand, and positioning yourself as trustworthy, you're far more likely to build a positive and lucrative relationship with your customers.
Dan Urbach promotes his own business' 25 years experience and $1 Billion in sales, but above all he promotes himself. His portrait when combined with statements like 'Dan knows where', promotes him as a trustworthy expert in real estate. By building his personal brand and promoting his reputation, he increases his credibility. As a result, he's much more likely to build a positive relationship with potential customers.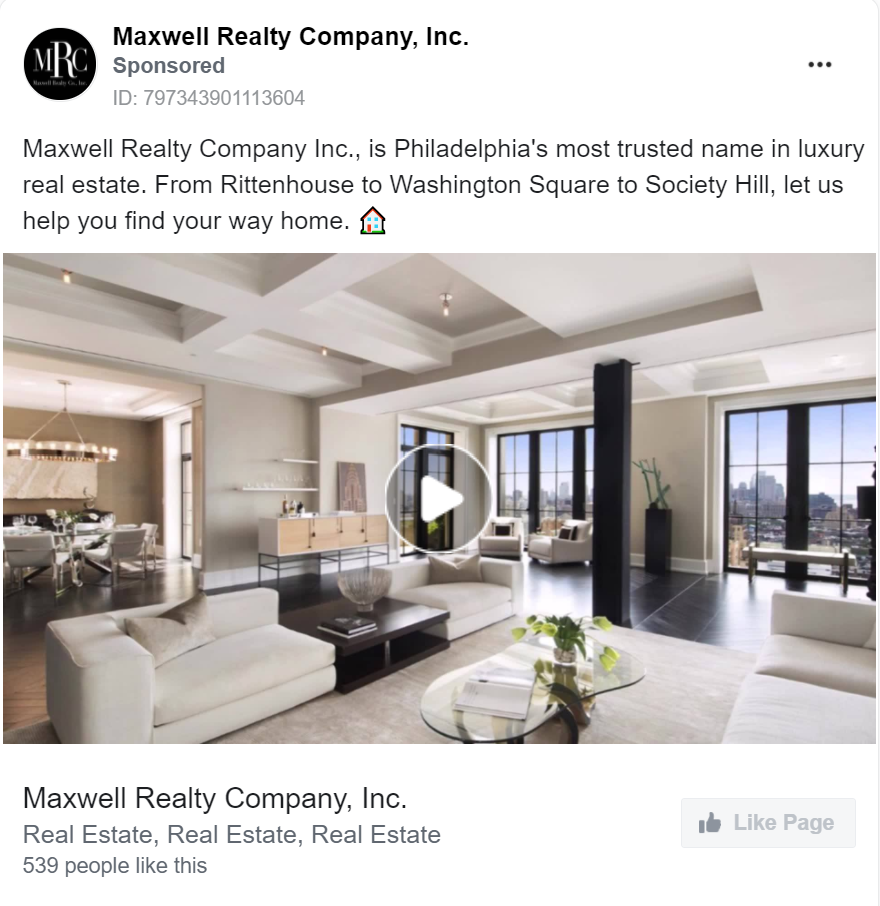 Maxwell Realty states that they are 'Philadelphia's most trusted name in luxury real estate'. The simple act of stating this goes a long way in convincing customers of it. They also word their caption 'Let us help you find your way home', instead of 'let us sell you a home'. By positioning this as a partnership instead of a seller-buyer relationship, the buyer intrinsically trusts the brand more. As a result, they're likely to display stronger brand loyalty and utilize the seller for their eventual purchase.

Prove Your Expertise
Prove your expertise and offer added value to your services by publishing informative materials about your industry. By sharing these on social media, and requiring an email to receive them, these documents can be turned into warm leads.
Team Sandy Blanton Realty offers a 'no obligation home value report', while Luxury Portfolio International released their latest report on 'The Modern Luxury Home'. Publishing these reports suggest that the businesses are at the forefront of their industry and truly are experts.
Howard Hanna Realty Services have produced an eBook full of experts 'secrets' available for free via download. While giving away this sort of information free of charge may seem counterproductive, in reality, it won't assist your customers enough to make your services redundant. Most likely it will boost their perception of your brand's expertise and credibility, leading to sales in the long run.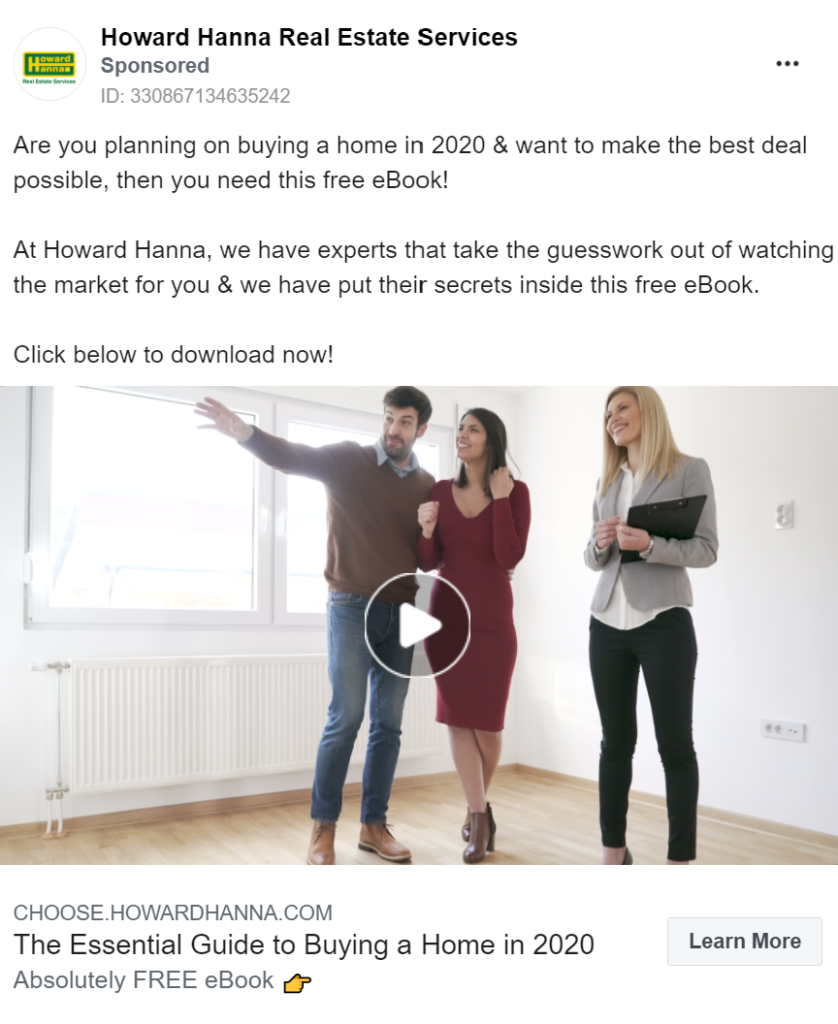 Know What Matters to Luxury Real Estate Buyers
By understanding your target audience, you're able to put yourself in their shoes and create a compelling sales pitch. Sobha Realty highlights the number of schools in the area and their property's proximity to shops. By promoting these key issues in their social media posts they are more likely to grab the attention of their target audience.
For others, having access to a ski hill, 'slopeside luxury', and a 'year-round getaway' is a more tempting proposition. Telluride makes the most of advertising to their audience.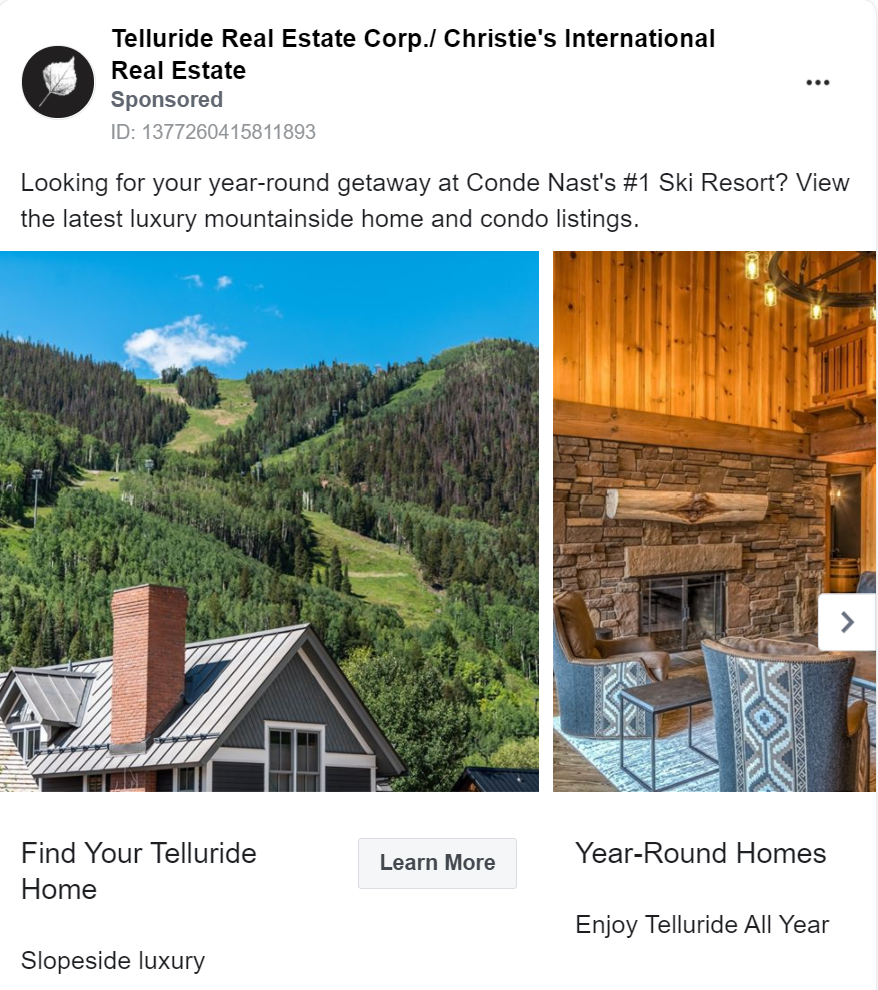 Target Savvy Business People With Your Luxury Real Estate Marketing
Many luxury goods can be sold as an investment. This is particularly true with real estate. By reminding your audience that properties aren't just a luxury but a smart business choice, you're likely to boost sales.
Team Sandy goes as far as to call buying one of their properties a 'smart investment'. Sobha Realty on the other hand suggests that purchasing a property with them is an investment in Dubai – an already huge economy.
Market Your Luxury Real Estate By Tempting Your Audience
Attract the attention of people who don't know they're looking, and sow the seed of a new property purchase by promoting deals on your social channels. By showing what a certain amount of money could buy, you're likely to tempt people into investigating further. Once they follow links in your post, it's up to your website to continue pushing them through the sales funnel.
The Alex and Joe Team ensure that price ranges are always present on their ads to capture the attention of a wide audience. With beautiful imagery and messaging asking you to 'discover what $1.5M-$3M can get you today', it's likely that anyone who can afford a property in that range will be tempted to browse their site. The convincing caption 'Stop Searching. Start Living' may be the final message needed to push them to the site.
Catch Attention with Videos
Unlike many forms of advertising, social media allows you to post both static images and videos. Videos tend to require more investment to produce but have a much better chance of catching a potential customer's attention. As a result they should be part of any business's marketing of luxury real estate. You may not be able to create one for every post but by producing a variety of videos for your key campaigns, you'll be able to utilize both static and video ads.
RE/MAX uses videos to not only promote their services but also breakdown complex information like their National Housing Report.
Use Carousels To Market Your Luxury Real Estate
Along with videos, carousels are a great way to grab the attention of customers. They stand out from other social posts, and along with being eye-catching, promote interaction. By displaying half of the second image, viewers are drawn to click the arrow to see more. Once they've interacted with the ad once, they're likely to do so again, following links to your website.
Cater to Busy People
Most people can afford luxury products as a result of excelling in work. This tends to make them busy, time-pressured people. As a result, posts must make the process of using your website seem quick and simple.
Telluride Real Estate Corp understands this and tells their audience that all they have to do is 'Simply click'. This will no doubt boost clicks which will, in turn, lead to sales.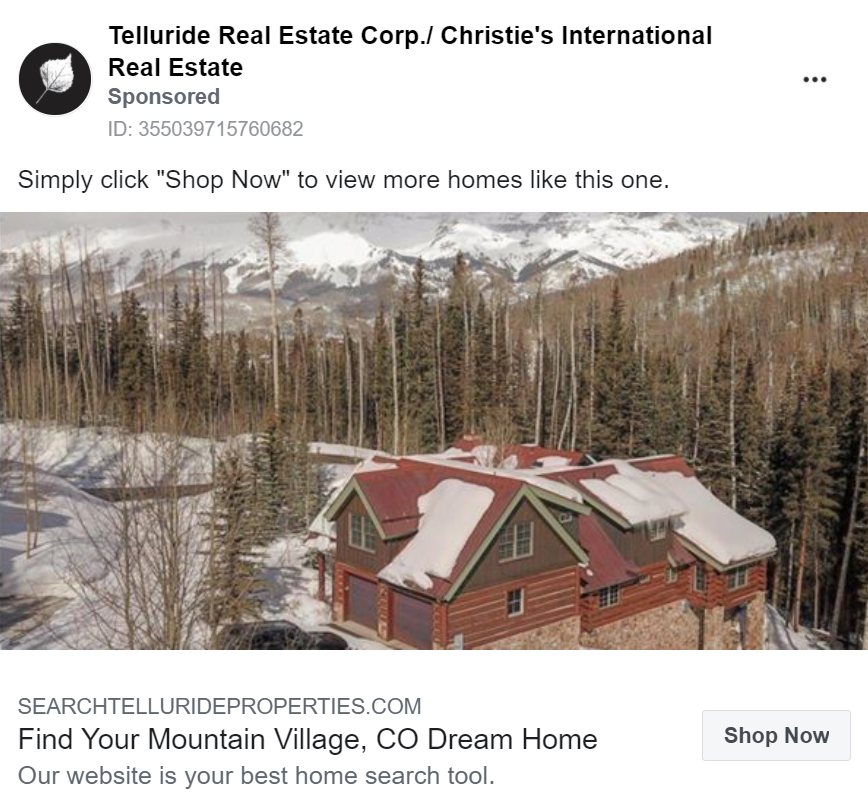 Along with making the initial research phase simple, Telluride has tailored its viewing processes to busy people by providing virtual tours. For the small fee required for their creation, virtual tours are well worth investing in for luxury real estate as they dramatically increase the number of customers able to view the property.
Remove Barriers With Effective Marketing
By truly understanding your audience you'll understand what barriers they have to purchase. Currently, Covid-19 is providing a big barrier to most commerce. In an effort to break down this barrier, RE/MAX has written and promoted an advice blog '5 Tips for Moving During a Pandemic'. By dispelling thoughts that now is a bad time to move, they hope to generate sales in the near future.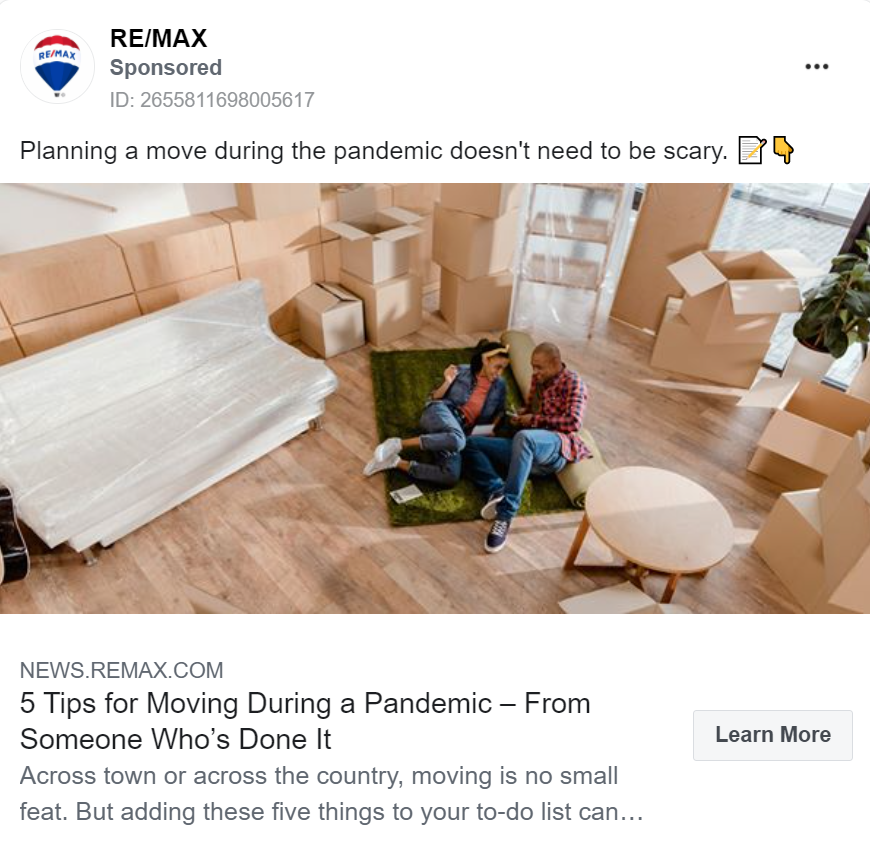 Marketing Luxury Real Estate Summary
When it comes to marketing luxury real estate online, learn from those who are already having great success. Follow their example and remember:
Sell a lifestyle
Promote yourself (USP, expertise, trustworthiness)
Know your audience and design sales pitches to target them
Create attention-grabbing ads
Remove barriers to purchase
For more information on marketing luxury real estate contact our team.