I know you might be stressful, searching for the proven jewellery website design, or just a clients project might be a headache. So' I decided to make it easy for you. Being involved in the jewellery industry since 2012, retail and eCommerce as well. I precisely understand and know what do you need to have to ensure instant trust, more sales and higher conversion rates at your online store.
***You also can analyse a short case study here when I grow a jewellery brand from 0% to 1500% return on investment.
So we will analyse three websites, so you can have a general idea of what your website must have to ensure impactful impressions. Those 3 websites must be your inspiration for the overall look of the website.
1. https://www.modaoperandi.com
2. https://www.hermes.com
3. https://www.tiffany.com
But we also will review persuasion aspects for website design. The tops 100 most persuasive eCommerce stores provided by Crobox.com – one of the best conversion rate optimisation/ eCommerce sales persuasion company in Europe: https://crobox.com/persuasion-index/100/
and also 23 Persuasion Retail Trends: https://crobox.com/persuasion-index/download/ recommended integrating into your website design.
So we are going to discuss and combine two things:
1. Visual aspects to ensure impactful experience.
2. Persuasion aspects to consider during the design phase. To provide more sale and revenue.
Let's start with your home page:
Jewellery Website Home Page Design
The home page is when the customer journey usually starts. It has to mention a clear path to your categories/destinations.
Big menus with images are in trend right now.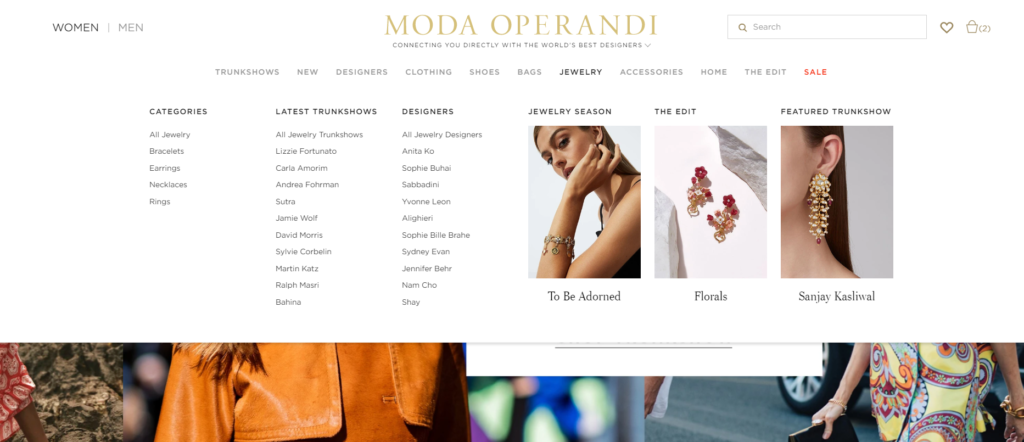 Tiffany & Co, for example, has a FULL PAGE menu. Easy to navigate, easy to close, easy to go back to the home page again.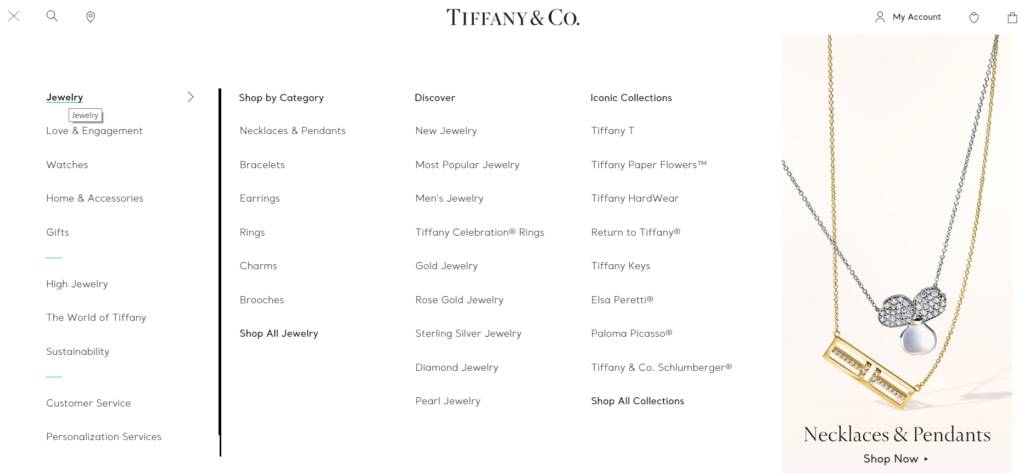 The home page is when you represent your New Collections, New Arrivals and Offers;
Hermes has an incredible Cinemagraph effect that captures attention. Check it.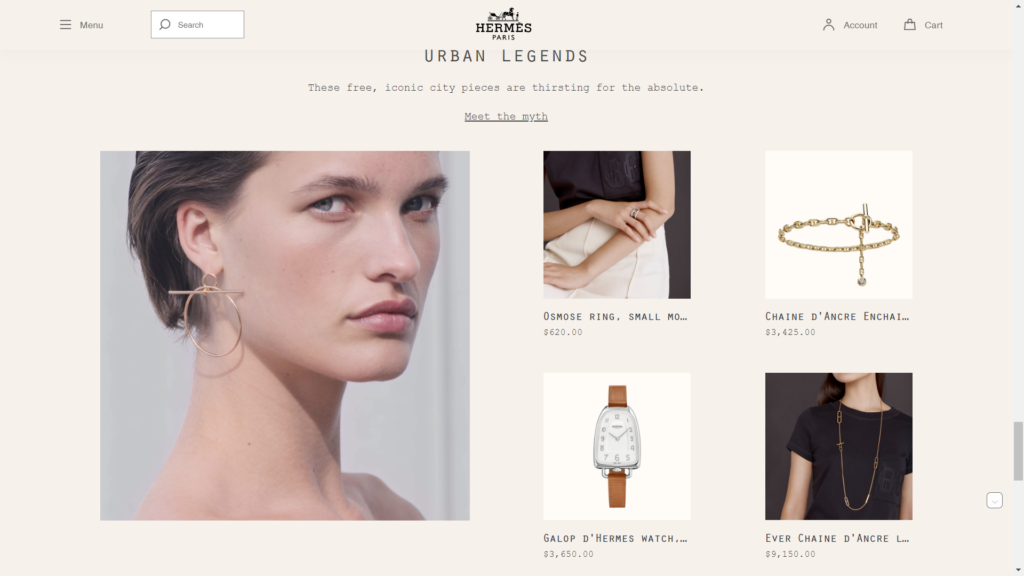 Also, to show events. Like Tiffany & Co does:

Don't forget to show your corporate social responsibility activities as well, if they exist.
Your Location, it will help to establish trust and drive customers to your retail store using an online store as a starting point:
Chopard for examples Combining Location and Email Capturing, and I know 20% of sales are coming from email marketing 😉. See how it looks:


Jewellery Website Category Page Design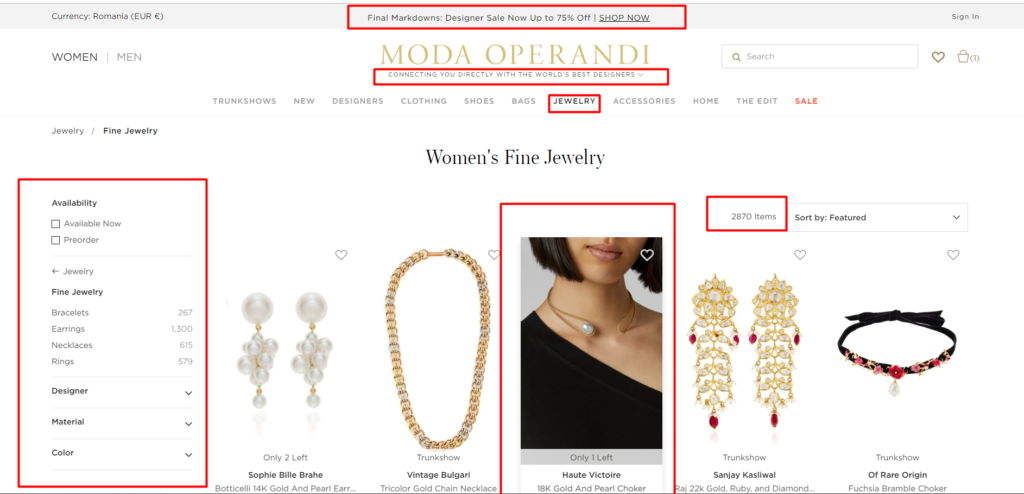 At Moda Operandi, you can finder filters that help to find faster the desired item. Mandatory to have if you are planning to have significant collections of jewellery pieces.
After that, we have Image Hover Overlay that is providing tremendous USER EXPERIENCE. It makes the user explore more inside the category page. Instead of doing back and forward, that may prevent a customer from staying longer on your website.
You see, images are optimised for MOBILE FORMAT, even from desktop preview. And pictures from product page as well. Overall this format offers better user experience.
Please take a look, below the image with lady, we have "ONLY 1 LEFT". This a scarcity principle that makes buyers act RIGHT NOW! It evokes the fear of losing. Who likes to lose something they want? Nobody.
Jewellery Website Product Page Design
My recommendation is to have at least three pictures of jewellery from different angles. Most important is a photo with a model wearing the product it drastically increases conversion rates!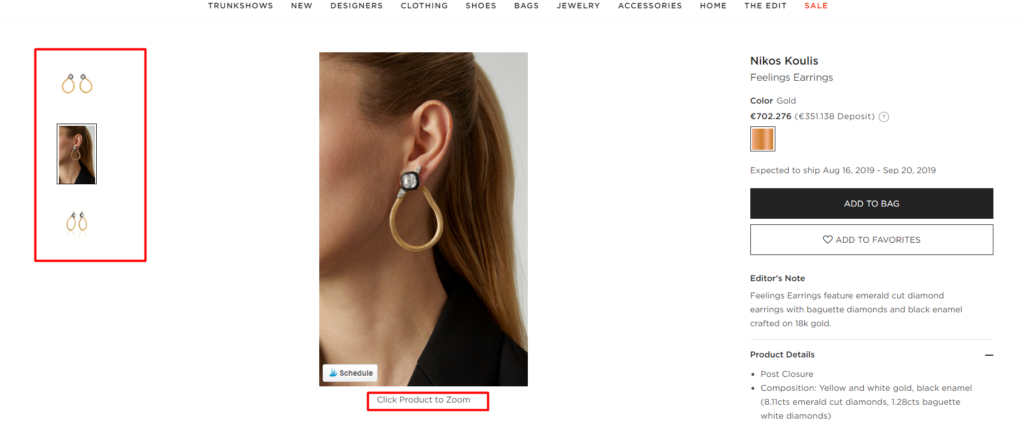 Below the product we have some jewellery recommendations "You May Also Like" it helps to make the potential customer dive deep and analyse more products. Stay longer with your brand, the more they stay and interact the more chances you have to sell online.


And we also have recently viewed to make sure that can quickly return to a product they liked more.



And at the bottom of the page, we have TRUST SIGNALS – I HIGLY recommend to place those trust symbols below the product description.

Free Returns.

You see, the right product page must crush all the fears you potential customer might have.
Ask yourself, what are the fears or objection a customer might have when buying jewellery?
I don't have money now – OK you can offer a layaway/credit payments option.
What if it's too heavy for me – Ok, no worries, return your items in 30 days if you don't like them.
Is this company a scam? Can I trust them? – Ok, place real reviews from your customer. Show your social media followers and pages. Show your certificates and even company registrations number.
How I can be sure transaction are secure? – Ok, implement a tagline below "Place order" button, that your transaction is 100% secure.
Those are small things that make a difference. Implement them, and you will have all the chances in the world to boost your sales.
Jewellery Website Cart Page Design
Seamless interactions are in trend right now. For instance, take a look at Hermes.com cart page or account page. It happens without leaving a product page. All process occurs on the right side: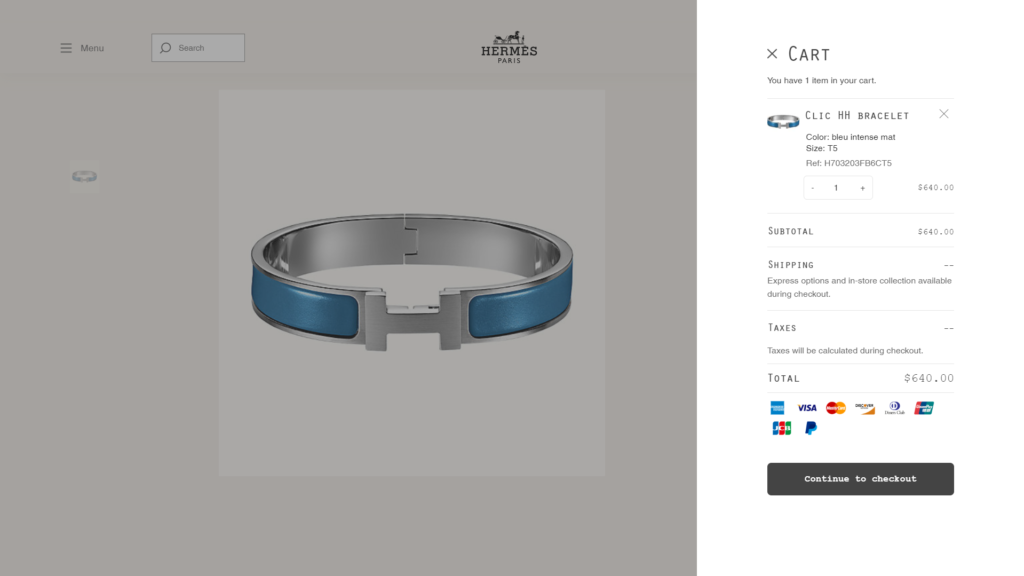 But you also might ask, how to increase sales using cart pages? Of course, you can develop an additional module that will push specific items so people can add them to the cart as well. You can also add upsell at the product page.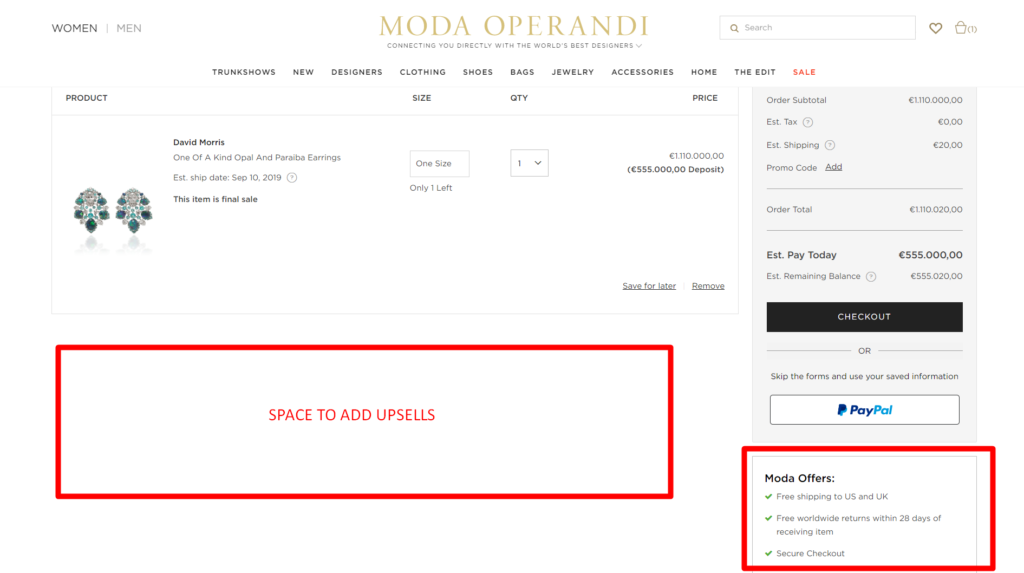 Also, after the purchase is made 😉 When you can sell an item, they visualised before, at the discounted price. One time offer – once they skip it, they will never have a chance to buy it at a lower price. It also called post-purchase upsells.
You also can do cross-sells.
So don't forget about upsells, and cross-sells, they can increase your revenue by up to 35% 😉 You can use them, at the product page, cart page, and after purchase is made.
Jewellery Website Checkout Page Design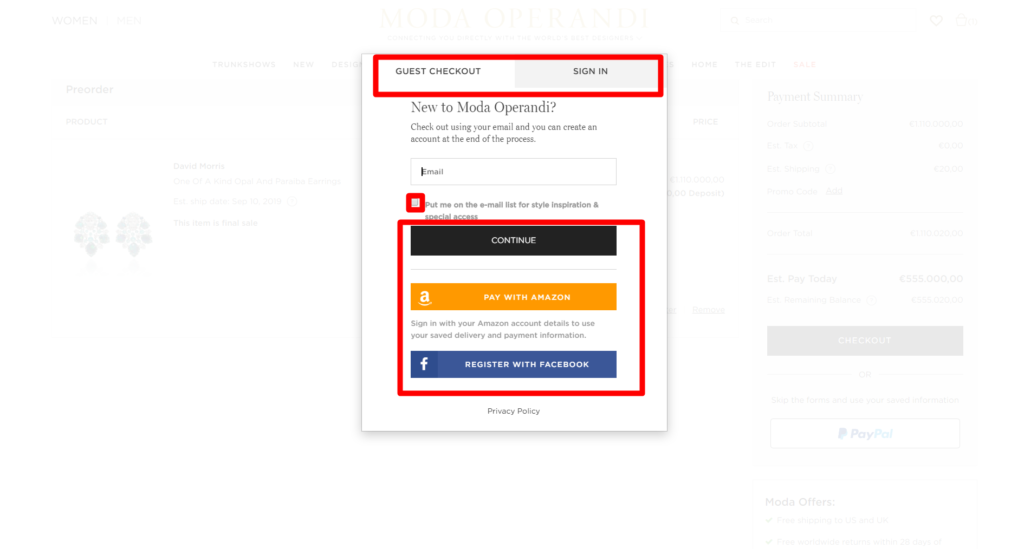 Don't make your users obligatory to register you will lose sales. Instead, offer them a few possibilities, like registration via social media, amazon or guest checkout with their email address.
Progress bar, make them finish the process with a clear understanding of where they are right now and how many steps they need to make.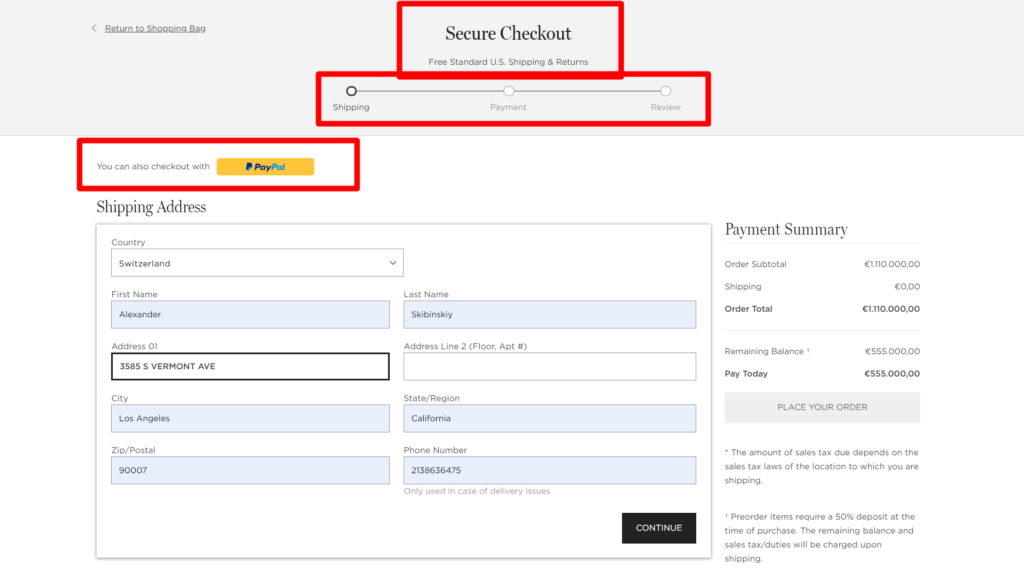 Show them your care, show them your responsibility! It enhances buyer emotions. Here we have a good example, like ECO-friendly packaging option.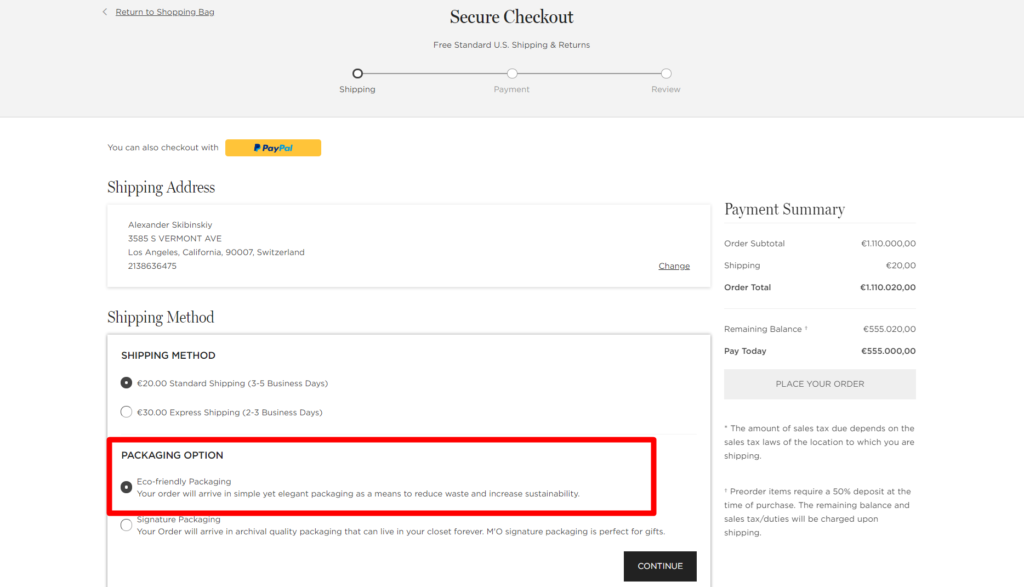 In the end, don't forget more payment options like amazon payment, PayPal payment, credit card payment, payment on delivery, and of course layaway payments.
In conclusion:
Do your research. Hire a professional who can design a jewellery website that will function at the best possible performance. Don't focus only on visuals, think and plan your design strategically from sales and technical point of view first.
Sales are everything; sales are happiness.
Now, if you learnt something new from this blog post, I kindly ask you to comment and share it with your network on social media. Thank you!
Read more:
Luxury Jewelry Marketing 1500% ROI from Facebook Advertising [Case Study]
Jewelry Advertising Mistakes, Analytics Examples, and Channels
How to increase high-end jewelry sales online without wasting money on marketing