When it comes to effective marketing, all businesses must consider their sales funnel and how they plan to move potential customers through it. Marketing techniques enable businesses to catch the attention of potential customers, gain their interest, inform their decision, and prompt purchase. This process is described as AIDA (awareness, interest, decision, action), and is used in successfully marketing dental practices.
Spa Dental Clinic is an expert in using AIDA to secure customers and drive sales. Examples below highlight the marketing techniques used to pull its audience through the sales funnels from awareness to action.
Sales System for Getting New Patients for Dental Clinic
Spa Dental Clinic has set up multiple sales funnels to target different audiences and desired outcomes. Its first sales funnel targets Worcester residents and persuades them to visit the clinic for their next dental check-up.
Step One of your Dental Marketing Strategy is Advertising:
These are a selection of three of the nine ads Spa Dental is currently promoting on social media. To ensure they are getting the best return on ad spend (ROAS), they trial three images and three messages. The additional six ads use different combinations of these three images and messages. By trialing their ads, they are more likely to develop an effective ad with a high conversion rate and ROAS.
Through targeting, Spa Dental decreases wastage showing the ads to those local to the practice only, further increasing their ROAS. Most importantly, by using the name of the city in its ad, it is addressing locals directly. This gives them a much greater chance of catching their attention and building awareness of their brand.
Along with directly addressing Worcester residents, the messaging continues to talk to readers directly by asking them questions, e.g. "Time for a dental check-up?". These kinds of rhetorical questions grab the reader's attention. They also get them to think about how long it has been since they last went to the dentist. This question alone generates a demand for the clinic's services, reminding those who haven't had a check-up recently.
The images used further enhance the chance of catching the attention of potential customers. Each model is looking directly at the viewer, a guaranteed technique for drawing the eye. The use of professional-looking dentists and attractive patients makes the ads even more eye-catching.
OK, the ad has our attention. Now it's time to perk our interest in their services. Spa Dental begins to generate interest by offering a special deal for new patients. This financial reward, a discount from £124 to £59 certainly seems like a reason to look more into the brand. The added value proposition, informing you that this price includes an x-ray and airflow cleaning, makes the offer seem like a great deal.
To move the audience on to the next step in their funnel, Spa Dental create a sense of urgency. The offer is only for a limited time! Best follow the link now and make a decision.
Step Two – Build Sales Driven Landing Page with an offer to get more dental patients (NOT A CORPORATE WEBSITE)
Funnel one adverts take you to a landing page specifically for new patients. The landing page is used to move people through the sales funnel from interest to decision and finally action.
The page begins with the sense of urgency stirred by the ad "Limited time offer". This ensures that the audience knows they must make their decision now or risk missing out. The second message reiterated is the financial gain of the offer. This provides a motive to continue reading.
From here the website highlights all the benefits readers may need to make their decision. Customers are promised much more than a check-up. The check-up will give them "full control" over their oral health, "a beautiful smile", the freshest mouth they've had in a long time, and the guarantee of identifying any dental issues before they require extensive treatment. By focussing on the benefits rather than the product, they make a more compelling argument.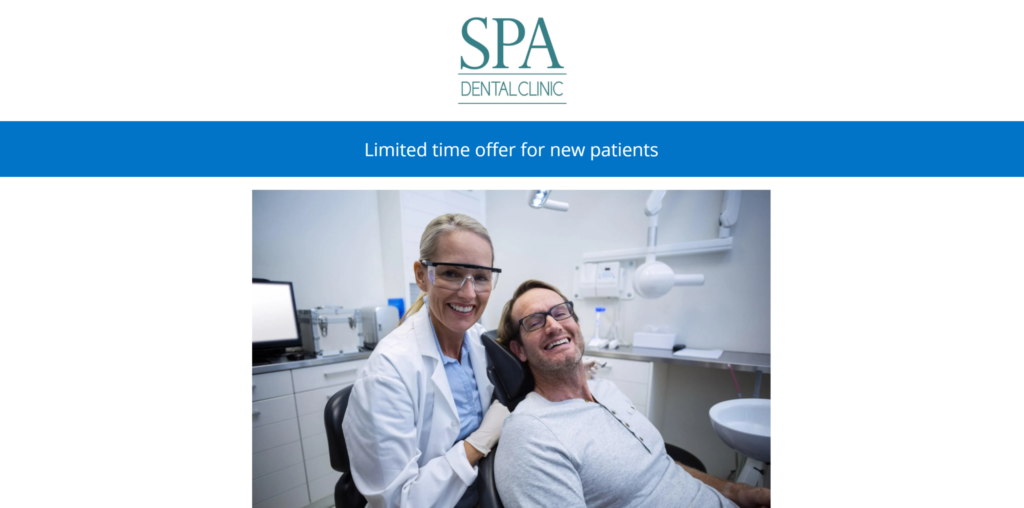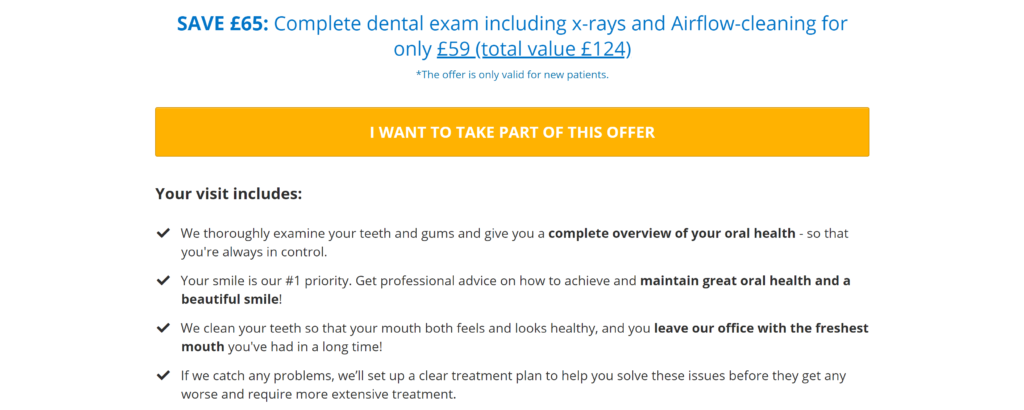 To make good decisions, people must feel informed. Spa Dental uses the landing page to educate people about tooth discoloration and portray Airflow as the solution.

To help its audience decide whether or not to sign up to the brand, it displays customer reviews. Social proof acts as a strong indication that a business or service is of high quality. In this case, it boosts the reputation of Spa Dental and reassures readers that it's reputable and trustworthy.



Location is a key factor in deciding to use a service that you must physically attend. Having this information readily available on the landing page helps to speed up people's decision-making.

Spa Dental Clinic adds further social proof by using people's Facebook reviews. When it comes to trust indicators, the more the better.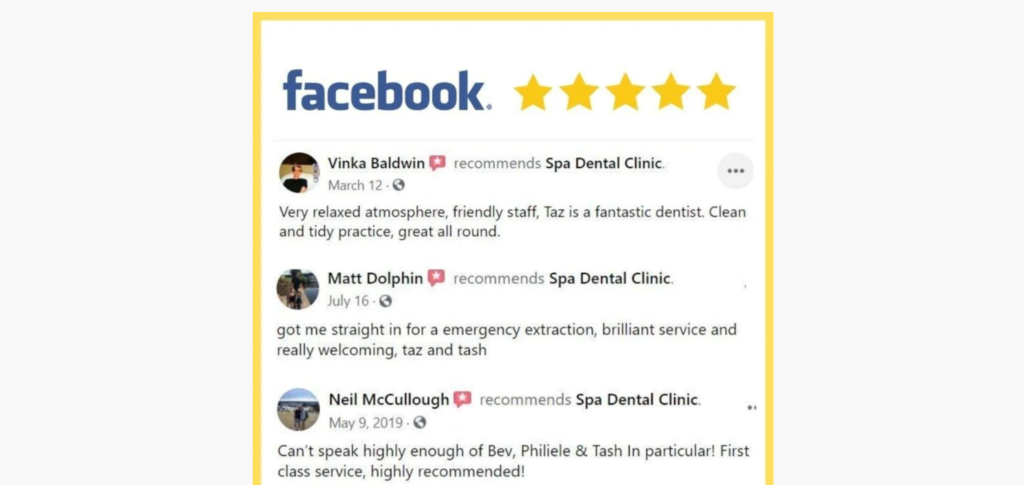 As with the images from the ads, the landing page features happy, attractive models with very white teeth. They imply that if you use Spa Dental, you'll be as happy and healthy as they are.
To make the potential customer's decision even easier, they offer no commitments or extra costs with the offer. As a result, they have nothing to lose and plenty to gain.
A final message creates a sense of scarcity, with the offer having limited availability. Customers must make the decision quickly and sign up now.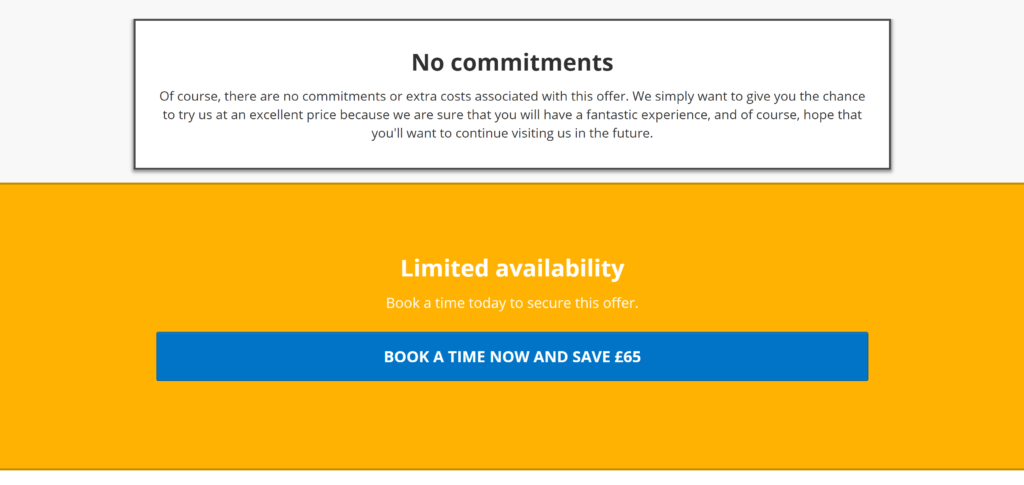 USE EXIT INTENT POP-UP TO CONVERT MORE VISITORS INTO PATIENTS:
They've become aware of the company, had their interest spiked by the offer, and been provided with lots of information to help them make their decision. Now they must take action and book an appointment. Once readers click on 'Book a Time Now', they are presented with a pop-up that takes their contact details and preferred appointment date. While an easy process, completing this form makes them feel committed to going ahead with the appointment. It also provides the business with contact details to chase their new lead.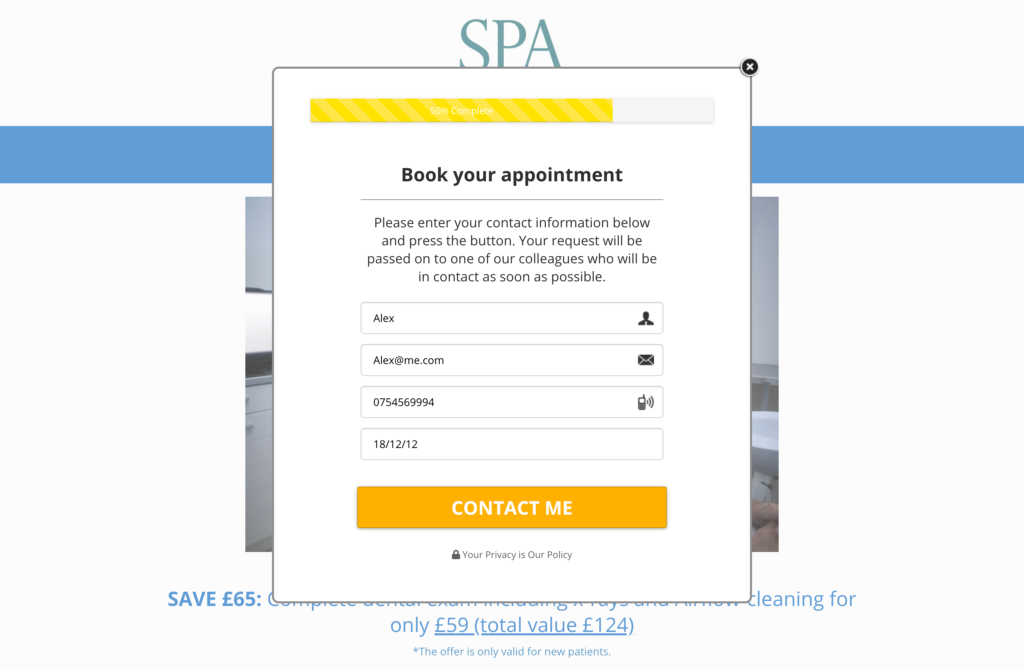 Rewarding Action with a Thank You Page
Finally, having worked their way from awareness to action, customers are presented with a thank you page. This page reassures them that they will be contacted soon to complete the admin regarding their appointment.
The page also highlights the small print that Spa Dental are required to share, but that may have been offputting for readers during the decision-making process. Had Spa Dental mentioned a small refundable deposit fee earlier, it's like that several people would have chosen not to sign up. As it waited until it had received their contact details, customers now feel more committed to the appointment. Additionally, the clinic's staff are able to call them directly to convince them to go ahead.
With this process, Spa Dental Clinic has displayed a perfect example of how to use classic marketing techniques to move potential customers through a dental practice's sales funnel to action.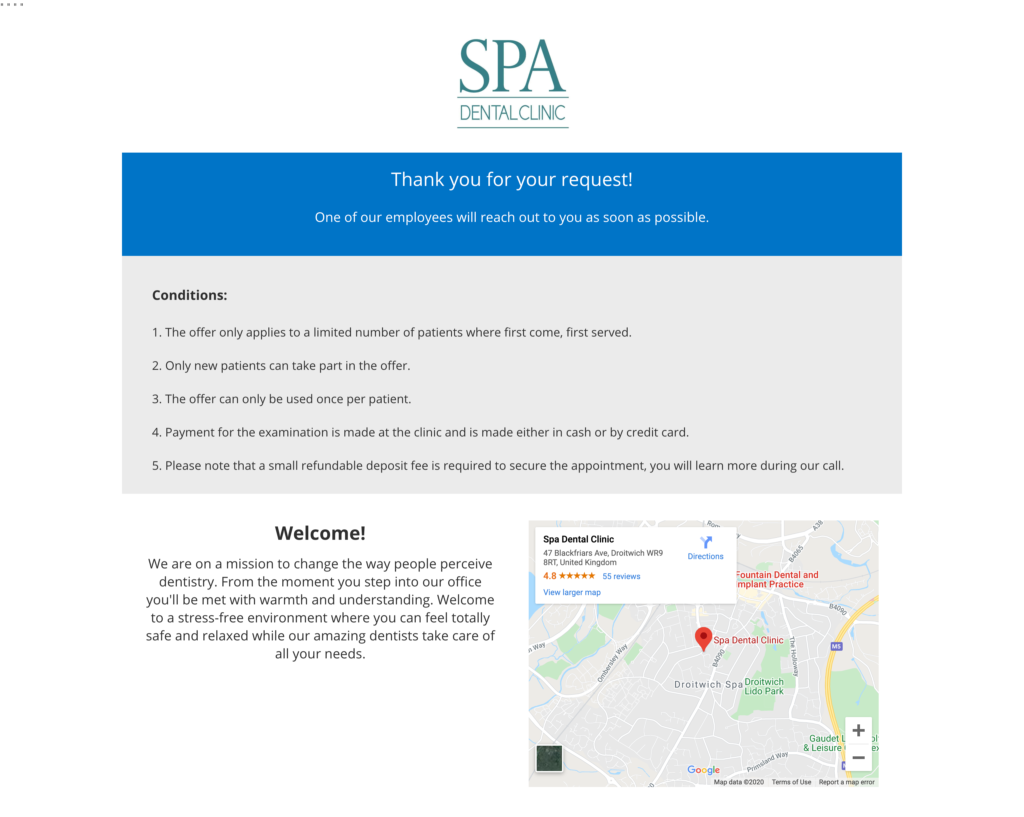 Funnel Two – Generating Dental Implant Patients with a Quiz Sales Funnel
The second funnel specifically targets people who could benefit from dental implants. To engage people and generate leads, Spa Dental Clinic has created a quiz and promotes it on social media.
Building Awareness and Interest with Social Media Ads
In fitting with their ad trialing technique in funnel one, Spa Dental trial a variety of messages, pictures, and videos in their social media advertising. As dental implants are more likely needed by older people, they use older models. Emojis used in the copy work well at catching attention, and break up the text increasing readability.
To reduce the fear and severity that people may associate with the dental implant operation, it produced a quick video to build awareness of what the process involves. It makes the process look simple and pain-free. Being a video has the added effect of catching people's attention more effectively than an image alone.
Again their messaging uses rhetorical questions to catch attention "Want to know how our patients are getting rid of their dentures forever?" Their messaging also offers an instant financial reward "Save big on detail implants" and "STOP spending hundreds of Pounds on traditional dentistry". Leading to readers thinking, "OK, I'm interested, tell me how?" Referring to the operation as an "investment" solidifies the idea as one of gain rather than financial loss.
The messaging uses very emotive phrases to build awareness about the cost of poor teeth and the benefit of implants. They suggest poor teeth lead to a "lower quality of life" and stop people from eating their favorite foods, laughing, and socializing. If people with damaged teeth have ever felt any of these emotions, this message would bring those feeling to the surface and motivate change. Even if people hadn't felt them, saying that others do may sow the seed that their teeth are impacting their enjoyment of life.
The ads promise a financial reward, better social lives, happiness, beauty, and health. That's enough to perk most people's interest. They then use urgency to excel readers' progress through their sales funnel "for a limited time".
So we're aware of the services and interested in the savings and life-long rewards. How do we make our decision? Spa Dental has provided a handy quiz to see if readers are a good candidate. Quizzes are popular on social media so users associate them with enjoyment and procrastination. So what do they have to lose?
Assisting Decision-Making with Quizzes
Spa Dental Clinic's quiz appears to give you an unbiased, tailored result to the question "are you a good candidate for dental implants?" In reality, it is a lead generation tool that provides the same answer no matter how you respond. The result is always "Congratulations! It seems like a dental implant consultation is a great solution for you!"
Having already become aware of the company and had your interest spiked by the ads, this quiz helps your decision-making process. Once you've completed the quiz, you feel as though trained professionals have advised you to seek consultation. This certainly provides a motive to follow their advice.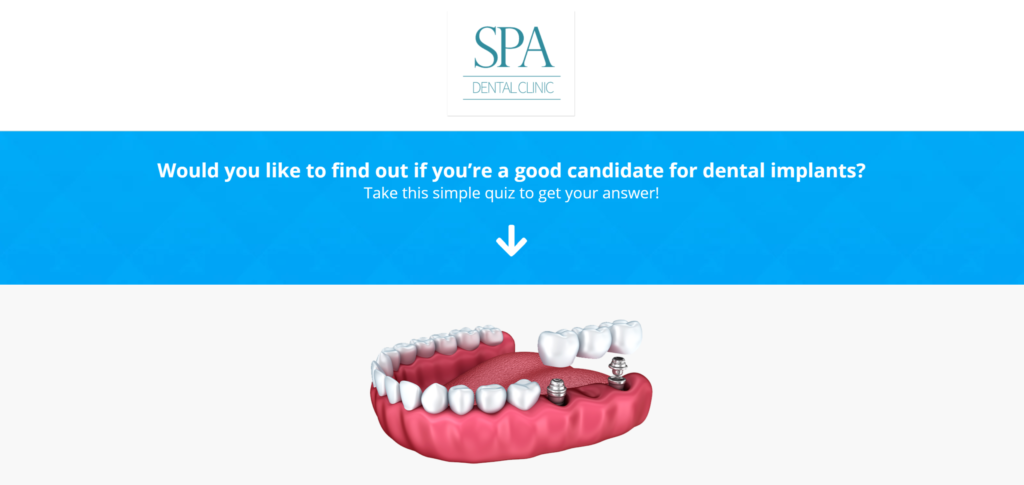 To provide further motivation to move into the action phase of the funnel, the quiz reminds readers of the benefits of dental implants by asking "What would be the biggest benefit if we could help you solve this problem?". All answers are desirable and by framing the question in this way, readers assume that the implants will undoubtedly result in all four benefits.
Once the quiz participant finishes the quiz, they are directed to the "Congratulations! It seems like a dental implant consultation is a great solution for you!" page.
Prompting Action with Persuasive Landing Pages
This landing page uses a variety of tools to help the audience make the decision to sign up for a consultation. By doing this they are sending their contact details to the company where a salesperson can take this warm lead and convince them to pay to have the implants.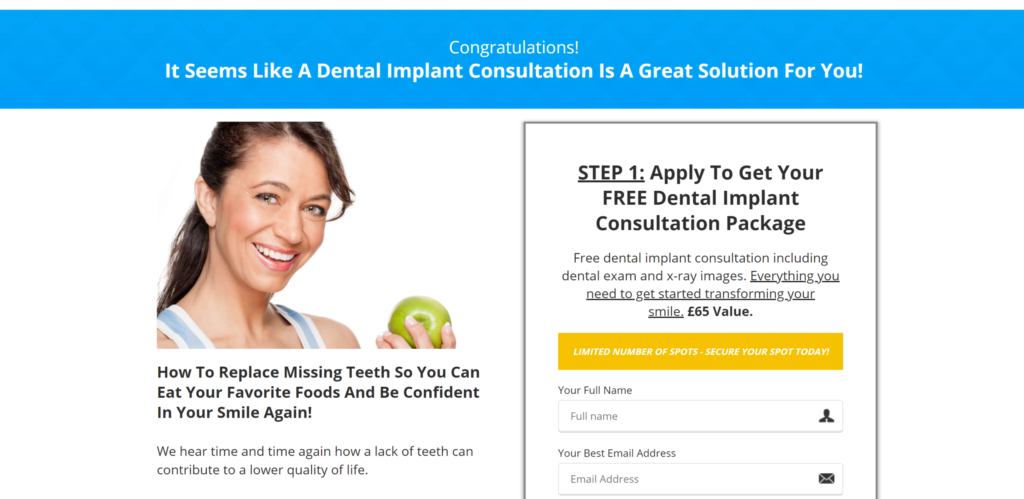 Spa Dental uses familiar marketing techniques repeatedly throughout this landing page. From the very first word "Congratulations!" you are led to believe that this is an exclusive offer, leading to financial and health benefits.
By stating that "£65 value sent to you", the offer is framed as a financial reward despite the customer never actually receiving money. While scarcity is displayed through comments like "Limited number of spots – Secure your spot today" prompting readers to make their decision quickly.
The landing page sells the implants as much more than a product. It's a solution to becoming more confident, eating your favorite food, and transforming your smile. It also informs the reader of how they could be experiencing a low quality of life because of their lack of teeth. By covering both the benefits of having the implants and the negatives of not doing, they've designed a compelling and persuasive argument.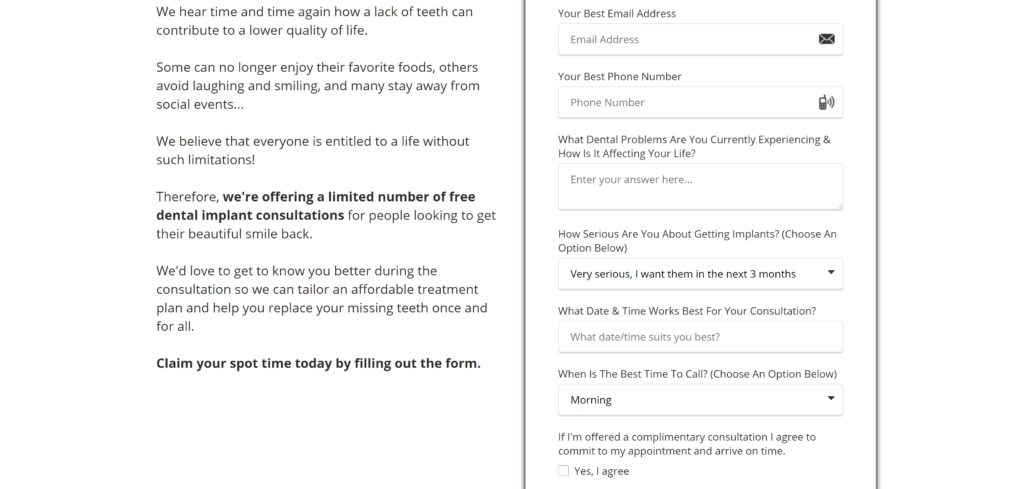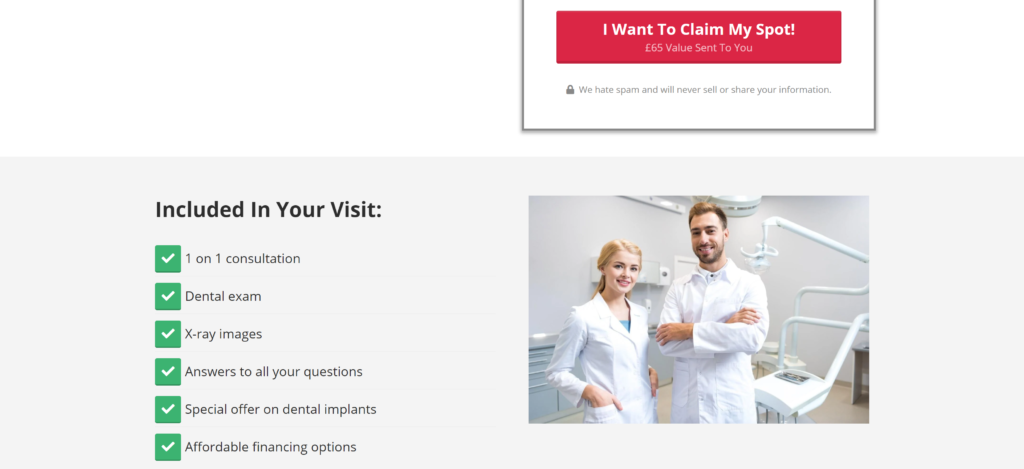 A lot of effort has gone into making people feel comfortable with the decision to part with their personal data which the company will use as a lead. To try and get high-quality contact details, they've asked for people's 'best email address' and 'best phone number'. This aims to combat the number of people who give a secondary email address reserved for potential spam, while also framing themselves as important enough to deserve your best email address. To make people more relaxed about providing their best email address they state "We hate spam and will never sell or share your information."
By asking questions like "what dental problems are you experiencing and how is it affecting your life?" they're able to provide the salesperson with all the details required to make a persuasive argument for the implants. They're also enabling them to prioritize how warm the lead is by asking "how serious are you about getting implants?"

A simple process journey is used to inform people of what's involved in the dental implant process and make the consultation feel very casual and noncommital. Following the journey is information on the cost of implants, which both educate the reader and convince them of their value. Combined, this information makes the audience feel informed enough to make a decision on whether or not they should sign up for the consultation.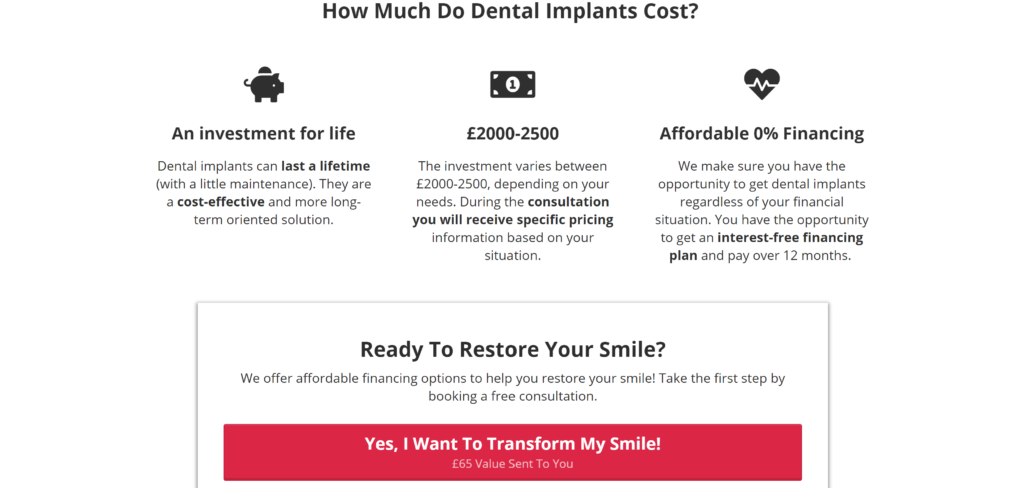 For a second time, the landing page displays its call to action button, hoping that the potential customer has seen enough to make their decision and move to the action level of the funnel.
If they're not quite ready, the page displays Facebook reviews as social proof to help the decision-making process.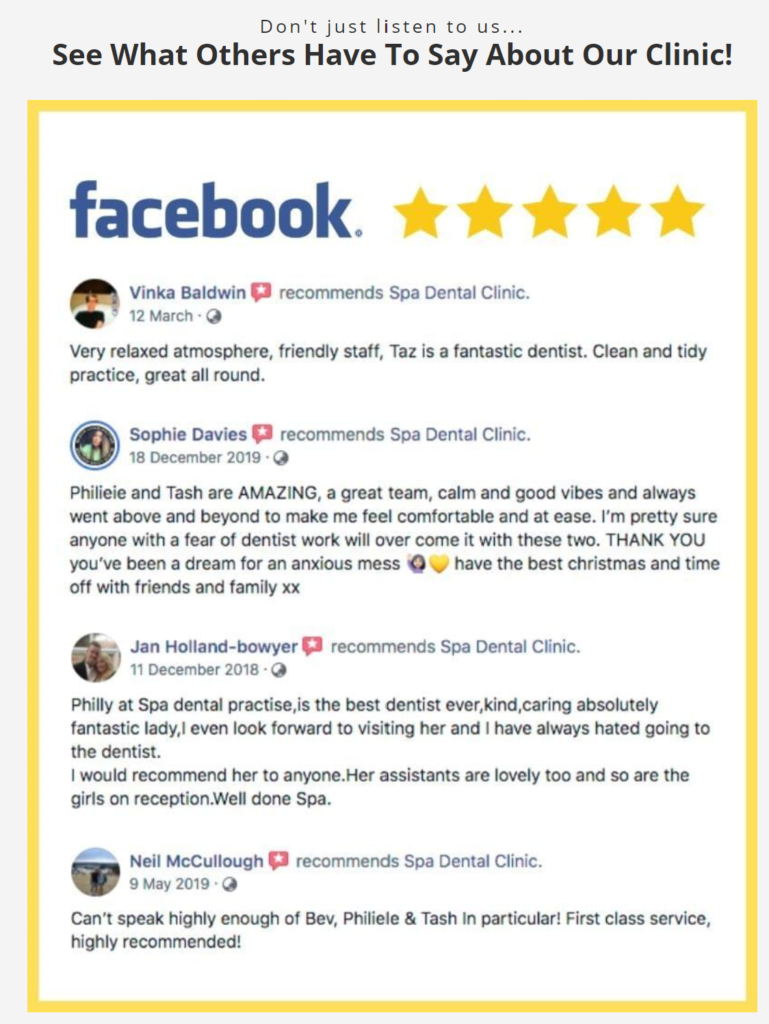 The landing page ends with a final attempt to prompt action from the audience and get them to click the call to action button.
Reaffirming Action with a Thank You Page
Once potential customers fill out the form on the landing page, or click any of the call to action buttons and fill out the same form, they are sent to a thank you page. This informs them to expect a call, keeping the lead warm and ready.
Unlike the first funnel, the second funnel's thank you page doesn't show any small print. The initial offering of this funnel is a free consultation and the final sale will happen face-to-face during this consultation. The clinic wants to wait until customers have been convinced to go ahead with the implants before providing any drawbacks. Instead, they reiterate the process, practical information about location, and testimonials.
All in all, a very successful sales funnel likely to result in many consultations and numerous warm leads.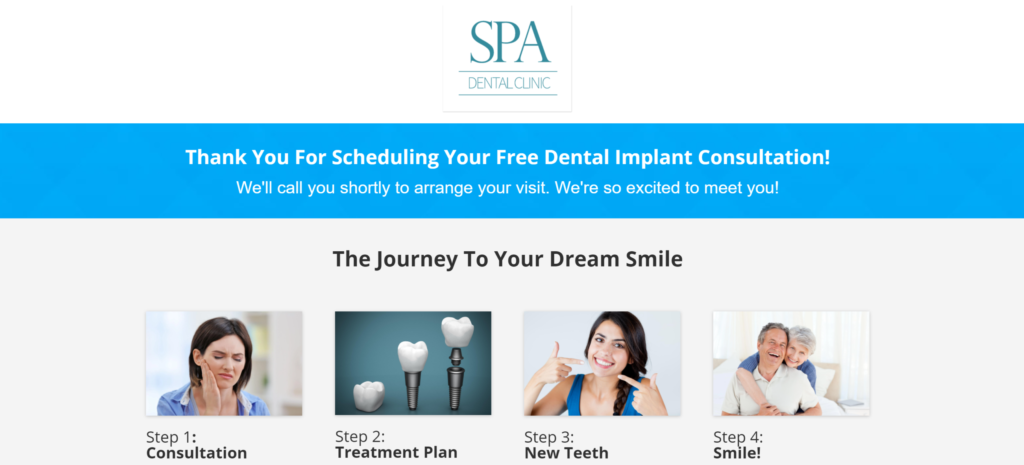 Summary
Spa Dental Clinic is a great example of marketing dental practices. They utilize a variety of marketing tools to move potential customers through their marketing funnels until they become customers.
By following the rules of AIDA, and seeing your adverts as only the first step in your sales process, marketing your dental practice will become much more effective.
For more information on how to plan your sales funnel, or help marketing your dental practice get in touch with our team.