When advertising luxury products on Facebook and Instagram, the time between the act of communications and seeing tangible results may take years. That's why you need a long term luxury eCommerce marketing strategy.

As I said, it can take years and I explain why in my case study: Luxury Jewelry Marketing 1500% ROI from Facebook Advertising. I've devoted many years to luxury marketing, and I'm happy to share my experience with you. Understanding the principles outlined in this blog post will help you to get results faster.
Luxury Ecommerce Advertising Trends
Luxury is about emotions. When selling online, emotions are primarily created by product pictures and descriptions. You are selling pictures and descriptions. The more attractive the picture, the better. An attractive picture always makes people stop scrolling, look at the product, click and explore it further.

For example, today I was searching for some casual articles of clothing. I found a brand I hadn't heard of before. It felt luxurious. The photos and overall website design ensured emotional trust and matched my desire. The shirt costs GBP220 and the vest GBP450. I'm sold.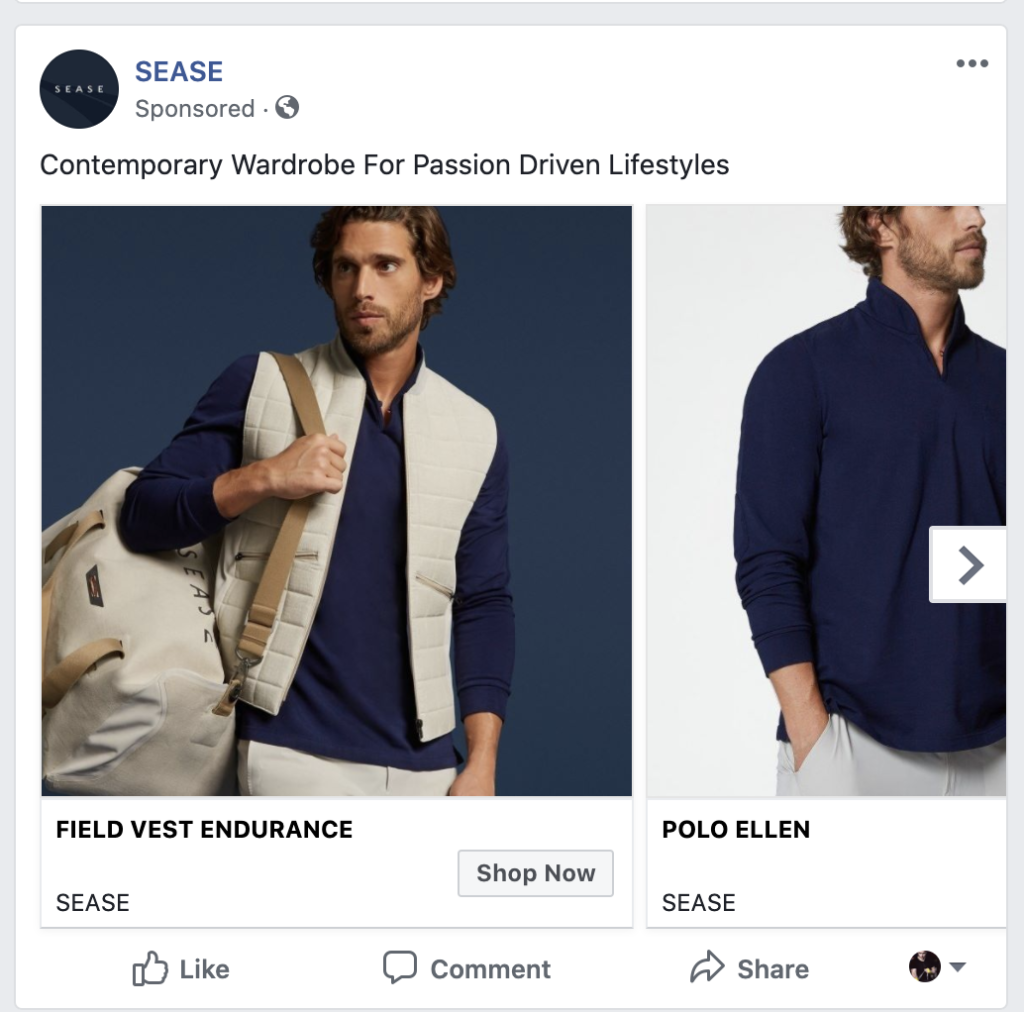 Another example that speaks for itself comes from Taro Ishida. It has an excellent and astute description, but the emotional brilliance is created by the product itself. I haven't seen any ads from this brand on Facebook. From my point of view, it has fantastic potential with paid digital marketing.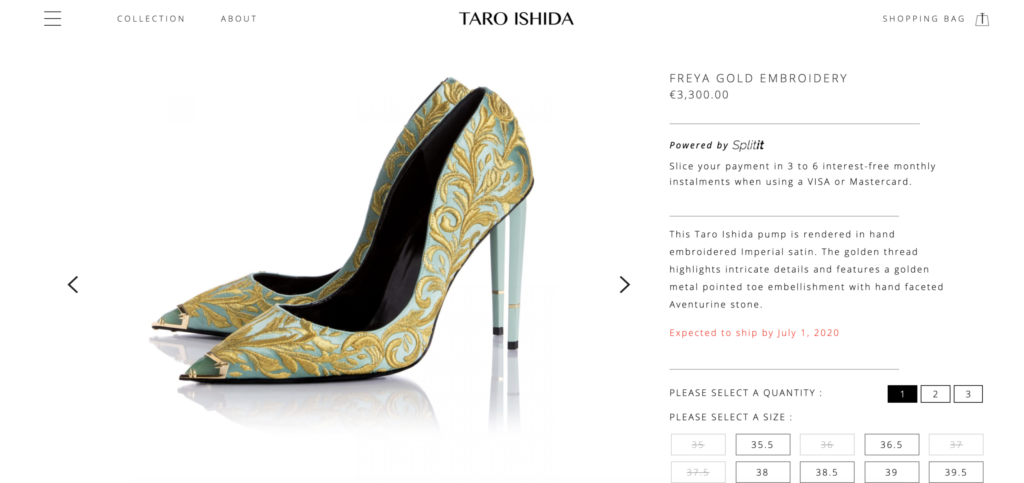 Each marketing investment will be more effective if aesthetics have a higher priority than paid digital marketing. Here are a few things you must consider when building a luxury brand.

– Professional product photo (Made by a team with expertise).
– Persuasive titles and copy that also overcome any sales objection.
– Professional Website Design.
– Simple USER INTERFACE and USER EXPERIENCE.
– Consistent Branding.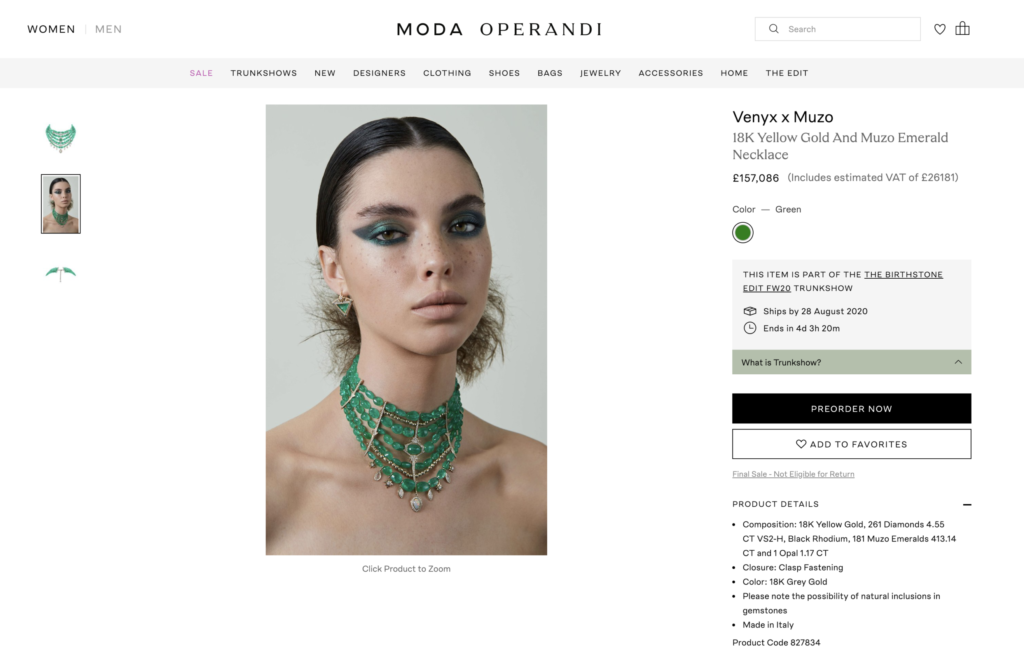 The more attractive your product looks, the less you pay per click (CPC) and per customer (CPA). This is how Facebook and Instagram algorithms work. We always test different creatives to reduce and improve marketing efficiency. In the end, it makes the brands profitable.

If your product doesn't attract the desired attention, rework it.

As a rule, luxury products must shine.

Alex Skibinskiy
Luxury Ecommerce Marketing Analytics on Facebook and Instagram
On Facebook business manager you can analyze and test lots of things.
During the testing phase of a luxury brand, we test as many luxury audiences and countries as possible. This way, we quickly know which audience brings a better return on investment.

The number of audiences and countries to test depends on the marketing budget. The testing phase is ongoing. Once we determine which audiences bring in CLIENTS at a reasonable cost, we move them into a separate marketing campaign.
If we are selling very expensive products, we analyze other factors like cost per add to cart. We move audiences with a lower cost per add to cart to a separate marketing campaign.

There are hundreds of KPIs to measure. They all help you to improve your marketing and product.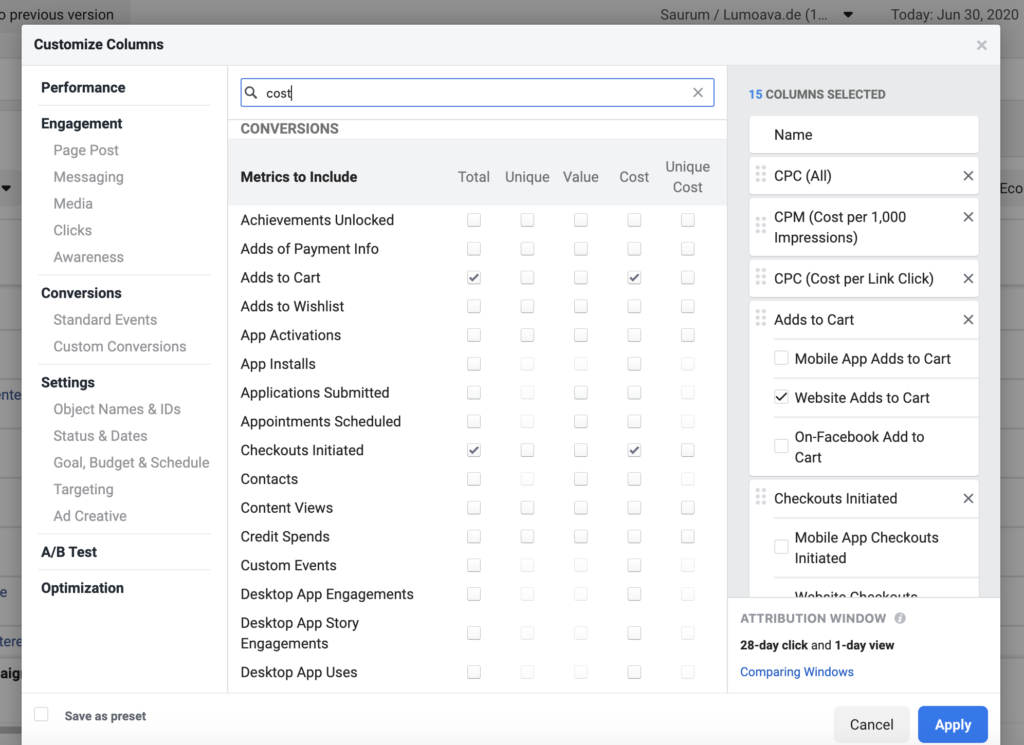 Luxury Ecommerce Marketing Structure on Facebook and Instagram
The outcome in luxury marketing campaigns is counted in years. Subsequently, we should plan and segment our marketing strategy for at least 1 year.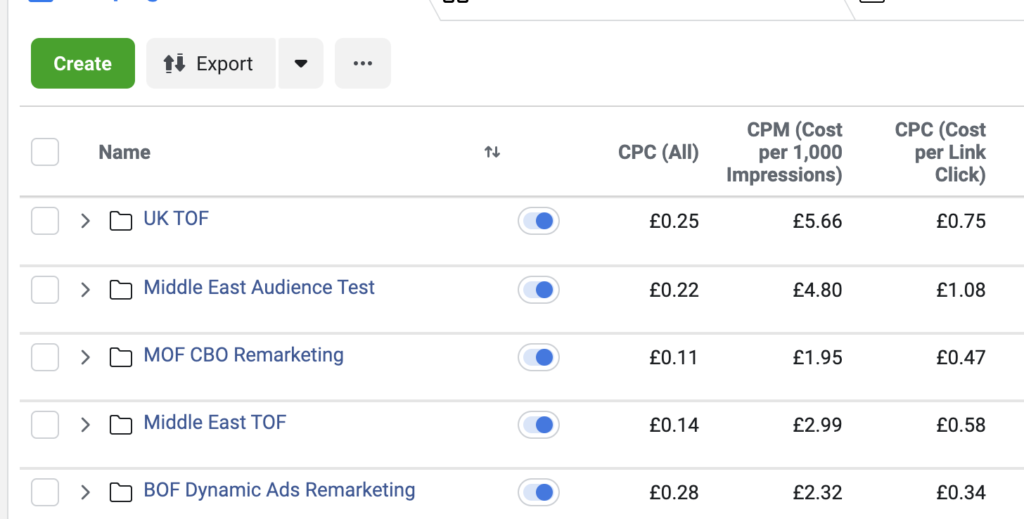 As a structure, we have testing prospecting campaigns and remarketing campaigns.

We always run a TESTING PROSPECTING CAMPAIGN, where we test different creatives, formats, audiences, etc. Once we have ad groups that perform well, we move them to a separate PROSPECTING CAMPAIGN.

We also run REMARKETING CAMPAIGNS with STATIC AND DYNAMIC ADS. Those campaigns are segmented by the level of engagement and number of days.

We have separate remarketing campaigns for Facebook page Engagers and Instagram page Engagers only. Those audiences can be created within Facebook business manager:
We also create and segment audiences from the website:

Website visitors: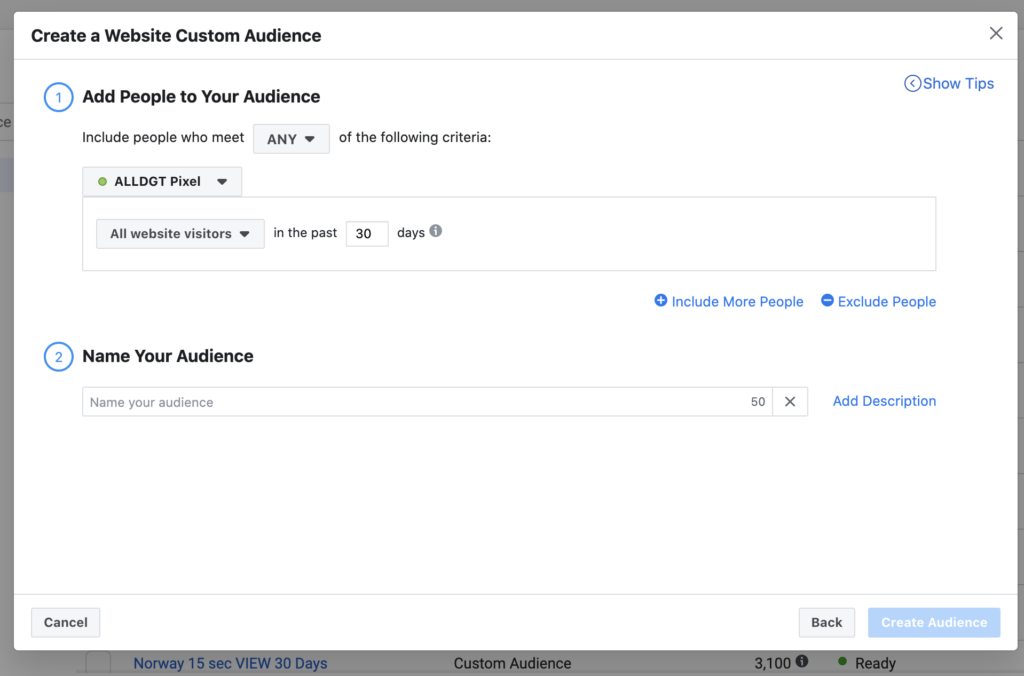 Following by people who clicked add to cart: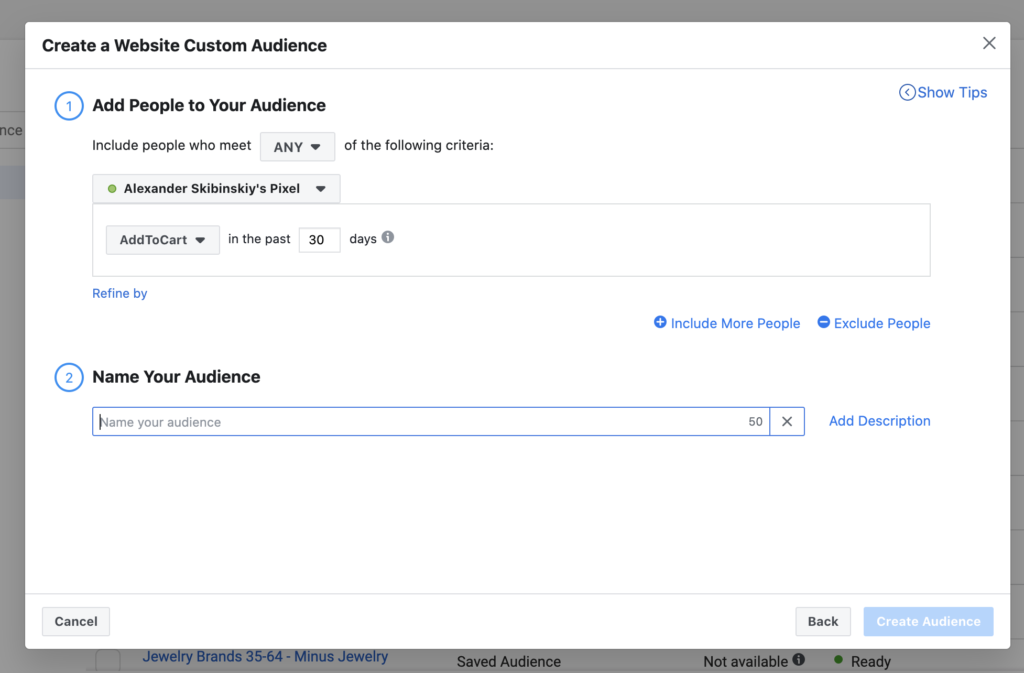 People who visited the checkout page: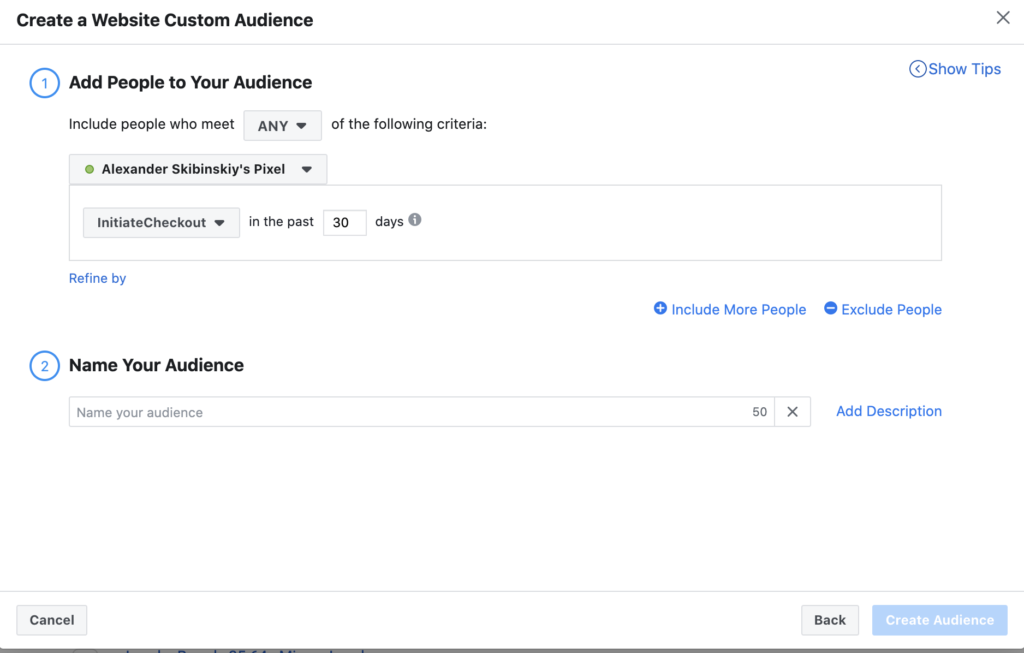 People who purchased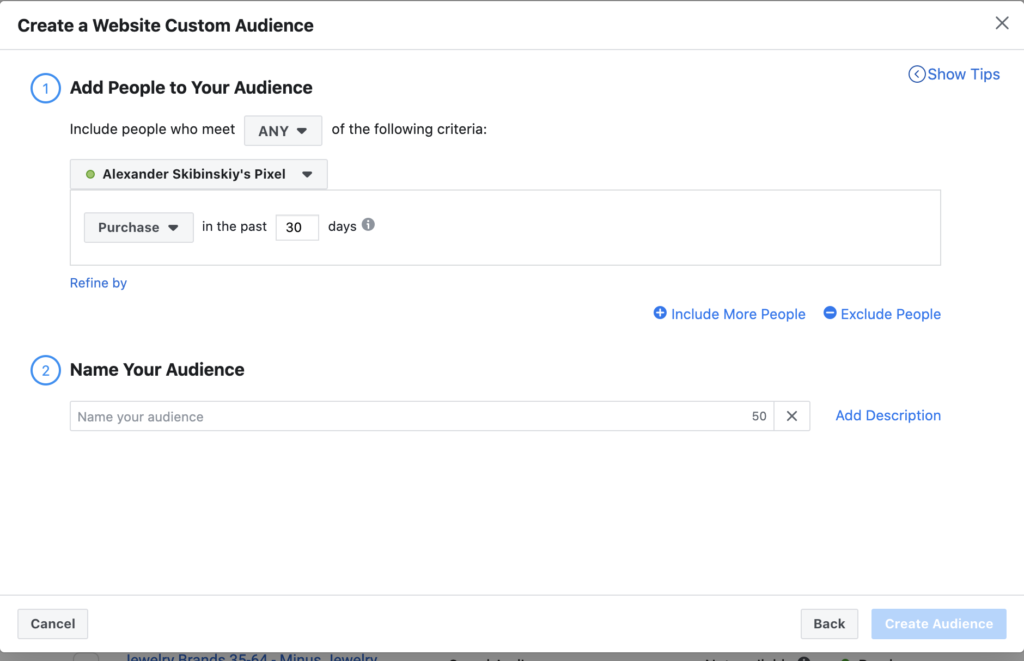 Once marketing audiences are segmented we use them in our long term marketing structure.

Audience segmentation helps by showing different messages based on customer behavior. It boosts revenue. Those who visited the website but did not click on "add to cart", will see a specific creative and message. People who clicked on "add to cart" will see another message. Consequently, customers who initiated checkout but didn't purchase see another creative that shows product reviews from existing customers.
In the end, users who purchased are seeing different offers that improve customer return rates.

Alex Skibinskiy
You also can segment each audience by number of days, leading into more complex and long term strategies. Facebook allows you to remarket for 180 days. Google allows it for 540 Days.
The value of a customer vs Luxury Marketing Investment
The value of a customer to a luxury brand is tremendous. Over the years you will notice this, especially when remarketing and from repeat customers. When investing in luxury marketing, always think about long term value and investment.
2016 New Luxury Brand vs 2020 Established Luxury Brand (ROAS COMPARISON for the same brand)
In 2016 when we started to promote this brand on Facebook, we got good results, but in 2020 the results got much better.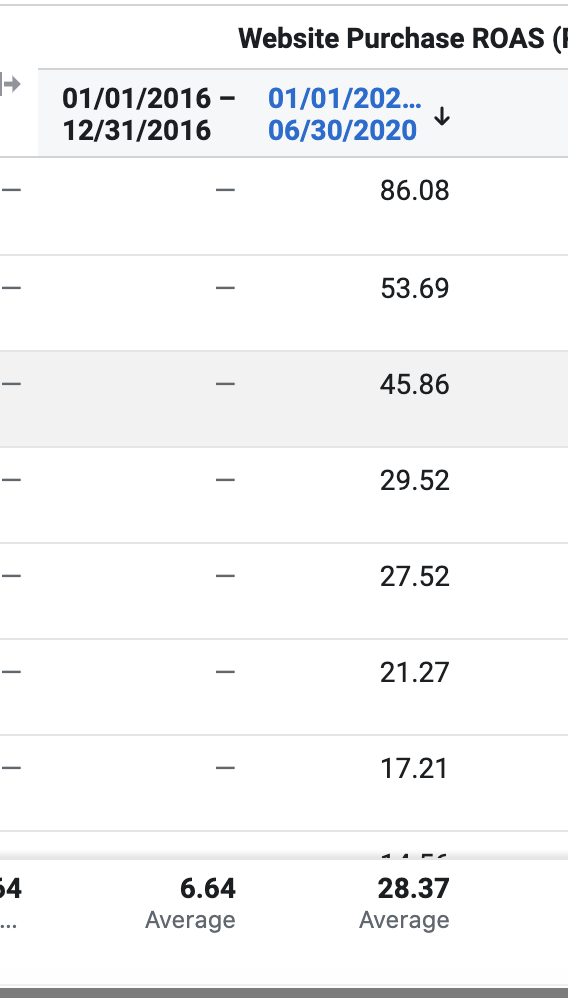 Repeat customers will make your ROAS very HIGH over time if investing consistently in Facebook and Instagram Ads.

Alex Skibinskiy
Pricing Luxury for E-commerce and Marketing
Profit margins are crucial. If the product costs you 800 to make and you sell it for 1000, there is no way you can build a successful luxury eCommerce business. Successful eCommerce Luxury brands have high profit margins of over 50%. An 80% profit margin might be considered ideal.
And there are a few rules on pricing.
NO DISCOUNTS.
Luxury brands don't do discounts.
HIGH PROFIT MARGIN MINDSET.
Don't be afraid of high-profit margins.
The high price should be justified by the aesthetics, image quality, product description and overall website look and feel.
International Luxury Ecommerce Expansion
You can start your expansion from day one and actually see which country brings you the best return on advertising investment. In this way, you can better understand how to distribute your marketing budget.
I've already written a blog about international marketing, you can read it here: International Jewelry Marketing in the Digital Era

In conclusion:
The success of luxury brands depends on the product itself, aesthetics, marketing structure, website UI/UX, mindset, and consistency.

Read more blog posts, they are more SEO-optimized for the jewelry niche. However, the principles are the same for every niche:
1. Luxury Jewelry Marketing 1500% ROI from Facebook Advertising [Case Study]
2. Jewelry Branding, How to Dominate the Customer and Sell More
3. 34 Jewelry Conversion Rate Optimization Strategies
4. Jewelry Email Marketing from A to Z and how to increase revenue by 40%
5. Why a Jewelry Press Release is a Waste of Money and The New Approach