When I do jewelry marketing, I always test Facebook versus Instagram. Sometimes Instagram brings better results for certain jewelry types. In this blog I want to go further than that and explain almost all Instagram jewelry marketing strategies that bring results.
1. Jewelry Organic Marketing on Instagram
A consistent content strategy is a significant success factor in your jewelry brand. Selling luxury items is all about making your potential customers crave the piece they see. So the winners are the brands with a strong visual game. I will be showing examples below.

How many times to post on Instagram?

When talking about organic growth, I always advocate for quantity. Post as much as you can. If you can do it 3 times a day, do it. Consistent and frequent posting of quality content increases your brand awareness, customer loyalty, and growing engagement.

The secret? Instagram wants users to stay longer on the platform. So the more there is to discover on your page, the higher it will rank.
What to post on Instagram?
There are various ways to attract the attention of users. I always recommend trying several ones to test and see what performs better.

Use copywriting skills to create an optimized description with product details. Once your audience reacts, engage with your customers. Replying to the comments and involving users in conversation further. Don't sleep on competitors and ideal customers too. React and comment on their posts to gain visibility for your account.

Another ingredient in Instagram strategy is hashtags. Research and use 30 hashtags related to the product, brand, target audience interests, and luxury trends.
Here are some examples of visual strategy that jewelry brands are using:
2. Paid Jewelry Marketing on Instagram
There are two types of paid marketing available on the platform.

You can boost posts from Instagram directly to attract more subscribers. This is a great way to raise brand awareness and grow a number of followers and it looks like these:
The second option is creating ad campaigns from the Facebook Business Manager.
Sales-wise it's more efficient. It gives you a full range of instruments to build a strong marketing strategy. While boost posting is limited. When you choose to boost posts, Facebook optimizes your ads for clicks. The downside – the algorithm doesn't care about serving the ads to the ready to buy an audience.

When you choose conversion objective, Facebook pushes your ads to users with a positive online shopping history. It will look like in the screen: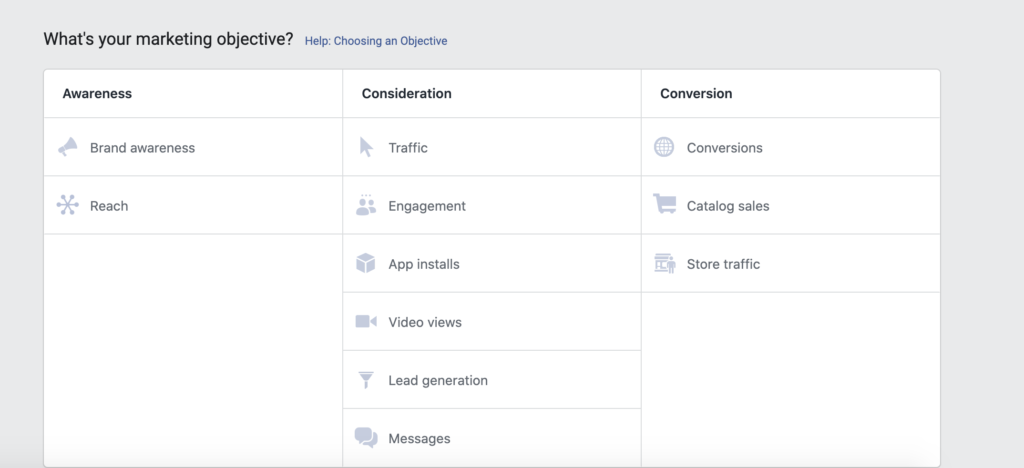 3. Influencer Marketing on Instagram
Influencer marketing should be your go-to choice for jewelry brands. It is effective in engaging broader audiences, adding credibility to the brand, and creating backlinks. Hire an agency to ease the choice and negotiations with influencers in the targeted region. You can also research and get in touch with selected personalities directly. Tools like Buzzsumo come in handy in identifying the right influencers and gaining insights on social engagement.
What to ask for when negotiating with influencers? Sign a contract that includes clear conditions, frequency of posting, and other important details.
How much to pay? Depends on your budget. You can either pay 20% of the product price or 10% of the sales. Or send a product to an influencer. The latter might prove to be the most effective one.
What metrics to use to measure campaign results?

Consider if your brand's visibility, revenue, customer engagement, and lead generation have increased. Of course, the number of sales that can be tracked as well.
Pro tip: Influencer marketing must be powered by own paid marketing and remarketing to amplify the outreach. You will also retarget prospective customers who visited your brand page but haven't committed to buying.
4. Successful Example of Instagram Jewelry Advertising
The golden rule of successful advertising is grabbing the audience's attention. Close-ups of the jewelry pieces, catching special moments that evoke strong emotions – the choice is enormous. By trying and testing you will find what works best for your brand. It's important to measure the visual's effectiveness using Facebook analytics. The more attention your ads get, the less you will pay for indicators (like cost per click, add to cart, initiate checkout, purchase).

5. How to spy on competitors Instagram Advertising Campaigns
The best way to spy on competitors' ads is by using a tool called Facebook Ad Library.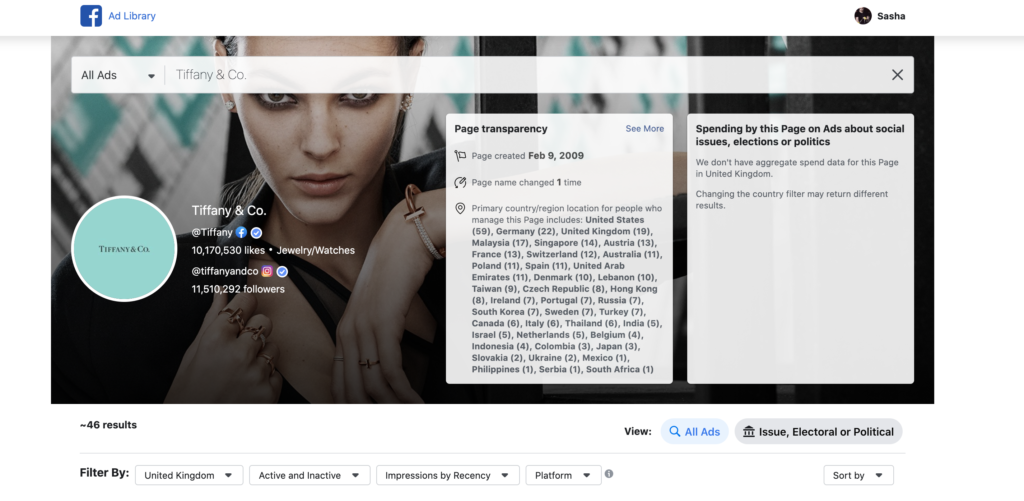 Here you can have full transparency of ads used by your competitors. What's valuable in Facebook Ad Library? Not only a ton of inspiration but also countries your competitor's target and placements they are using.

The downside: you can't see the structure and the objectives of a marketing campaign, a critical aspect of successful marketing campaigns.
6. Instagram Advertising Formats
Instagram offers several types of advertising placements, catering to every budget, and demand. Here is an extensive list of all current formats for 2020:
Stories ads
Photo ads
Video ads
Carousel ads
Explore ads
Collection ads
Instagram Shopping ads
IGTV ads
Each placement brings different results. By testing through Facebook Business Manager, you understand what works better for the brand. Story ads are worth investing in as they are cheaper, perform exceptionally well, and bring better ROAS. Click the link below to read more:
7. Measuring Performance of Instagram Marketing for Jewelry

Last, but not the least thing to do is to assess your campaign and measure the results. While running ads on Instagram, your objectives and outcomes might be different for other platforms. After the campaign, you may notice an increase in engagement (likes and comments), more followers, or a boost in sales. If you are doing everything right, you might get everything at once. My advice will be to use this data as a powerful tool to analyze and learn. Here are the crucial metrics I always pay attention to:
Cost per subscriber
Cost per click
Cost per website visitor
Cost per add to cart
Cost per initiate checkout
Cost per purchase
ROAS

Conclusion:
Let's be realists here: there are no easy strategies. So don't waste your time searching for them. Success takes months and years of work in any marketing channel.
For example, you realize the website UX still has room for improvement to create less friction for customers. Or the images are not attention-grabbing and you need to rework them to be more sales-driven.
If the market doesn't work for the brand, you need to direct your marketing efforts to other markets. If products don't sell with profit margins, the sanest idea will be to produce new designs. Improving the copy or A/B testing your ads are all necessary factors that contribute to success.

With little leaps, you go far. Many big and small improvements pave a way to your jewelry brand glory.

Take a look at my blog posts to find even more ideas and insights:
1. Luxury Jewelry Marketing 1500% ROI from Facebook Advertising [Case Study]
2. Jewelry Branding, How to Dominate the Customer and Sell More
3. 34 Jewelry Conversion Rate Optimization Strategies
4. Jewelry Email Marketing from A to Z and how to increase revenue by 40%
5. Why a Jewelry Press Release is a Waste of Money and The New Approach