I must say, I do consider traditional jewelry press release marketing to be a wrong investment.

Yes, it may bring sales in the first 2 weeks once published. But what's next? Will you be able to scale your brand using this traditional strategy?

For sure, you won't, unless you'll add a digital marketing strategy to empower your press releases.

In this article, I will compare two strategies. The first one is wasting money and being proud that you were mentioned in a reputable magazine. The second one is the press release strategy that was used by MVMT, the brand acquired by the MOVADO group for $300,000,000.
The Traditional Jewelry Press Release is a WASTE OF MONEY:
Here is an example of a traditional press release. It is just a simple post about your brand in a magazine, which leads nowhere and it is not even considered a powerful tool for brand awareness nowadays: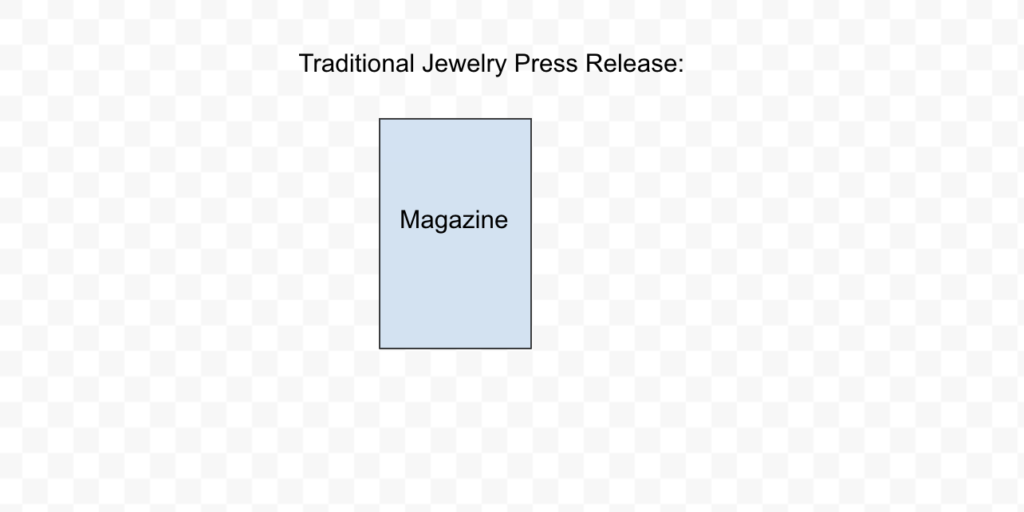 We all know that:
Brand awareness is important when launching new jewelry products. Building it takes a lot of effort, and once you achieve consistent sales and get returning customers, this signals that your brand awarness works very well.
But how to create it? How to ensure that it works efficiently in a digital world?

Well, you don't have to research, think, and experiment. I did everything for you. The strategy below is one of the ways to go if you consider leveraging a jewelry marketing strategy with press releases.
Advanced Jewelry Press Release empowered by Digital Marketing
To make it happen you will need to invest only in online publications, NOT IN TRADITIONAL PRINT MAGAZINES.

Below is the scheme of the strategy. I will explain each step.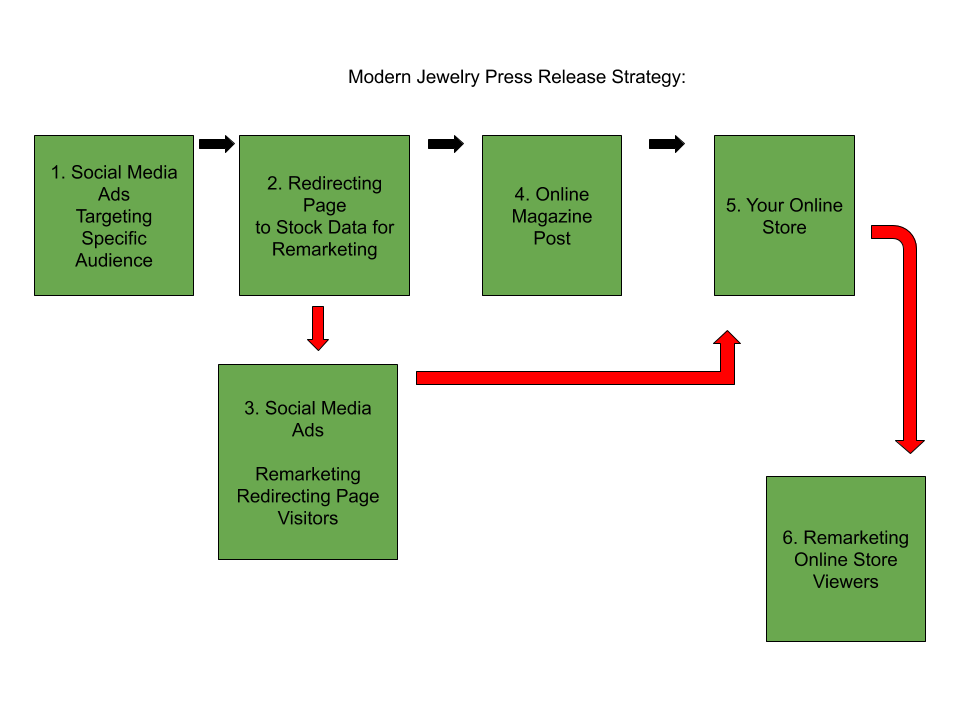 This strategy was used by MVMT. They were placing their products in high-end magazines like Forbes and Business Insider – the press preferred by their target audience.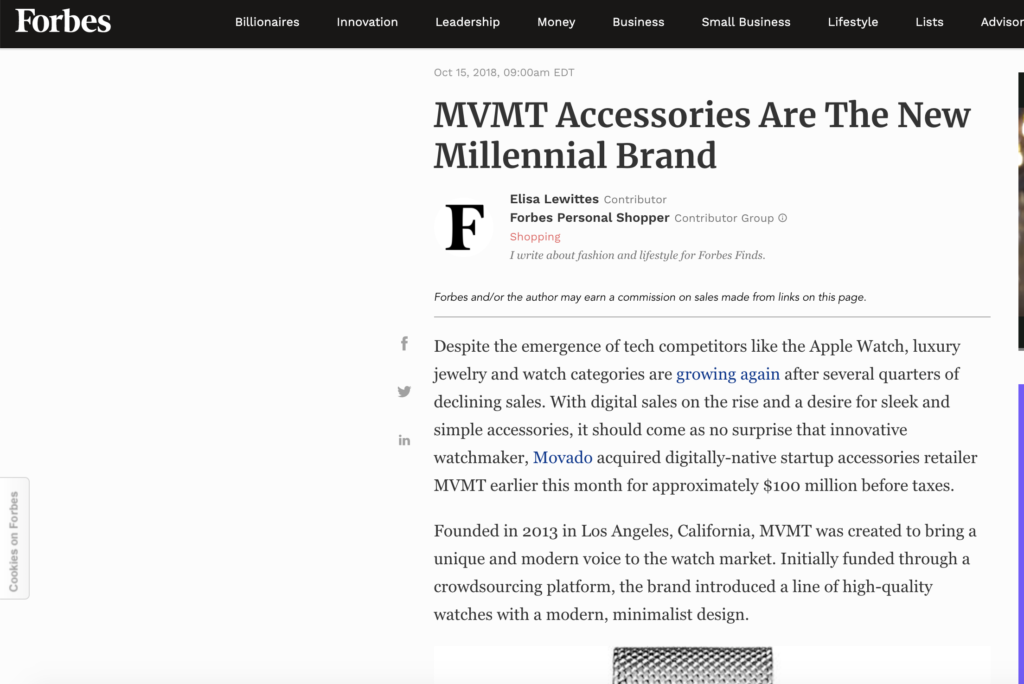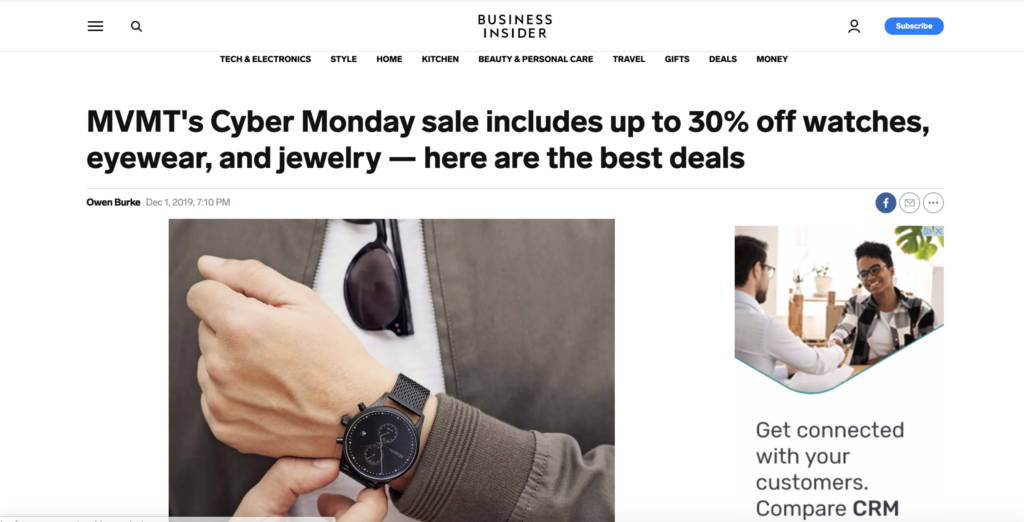 1. They use their own digital marketing ads to promote these posts from reputable magazines.

In that way, you can drive as much traffic to your website as you wish. Below is an example of how to target the Forbes audience on Facebook and Instagram. To make sure your customer targeting is on point, you can set the following parameters for your Facebook campaign:

Say, I want to target women between 34-54 (this age converts better for fine jewelry marketing campaigns). Also, I want you to make sure that these women follow high-end brands: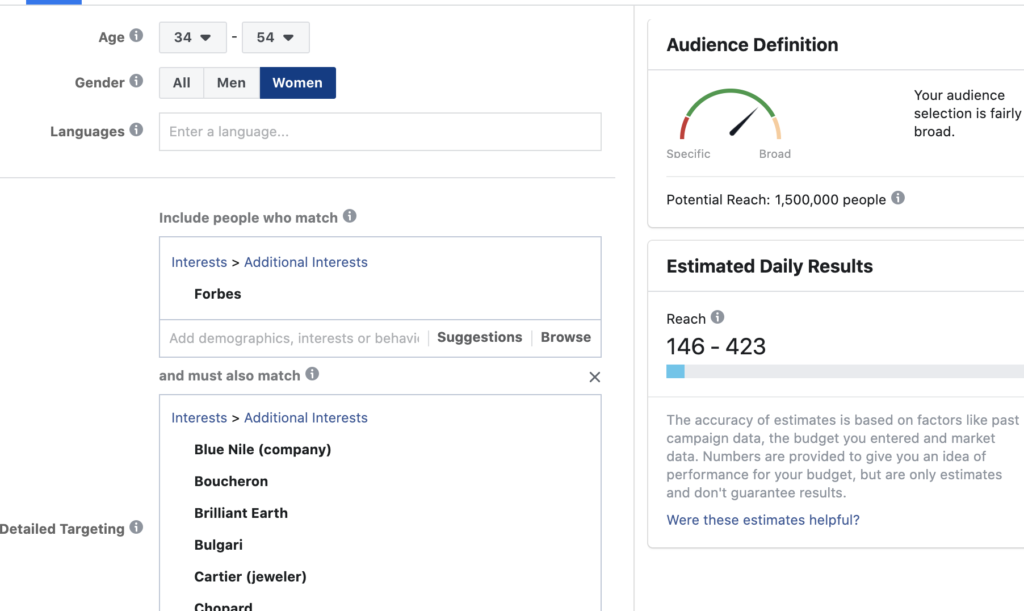 2. The second step is sending traffic from Facebook and Instagram to your REDIRECTING PAGE. You need to stock the data of the people reading you on Forbes or any other online magazine of your choice. Just make sure it is available for targeting on Facebook.

You need a redirecting page because it is impossible to install tracking scripts on Forbes. On your redirecting page, you must use data collecting scripts from Google and Facebook. The redirecting page will send traffic to the Forbes post about your brand.
3. Then comes the third step – remarketing of all the people who visited the redirecting page through social media ads. 50-60% of sales in the jewelry niche happens from remarketing. Nowadays it is hard to draw profits from prospecting campaigns. This way, you will instantly apply remarketing to all the people who read about you on Forbes. And there is more to it – you will be selling to people who already trust you as a brand.
4. The fourth step of the campaign is a magazine page. We don't have too much control over it. However, you need to ensure that you have products and links that lead to your website. The more, the merrier. Ensure you will be getting as much traffic as possible to your website. Don't focus just on brand awareness in this stage, you have to make sales as well.
5. The next step is your store. It has to be on point. If it sucks, no one can help you to get sales, and all the strategies will be useless. I have another blog post called Jewellery Website Design Examples Every Store Must Model that will help you improve your online store.
6. The last step is similar to step #2. Both of them allow you to create more sophisticated remarketing strategies. Here you can segment your audience and build further sales funnels by displaying different ads every day or telling stories about different pieces and collections.


Why do you need to choose the digital strategy over the traditional one?
If you want to get all the juice of the strategy and be in control of the data management and scalability, feel free to use it. If you want to waste some money, feel free to use the traditional approach. I'm not going to argue with you. I already know that the traditional approach is just a bad investment. You could invest 20-30K and get no sales or a ridiculously insignificant one.
If you want to waste your money while having no control over the strategy, feel free to use it. When you use this approach you:
1. Can't remarket people who read it and became interested in your product, but who haven't visited your website yet,
2. Can't scale your marketing campaigns,
3. Can't create strong brand awareness since you are not able to control the volume of traffic,
4. Have limited means of measuring the results and no means to improve the return on advertising.
Online Jewelry Press Release Negotiating
Negotiate every penny. Don't think those big magazines face high demand for their advertising services. It is not true and it is simply a sales trick. They still need clients. They still need you. Cut their offer by at least 50%. If you don't have negotiation skills, learn a few tips from Chris Voss, a former FBI negotiator, who now teaches the Art of Negotiation: https://www.masterclass.com/classes/chris-voss-teaches-the-art-of-negotiation
Let's say, to publish something in a prestigious magazine may cost you $15,000, but you can cut it by half and invest the rest of the money in social media ads to make this strategy work FLAWLESSLY.
Conclusion
I may sound rough and straightforward because there are many people who consume my content without saying 'thank you'. It makes me mad! Just kidding. But just so you know, no one shares these strategies online for free.

I'm not here to show off my knowledge. I'm here to help you to think differently. Let me know in the comments if I made you go "YESSS, this is good to know!".

Also, feel free to read more jewelry marketing blog posts that will help you grow your business:

Luxury Jewelry Marketing 1500% ROI from Facebook Advertising [Case Study]
Jewelry Branding, How to Dominate the Customer and Sell More
34 Jewelry Conversion Rate Optimization Strategies
Jewelry Advertising Mistakes, Analytics, Examples, and Channels