Until recently, many businesses in the wine industry were reluctant to enter the world of social media marketing, and few considered it an important part of their wine marketing strategy. There's been a huge shift in the industry, and now, not having a social media presence, is looked upon in the same way as not having a website. Out of the question! Customers demand it and brand awareness can depend on it.
Social media has the potential to generate new customers, encourage brand loyalty and boost returns on your ad spend. Most importantly, it can place your brand in the day-to-day lives of your customers, generating sales and promoting repeat business. With lower costs than traditional advertising, and the ability to specify your exact target audience, social media should be a big part of every wine company's marketing strategy.
Growing Wine Brands using Facebook and Instagram
When deciding which channels to use, identify where your target audience spend most of their time. With over one billion active users, Facebook shouldn't be omitted. Instagram is a favorite among millennials and as the largest generation in history, should definitely be targeted.
Facebook and Instagram are invaluable in building a marketing structure that follows the rules of Attention, Interest, Desire, and Action (AIDA). Initially grabbing a customer's attention and provoking their interest with a strong creative, before allowing your message and call to action to stir a desire for the product and carry them to your checkout.
New to social media marketing? Don't worry, there are a whole host of tools on Facebook that help you to test different advertising ideas. Analyze fast is our favorite and displays which creatives bring you the highest return on your advertising spend (ROAS). So see what works for you and gain inspiration from other brands' campaigns.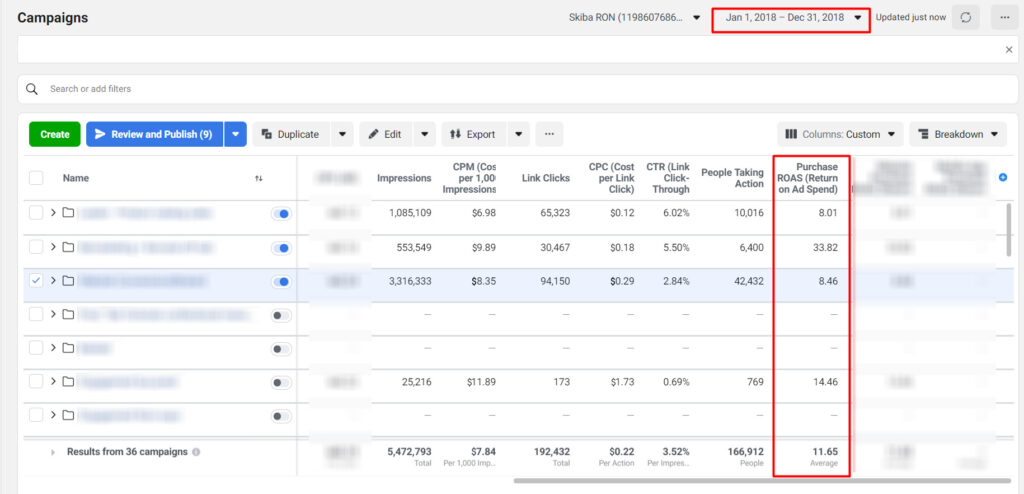 Best Practices for Wine Digital Marketing on Facebook and Instagram
When it comes to campaigns on social media, posts have three key elements; the message, the creative (photography or video), and the call to action (CTA). Special offers are particularly effective CTAs on social media and should definitely be part of your wine marketing strategy. Let's take a look at how successful wine brands are using these elements to provide high ROAS.
Wine Marketing Messaging
Be the solution
Every marketing strategy must generate demand for its products and services. Social media allows you to trial numerous techniques and identify unique selling points (USP) that resonate with your audience, all at a fraction of the cost of traditional media. Once armed with your most effective USPs, the conversational nature of social media allows you to generate demand for them and showcase your advantage over competitors.
Dry Farm Wines identified that they could generate demand for their low-sugar wines by building an awareness campaign about the amount of sugar in wine. Their 'Sugar Sucks' campaign drives the demand for healthier wines, suggests their product as the solution, and highlights the failure of their competitors.
By knowing their audience and what matters to them, Dry Farm Wines have tapped into the growing health conscious market. By providing a solution, they're increasing brand loyalty, encouraging repeat customers, and deterring people from using competing brands.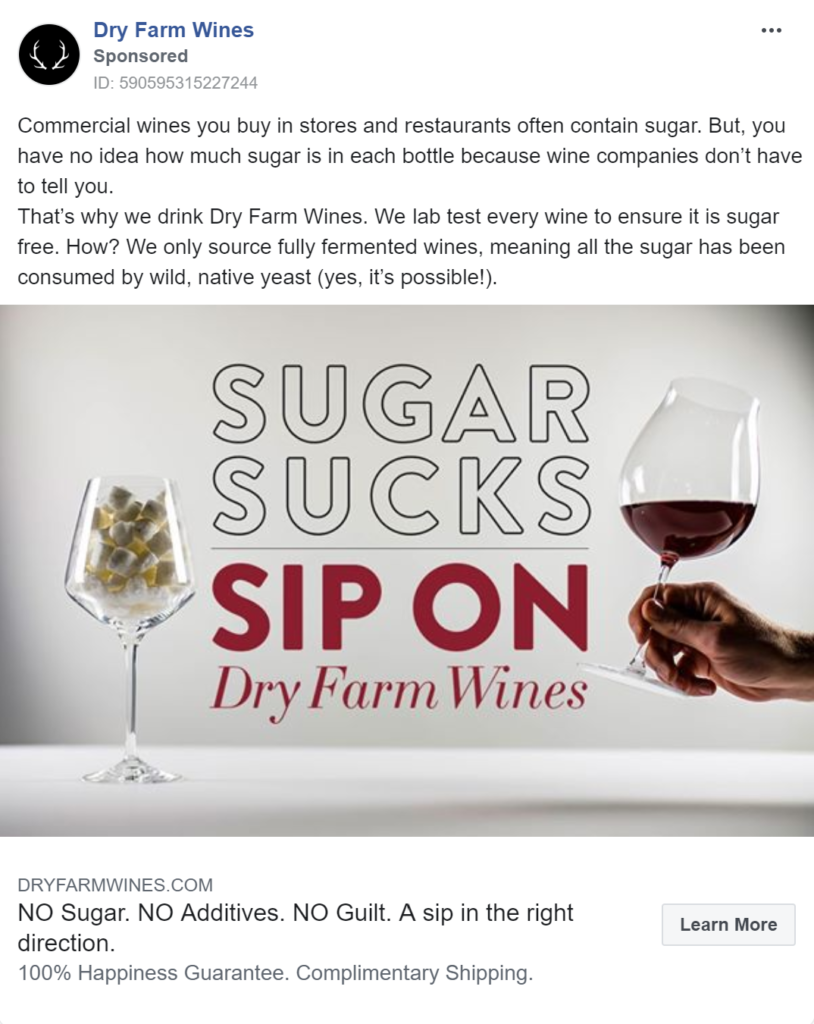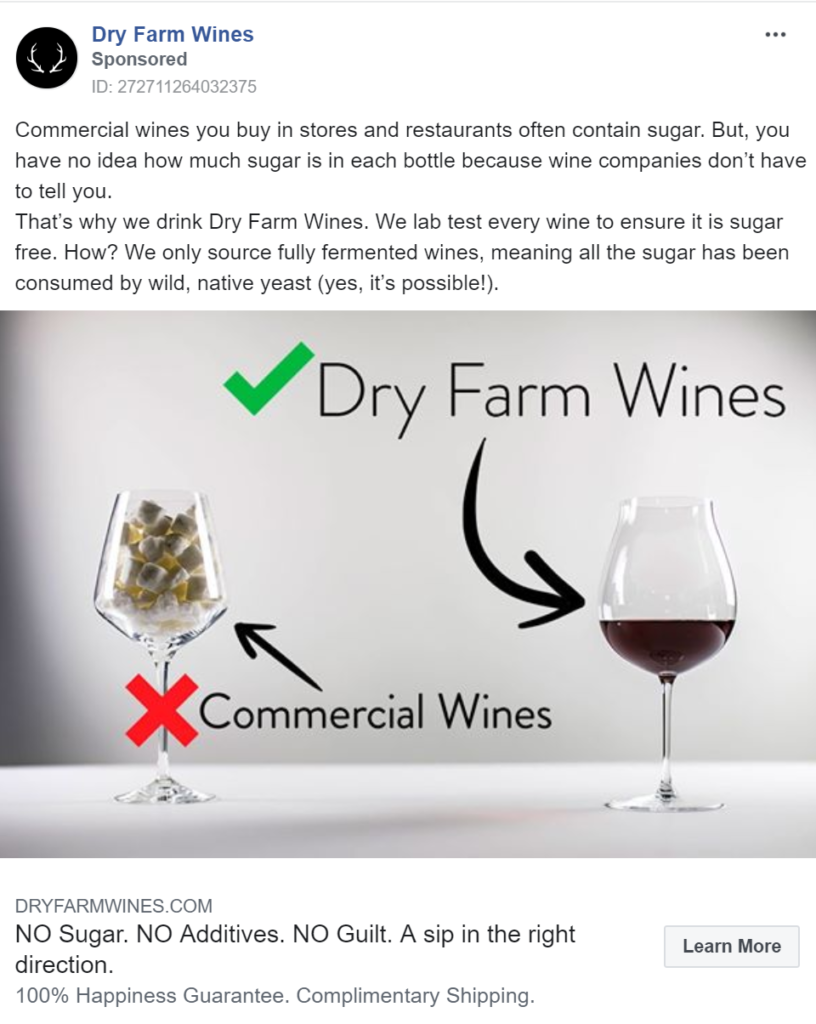 Wine Marketing Social Media Promotions
A key benefit of social media marketing is your ability to respond in real time to changing circumstances and capitalize on them. Having a bank of posts ready for situations like a hot weekend, when more people will be planning to drink, can allow you to be reactive and generate a demand for your product at the ideal moment. Relevant, time-sensitive ads have higher online conversion rates and are much more likely to generate high ROAS.
Laithwaites designed a great campaign to respond to several events occurring this year. From 'showing you care' during the height of the Covid-19 pandemic, to 'saying thank you' to teachers at the end of the academic year, to congratulating students during the exam result season, their campaign was timed to provide their products as the perfect solution at the ideal time.

Social Media Wine Marketing Can Help Building Trust By Promoting Your Reputation
With so many wine companies vying for the attention of consumers, it's important that you distinguish yourself from the competition. Highlight any awards you have, figures around customer numbers and any notable heritage.
La Crema Wines draws attention to the fact that they've been in business for 40 years, while Hardys promotes it's 9,000+ global awards. You don't have to be world renowned to follow their example, however. Local awards, the date your business was established, and customer testimonials are perfect for boosting your reputation.
Wine Marketing Photography Ideas
Embody the brand
Imagery is incredibly important. A picture tells 1,000 words and may be the only thing people see of your post while scrolling through their news feed. It reflects your brand so keep it professional, authentic, high quality and on topic.
In the example below, ONE HOPE Wine succeeds in selling their wine as an enjoyable drink, introducing their co-founders, promoting their reputation and telling us their USP. Always consider everything that an image says about your company before posting it.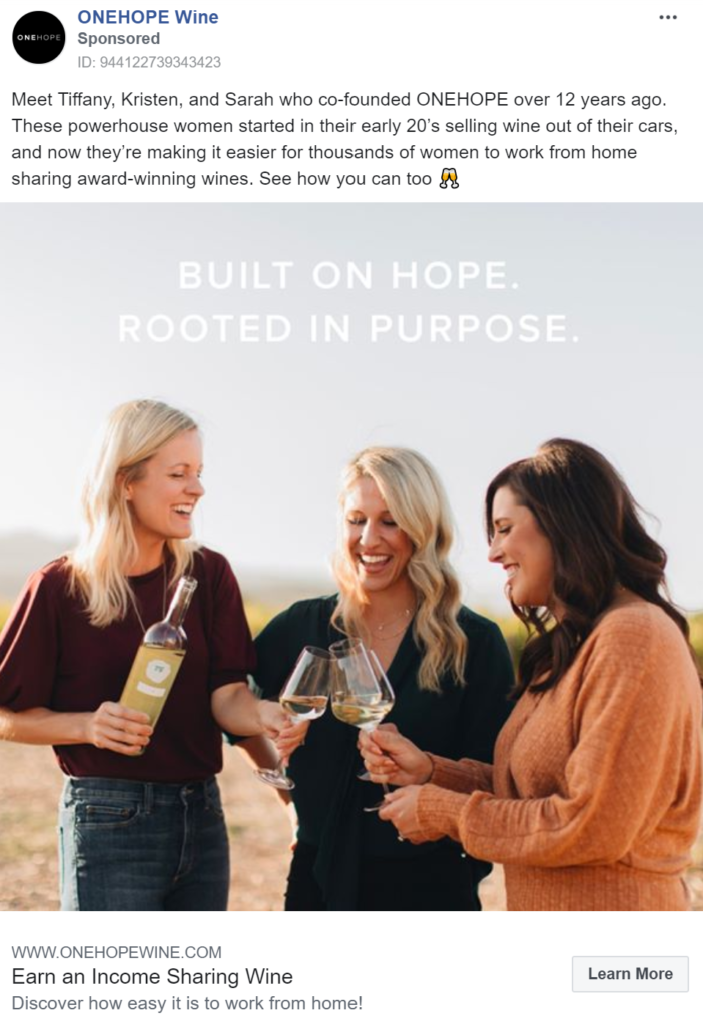 Sell the lifestyle
People don't just buy products, they buy how the product makes them feel. Leverage consumers' social nature and sell them an experience. Dry Farm Wines and Virgin Wines do this perfectly in the images below. Customers aren't just buying a bottle of wine, they're buying a romantic evening with their partner, or a day out with friends.
This technique is ideal for Instagram, being a much more image-centric channel, but high-quality pictures are key!
Video Wine Marketing New Trend
Grab attention
Movement captures our attention much more than static images, so videos are a great way to catch attention. Once that attention has been caught, it's important to make sure that the video content is interesting and compelling. This will give it a better chance of ensuring brand recall and encouraging traffic to the website.
Laithwaites infographic style video does a brilliant job at catching our attention with flashing animations, while also proving its reputation with stats about its success. Finally, it provides you with a financial incentive to sign up to their wine plan. The perfect example of AIDA for social media. Importantly, it keeps its video short, just 22 seconds, making it suitable for the reduced attention span we exhibit while on social channels.
Along with animations, slow-motion and boomerang techniques can be used to help grab attention.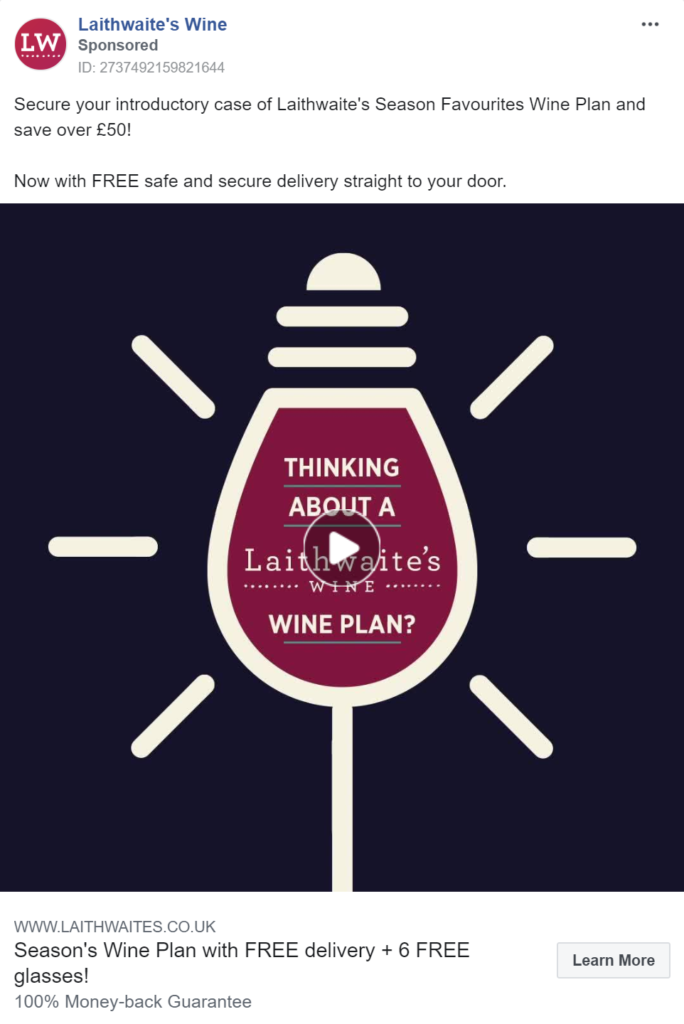 Use More Storytelling in Your Wine Marketing Strategies
We find stories intrinsically engaging and highly emotive, factors that brands can really benefit from. Videos allow us to tell stories in an entertaining way that doesn't feel as invasive as traditional advertising. From your brand's story, to that of the vineyards that supply you, to the story of the individual grape, stories sell.
Dry Farm Wines have put this into practice by producing a range of 'Behind the Bottle' videos, introducing the makers and letting them tell the story of each bottle. By showing the great amount of work that goes into each glass of wine, they're additionally raising the perceived value of the bottle, justifying more premium product pricing.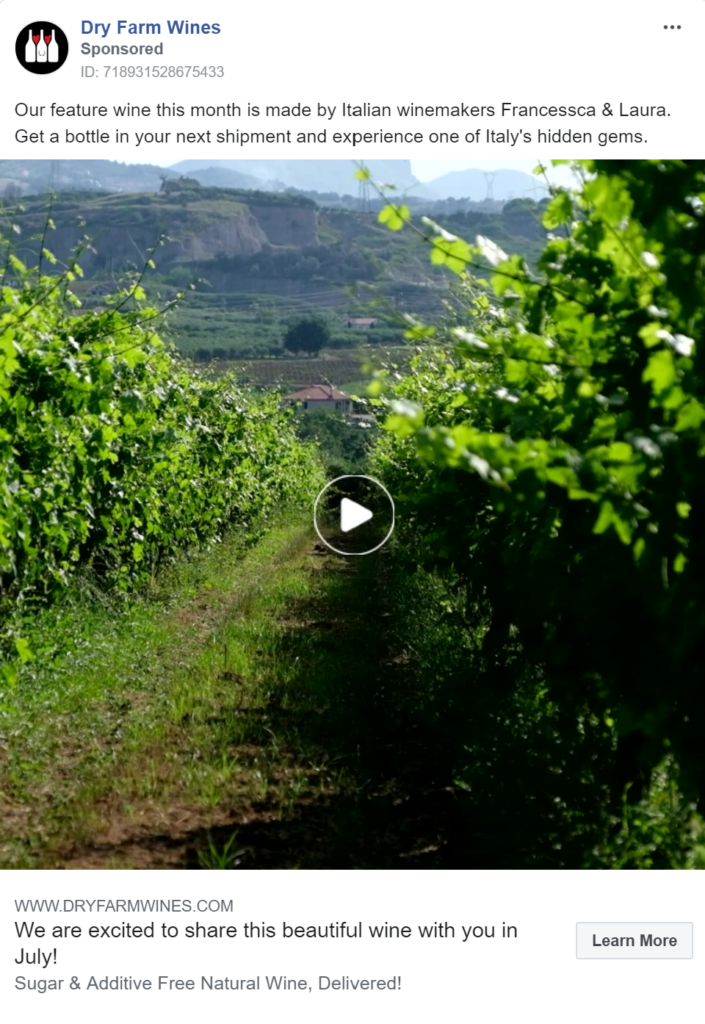 Build a connection by using the Brand Awareness Marketing Objective
We're social creatures, and as a result we've evolved to find people engaging. A face-to-face, personal approach to videos captures the most attention and leaves a lasting impression, driving brand loyalty and repeat business.
Just be sure to be an authentic voice. Customers can quickly tell when someone doesn't believe in their product, so make sure you use true brand ambassadors like those in this video by ONEHOPE Wine.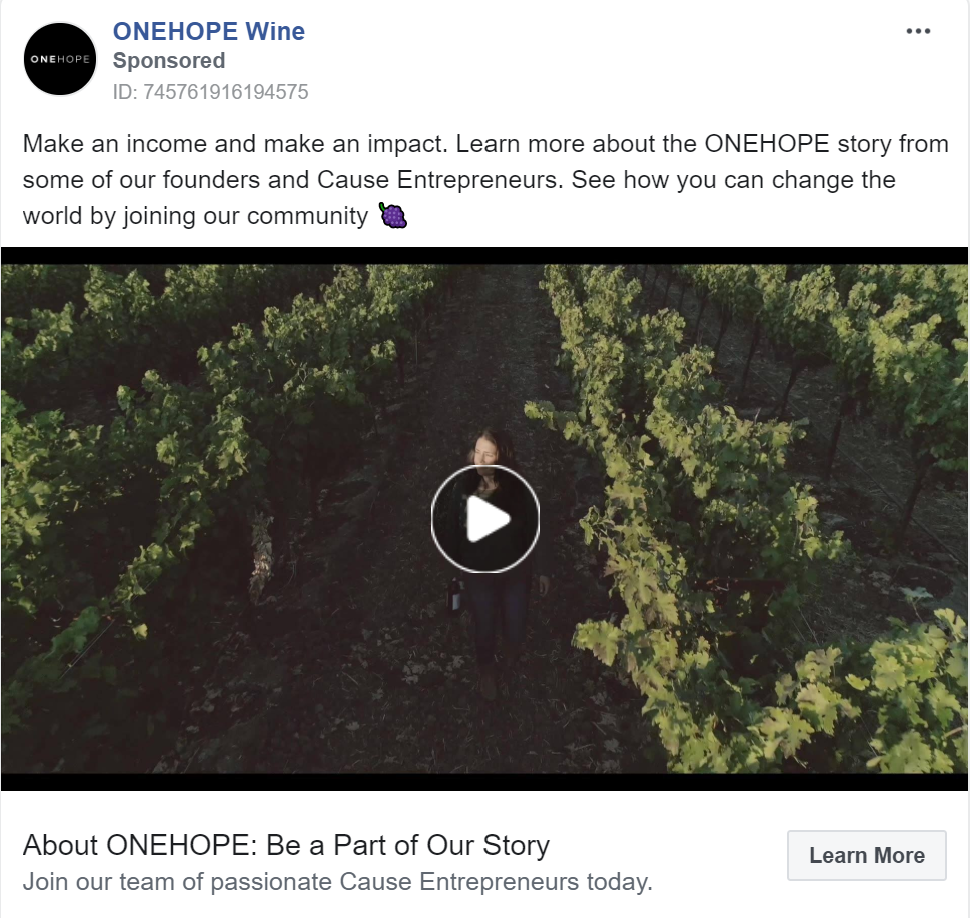 Use Wine Marketing Offers to BOOST ROAS and Capture More New Customers
Offers can attract new customers, unfamiliar with your brand, to your website in search of a bargain. Once there, a well-designed site can up-sell and cross-sell premium products, generating new customers and higher ROAS.
Wine Access have designed their ad to make the offer seem like an absolute bargain. Unlike most wine ads, the ad screams cheap, but it will bring new people to their website in search of a deal. This is a risky technique for luxury brands who don't want to affect their brand image, but if done right, it's guaranteed to make people click and progress into the next segment of the marketing funnel.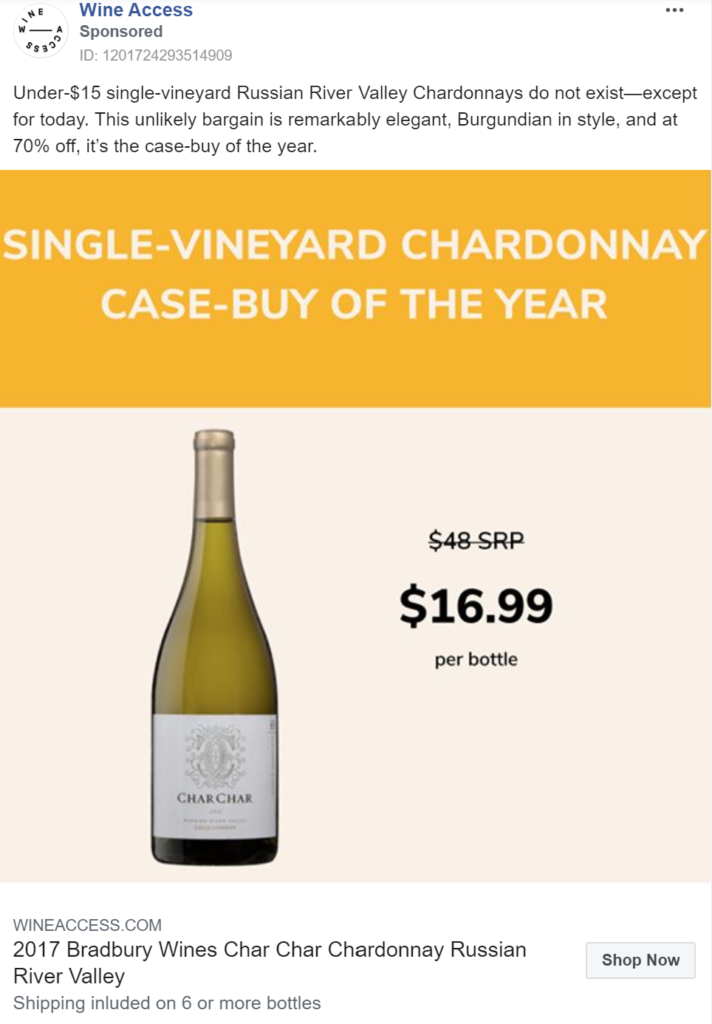 Increase order purchase value
Ads containing a discount offer have the ability to significantly increase order purchase value. In ONEHOPE's example below, it's unlikely that customers would usually buy six bottles of wine at once. By providing a motive, a financial-benefit to spending more, they've succeeded in breaking down the financial argument for not buying more wine. This will boost revenue by increasing average order value and ROAS.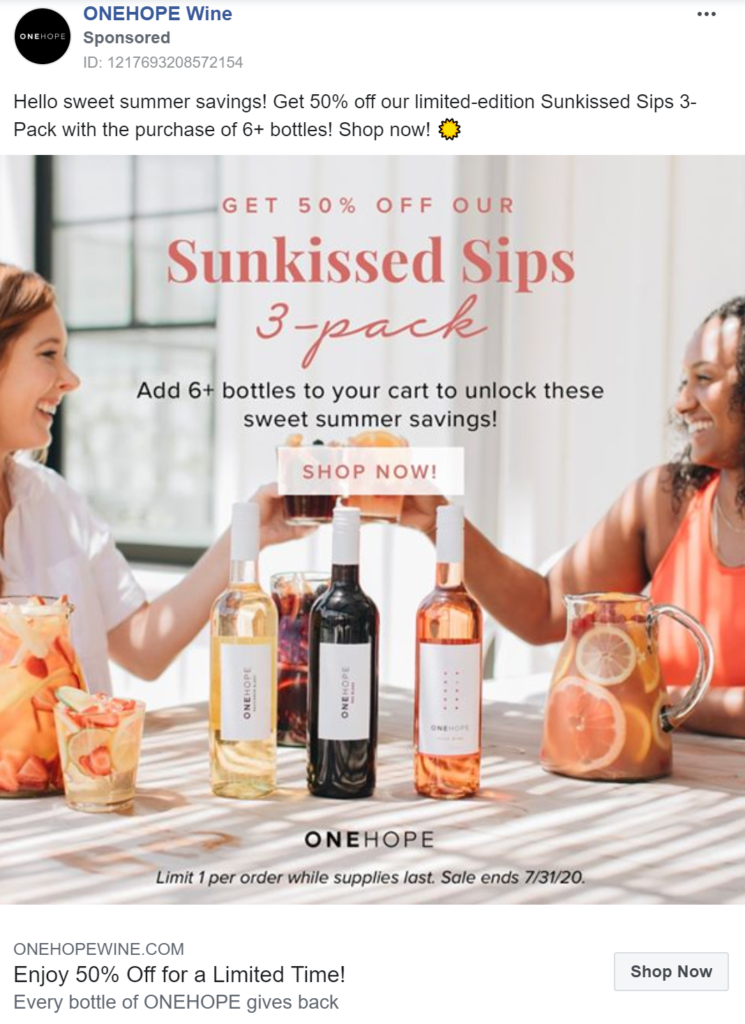 By limiting the offer to one per order, and using the disclaimer 'while supplies last', they're creating a sense of scarcity and urgency – tools often applied to successful deals. This will drive sales further as people fear missing out.
Created Irresistible Offers to get High-Value Customers
When you're asking for a bigger commitment, such as signing up to a subscription or wine club, free gifts can be an ideal persuader to sweeten the deal and turn prospects into customers. As with all luxury brands, any small increase in conversions has the chance to deliver large financial benefits.
In this ad by Virgin Wines Australia, not only do they offer huge financial savings on their wine but they also provide free gifts and velocity points. When this offer is teamed up with a display of prestigious, award-winning wine, and combined with a time limit, it makes a very compelling offer.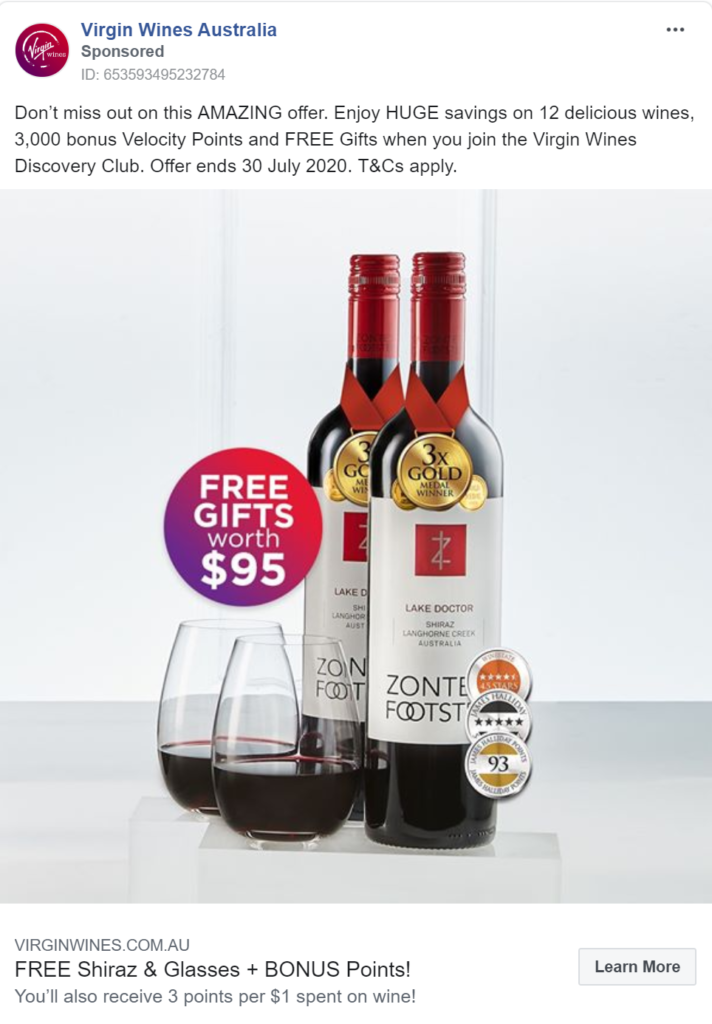 Budgets for Effective Wine Marketing Strategies
Social media can be scaled up or down to suite the limits of your marketing budget. Around $5000-10,000 is considered average for luxury brands. We advise investing more in the testing phase where you must validate your marketing campaigns, creatives, and offers. Once you've designed a campaign that is able to generate a ROAS, you have the green line to invest even more.

If you're keen to boost brand awareness quickly, however, you may be willing to invest in a period of time where your ROAS breaks-even or provides a slightly negative return.
Social media is only part of a wider wine marketing strategy, but it's becoming an increasingly important part and certainly worth allocating a significant portion of your marketing budget.
Conclusion
Starting a new social channel can be daunting, so if you're unsure just start small and find out what works for you. Use the best practice mentioned in this article and tailor ads to your target audience. Once you've identified what type of ads are providing high ROAS for your brand, you can scale-up and run larger campaigns. If you're keen to get quick results, hiring a marketing expert to help design your wine marketing strategy is a definite shortcut and can help avoid the learning curve that most businesses go through when starting out.