Have you ever wondered how your clients decided to buy gold jewelry? Often if gold jewelry advertising is done properly, they tip the scales to buy new gold jewelry, even if they don't need it.
Gold jewelry will always be a great idea for any outfit. The way you'll use jewelry marketing will not only influence their decision to buy but also will influence your KPIs.

In the following paragraphs, we will analyze how brands promote their gold jewelry and what works right now.
Gold Jewelry Advertising By Brands
Tiffany & Co. and Jewelry Marketing Strategy Building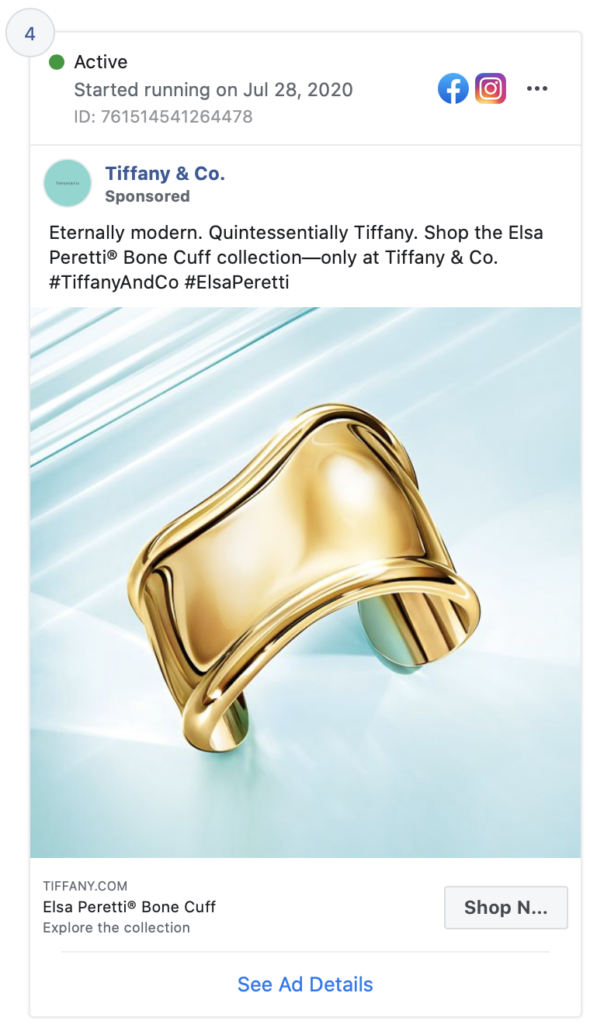 www.tiffany.com
Tiffany & Co's marketing strategy jewelry is a simple one since it's already established brand. Tiffany & Co. chooses to highlight their jewelry by their central positioning and brand color background that puts the products in the best light. The brand promotes its products on Facebook and Instagram with the description that conveys the uniqueness.
Using bright colors in the background can be a reason for the customer to stop scrolling the news feed.

As a result, always focus on promoting products that stop potential clients from scrolling Facebook or Instagram newsfeed, it boosts sales.

ALLDGT
David Yurman Jewelry Advertising Art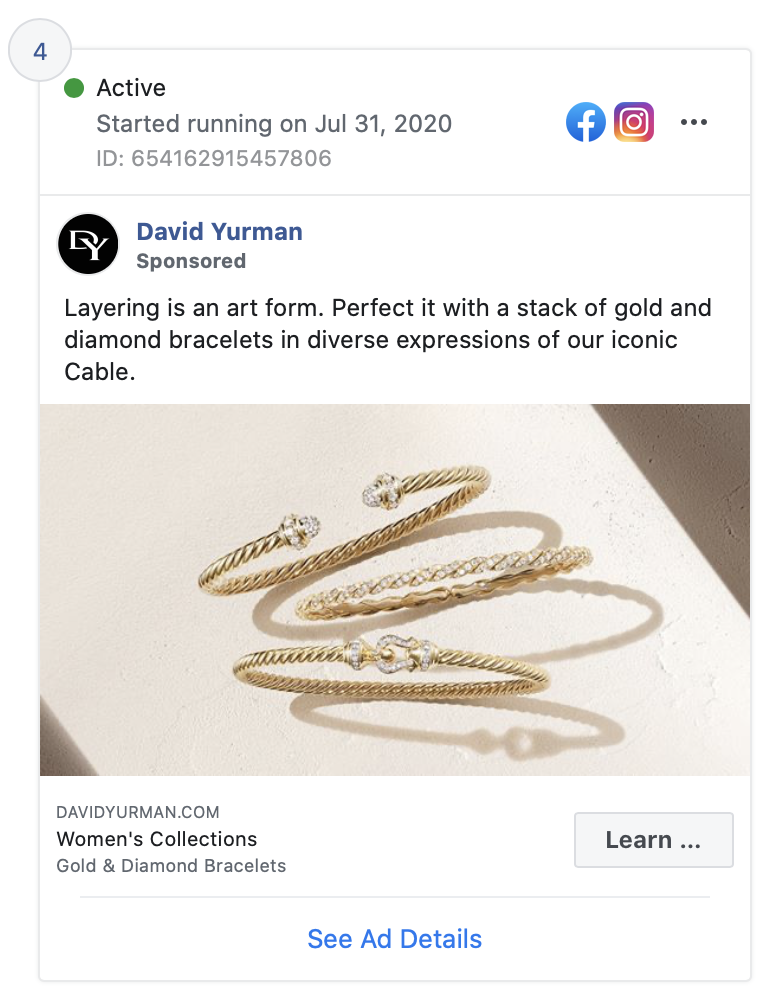 www.davidyurman.com
For more than 40 years, David Yurman's jewelry has been a combination of art and finesse. They always promote simplicity and extreme elegance. This jewelry can be a great choice for anyone. You can easily match them with an outfit suitable for a lavish event or an everyday outfit. In any situation, they will fit extraordinarily well. Their advertising points out how you will feel when you match the outfit with the beautiful gold jewelry.
Bvlgari Most Desired Jewelry or How to Get a Higher ROAS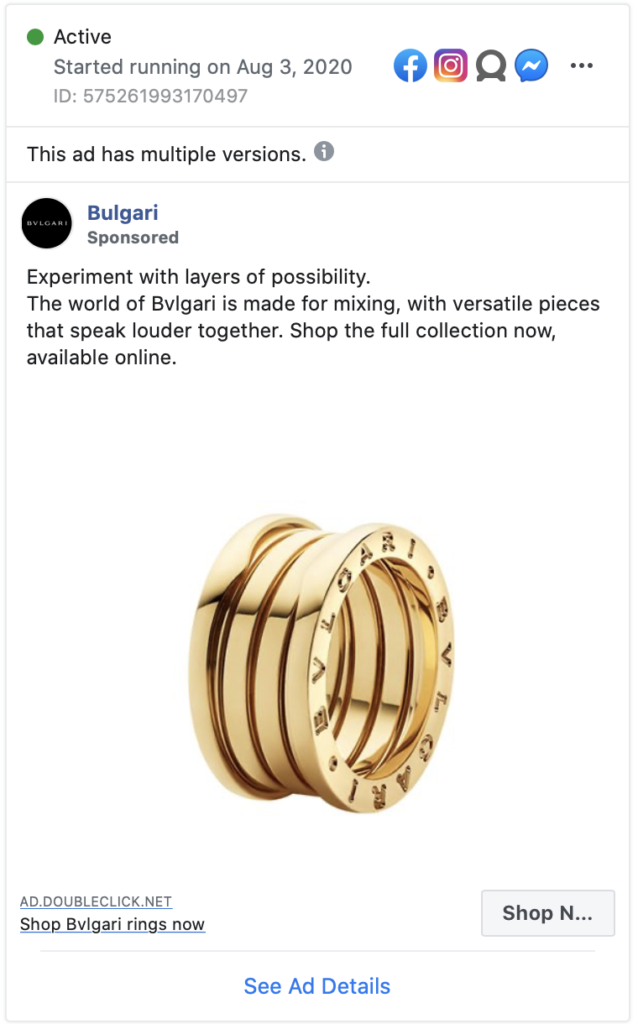 www.bulgari.com
Bvlgari sculpts gold jewelry with an exotic air, but also simple-minded. Bvlgari advertising persuades by mentioning the most desired and best-selling gold jewelry of the brand.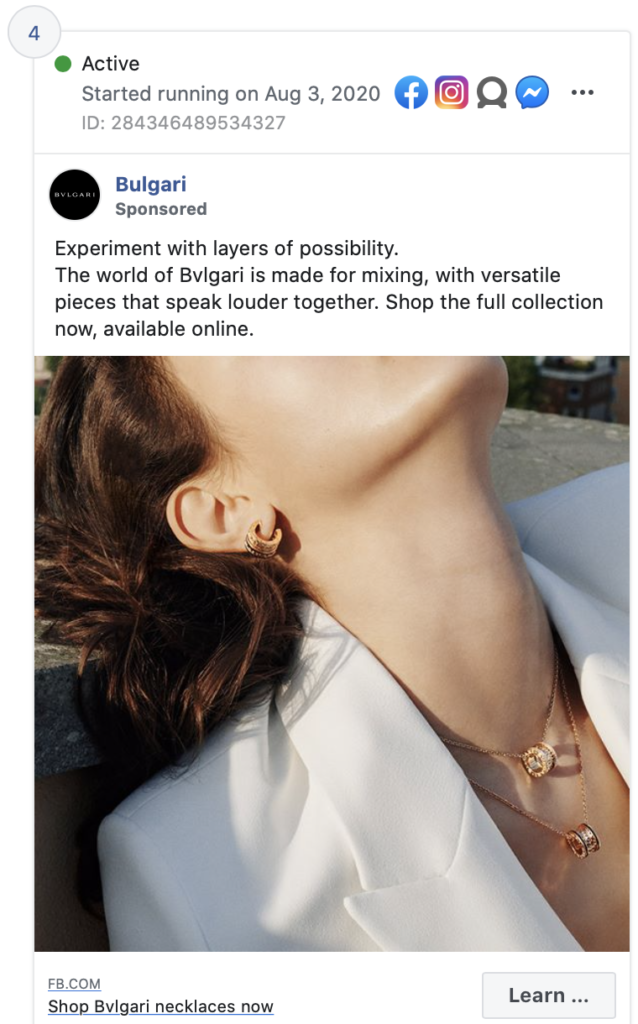 Return On Advertising Spend (ROAS) can be easily improved by promoting the brand's best-selling products.

Alex Skibinsiy / CEO at ALLDGT
Therefore, if you want an increase in sales, it is recommended to promote your most desired and top-selling jewelry, as Bvlgari does.
The Blue Nile and The Art of Contrasts in Advertising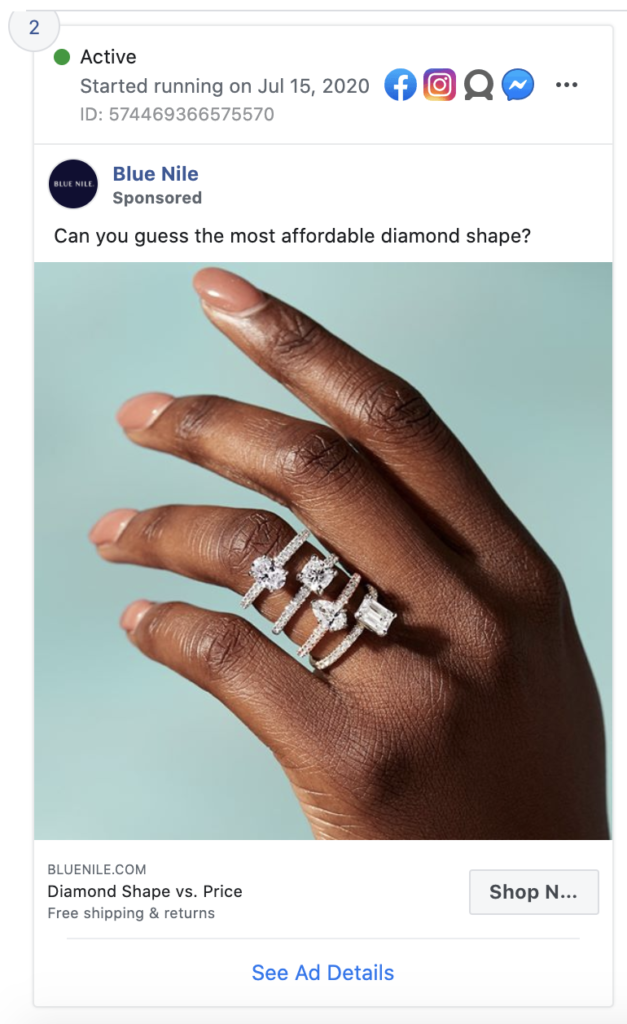 www.bluenile.com
The Blue Nile put their precious jewelry in the spotlight, making it hard not to notice them. Every piece of jewelry will steal your eye. To attract attention, every detail has its importance. Therefore, choosing the contrast between the model and the jewelry can be a rather delicate aspect. At the same time, the colors of the clothes worn by the model can positively or negatively influence the way the jewelry appears on the news feed. the more visible and attractive the jewelry, the higher sales you'll get.
Chanel Jewelry Video Advertising or How to Deliver Emotions in 15 Seconds
www.chanel.com
The famous French brand, Chanel, captures the attention of visitors through commercials featuring various models such as Gigi Hadid, Vittoria Ceretti. They match their outfits with the elegant gold jewelry of the fashion house. The gold jewelry advertising is designed in such a way that the consumer pays full attention to the brand's creations. Chanel uses short videos to present its products where details are observed more easily. Their Facebook and Instagram advertising always offering something unique to brand lovers.
Boucheron or How to Make Someone Stop Scrolling The News Feed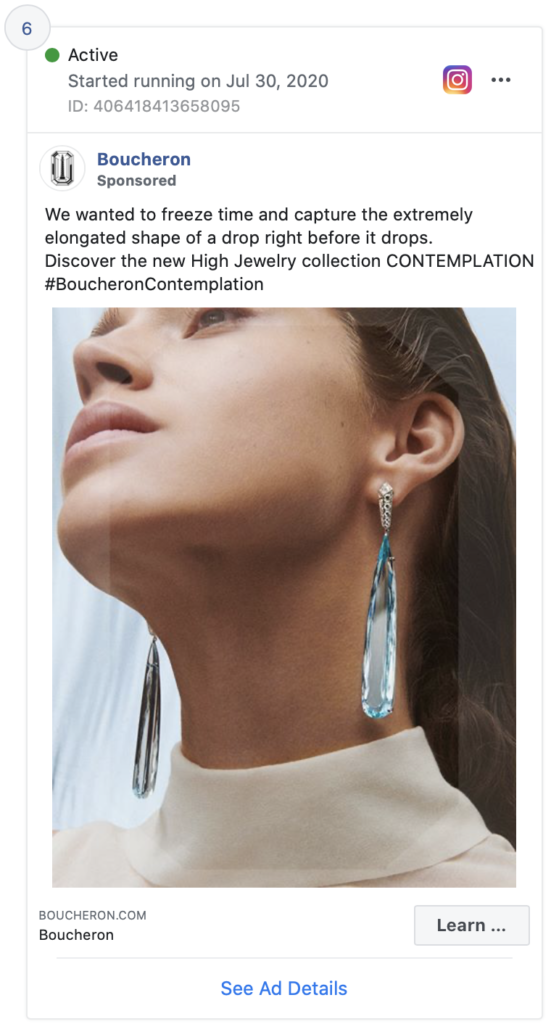 Boucheron is part of the category of brands that offer products of unprecedented finesse. Wondering what can attract you to this jewelry? Firstly, the beauty of jewelry. Secondly, the details are easy to see. Thirdly, the state of contemplation, relaxation, and self-confidence that these carefully crafted pieces offer you. The brand is aware of the details of the sculpted shapes, emphasizing this information to attract your attention even more. However, the way the jewelry is presented will take you much closer to the decision to have them.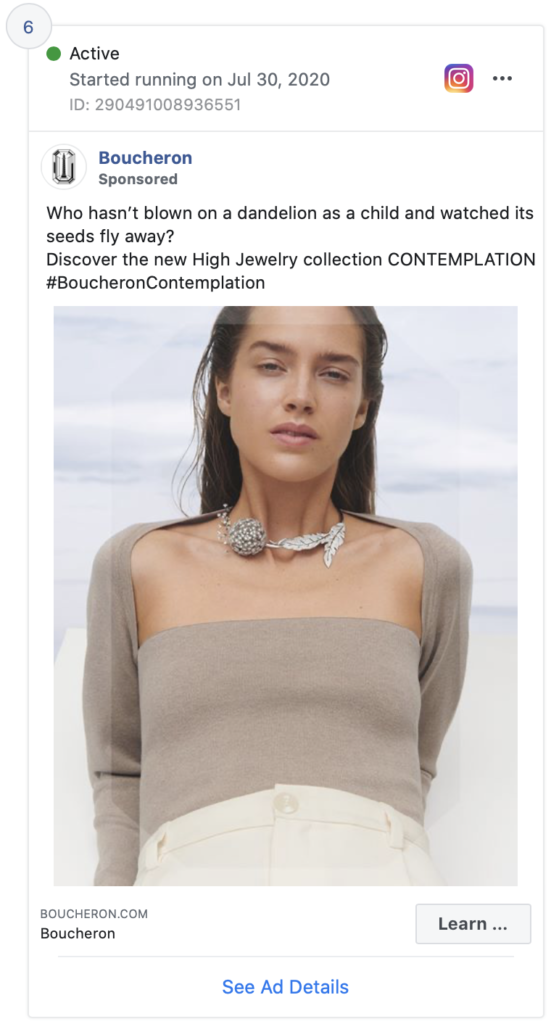 These days, if you want to sell, you have to attract attention. So, if you want someone to buy your brand's products, make them stop scrolling the news feed. As Boucheron does. You will stop only because you saw that beautiful jewel, of large dimensions, which, for a few moments, freezes your screen, making it difficult for you to stop looking at it.
Mejure Combination of Product and Creative Copy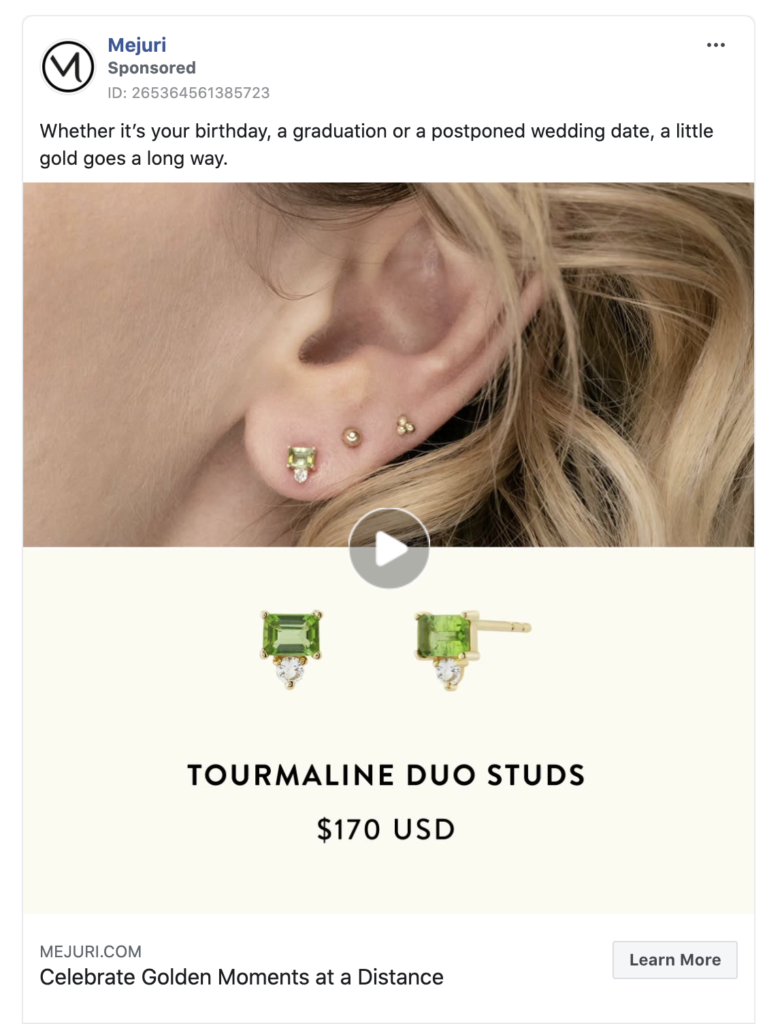 www.mejuri.com
Mejuri focuses on simplicity with a combination of short and sweet messaging. Behind every marketing strategy is a sweet story. Feel free to use it. Put a short story about your designs, stones, the making in front of you potential clients.
What Do All These Brands Have In Common?
If we analyze carefully, we can easily see that all the brands mentioned above want to offer the consumer a unique experience:
Make them stop scrolling the news feed;
Use new advertising formats like vertical advertising posts;
Promote best-selling products;
Deliver emotions to consumers;
Use eye-catching colors;
Pay attention to contrast;
Pay attention to details;
Make consumers feel special by buying your products;
Tell your story;
Put passion in everything you do.
Take a look to find even more ideas and insights: