I was always fighting against this the following argument: MY AUDIENCE IS NOT BUYING DIAMONDS ONLINE… Now I avoid speaking with them so I can focus on people who understand my way of thinking. This is for you.
I'm writing this content while the world is fighting with COVID-19. We are passing hard times, majority of the accounts my company manages wants us to pause their marketing campaigns. Which is the wrong decision for the long term, especially if you have cash. Why?
Now marketing is getting cheap, people staying online at homes and spending time on marketing channels.
Only a few accounts are still running their ads, and guess what? I thought it will be really hard to sell loose diamonds and high-end jewelry in this period. However, I see records in sales, orders, traffic coming from social media now…
How can I explain this?

High-end consumers now withdraw their cash from banks and invest in gold, diamonds and high-end jewellery. Moreover, advertising is getting cheaper, and we can cover big audiences now since all of them staying home.
What is different between high end and typical consumers?
Typical consumers are buying toilet paper. High-end consumers withdraw cash from banks and invest diamonds, gold, and high-end jewelry. They have no trust in banks, and we know that from a historical point of view gold and diamonds prices are always increasing. Even now gold price follows the positive path:

What the difference between typical brands vs smart brands?
Typical brands pause their activity. Smart brands pushing more money into marketing. Subsequently, while I'm writing this blog post I see PIAGET advertising diamond jewelry on LinkedIn which is the most expensive marketing channel! For example, if you pay 30 cents per click on Facebook, on Linkedin You have to pay $10 for the click, even more, depends on the country!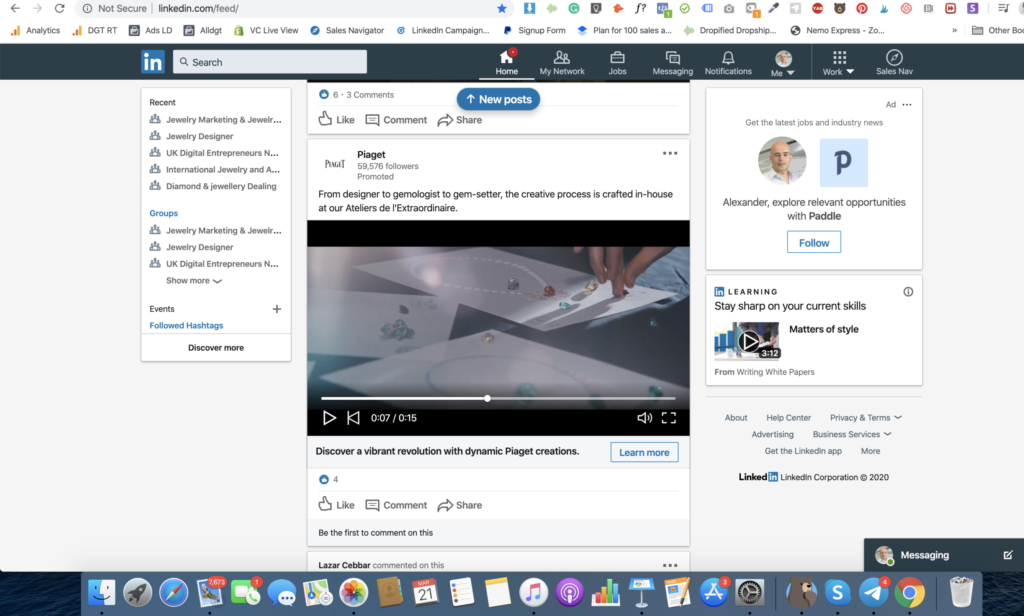 How top Luxury Brands Advertising and Selling Loose Diamonds: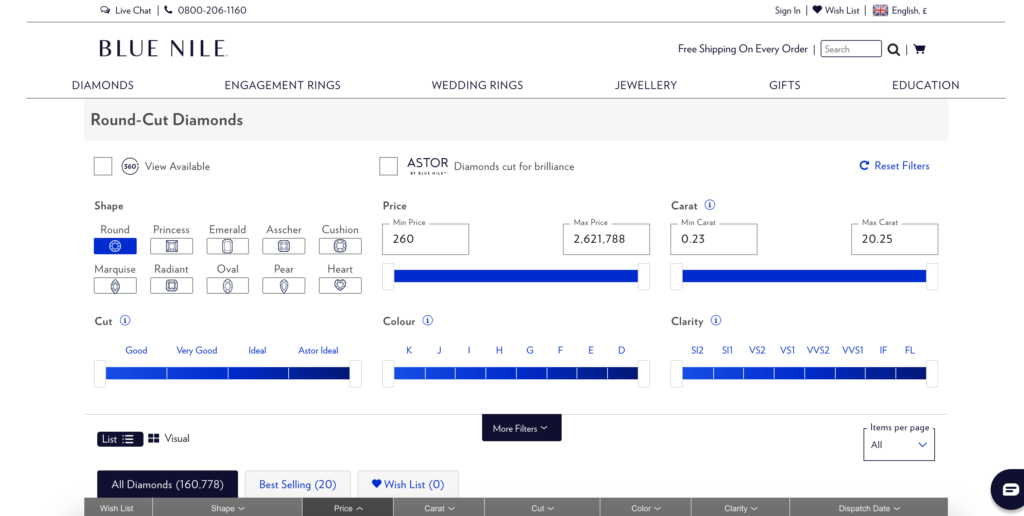 The answer is: They use Google Ads, Facebook, Instagram, Audience Network and Facebook Messenger as Marketing Channels to sell diamonds.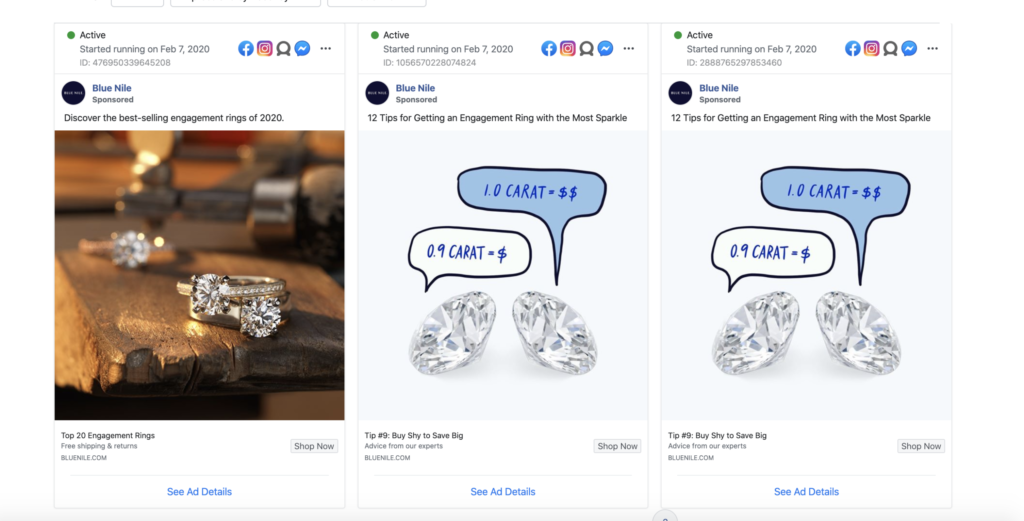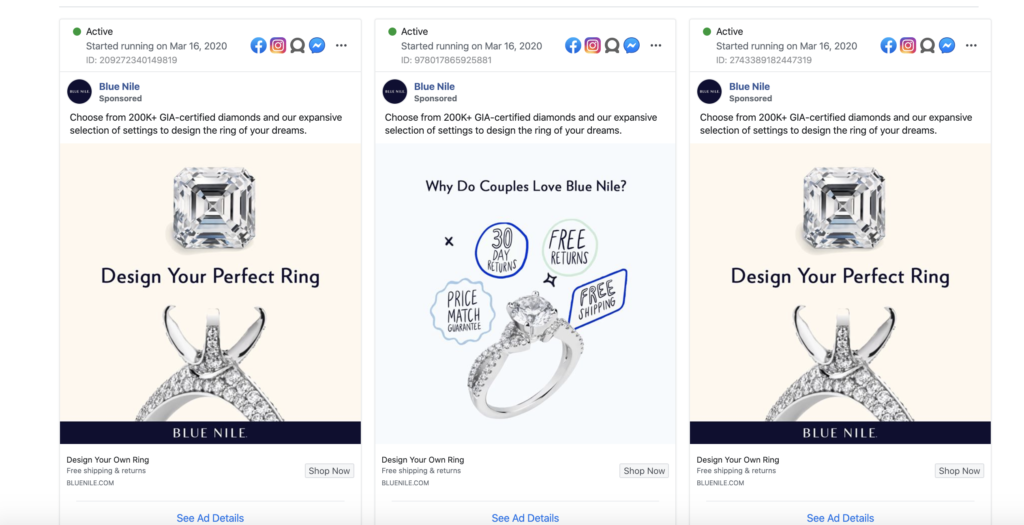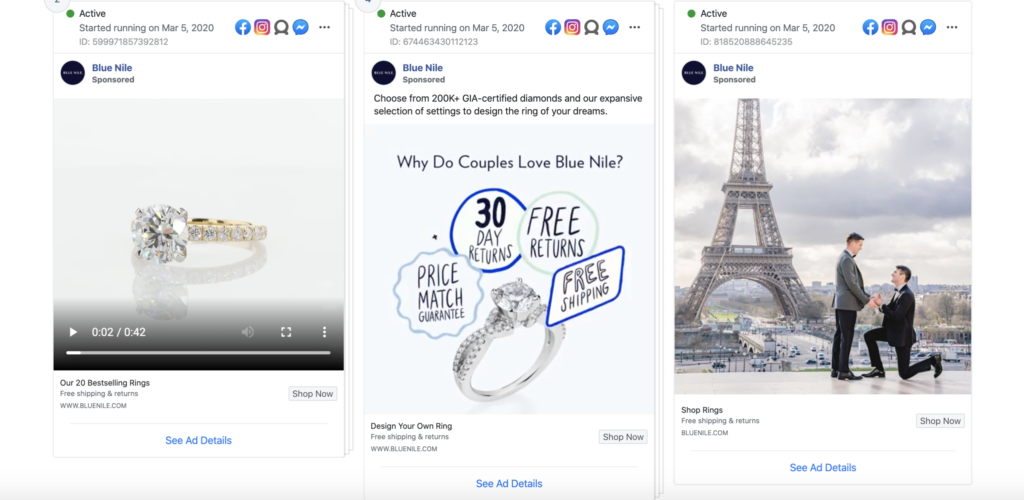 What it makes a diamond brand to be successful in the market?
Success comes with time, and with lot's of advertisitng campaigns, as you see from the image above the Blue Nile has 220 advertisements running on Facebook and Instagram only.

If you just ran 1 single ad/marketing campaign and didn't get any results… of course you will think that online marketing is not working.

To make it work you have to play a long term game with lots of advertising campaigns, a very strong marketing omnichannel structure that allows you to capitalize on it. You can read more about marketing structure here: https://alldgt.com/facebook-ecommerce/

I consider this as the best way to get customers with high lifetime value.
Other Marketing channels to sell diamonds:
I already mentioned and showed how other brands are using Facebook, Instagram, Facebook Messenger, Linkedin to sell diamonds and high-end jewellery.

But this is not the end, we have more powerful options. Why more powerful? Becouse those are the intent-based options, which means people are ready to buy, right now. Bearing that in mind, you can show your products using Google Advertising Campaigns and Strategies. Let me show them.
1. Google Shopping
2. Google Search Ads for selling loose diamonds and jewelry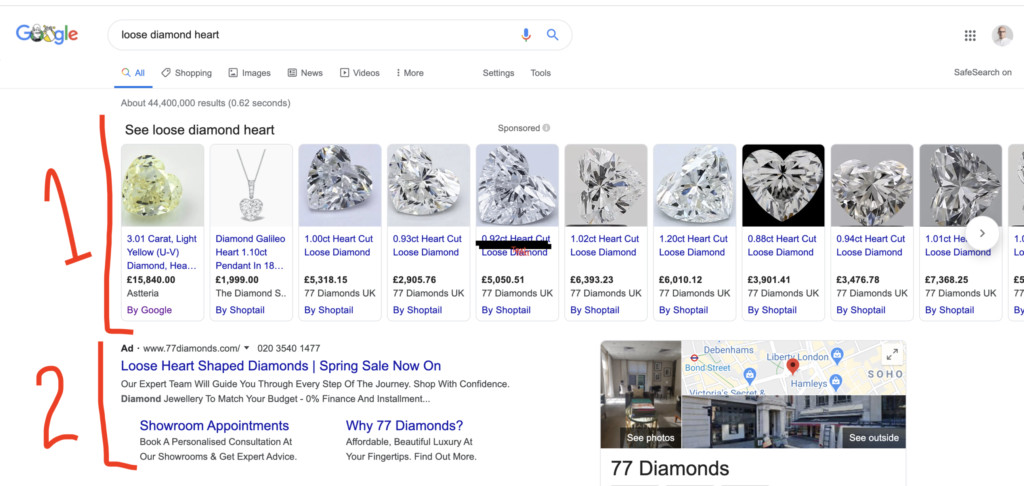 1. Google Shopping allows you to export your eCommerce catalogue and show it in the search results when someone is searching for a specific term, but you have to optimize your catalogue for search intent in order to get better results.
2. The same principle applies to the Google Search Ads, they bring better results working together. We also have Google Maps.
3. Google Maps to make clients come to your store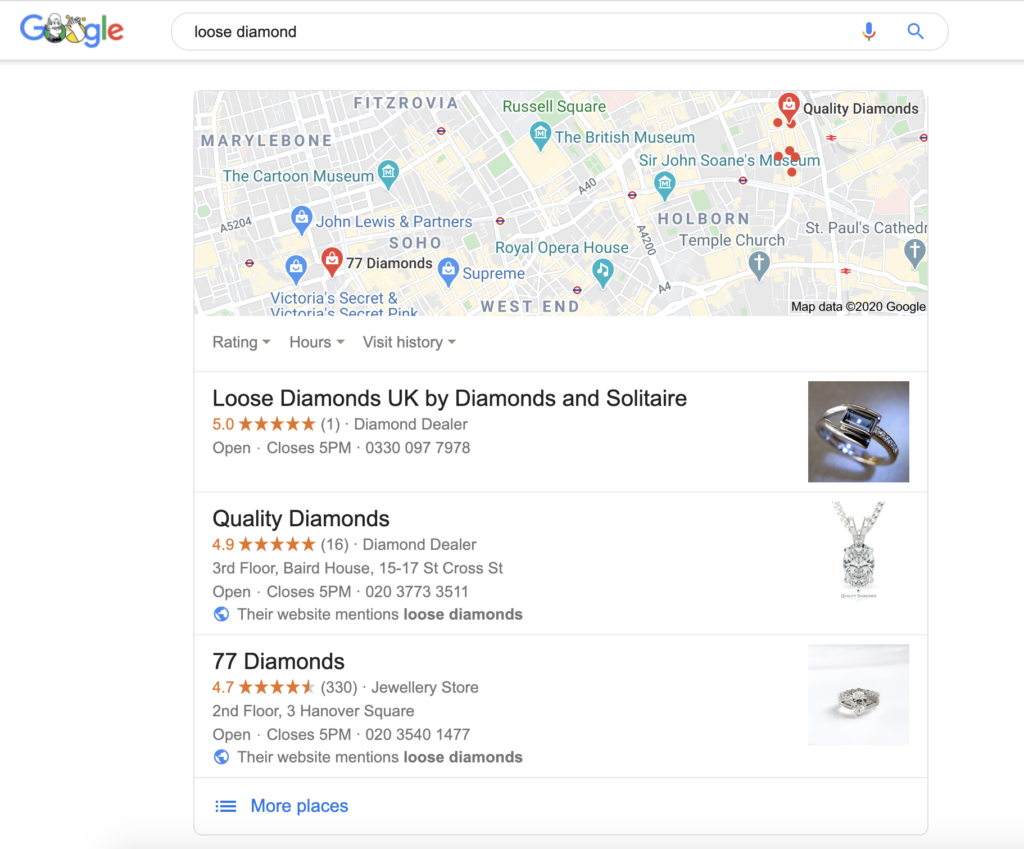 Can you see the inscription "Their website mentions loose diamonds" that's why you must optimize your website for SEO which stands for search engine optimization. And if you do optimize your website and content for SEARCH INTENT, then you will see traffic and sales growth.
Google Map optimization is a part of a content marketing strategy, which we are going o discuss next. You only get results if you optimize your content for the specific keyword. Let me clarify.
4. Content marketing for diamond and high-end jewelry businesses:

Blogging:
Blogging means that you create valuable blog post when you show your expertise, show your brand. For that, you must have a CONTENT MARKETING STRATEGY. You always do it based on search demand. Here is for example a part of my content marketing strategy for an emerald jewelry business.

I analyzed what people are searching on the web, and based on their search intent I come with content ideas. When I say ideas, I mean that every keyword is an idea for a blog post, video blog or social media content.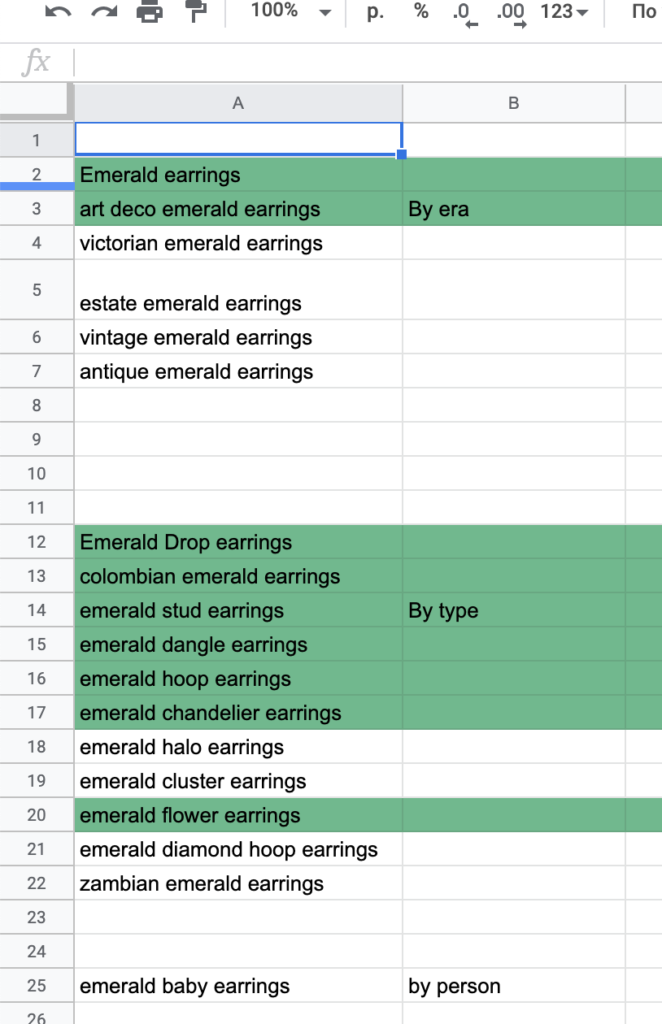 Below is just an example of how our traffic grow after we started doing blogging. A big part of this traffic, of course, are non-buyers and just visitors, but there is a good percentage who is buying, not just once, but repetitively, so they become loyal customers.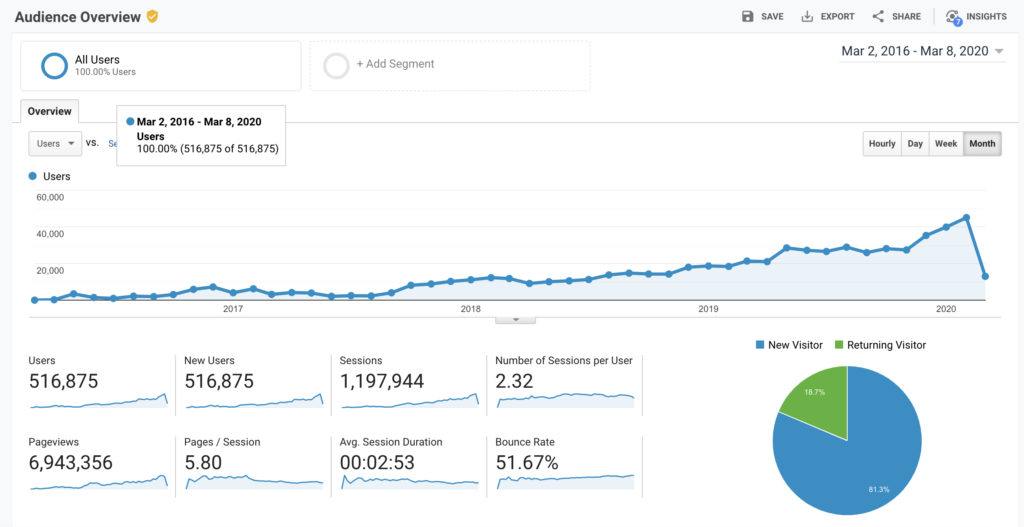 Want to be first on the google first page for a specific term like Diamdon ring? Then go all-in with content marketing.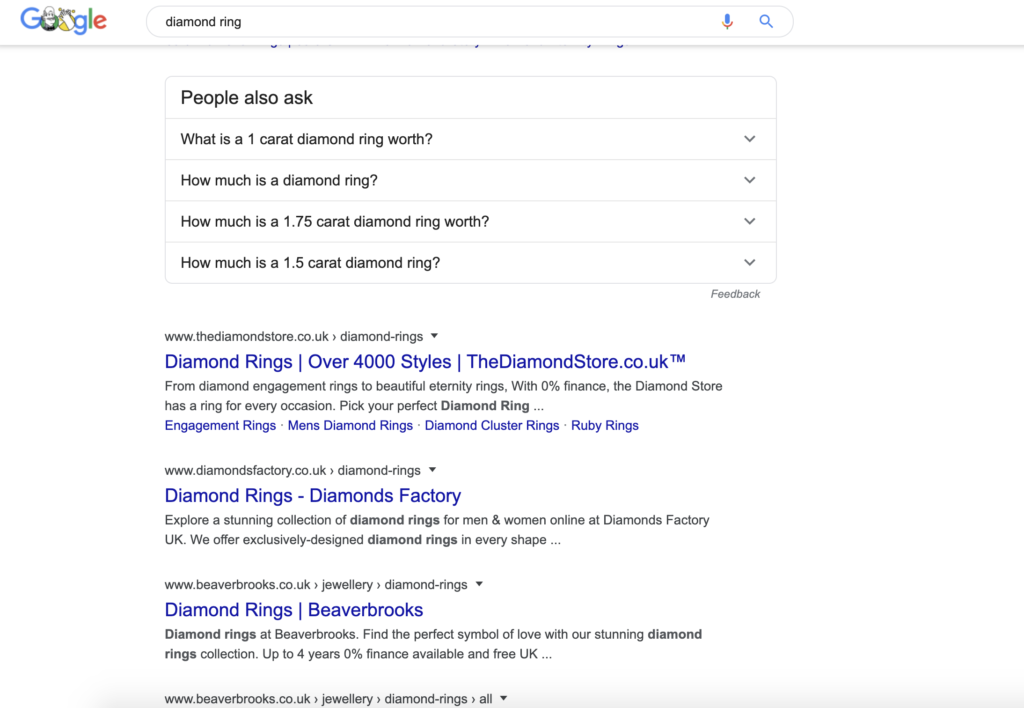 Vlogging:
Do you have an youtube channel? No? Then watch this video, it has over 80.000.000 views. Do you imagine how powerful it is for a brand to have so many views? Cartier, for example, has a video with 5.000.000 views those are paid ones not organic!
Social Media Content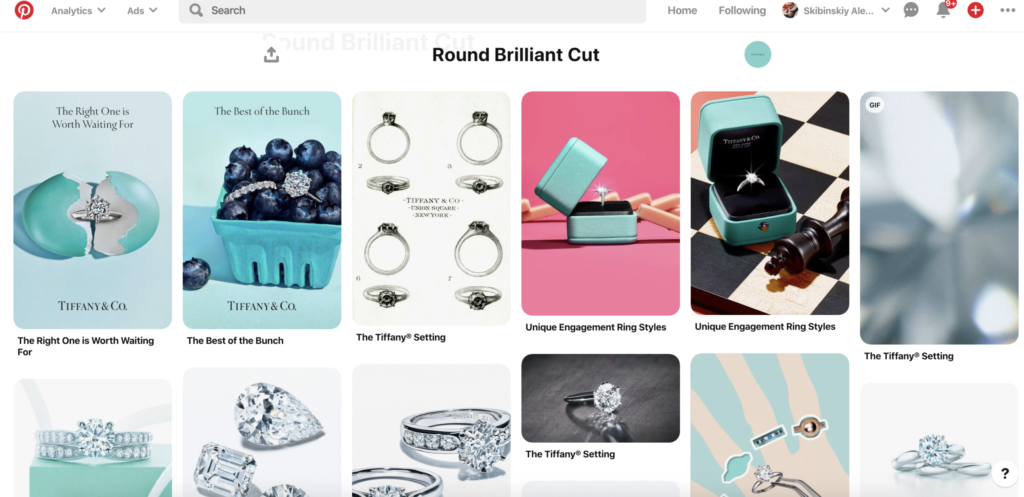 Blogging on your own website, vlogging on youtube, posting content frequently on social media like Instagram, Facebook and Pinterest and the use of paid marketing is the best combination.
Using Paid Marketing to Get Faster Results
Precise targeting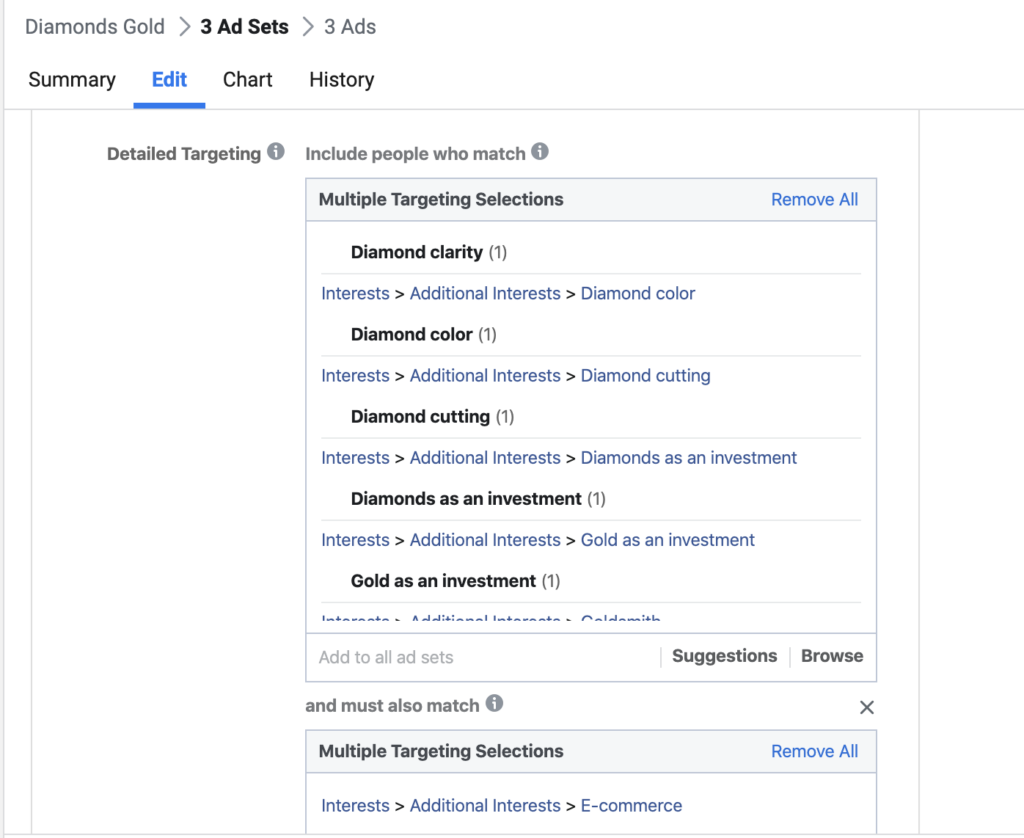 Social media has so much data you can use, you can't imagine the possibilities of this data you have access to. In that way, you can target your specific clientele to ensure efficiency, sales and trackable results.
Instant and trackable results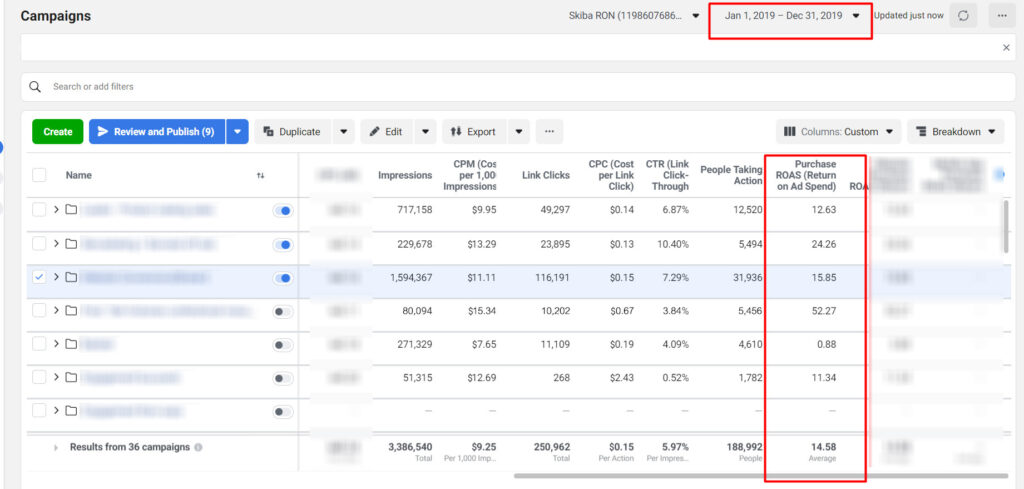 You can track everything and see the performance of your marketing campaigns instantly. You can even use it to make already existent clients buy again. Remember data is everything!

Who owns the information and data, rules the world. More than that. What gets measured gets improved!
Building community and loyal customers who will consume the content

To make sure your content is consumed, you have to build the community around your brand, right? So here paid marketing comes again, it's not mandatory, but if you don't want to wait years doing it organically you can always rely on paid tactics.
In conclusion:
It's not a simple game, it requires a team led by someone who understands the principles behind the modern marketing approach. You have to start somewhere, my recommendation is to start with paid marketing channels Like Facebook, Instagram, Google Shopping Ads, Pinterest Ads, Amazon Ads.

Paid marketing will ensure almost instant results, in that you get fast data/information, so you can understand which tactic bring you more money so you can leverage it.

Once you start getting results, you can invest more in developing sophisticated content marketing strategy like blogging, vlogging and storytelling on media platforms to make sure your audience is growing and engaging with you. In that way, you will increase your lifetime customer value and make more loyal customers.

When you combine PAID marketing with organic marketing on each channel, you can get positive results very soon!

Remember you can't sell "sh*t" online, but if you package it well, you have chances. Whatever you sell, please package it well. I'll not be able to help you sell products that are not "packaged/branded" well.

For instance, why lab-grown diamonds are selling now? Becouse someone knows how to "package/branded" them well online. For instance, claiming that lab growing diamond are eco-friendly, but we all know the truth that lab-grown diamond's carbon emission is greater than naturals.
Also, feel free to read more jewelry marketing blog posts that will help you grow your business:

Luxury Jewelry Marketing 1500% ROI from Facebook Advertising [Case Study]
Jewelry Branding, How to Dominate the Customer and Sell More
34 Jewelry Conversion Rate Optimization Strategies
Jewelry Advertising Mistakes, Analytics, Examples, and Channels