How to choose a banking marketing agency?
Choosing an agency or define a banking marketing strategy is a troublesome task to do. Here are two significant questions to ask yourself:
What's the outcome that you want to get from the agency?
Does their marketing strategy include the following strategies we are going to cover?
If they cover all of these top 5 strategies used by top fortune companies. They are the way to go. You can scale your marketing campaigns with them and achieve better results. The future of your business pretty much depends on them.
There are various ways you can achieve a hugely positive return on investment using the following strategies. Let's discuss each.
Social Media Marketing for banking services and products. Banking marketing strategies and ideas:
1. Facebook and Instagram Banking Advertising
One in five minutes on mobile is spent on either Instagram or Facebook. It doesn't come as a surprise that promoting your business on either one of them. You can boost your sales like never before. Instagram and Facebook go together like peanut butter and jelly, you create an Ad on Facebook and then all of a sudden, it runs on Instagram, too.
– Use Facebook Messenger Ads as Banking Consultants
With Messenger ads, you can extend the reach of your Facebook ads and drive more people to your website. You can onboard them inside the chat. Save your human resources on this process. Yes, it a lifesaving option for replacing customer care agents on Facebook messenger. You can simply set up a built-in Chatbot in your messenger that will behave like a sales agent. In other words, cut your human resources costs and increase the revenue.  There is also surprising news for banks – you can set up a Chatbot that can be used for money transfers.
In addition, you can create a messenger audience list and send them messages about your bank. Messenger messages have a 98% open rate!
– Facebook Video Ads to For Bank Brand Awareness Campaigns 
While people usually skip video ads or get really frustrated when they're watching a video and it pauses for you to watch some ad you weren't interested in watching, video ads are very effective for raising awareness of your new product or business as to whether people like it or not, they're still watching it. There's no way out!
Facebook video ads are very beneficial for getting insight for your future or ongoing ads; Video ads drive more conversion as people are more likely to click and interact with a video. Also, Facebook allows you to create various audiences based on the people who've watched the certain percentage of your video, varying from 25-95%; This is a perfect option for you to create a very precise and specific audience for remarketing.
– Facebook Remarketing to persuade leads to buy your product or service
Whether your conversions hit career-low or you're just trying to raise your Conversion Rate by all costs, Facebook remarketing is a go-to tool for you. Facebook remarketing boosts traffic on your website by running ads targeted towards past visitors of your site, past facebook page engagers, Instagram page engagers, and video engagers as well.  As for someone, who sells loans online, Facebook remarketing is my true lifesaver and it could be yours, too!
2. LinkedIn B2b Banking Lead Generation
LinkedIn is the world's largest database of business professionals, there are over 500M professionals on LinkedIn, while only 1/5 of the users are active on a weekly basis. If you're looking to generate HQ B2B leads, LinkedIn is the right place for you.
Simply by viewing profiles of Active users, so to say, Opinion leaders, you'll get more attention and more leads, for sure.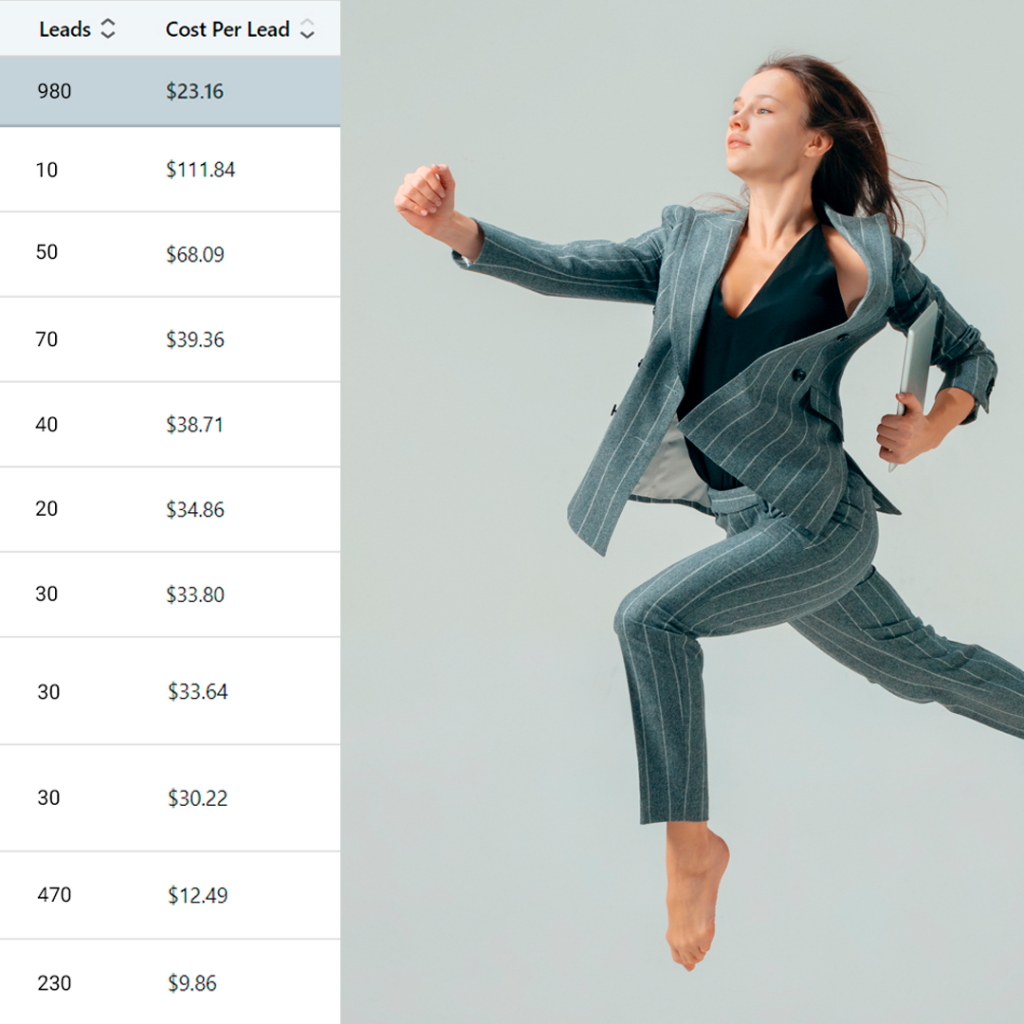 LinkedIn ads give you a perfect opportunity to target businesses and their owners from various industries. You can read a more detailed report about Linkedin B2B lead generation costs: https://alldgt.com/linkedin-lead-generation-cost/
3. Google Ads for Banking Products and Services
– Google Search Ads
Using google search ads for selling banking products is the most effective as when people need banking products, the first thing they do is google for what they're looking for. That's what we do most of the time in my company and it works perfectly fine for us!
– YouTube Ads for Banking
YouTube ads are probably the most-watched/heard ads online.  Be patient while creating an ad on YouTube, it requires a lot of testing before getting any result. The trick is to make people watch the ad instead of skipping them. We recommend testing a minimum 10 hooks variation, find one that works and then promoting the winner further.
Also, you can create remarketing lists that reach people who have watched 25-95% of your video. The same principle as at Facebook. Actually, facebook took it from Google. This feature is really ROAS driven, too many banking marketing campaigns that are making profit only by using Remarketing tactics. Especially in competitive Marketing like USA and UK.
– Google Display + Google Remarketing Ads 
As for the benefits of display ads, display banners are very beneficial for raising brand awareness and driving traffic to your bank's landing page. More than that, those ads help you drive people, so a small percentage of them will take action. To boost the performance of Google display ads you also need to user Remarketing.
You can show your specific ads to these people who've previously interacted with specific advertising or specific web pages at your website.
5. Amazon Advertising For Banking Services
6. Additional Banking Marketing Channels to use
–  Email Marketing
Generate a database of the potential customers is the key. You can do it using strategies above to create a huge database. Then you can automate your email marketing campaign with specific messaging. Again you can track any action your lead is making. Based on that action you can send them specific messages. Please read more about at https://www.activecampaign.com/marketing-automation
– Cold Emailing
Cold e-mails work, better is to automate them. You can do it by using Getprospect.io so you can generate leads then use www.woodpecker.co
Woodpecker is a cold emailing and lead generation software which enables you to personalize and automate email campaigns so that you don't have to worry about manually emailing each person and sending follow-ups.
– Cold Calling
– Twitter Ads
People on Twitter are the most active users of social media and twitter ads are the most perfect solution to get people talking about your bank solution, services and products.
– Pinterest Ads
As Pinterest is more of a search engine than just a social media platform, users search for inspirations and food for the soul. Pinterest ads appear as Promoted Pins and that's the main reason why it's easier for users to discover and buy the products you're promoting, should it be a loan or a newly-launched banking product.
We have covered most important banking marketing channels and strategies, so now you can add them into your banking digital marketing strategy.