In this in-depth blog post we will be showing and analyze examples of Facebook advertising of florist E-commerce businesses.
The worldwide market of flower will be expected to have a growth from $42.4 Billion USD(2019) to $57.4 Billion USD(2024). This means 6.4% growth in the next five years.
How to Get Clients as a Florist
There can be a lot of things to do to increase your traffic and attract more clients to your floral business. You can do it by introducing a loyalty program(you can do it even digital), you can write blogs and get organic traffic and many others. But, we will be talking about implementing Facebook and Instagram ads which, in our opinion, works best.
What is The Target Market for a Flower Shop
Holidays are big events in the life of many peoples. This factor drives floral purchases. A target audience can be men having anniversaries and birthdays coming up. These are ideal dates for floral purchases.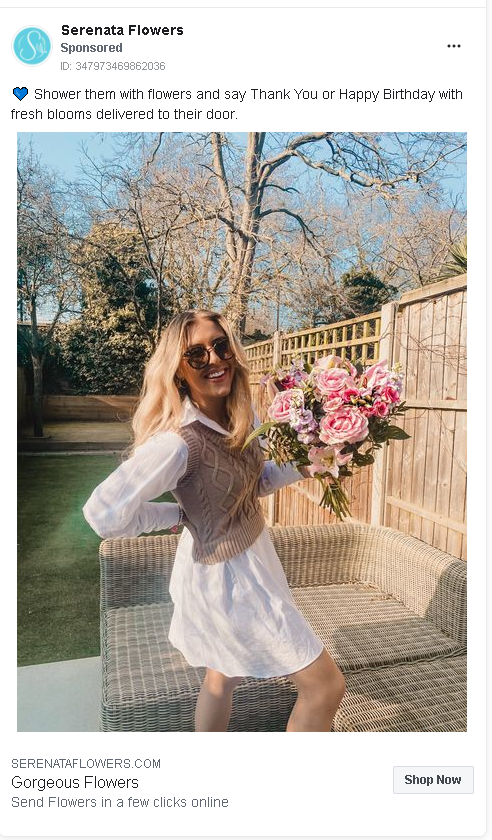 Mother's Day, Valentin's Day, Christmas, and other holidays are other ideal dates that can drive men, and also women to buy flowers as a gift.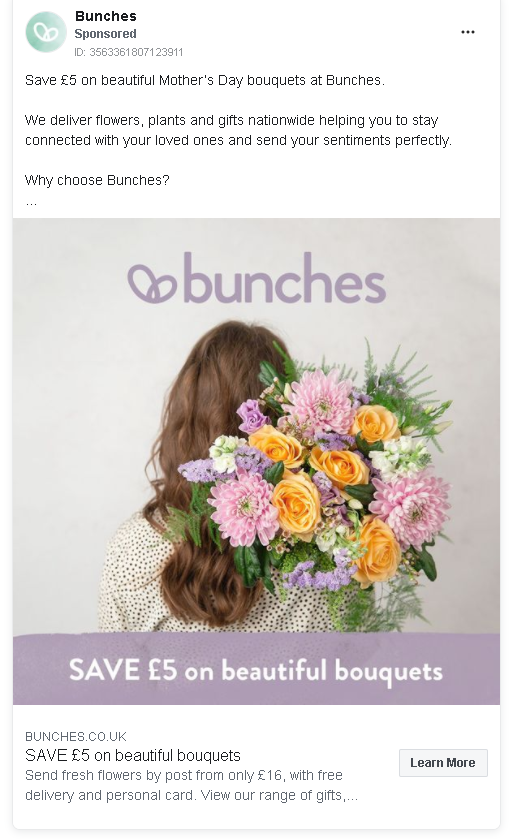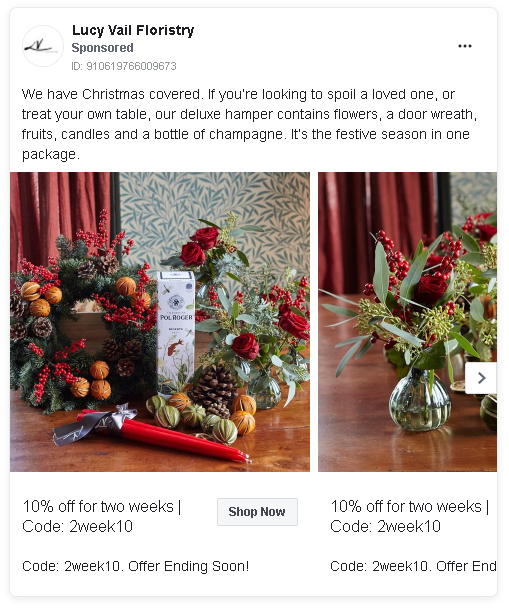 Florist E-commerce Advertising From Different Successful Businesses
#1 Appleyard London Flower Shop Marketing Ideas (Good)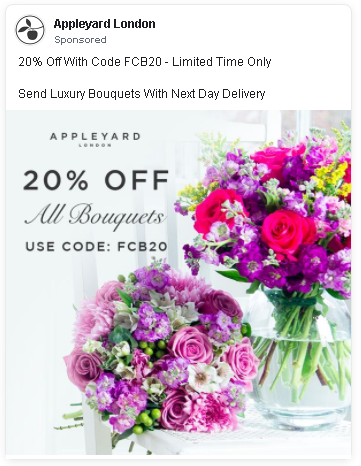 Very good aesthetics, and colors alongside with a good offer that will increase the sales. Also, is that the video is optimized for mobile phone, and that will boost the campaign.
#2 Haute Florist Advertisement Example (Good)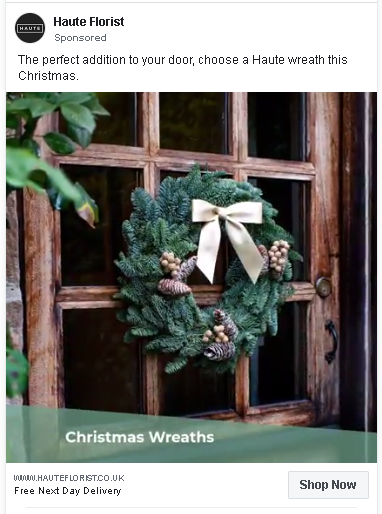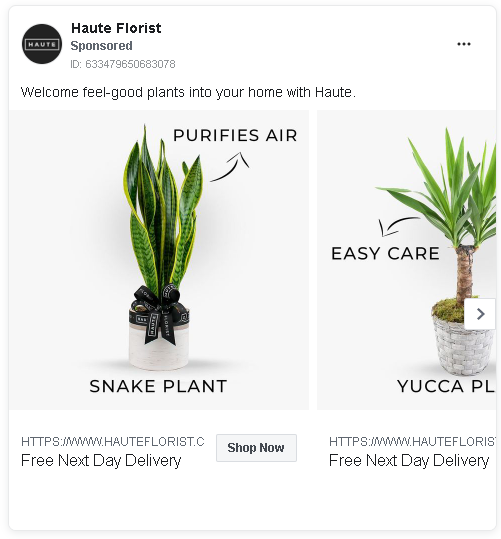 Christmas is a special holiday where people decorate their homes. Haute have good design decorative Christmas wretch and also "next day free delivery", which will be a closing factor. Also, they use carousel advertising which works very well on Instagram and Facebook Stories. The benefits written on the product image will help customers to make the decision of buying faster.
#3 Floward Florist E-commerce Advertising Example (Good)
A powerful advertising with an ad copy that creates emotion, "Share your feelings". Also, the potential customer can benefit of a discount offer, free delivery and a free personalized video card. This will increase conversion rate. Notice the usage of human presence. This helps very much with conversion rate.
#4 Bloom Magic Florist Ad (Neutral)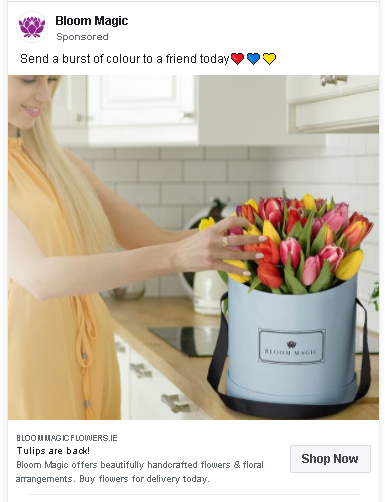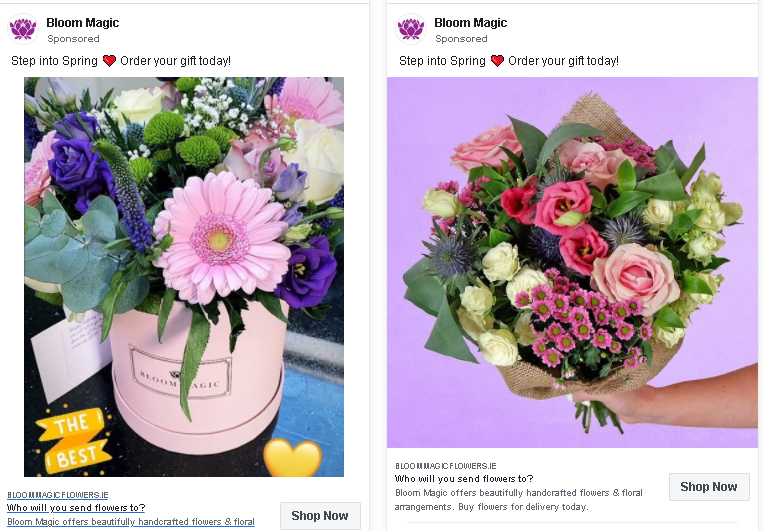 The first image is too bright and hard to focus on product. Darker skin woks better in contrast with bright colors. But, they have a good aesthetic and good floral designs.
#5 High Camp Supply Florist Advertisement Example (Good)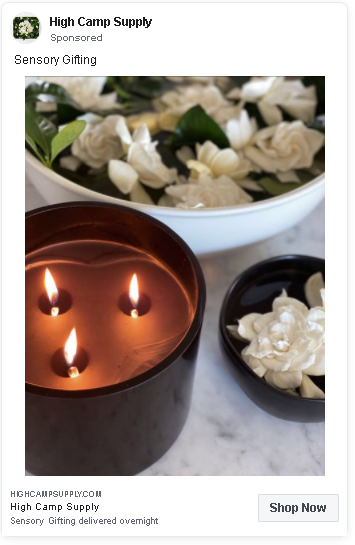 The candle and flower petals makes you think of a relaxing ritual, SPA. Also in the video someone unboxes a product. This helps potential customers decide faster, eliminating the doubt of receiving something they don't want.
#6 UrbanStems Marketing of Flowers (Good)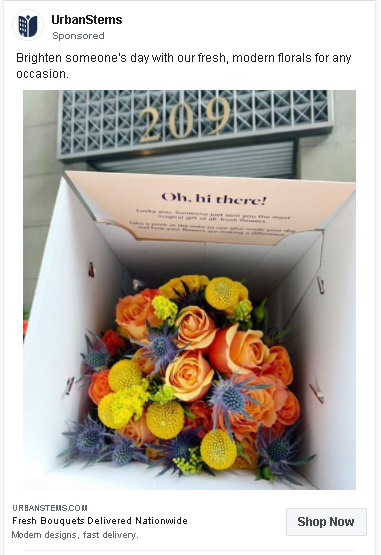 Using video reviews ads will increase the sales and make any marketing campaign a success. This kind of video reviews can boost sales even more if they are placed on the product page on the website.
#7 ProFlowers E-commerce Advertisement Example (Good)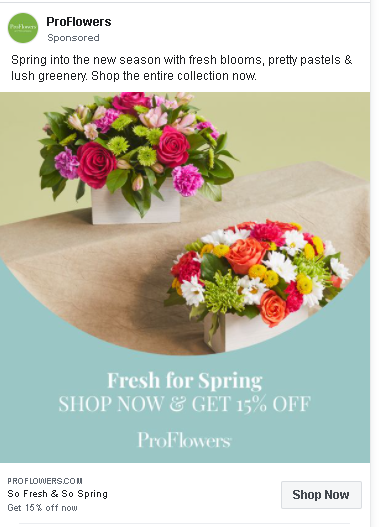 This video ad carries you through the process of how is it made and the story of the company which will create a bond between customers and company. In this way they strengthen the bond and make the customer to make the final step and buy the product.
#8 The Bouqs Company Florist E-commerce Advertising Example (Good)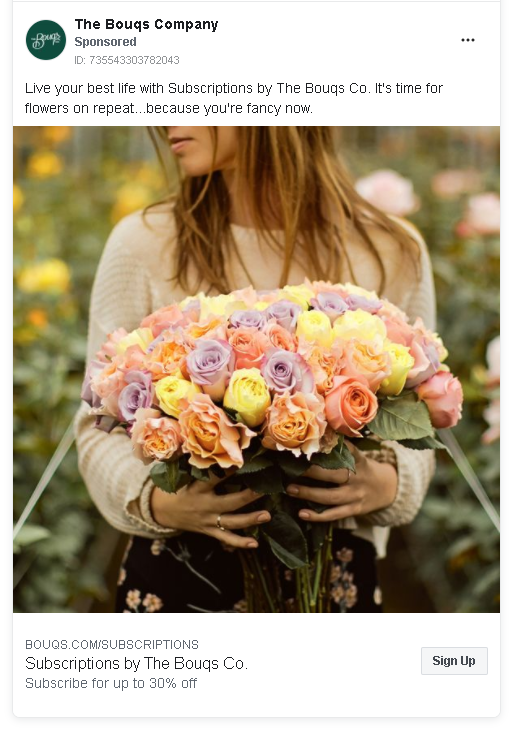 This kind of ad stops you from scrolling because of the copy. It creates curiosity and makes you press the sign-up button. "Because you're fancy now, you deserve it", this is the quote that hooks up potential customers and will increase sales.
#9 VENUS ET FLEUR Flower Shop Advertisement Example (Good)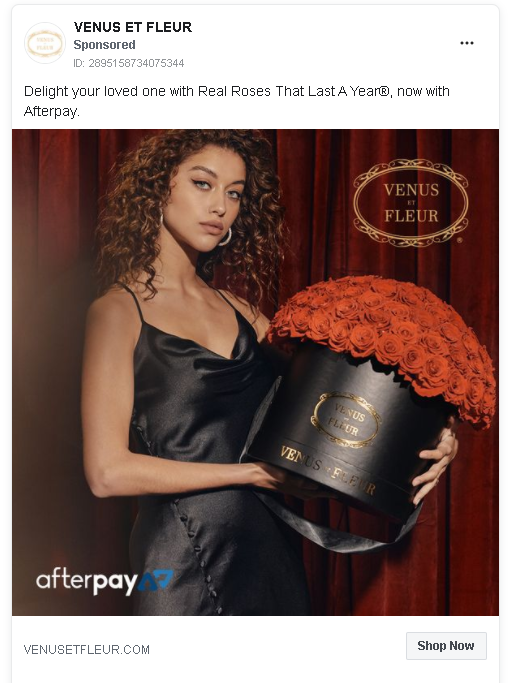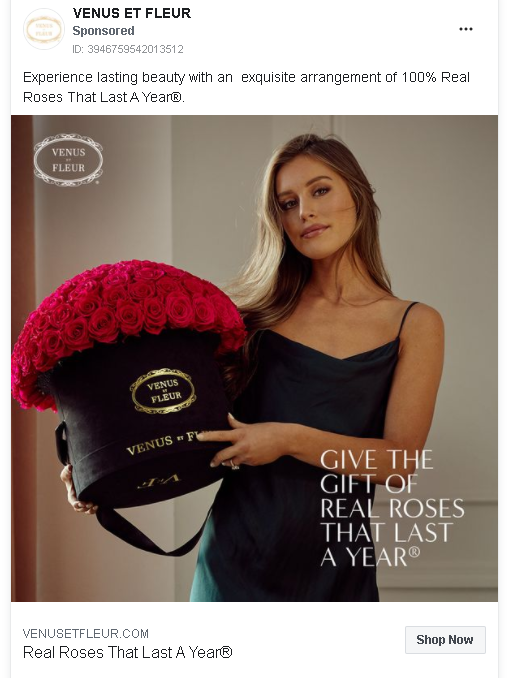 Venus et Fleur uses very good aesthetics with beautiful models that attract attention and will reduce the cost per acquisition. Also, the fact given in the copy ad "real roses that last a year" will also increase sales. Story tells, fact sells. Another plus is the long vertical video ad. Video ads grabs more attention, and the fact that it is vertical and long is optimized for mobile users.
#10 BloomsyBox Marketing Example (Good)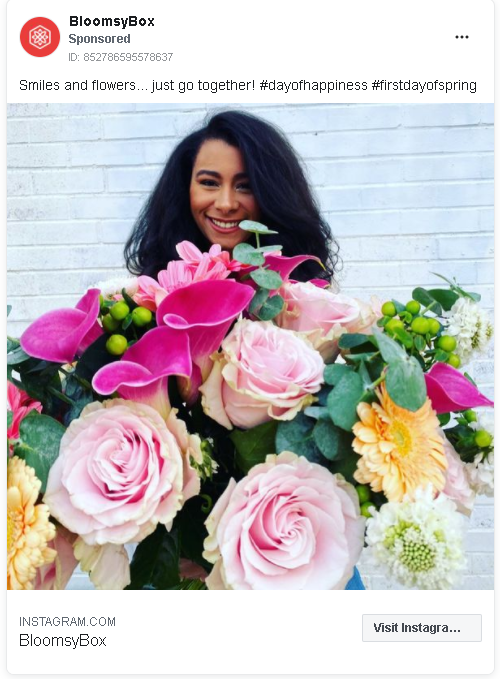 Human presence and the usage of emotion will always increase conversion rate. Aesthetics and execution of images are very good. Video ad is a review and this will help customers in doubt to make the decision faster.
#11 The Sill Florist E-commerce Advertising Idea (Neutral)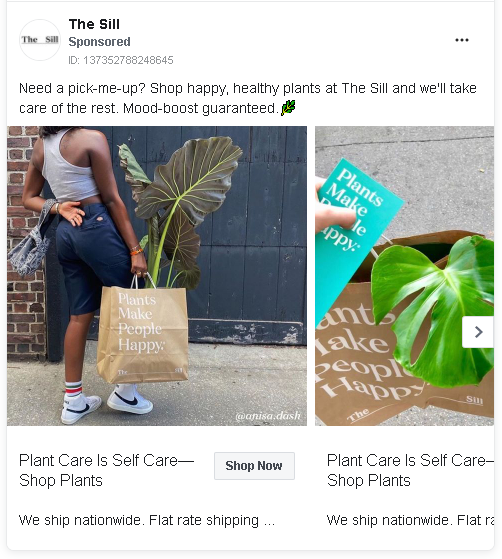 Carousel advertising will work very well on Instagram and Facebook Stories. This improves the interaction between customers and the brand. Video ad interesting with text that stirs curiosity.
#12 FTD Flowers Marketing Ideas (Neutral)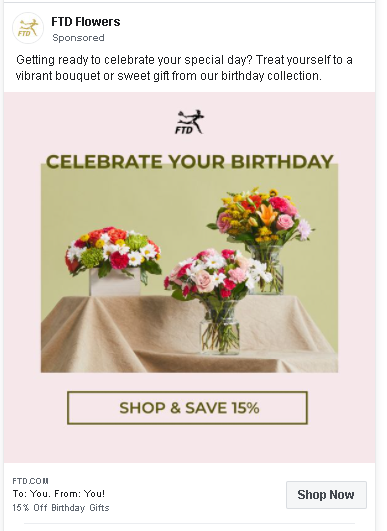 A video ad with human presence would've attracted a lot more attention and improved any KPI's. The focus on this ad is not on the product, rather on the offer, which is not entirely bad, but you need to put your product in good light, with great detail.
#13 Farmgirl Flowers E-commerce Advertising (Good)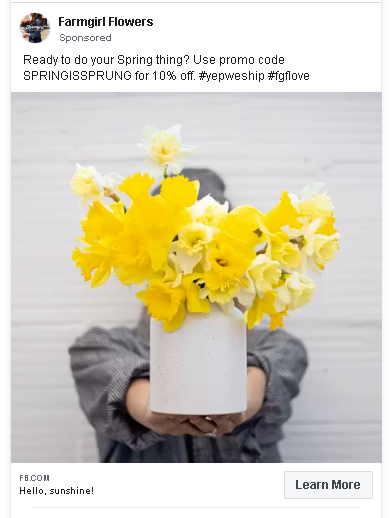 Video ad showing different products will increase the rate of sales. Also in the first advertising, the offer and human presence with good focus on flower will grab attention.
#14 1-800-Flowers Digital Marketing Example (Good)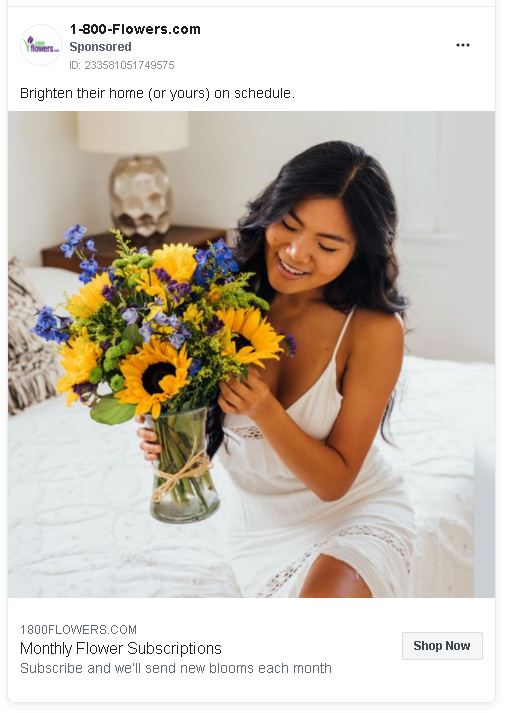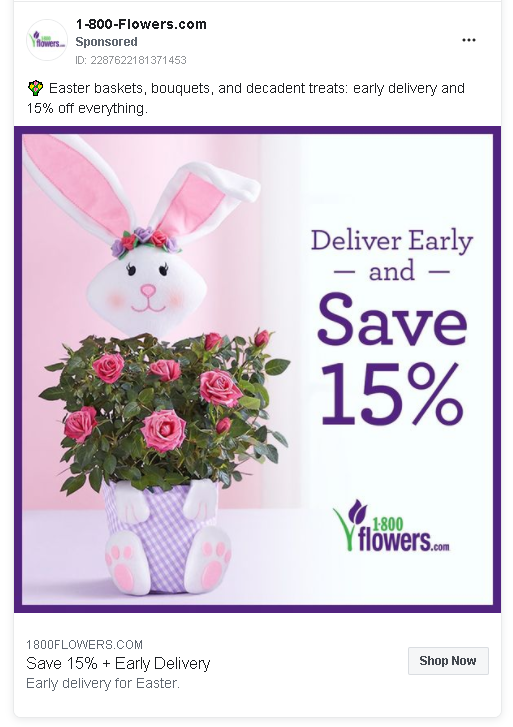 Holidays are great for flower businesses, because everyone thinks of a gift, and flowers make a great gift, simple and fast. Discounts added on top, the conversion rate will be much higher.
#14 Flowerbx Florist E-commerce Advertising Example (Good)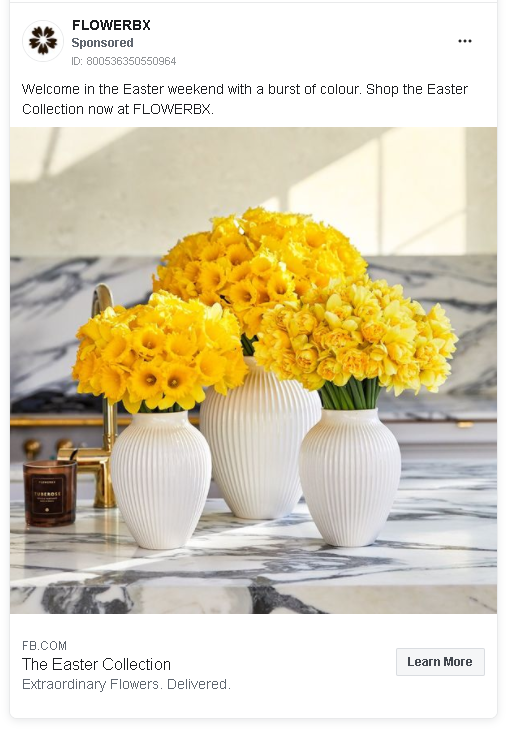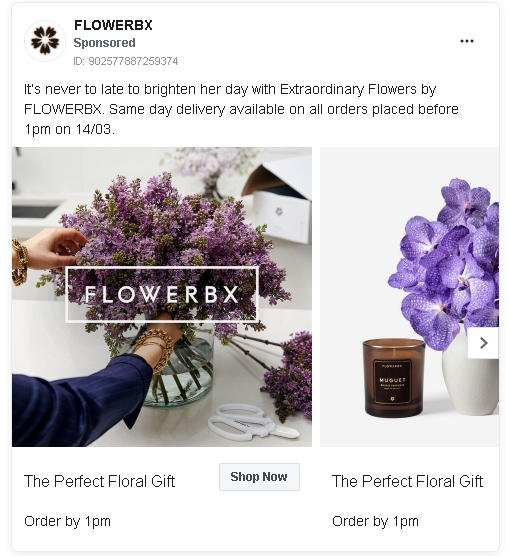 Good aesthetics and execution of photo. Great light on the product. A good carousel with different products so the potential customer can choose. Same day delivery is a good asset for a floral business.
#16 Lucy Vail Floristry Marketing Idea (Good)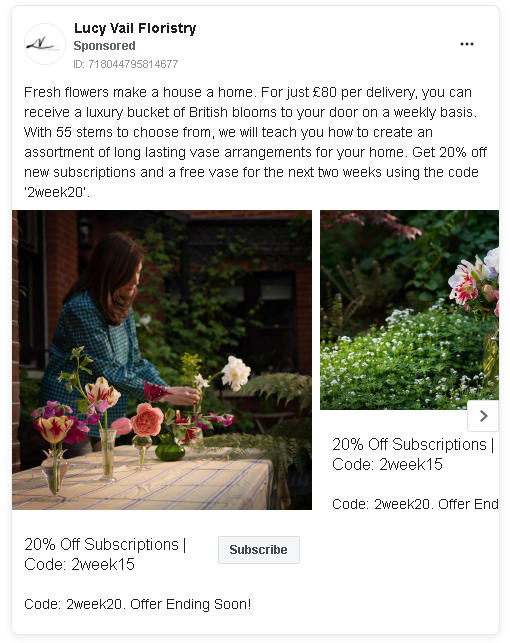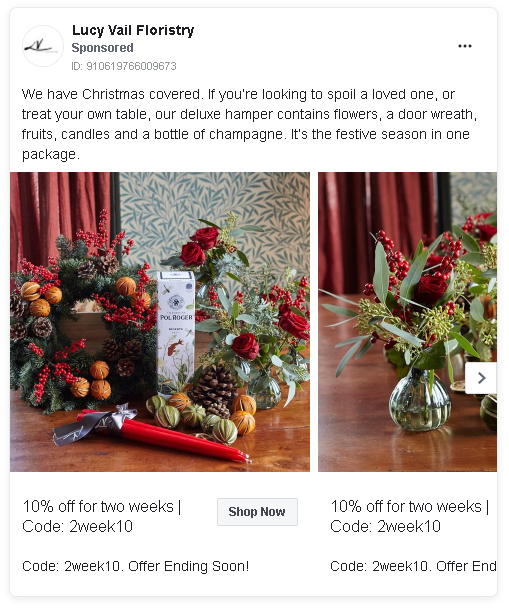 Christmas Holiday is another day when decorations, gifts and flowers are again a hot topic. They have a good ad copy that capture attention and very good contrast and image execution. Also offers will increase conversion rates.
#17 Freddie's Flowers Shop Advertising Example (Good)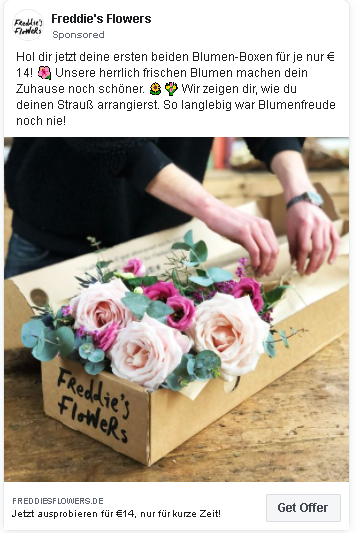 "Get your first two flower boxes now for only € 14 each! 🌺 Our wonderfully fresh flowers make your home even more beautiful. 🌻💐 We'll show you how to arrange your bouquet. The joy of flowers has never been so long-lasting!"
They have a good ad copy that will make the potential customer press the "Get offer" button. Also, good photo execution, with someone carefully packing the product. This will lead to an increase in requests and sales.
#18 Serenata Florist E-commerce Advertising Example (Good)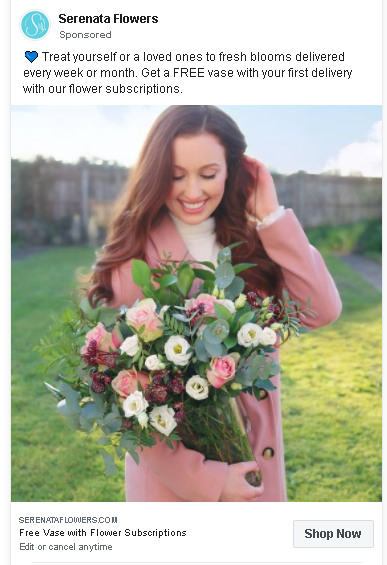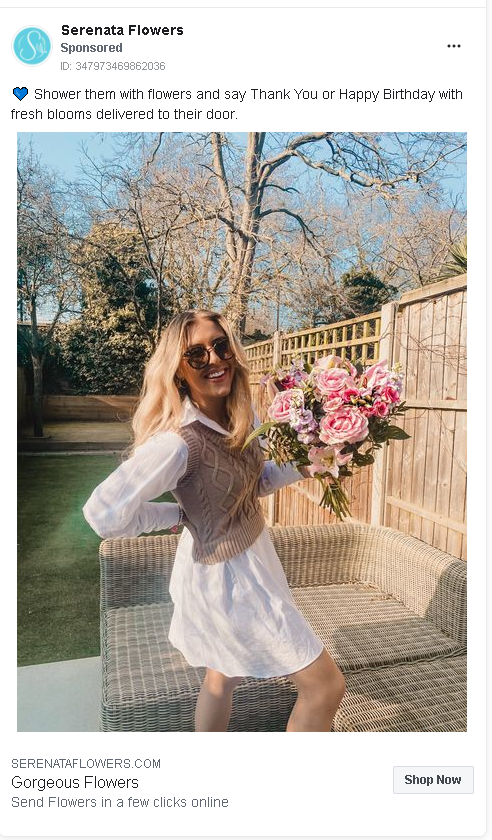 Birthdays or anniversary dates are in high demand when it comes to gifts, and a beautiful flower bouquet can make someone's day. Also, emotions of the ladies getting the flowers will grab attention and make the potential customer to buy.
#19 Kukka Target Market of Flower Shop (Good)
A very good ad copy hat will grab attention to all of their target audience. They offer a cheaper option for an expensive product which will boost conversion rate. Also, de video ad is well optimized and with good aesthetics.
#20 Sola Wood Flowers Advertising Ideas (Good)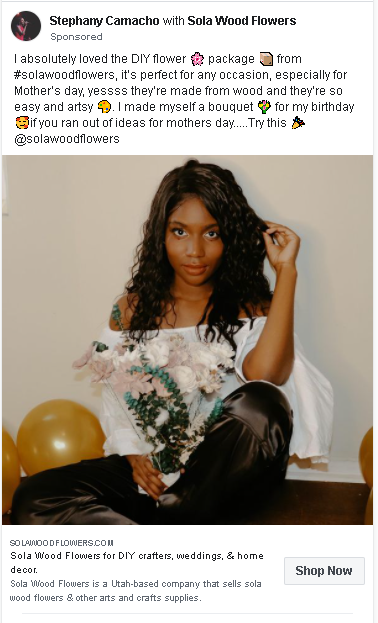 Influencer marketing is a great way to attract potential customers. By making an advertising with a review from an influencer all KPIs will improve and sales will start coming.
#21 Enjoy Flowers Marketing Example (Good)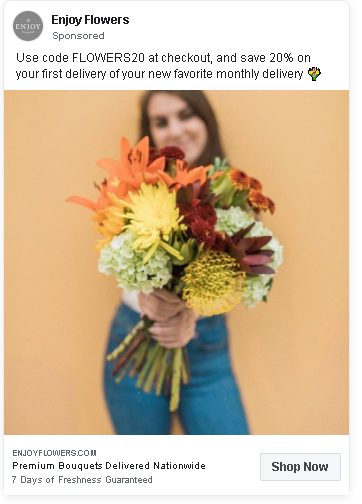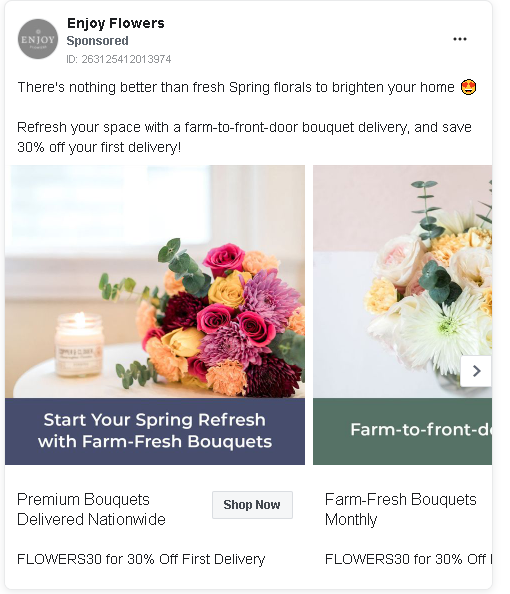 A clear offer with a nice aesthetic image. Human presence is also there, so the advertising will be a success. Also, they are using carousel for interacting more with the brand.
#22 FlowerStore.ph Marketing Ideas (Good)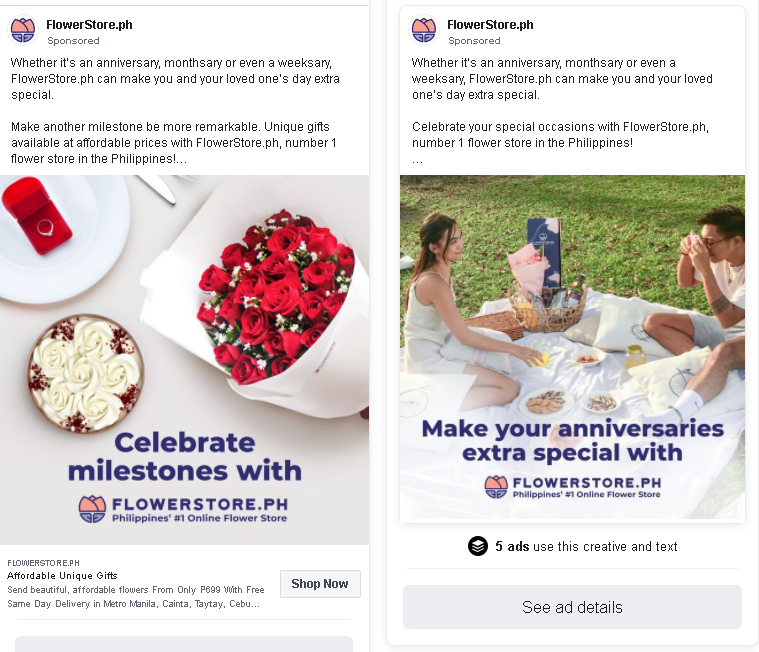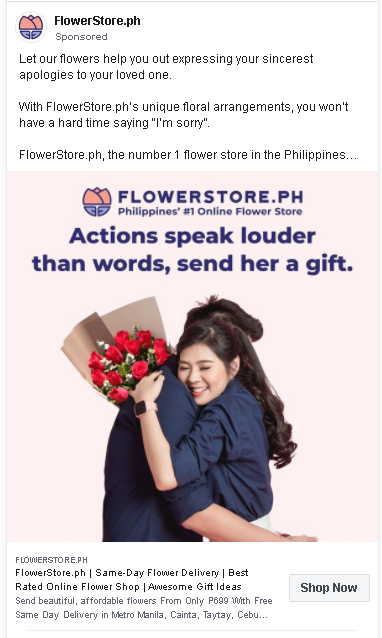 They entice potential customers by showing how an action can do more than just words on an important date. This kind of ad stops you from scrolling. It creates curiosity. From the point of view of a consumer, first he reads the title of the photo, then the small description which has to make him press the "shop now" button.
#23 Scotts Flowers NYC Advertisement Example (Neutral)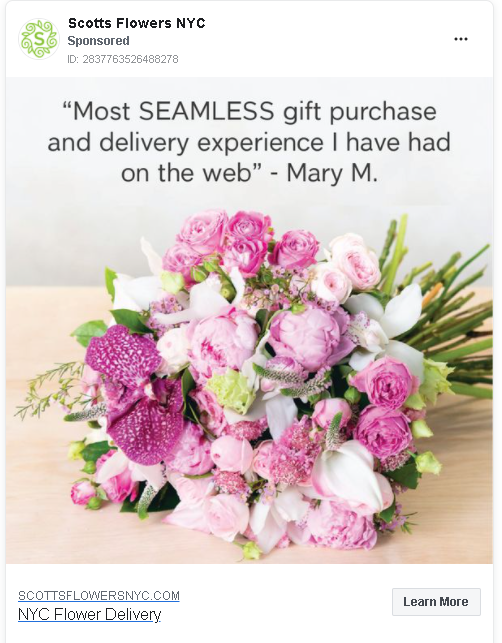 Using reviews on the advertising image is a great way to hook customers and turn them into buyers. Also, the aesthetics looks very good. A video review would have been better. Video review can be implemented also on the product page of the website to increase conversion rate.
#24 Flowers for Dreams Advertisement Example (Bad)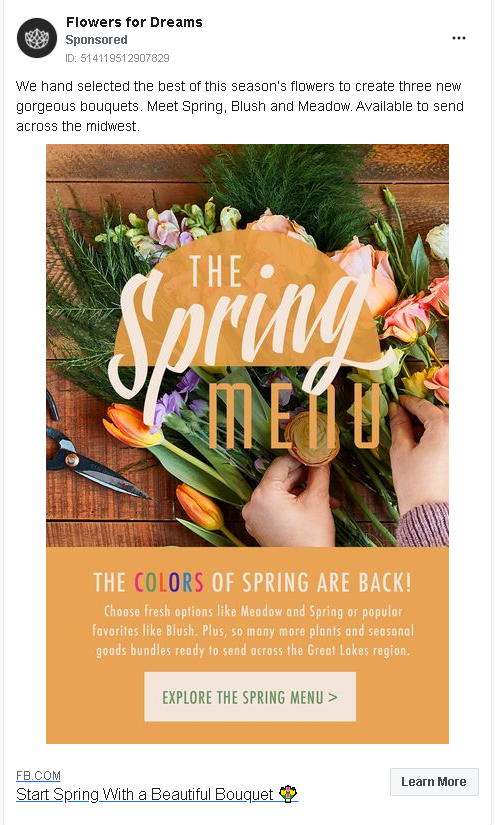 A lot of colors and not a friendly background color. It makes it hard for the potential customer to read it. They will pass this advertising like nothing happened. I suggest making a clear and simple background with the product and with human presence for grabbing more attention.
#25 Shida Preserved Flowers Digital Marketing Example (Neutral)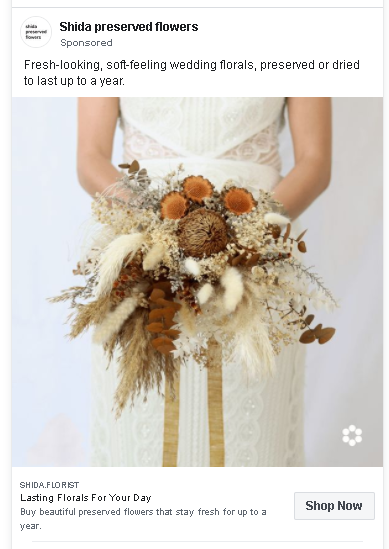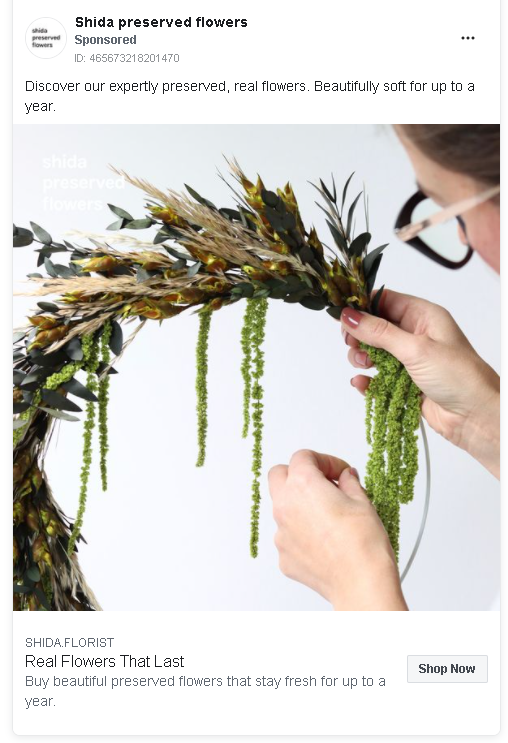 These ads are simple, with focus on the product and a touch of human presence to establish a connection between the brand and customers.
#26 FloraQueen Florist E-commerce Advertising Example (Bad)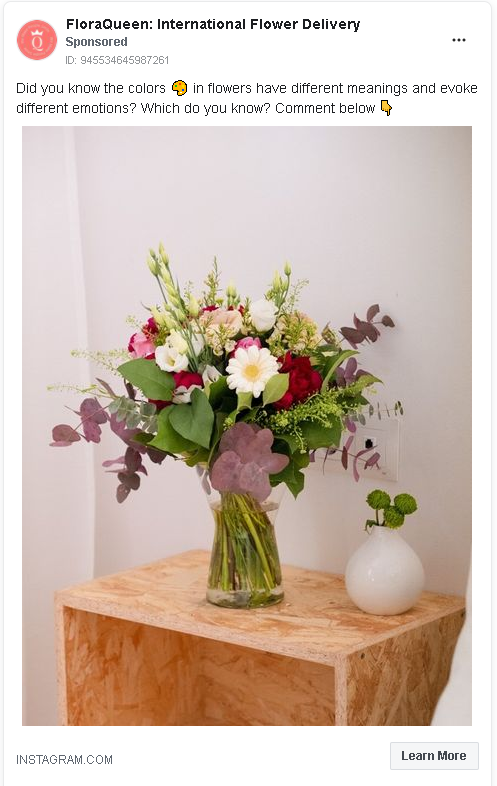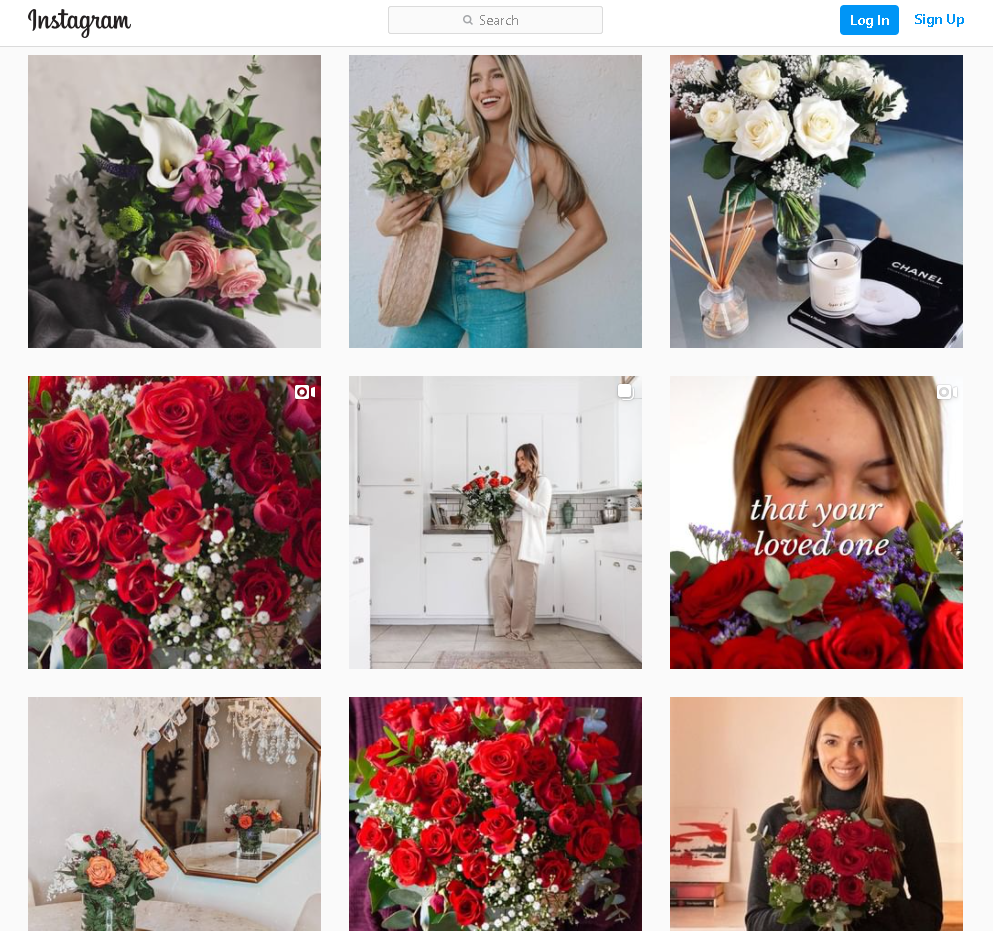 Simple image with nothing to grab attention. I search on their Instagram and I found a lot better images that can grab attention and make customers buy. A mistake from their advertising agency that they are using.
#27 Fleurs de Paris Advertising Idea (Good)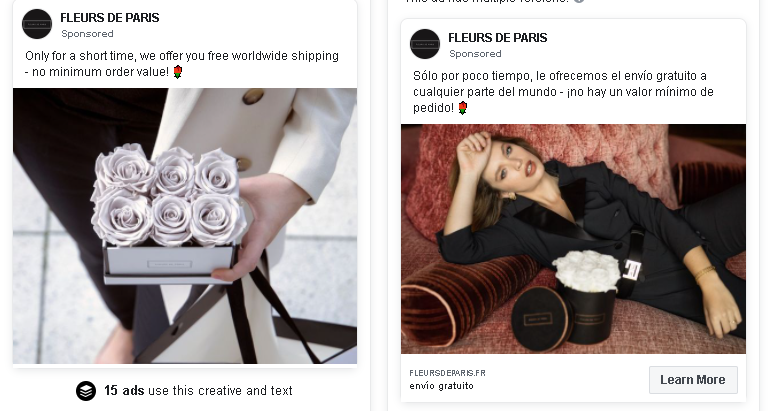 Very good aesthetics with beautiful models that will grab attention and stop viewers from scrolling. Video ad is vertical and well optimized for mobile and this swell will increase conversion rate.
#28 Teleflora E-commerce Advertising (Good)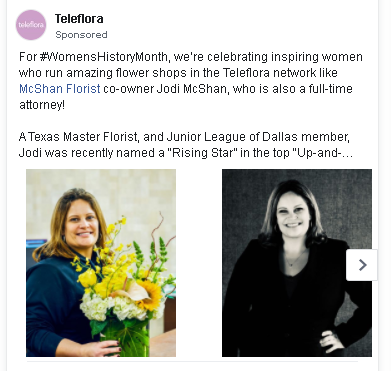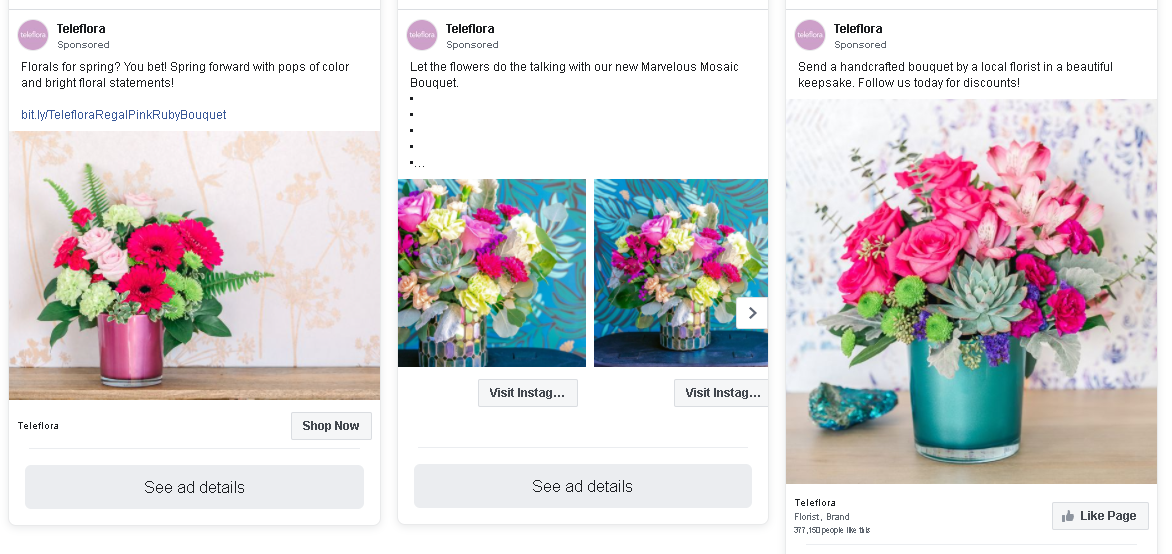 Good aesthetics that will stop viewers from scrolling. Another good point is making use of an event, "Women's History Month" to tell the brands and owner story. In this way they interact with their audience and create a connection bond.
#29 Nearly Natural Advertising Example (Bad)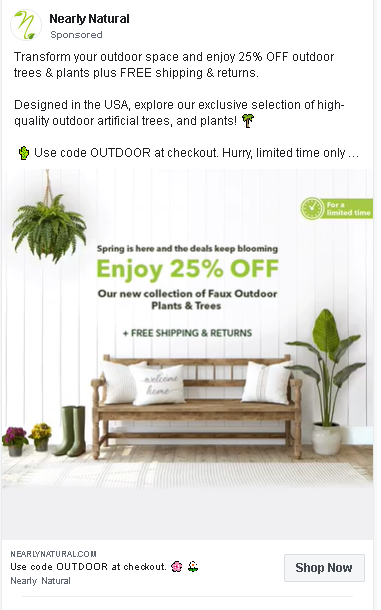 A clear offer but not enough focus on products. A zoom in, or some reviews from someone's home already decorated by them would be much better for improving KPI's.
#30 Bunches Florist E-commerce Advertising Idea (Neutral)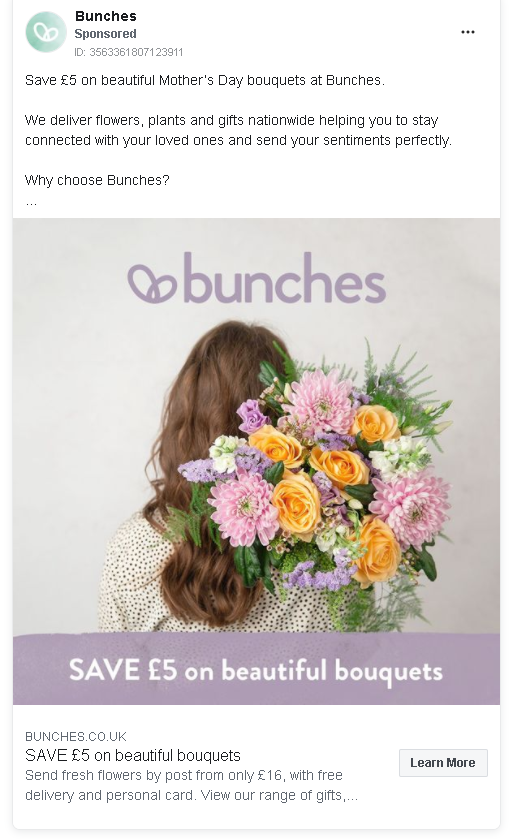 Good aesthetics here, but the offer is not clear. Another thing here that could have been improved was adding Video ads. It can bring a lot more attention when it comes to campaigns of important days, such as Mother's Day.
Conclusion
In order to have a successful advertising campaign as a florist E-commerce business, you will need to pay attention to aesthetics and how well you combine the colors, so people can be attracted to it. Another point is to use Video ads, as these are performing very well on conversion rate optimization. Customer reviews will make viewer trust you more as a brand, and thus increasing sales. And last, but not least, make use of events and holidays such as Easter, Christmas, Weddings, Anniversaries, Birthdays etc.
Hire Digital Marketing Specialist:
If you've come this far to read this blog post, then you are interested in growing your business to the top. If that is the case, there is only one thing you should do. Don't waste more of your time and money and send me a message.
Let's start and grow your business to the top !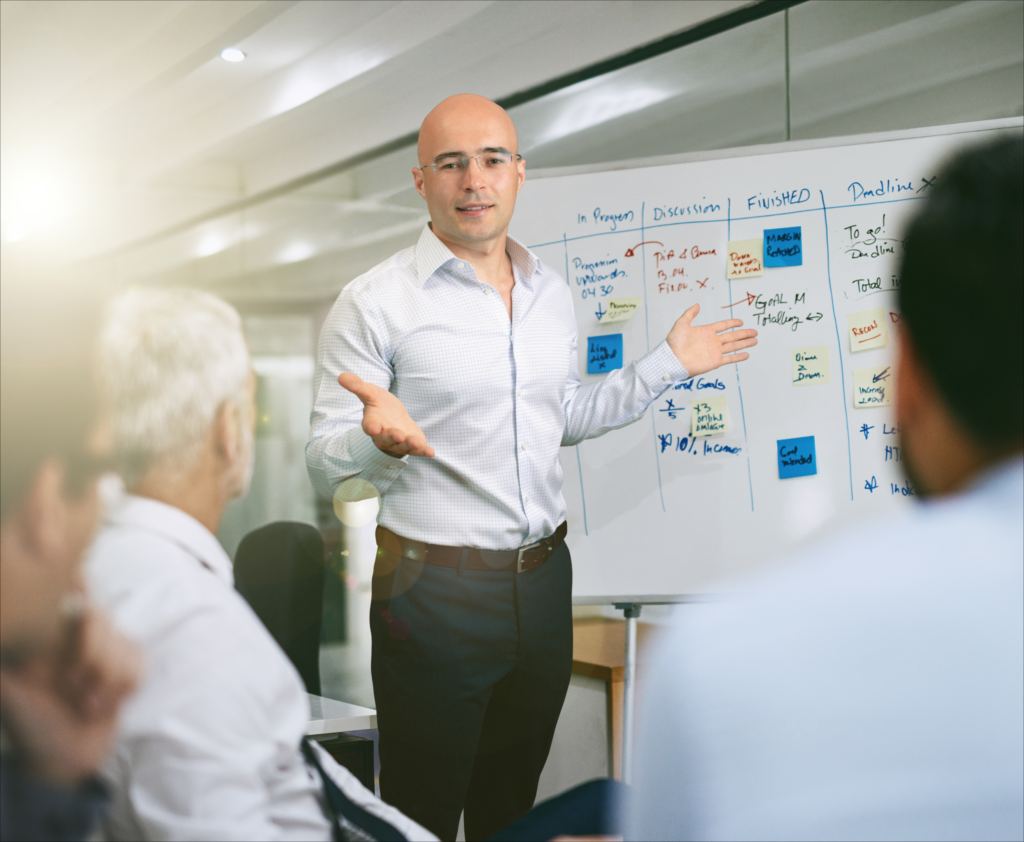 Also, I highly to recommend to read the following articles:

E-Commerce 40/40/20 Marketing Rule and How It Will Help You

34 Top Tips From Our e-commerce Expert