Jewelry Diamond Advertisements Ideas From Successful Brands in 2021
In this blog post we will talk about different marketing advertisements from diamond jewelry brands and how good or bad this examples are from our point of view as professional marketers.
We all know that last year was a crazy one, with a lot of changes to the world. Due to the Covid-19 pandemic, and its huge impact on the retail and market, more and more consumers have gone online. Now with the new year 2021, the pandemic will soon be resolved, but last year's changes will forever remain.

More and more customers will still go online for shopping, and also more competition will invest in online marketing. With more brands competing for the attention of buyers online, effective marketing is a key to winning them.

Let's see what diamond jewelry brands have in store for 2021 in the matter of advertisements.
#1 James Allen Diamond Advertisements 2021 (Neutral)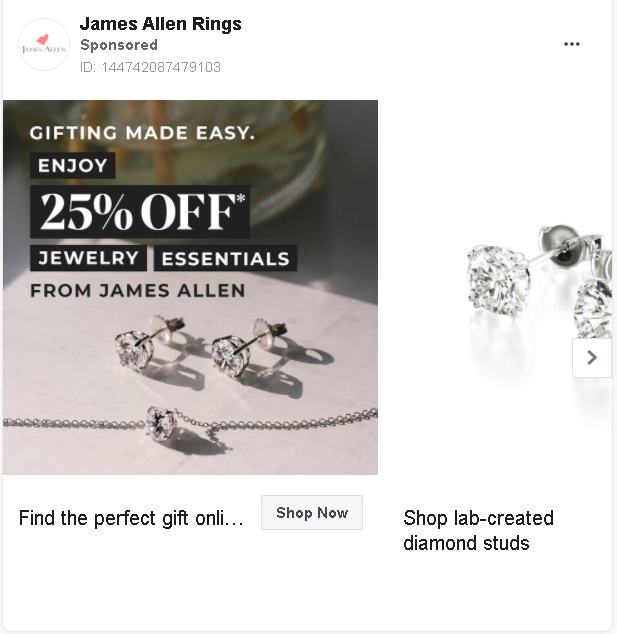 Discounts are not for everyone. If you want to position yourself as a prestigious luxury brand, then avoid discounts. If not, you can use benefits like the one bellow from Taylor and Hart. This marketing strategy help to increase the conversion rate.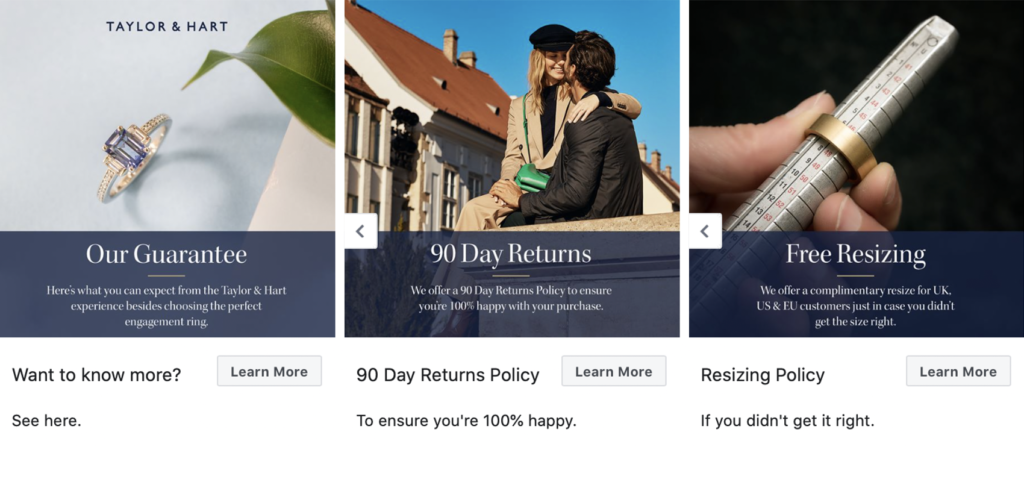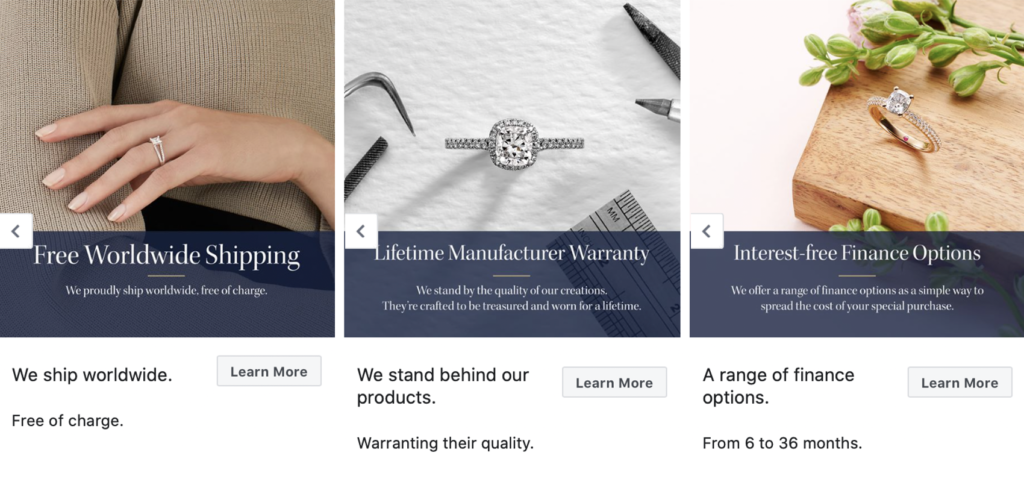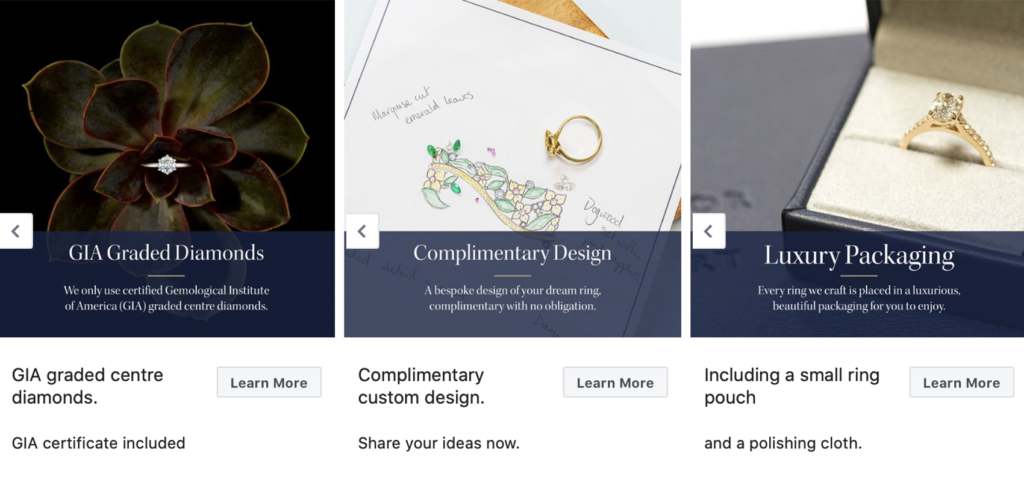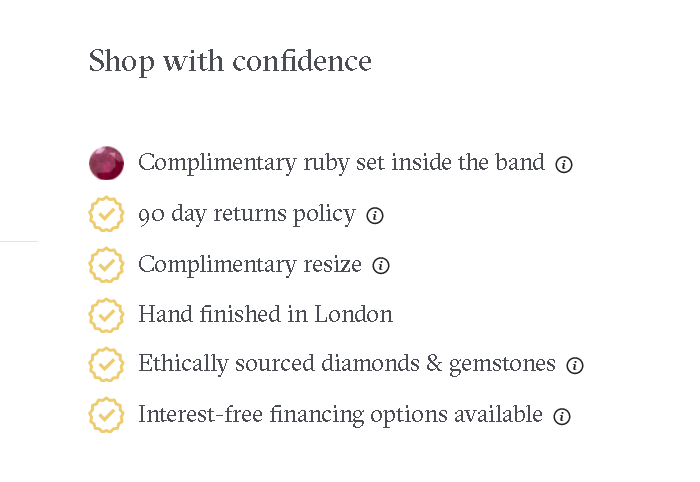 #2 Brilliant Earth Jewelry Advertisements Example (Very GOOD)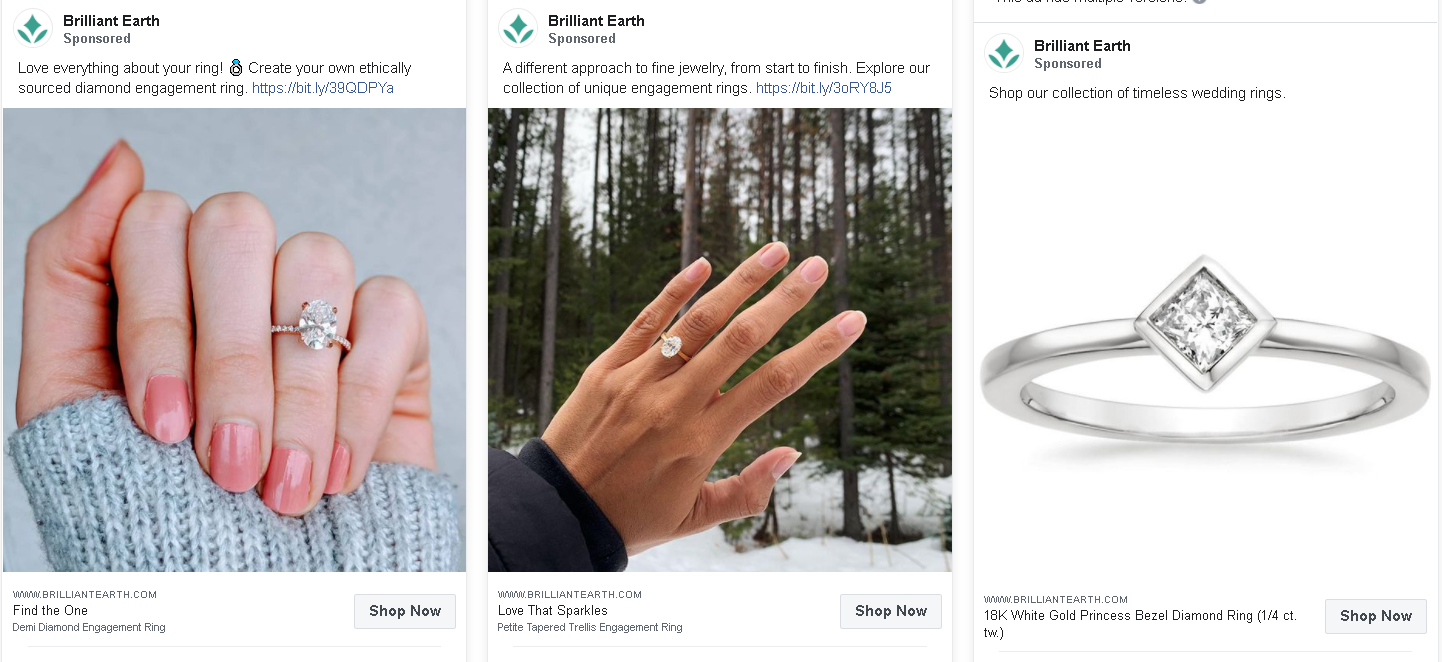 An engagement ring represents a special and unique moment in the life of a couple. It symbolizes love, trust, and commitment between two people. Brilliant Earth encourages you to create your own diamond engagement ring. This will entice customers to come and shop for their custom made ring.
Another good aspect is the execution of images. Good contrast is present in all photos. For example the dark skin color of the hand in contrast with the bright diamond ring. Good focus and light on the product. This will increase the conversion rate.

A minus here is the first photo with white skin hand. We don't have a good contrast here. All is bright and it loses focus on the product. You can repair this kind of problem in photoshop, and darken a little bit the skin of the hand.
#3 Dee Beers Jewelry Ads (Bad example)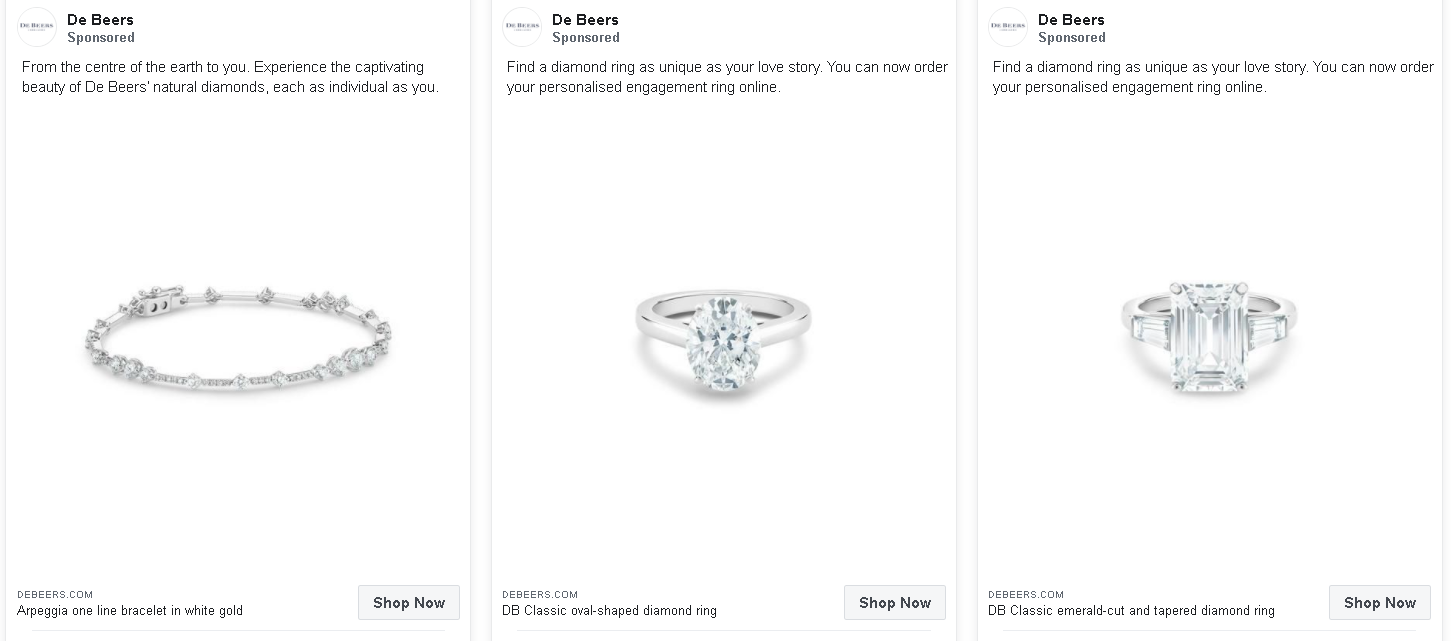 In the past, Dee Beers had very good advertising and will put an example below. Now, they use product images with white backgrounds and no focus on details. This leads to a lower volume of attention. These kinds of images are good for the product page on the website. But in an advertisement, we need something that will stop our potential customers from scrolling. Attention grabber images.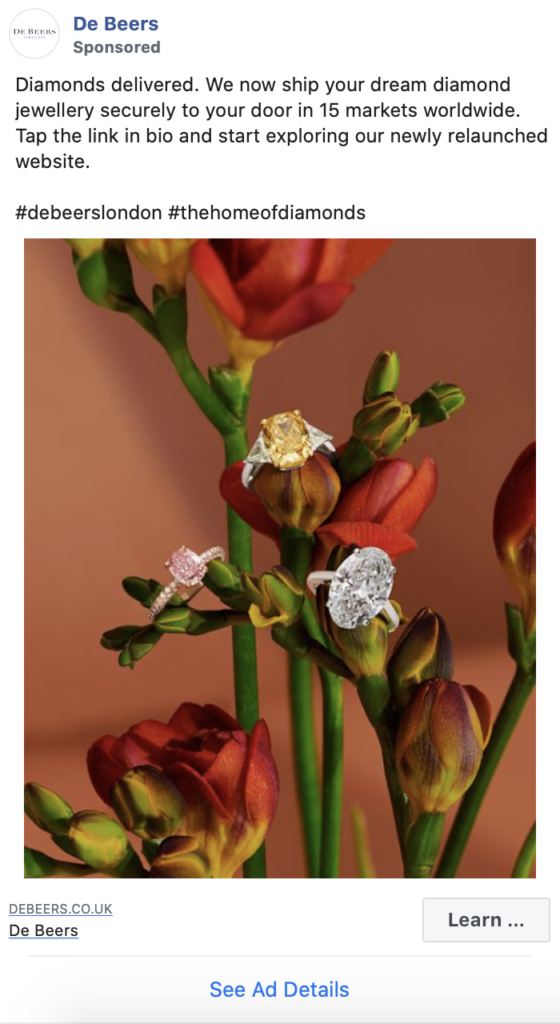 #4 77 Diamonds Jewelry Advertisements (Bad Example)
In the left image, we have a lack of focus and lack of interest. The purpose of the photo is not understood. The model attracts more attention than the products do.

And for the right image, the light is dark on the products and does not highlight them, rather the flower gets more attention. Dee Beers' old advertisement example with flowers did it better, with good light on jewelry.
#5 Harry Winston Jewelry Ads Design (Good Example)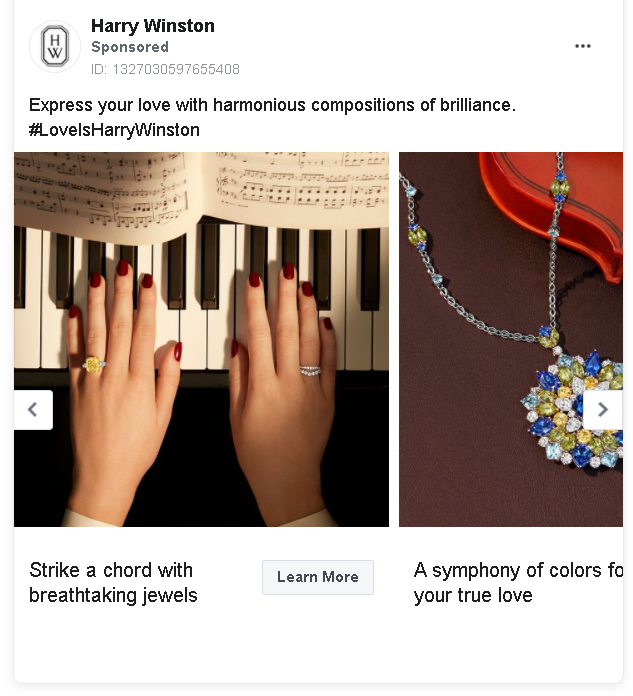 This ad copy and creative brings a harmonious connection between music and jewelry. This kind of copy can have a huge emotional impact on fine art lovers. If they target this demographic segment, this advertising can be considered a good example.
#6 Fenton Creative Jewelry Ads (Very GOOD)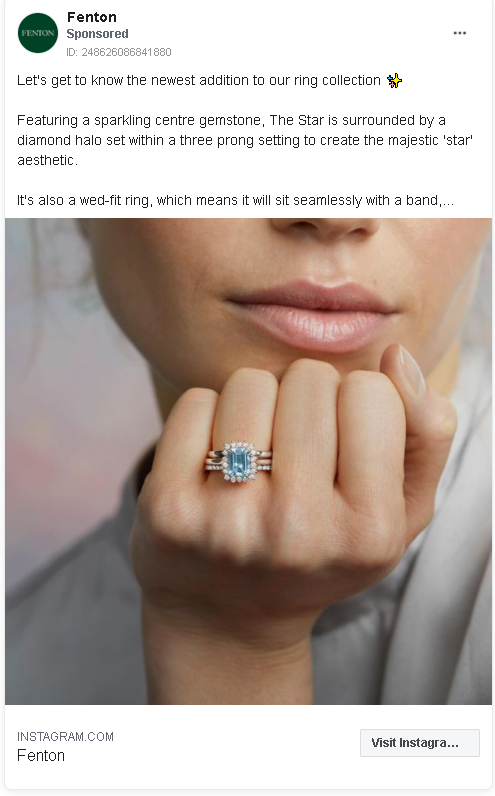 Fenton does a great job of advertisements on social media. Good focus on the product, great contrast using colorful diamonds on dark skin hand.
#7 Astteria Examples of Diamond Jewelry Advertisements (Bad Example)
Bad example from Astteria in the matter of execution of photos. No lights on the product, shooting in dark. It is the same as wearing jewelry at night. No one will notice the brightness of jewelry. Bad execution of aesthetics. The person who has done this cares enough about photography. But, do not cares about the target audience and how they perceive it. Jewelry must be placed in a very good light, otherwise, it is like it doesn't exist.
#8 Vashi's Best Jewelry Ads (Neutral)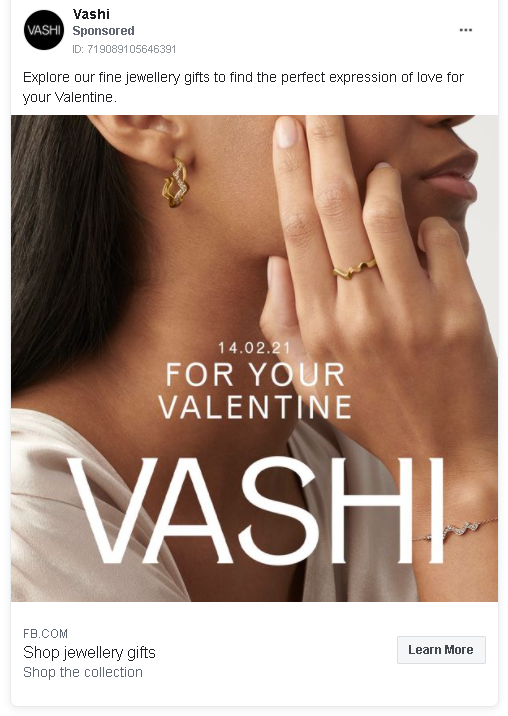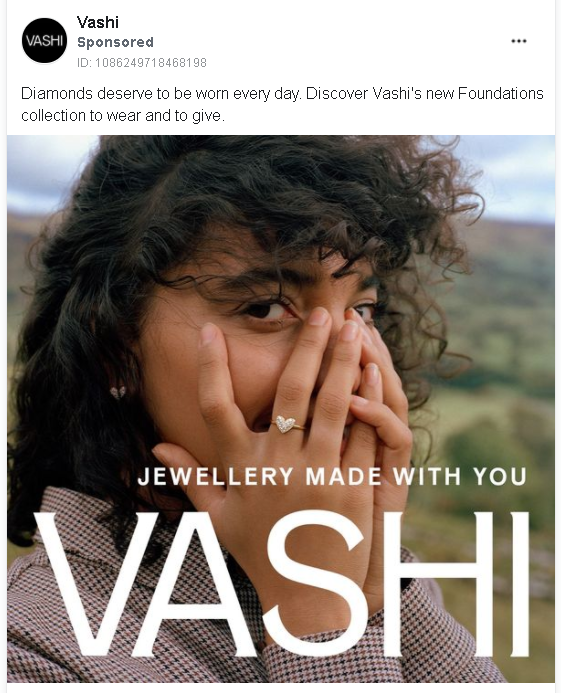 A good example on the second advertisement. Making a connection between the viewers and the model that looks at them. Not a good product focus, but overall good.
The first ad is normal. No further comments.

#9 Natural Diamonds Advertisement Examples That Work (Very GOOD)
A very good example of ad creative. In the first image, they use a celebrity in the advertisement, which from the start increases the conversion rate. And in general, all KPIs and metrics will rise when it is about a known figure. That is why, even if the execution of the photo doesn't focus on product, it can be considered a very good example.
For the second ad, a very good focus on product, and usage of emotions. A good example.
#10 Graff Diamonds Creative Jewelry Ads Featuring Victoria Secrets Model Very GOODS
In this case, we have perfect execution. A perfect model (Sara Sampaio), very well known, perfect colors, perfect jewelry, perfect makeup, etc. Hands down for the campaign.
A single minus found in the first image. I would have done a crop closer to the jewelry. Then an A/B Test to see what performs better. The cropped image or the original one.
#11 Samara James Example of Diamond Jewelry Advertisements (Neutral)
The contrast of hand and jewelry is good. But, be careful on the model's hands. The aesthetics of fingers and manicure must be good. In this example, there is a lack of aesthetics.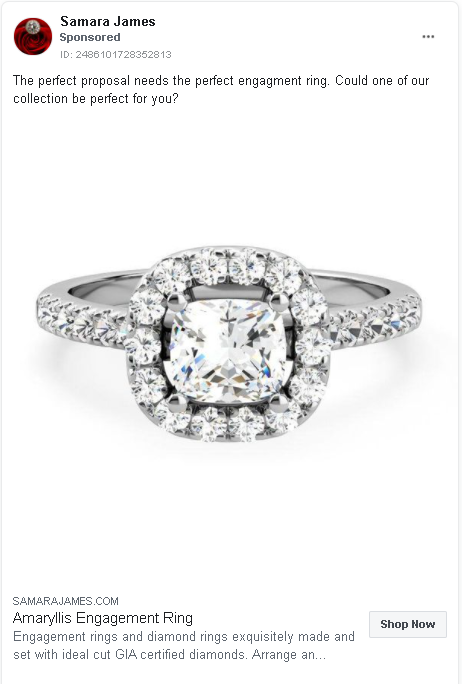 We have again a product image. But, because there is a zoom on the product, in comparison with Dee Beers image where there is no zoom on details, this example is better.
#12 Piaget Diamond Advertisement Examples(Neutral)
Good focus on products on the first image. But, the shade effects make it harder to focus your look on the image. Be careful of these aspects. We need harmony for perfect execution.
#13 Blue Nile Diamond Jewelry Advertisements (Very GOOD)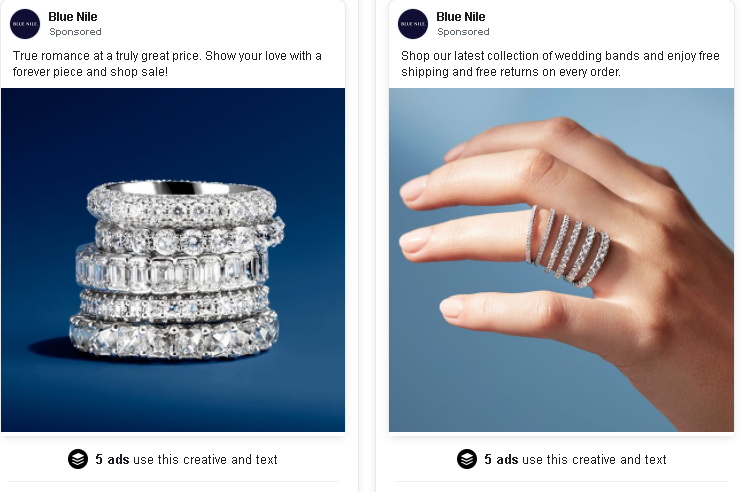 Very good example. Good focus on the product. Very good contrast and lights. No further comments.
#14 Boucheron Jewelry Ads Example (Good Example)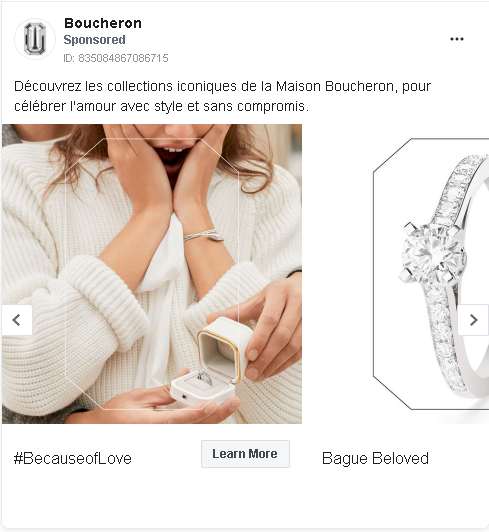 Another good example, using emotion to entice viewers to learn more about the products. Not a good focus on the first photo in the carousel, but the next one has a good zoom and brings forth the details.
#15 Buccellati Diamond Advertisement Examples (Bad Example)
A bad example from Buchellati. Jewelry is about color, life, brightness, beauty, and not at all black and white. The only exception when this can work is when the purpose is to induce negative emotions. Only then can apply, but this is not the case.
#16 Chaumet's Best Diamond Jewelry Advertisements (Neutral)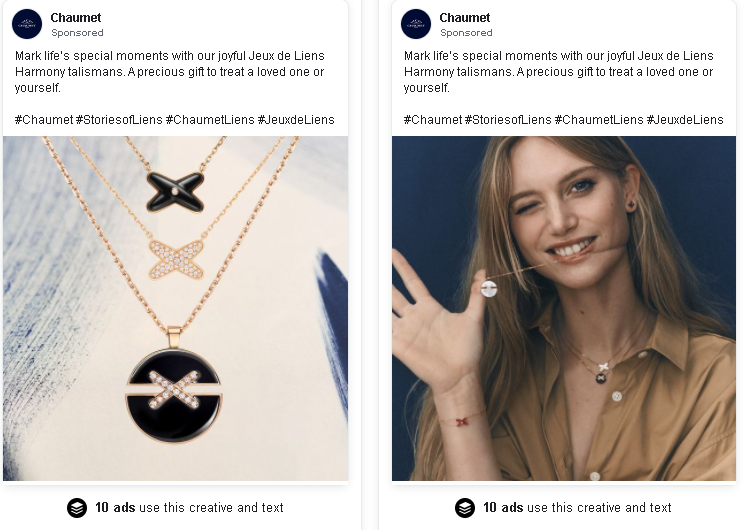 We do not use hashtags in copy because they take people to other sources. And our goal is to bring them to our site. So, instead of hashtags, you can put a link to your website.
#17 Tous Jewelry Creative Jewelry Advertisements Example (Neutral)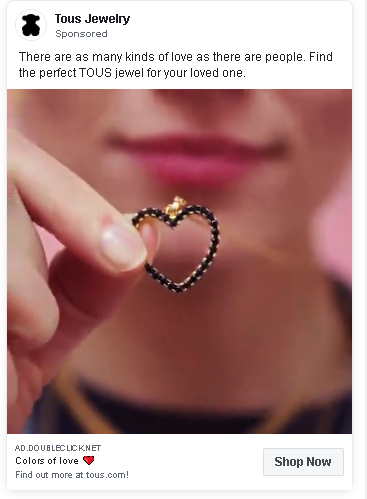 Analyzing the Facebook page and the posted images we came to a conclusion that there are much better examples to use in the advertisement: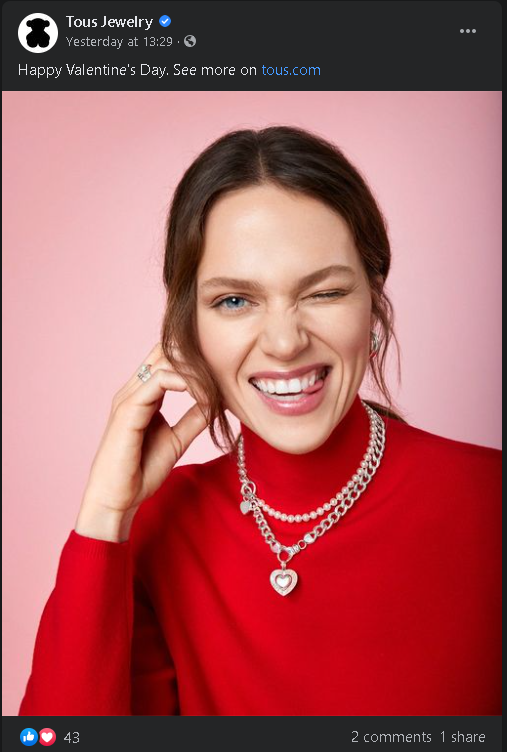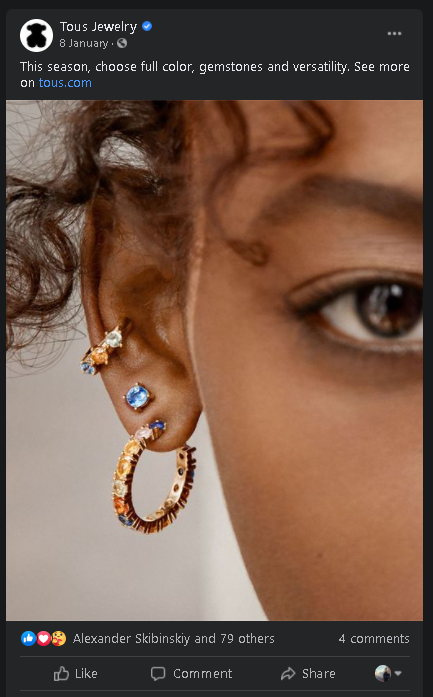 The marketing team is making a mistake for not using Facebook and Instagram images from Tous account for their paid advertising.
#18 Stephen Webster Diamond Advertisement (Bad Execution)
The jewelry needs a better light to show off in the left image. Especially when you have a dark skin model, the pictures should look much better and the same with contrast.

On the right image, there is an emphasis on the ring but on the earrings, there is a shadow. The execution of the photo and the light is not according to the expectations of a famous brand.
And again, the same problem as Chaumet. Don't use hashtags, use a link to your website instead.
#19 Pragnell Examples of Jewelry Ads(Good Example)
There is focus on the products and also good lights and contrast. It is an acceptable example.
#20 Chopard Diamond Jewelry Advertisements (Neutral)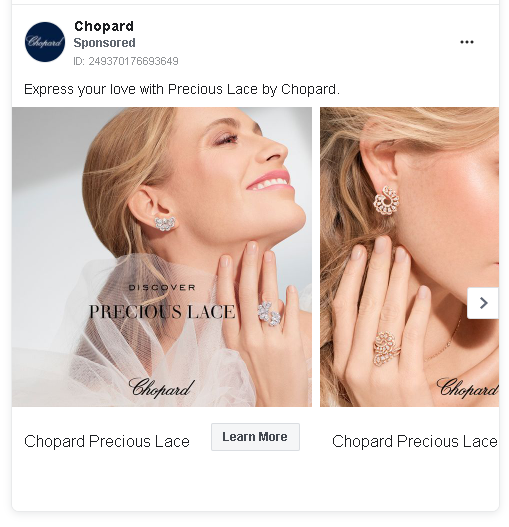 Preferably choose dark skin to create contrast between jewelry and model. You can't see the difference in the images above.
#21 Tiffany & Co Jewelry Advertisements Example(Bad execution)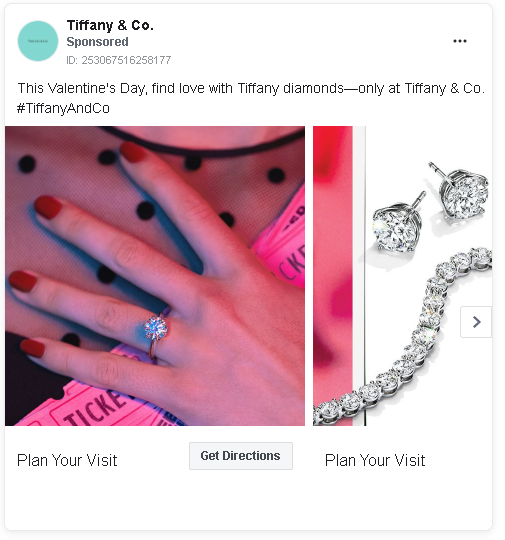 Cheap execution for a brand as grand as this. The same mistake as Astteria. No light, no life.
#22 David Yurman Ads That Work(Very Good)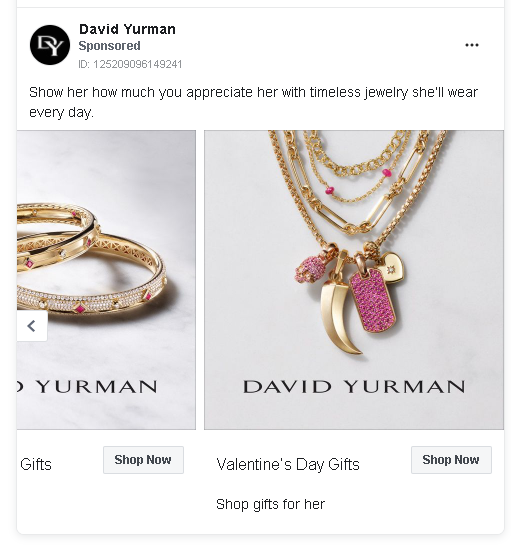 Very good creative, nice jewelry, nice colors and contrast, and good background. Simple and good. In other words, simple is always good.
#23 Zale Jewelry Diamond Advertisements Example (Very Good)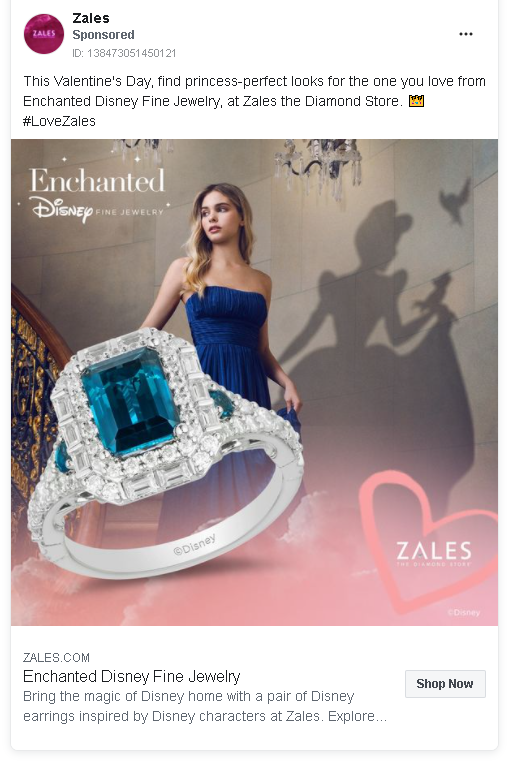 Very good example here. The jewelry is in focus and we have a collaboration with Disney. Therefore, this will get more attention.
#24 Van Cleef and Arpels Diamond Jewelry Creative Examples (Good Example)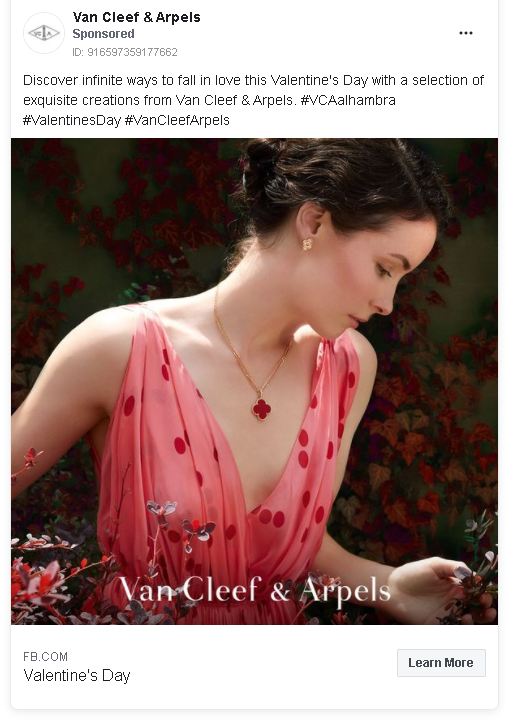 A good example here. The necklace is a little dark though. It can be processed in photoshop, but otherwise very well contrasts, model, dress, jewelry, and background.
#25 Mikimoto Jewelry Advertisements (Bad Example)
Mikimoto has not yet adapted to what Facebook means. He still puts the traditional advertisement that is good for billboard. But the description is missing from the ad.
#26 Bvlgari Examples of Diamond Jewelry Advertisements (Good)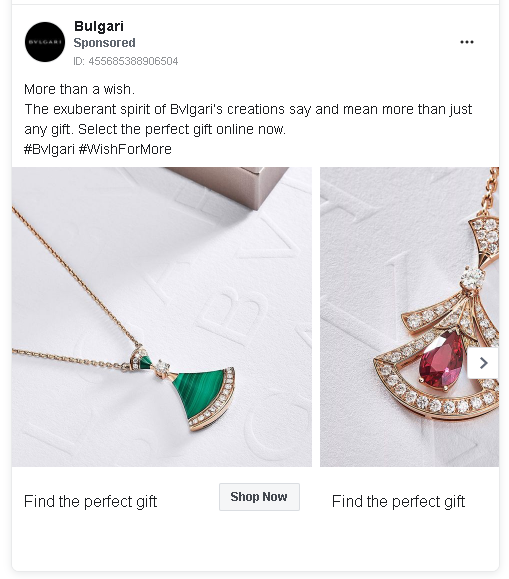 A good example of ad cretive and copy, but the same error appears, hashtags. Again, Hashtags are good for organic posts, not for paid ads. They defocus people from the main goal which is to enter to website and shop.
#27 Tacori Jewelry Ads Examples(Very Good)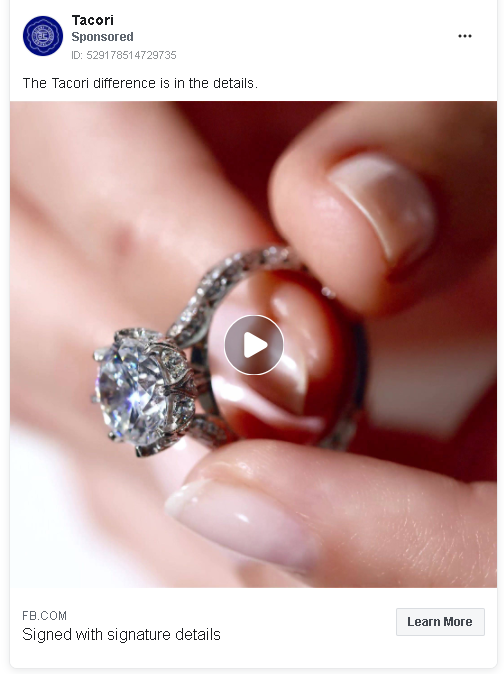 A very good example, focusing on the product. Playing with the diamond rings is a good sensation, and viewers will like it.
#28 Taylor and Hart Jewelry Advertisement(Very Good)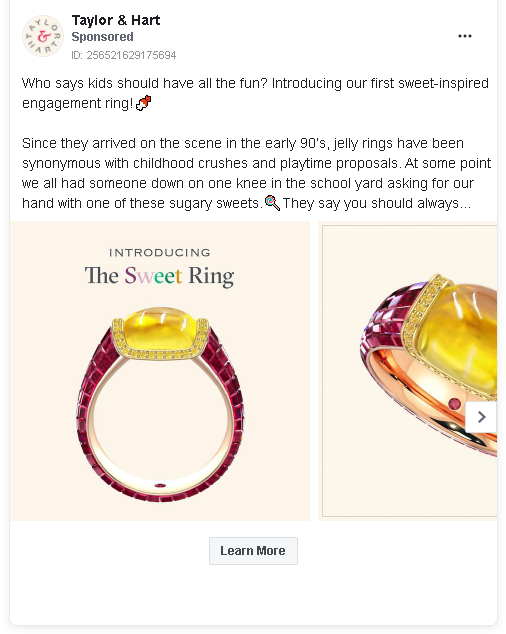 Taylor and Hart have very good advertisements. Very good contrast, playful colors and focus on the product.
#29 Stone and Strand Creative Jewelry Ads (Good Example)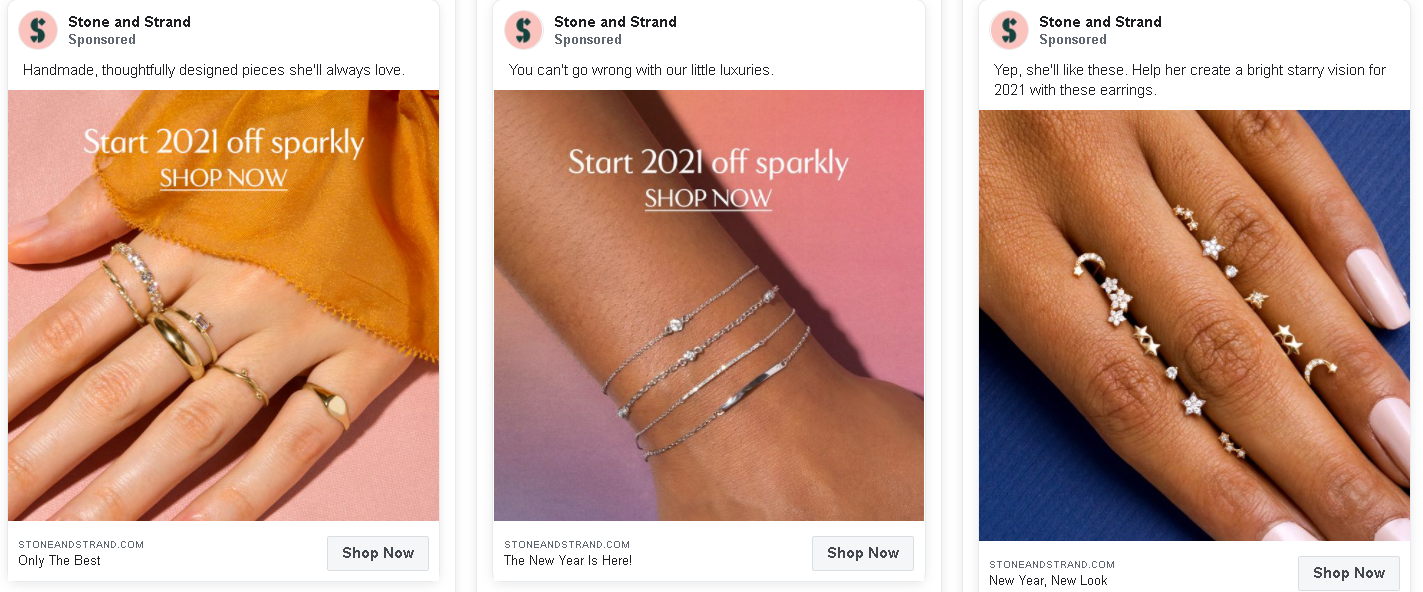 Very good example. That is why I said dark skin is better, and here is a good example.
#30 Jacquie Aiche Diamond Jewelry Advertisements Examples(The Winner)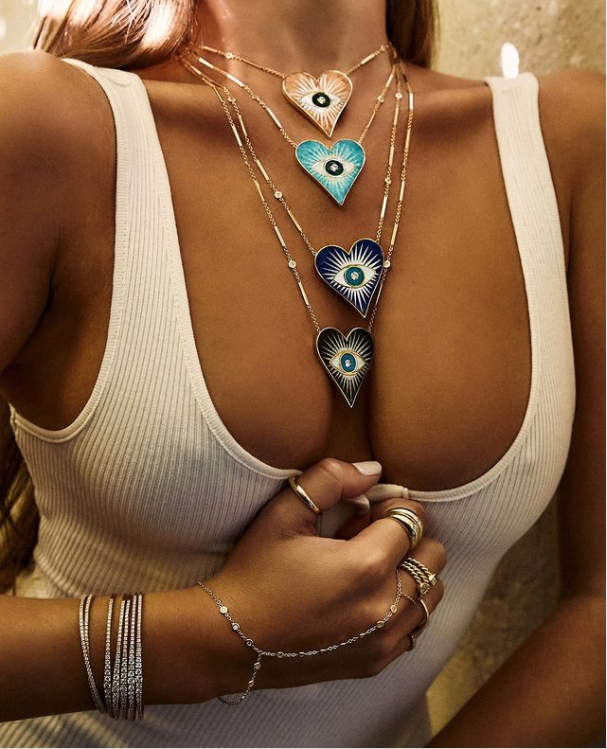 Everything that is sexy, sells. Brands that know how to incorporate this will always do well. Marketers who are using this will always outperform other brands for any KPIs. And of course, the contrast, aesthetics, jewelry and dark skin completes each other. Hands down.
Hire Diamond Jewelry Marketing Specialist:
There is only one Diamond Jewelry Marketing Specialist, and that is me. If you want to avoid mistakes that big brands are making, just hire us, sit back, and witness how your business is growing.
Contact us now and let's start working already!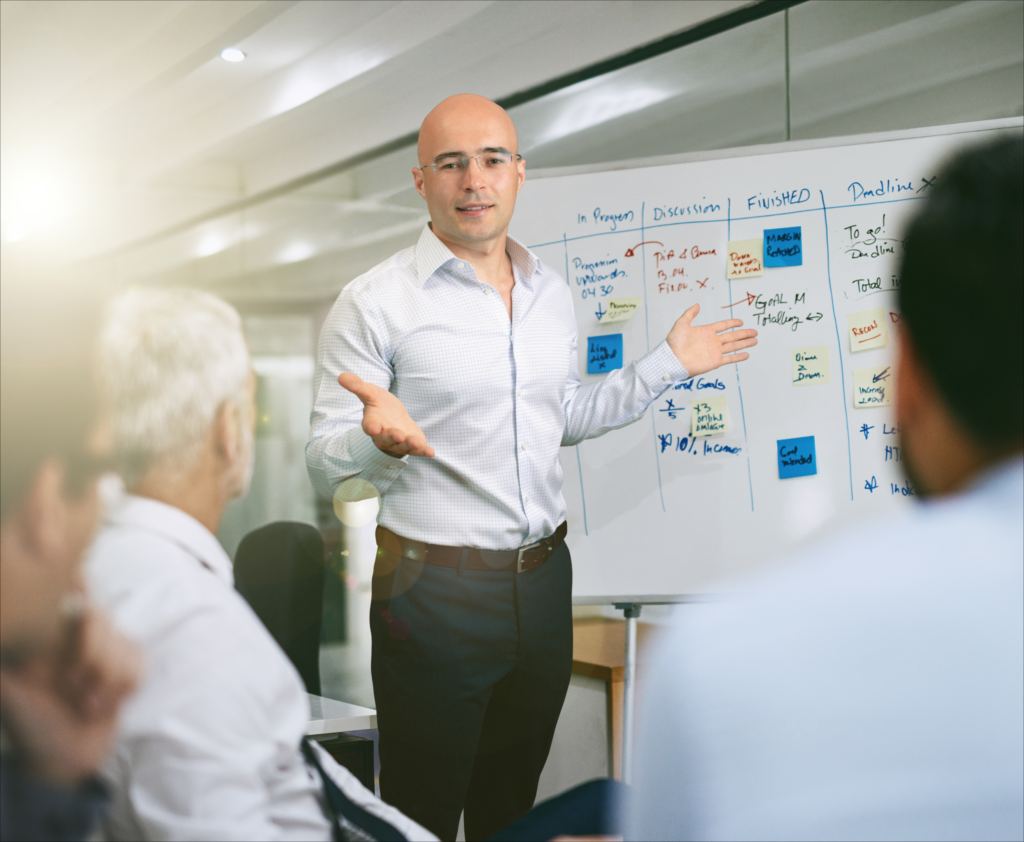 Also, I highly recommend to read the following articles:
20 Digital Marketing Examples and Strategies From Successful Watch Brands
15 Jewelry Advertisement Video Examples From Successful Brands
Jewellery Website Design Examples Every Store Must Model