In this blog post we will explore some beauty and skincare E-commerce advertising examples. We will analyze and comment all ads and see what can work very well and what doesn't. By the end of this in-depth post you will know and spot the difference between a good and a bad example of ads.
Beauty and Skincare E-commerce Advertising Examples of Successful Businesses
#1 Avene Skincare E-commerce Advertising (Good)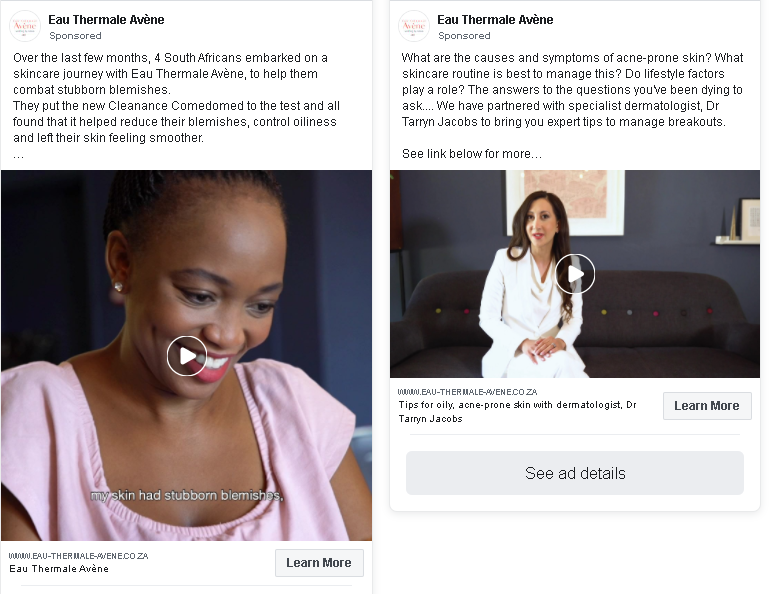 This brand uses ads with a lot of social proof and reviews. Also, an expert talking in an ad the credibility grows, and potential clients are better informed. This will reduce the resistance of not buying.
Those who uses this kind of strategies will benefit of an improved performance. But, those who are using only product image in advertising and nothing more would not have great results. A minus here is that the video is not vertical, thus it is not optimized for mobile. They need to optimize videos for mobile phones.
#2 CeraVe Beauty and Skincare E-commerce Advertising Example (Good)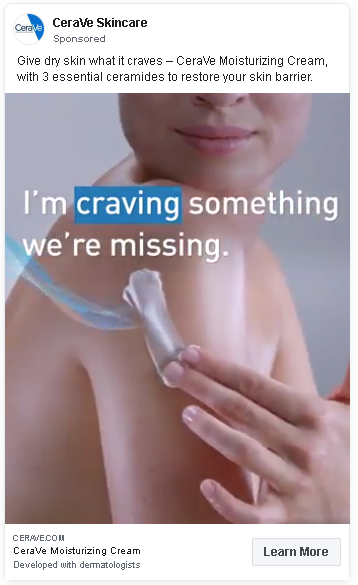 This kind of ad stops you from scrolling because of the quote. It creates curiosity. From the point of view of a consumer, first he reads the title of the photo, then the small description which has to make him press the "learn more" button.

A minus here is that in this brands campaign I didn't see any videos. Video grabs a lot more attention, so I recommend using them.
#3 Fenty beauty Skincare E-commerce Example (Very good)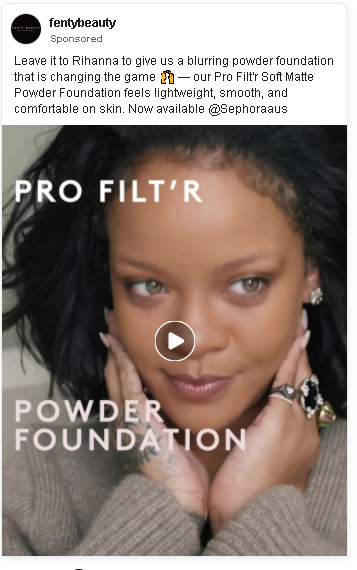 This brand is created by a famous singer, Rihanna. Obviously only because it is her brand it is already a success. But, for this success she worked very hard years and years in other domain and raised her fan base. This brand didn't rise suddenly. Behind are many years of work which allowed the brand to grow.
#4 SEPHORA Beauty E-commerce Growth (Very good)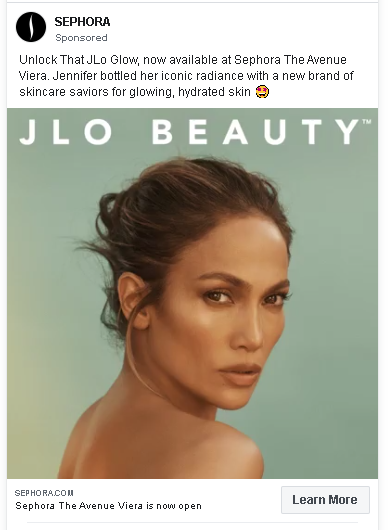 Sephora uses in their ads a well known actress and beauty symbol. This will grow the conversion rate, which guarantees the success of the marketing campaign. Sephora chose a strategy that works without risk. They played it safe.
#5 SkinCeuticals Beauty and Skincare E-commerce Advertising (Good)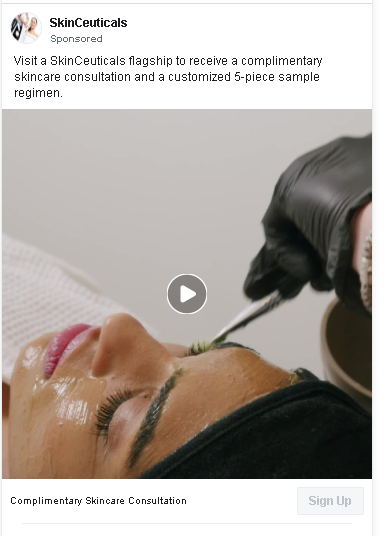 A lot of people has problems with skin, that is why they offer a free consultation. After the consultation to offer you a product for your type of skin. A good thing would have been to add text into video. Also, the thumbnail must be a lot more attractive. I suggest turning the women's head toward the viewer, but vertically.
#6 Paula's Choice Advertising Idea In Beauty E-commerce (Bad)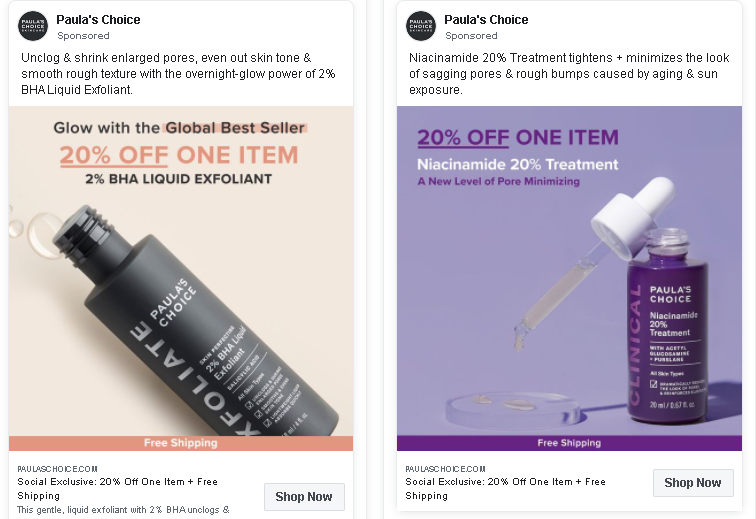 A clear offer, but a very big minus is the lack of human presence in the ad. For us this approach to advertising is already outdated in terms of performance. This offer may work well at the remarketing level, but for prospecting it is preferable to have the presence of the person who tells you about your product, or who demonstrates the effectiveness of your product.
#7 Anastasia Beverly Hills E-commerce Skincare Advertising (Neutral)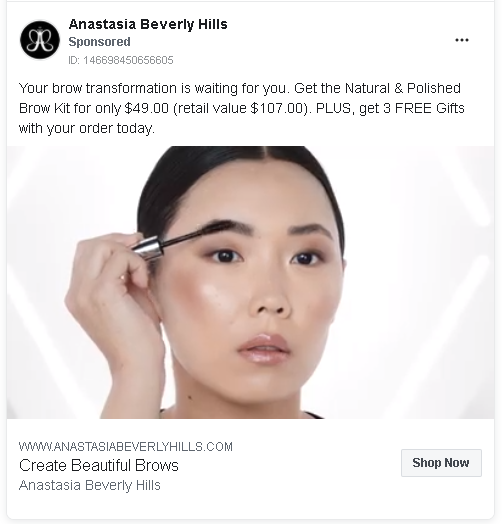 The format is not optimized for mobile. The video must be done vertically and placed properly. But in rest it has a clear offer, and it uses human interaction with the products.
#8 Neutrogena Beauty Advertising Example (Good)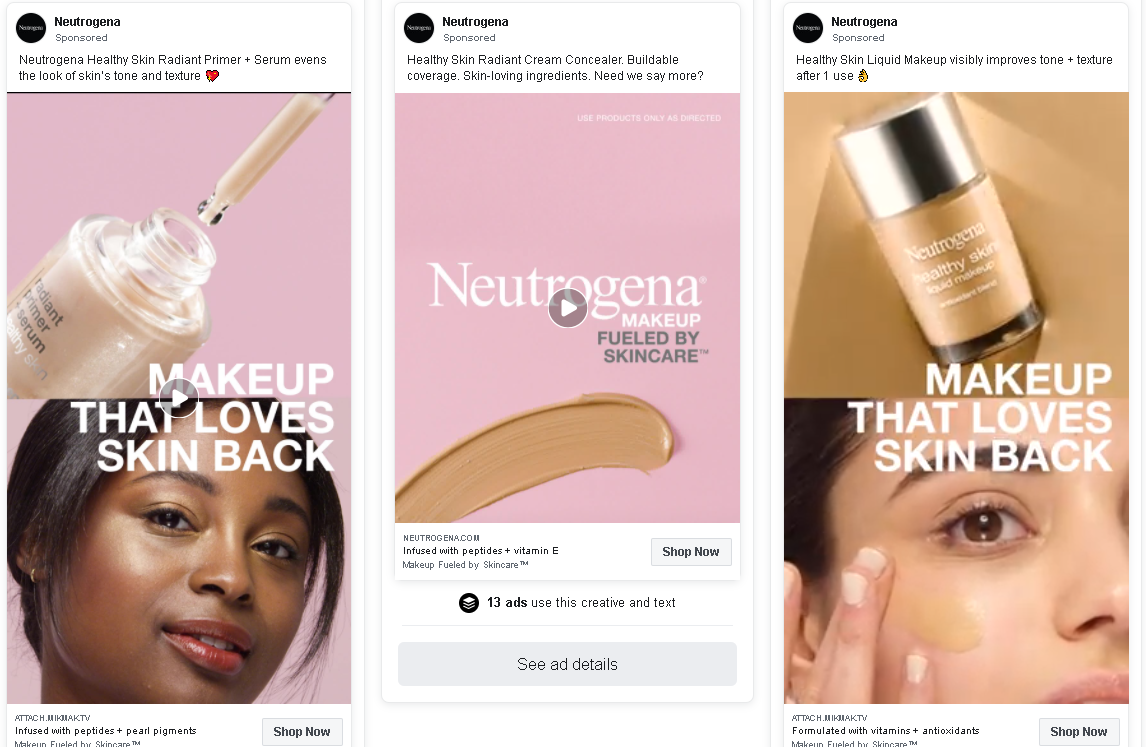 Advertising optimized for the mobile version. This type of ad works well for Insta stories and Facebook stories. Stories sometimes brings a much better performance than newsfeed. But always test if this can work for you.
#9 CHANEL Advertising Idea In Beauty E-commerce (Good)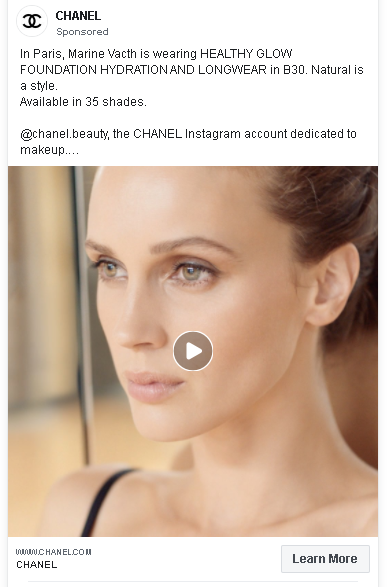 Another good example of using a known figure. She is an actress and a model from France. If they target a French audience, then this will increase the conversion rate very well.
#10 Estee Lauder Skincare Ads (Good)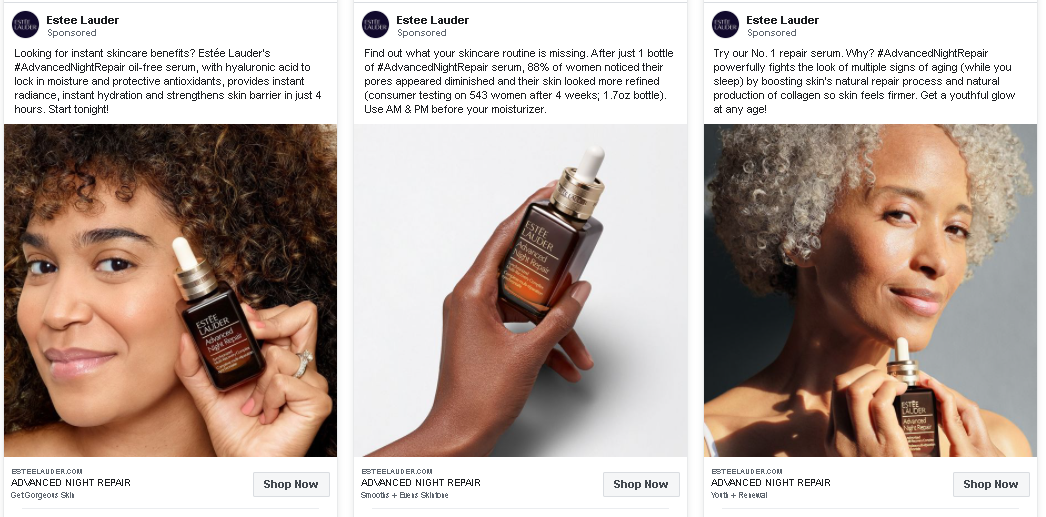 Another example of good aesthetics and dark skin contrast and also human interaction with the product.

Also, they use the psychological principle "reasons why- To buy or not to buy?". Everyone before buying a product checks all aspects and wants to find reasons for buying a product before checking out.
#11 Dior Beauty Advertising (Very good)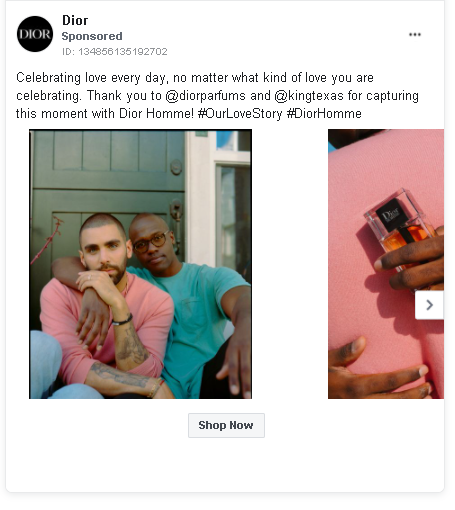 Dior is very bold lately with pro LGBT advertising. They create an impact that brings more expansion. It is absolutely normal that a company as big as Dior is promoting LGBT. They use this for marketing purpose. They use the trend, and this causes maximum engagement.
#12 L'Oreal Haircare E-commerce Advertising (Good)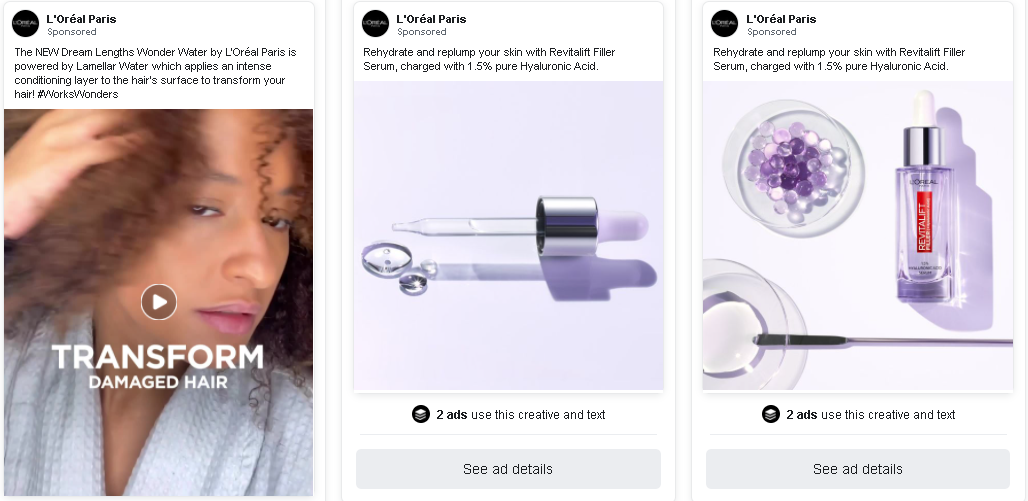 A lot of people has problems with hair. This is a very good niche. A very good focus here. Well done advertising and well-chosen niche.
#13 Lancome – Story Tells, Fact Sells (Good)
Another good example using very well-known figures such as Salma Hayek. Another good thing is that they use a fact in their video. 77% faster… Story tells, fact sells.
#14 Clarins Advertising Idea In Beauty E-commerce (Good)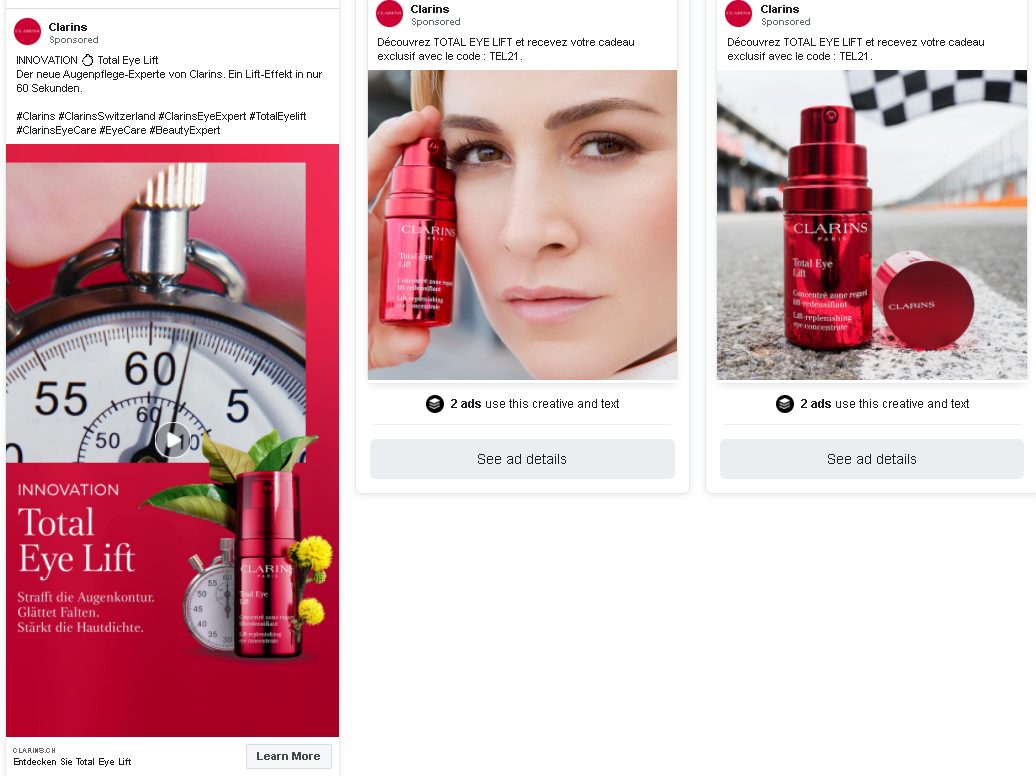 A long vertical video that is optimized for mobile users. Also, the fact that is very long and occupies the space it will make the viewer click on this. Good color and contrast. It can be improved with a fact instead of "Total Eye Lift" just like the example before this.
#15 Maybelline New York Beauty E-commerce Advertising (Good)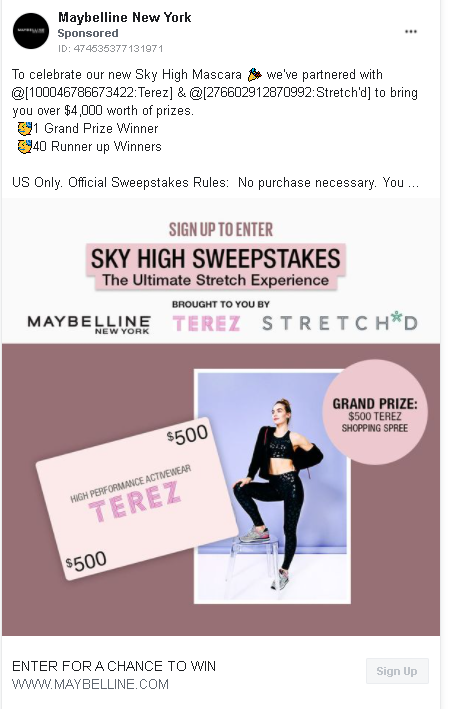 In this advertising they use a contest. A very good prize and this will attract a lot of attention. When money is at stake, a lot of users will try to see if they can win it.
#16 Guerlain Idea of Beauty E-commerce Advertising (Very good)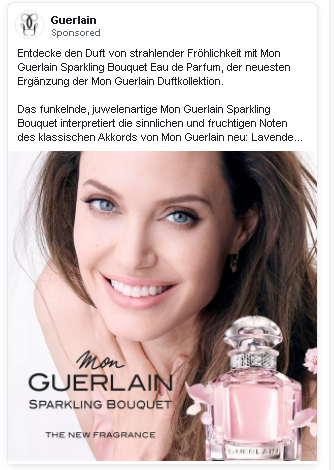 Angelina Jolie on an advertising will definitely attract attention. She is one of the most beautiful actress from Hollywood. And this will inspire viewers to make the buy. There is no way this campaign is not going to work.
#17 MAC Beauty E-commerce Ideas (Good)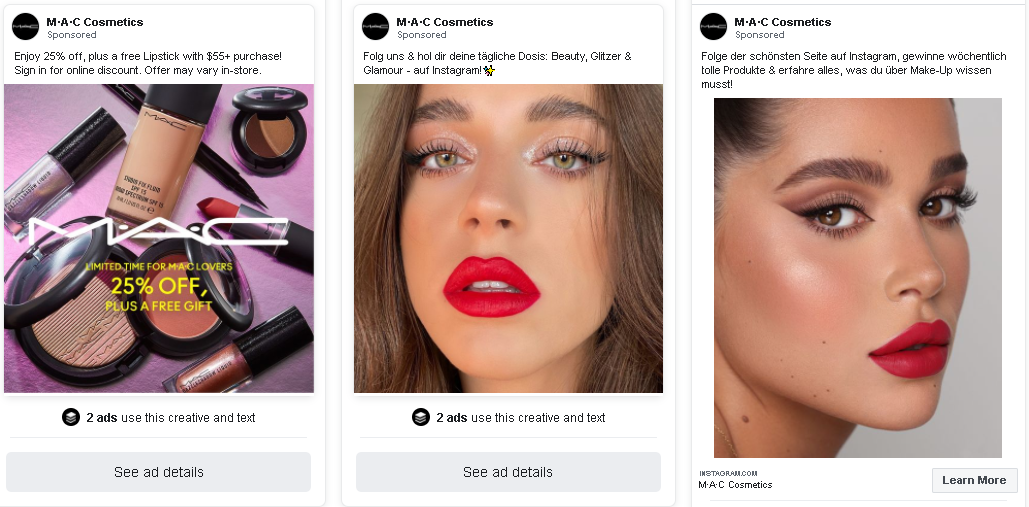 Close caption of models face with their products. This will attract a lot of attention. Also, they have a good offer. They could have used a video for better conversion rate. And again, the usage of well-known figures, in this case Kendal Jenner, will make this campaign successful.
#18 NARS Skincare E-commerce (Good)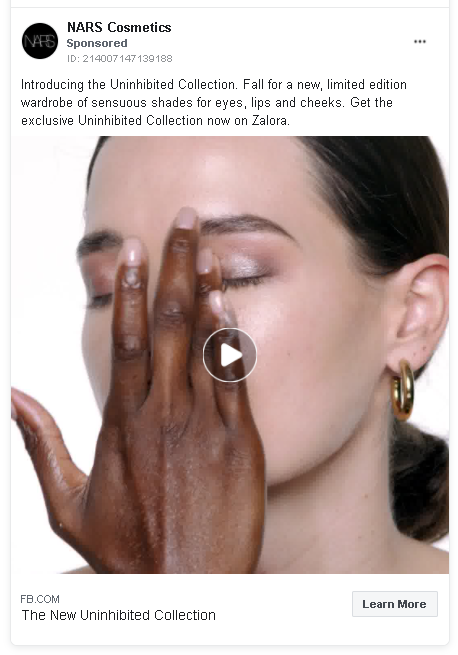 Great usage of mixing white and dark skin. They are also using vertical video. Testing products and showing viewers how it feels will attract attention and make people buy the products.
Against the background of recent actions related to black life matters, companies have begun to use dark skin or dark skin people in advertising. This happens as a way to attract more interest to their brand, and raise awareness. But we all know the end goal of advertising, which is to sell.
#19 Elizabeth Arden E-commerce Skincare (Neutral)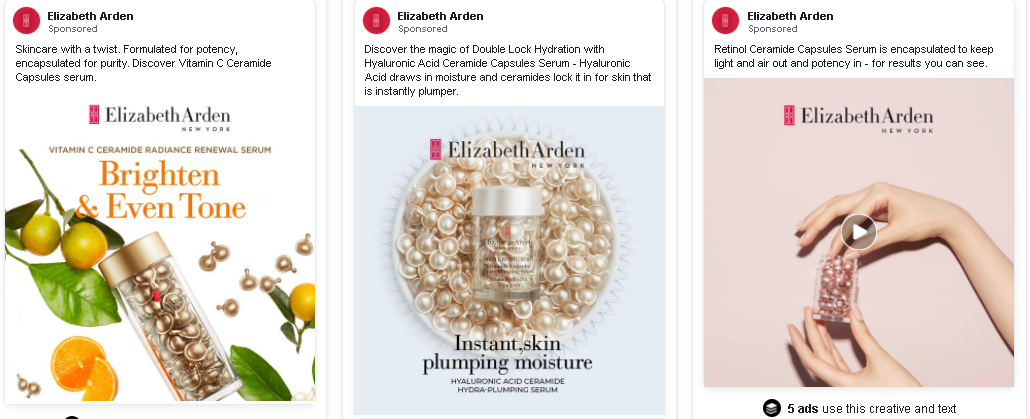 Mixing products with fruits makes them feel fresh. This can grab attention. Also, a video with someone playing with the product is good to attract attention.
#20 Revlon Beauty and Skincare E-commerce Advertising Examples (Good)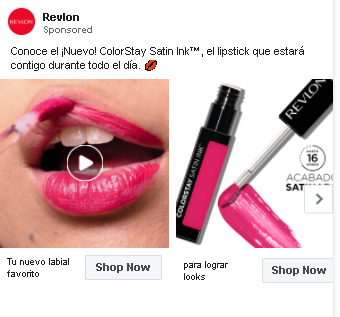 Good contrast, and also beautiful models that stop viewers from scrolling. The video in the carousel also stops you and grabs attention.
#21 Laura Mercier – Before and After (Good)


Very good aesthetics, and usage of all skins. Also, the "before and after" images can convince viewers to buy the product. Also, the carousel is used very well in stories for interacting more with the brand.
#22 Dr. Barbara Sturm Skincare Advertising (Very Good)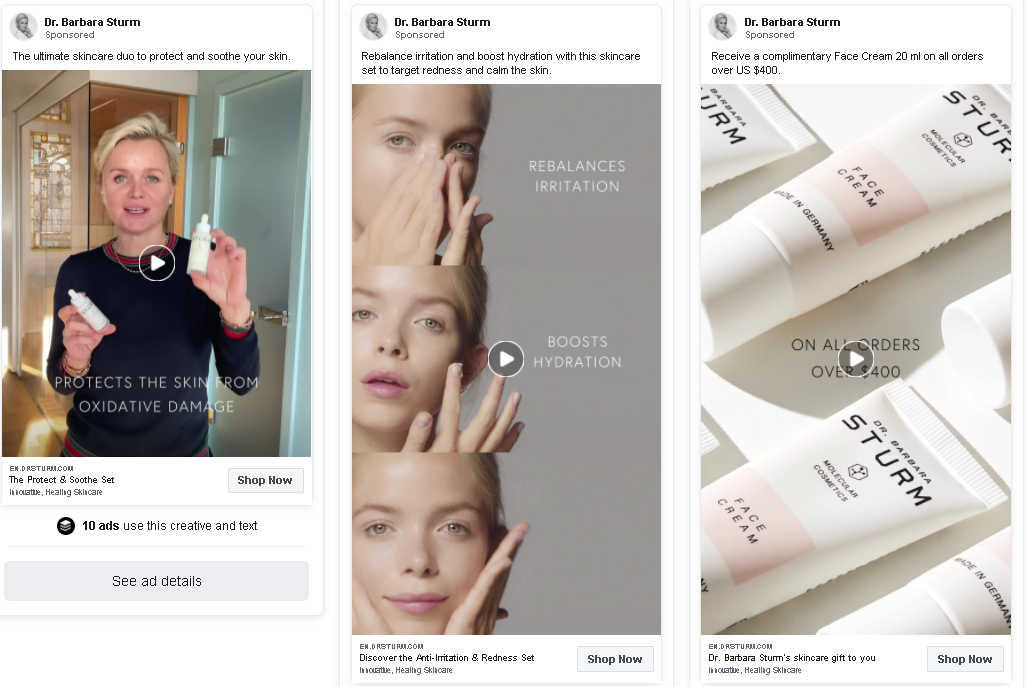 The fact that she is an expert in domain already has very high credibility. Explaining and giving tips and expert advice will improve conversion rate.
#23 Bolden Beauty and Skincare Advertising Example (Good)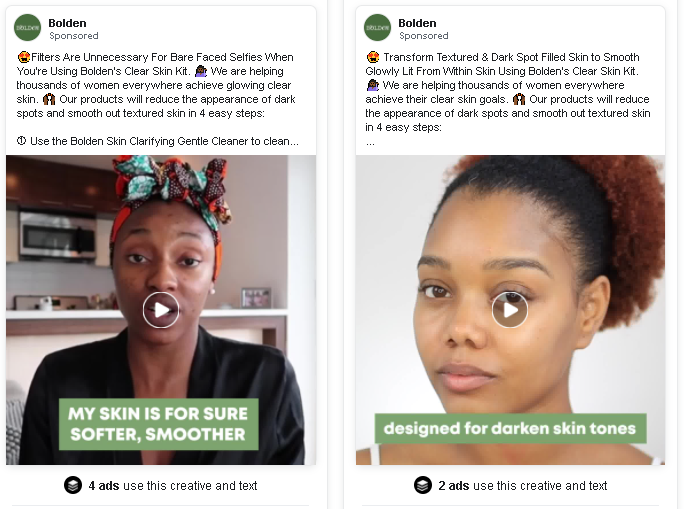 An only dark skin product. This is very specific and can have good results. Also using video reviews ads with proven facts will increase the sales and make this marketing campaign a success. This kind of video reviews can boost sales even more if they are placed on the product page on the website.
#24 Alastin Example of Skincare Advertising (Good)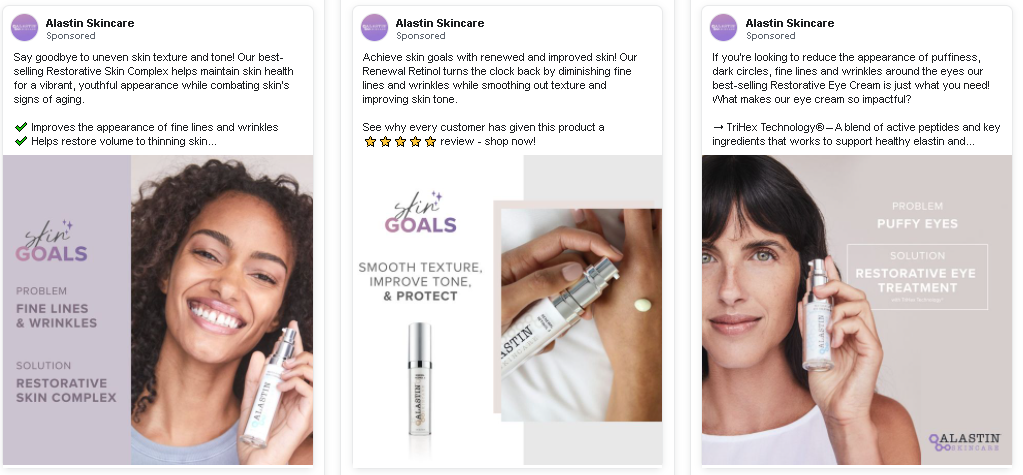 As I was telling you in another example, story tells, fact sells. This is another good example of "reasons why to buy". Also, good use of emotion, people smiling, showing viewers they are happy with the product. This further will make potential clients remove the barrier of skepticism and will start buying.
#25 Shani Darden Skincare E-commerce (Good)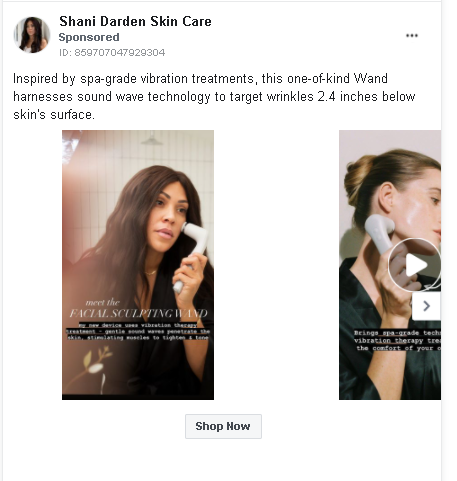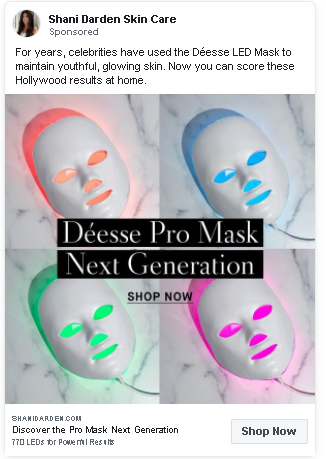 Carousels work well on Facebook and Instagram stories placement. This will make viewers interact more with the brand. Also, The ad description entices viewers to learn more about the next generation masks that maintains even celebrities youthful.
#26 Skin Vitality Haircare Advertising (Good)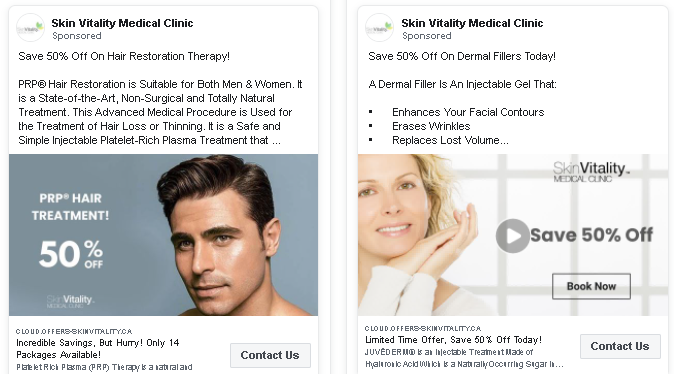 As I said in an example above, hair is a very sensitive aspect for everybody, especially for men. If men have real problems with hair than they will try or find good products. If the product has great reviews, and also has a good offers, which this brand has, potential clients will buy.
#27 Bobbi Brown Beauty E-commerce Advertising (Good)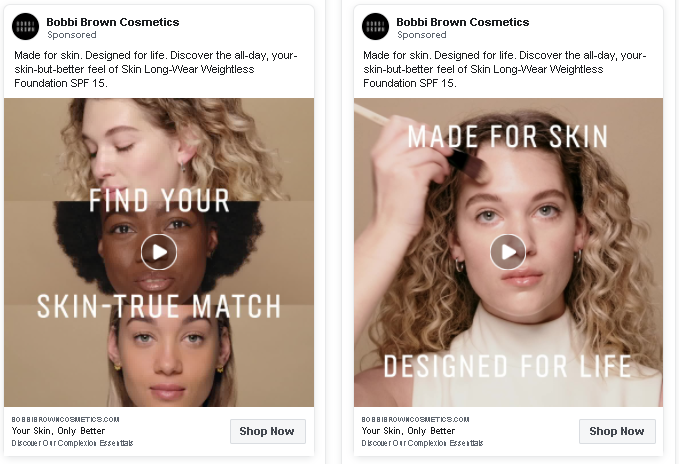 Good aesthetics and good execution of video advertising. Testing on models shows viewers how the product will look on any type of skin. This will make them try the products and make the purchase.
#28 Covergirl Beauty and Skincare E-commerce Advertising (Good)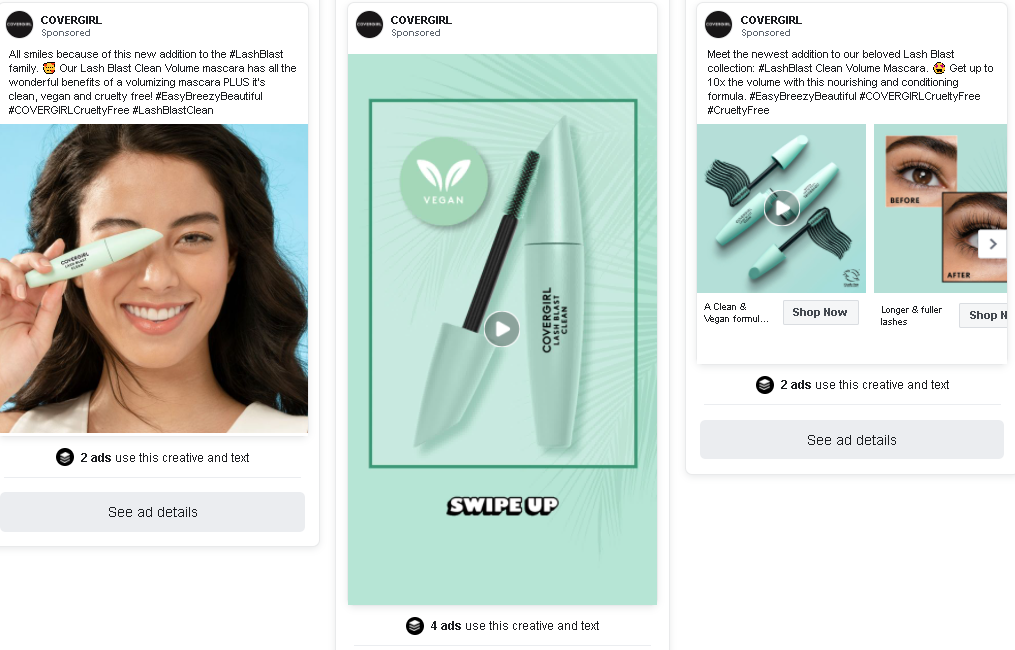 Vertical and long video which is great for advertising. Will increase conversion rate. Also, good use of emotion, people smiling, and carousel video.
#29 BeautyStat Skincare E-commerce Advertising (Good)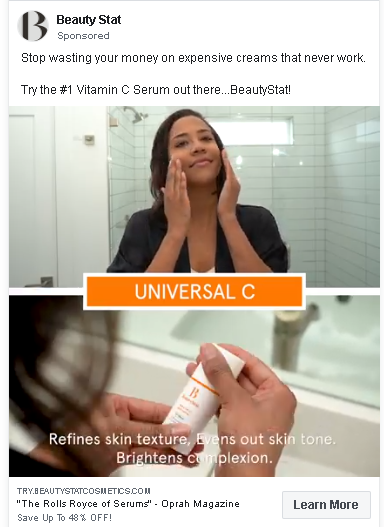 Offer, social proof and facts in one advertising. The ad copy creates an interest in the product to which is added facts to break the barrier of skepticism. Also, the human presence, testing the product and feeling good about it will increase sales.
#30 La Roche-Posay Beauty E-commerce Advertising (Neutral)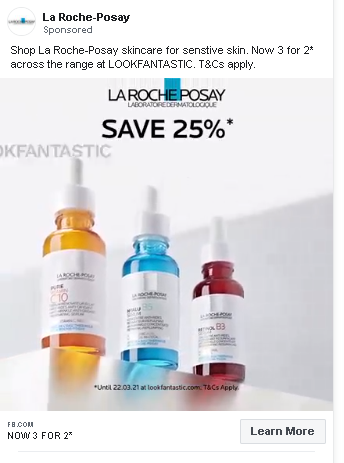 Very simple with only product images. This kind of advertising is a thing of the past. I will recommend to use vertical video with human presence, testing products, reviews, facts. This is a well-known brand and that is why anything can work on their marketing campaign.
Conclusion
For a successful Digital Marketing advertising campaign in the beauty and Skincare E-commerce you will need:
Mobile Optimization (Vertical video)
A well-chosen niche(Haircare, skincare etc.)
Video Reviews of Satisfied Customers
And the list can go on and on.
Investigate, test strategies and see what works for your company.
Marketing Specialist To Hire:
If you've come this far to read this blog post, then you are interested in growing your business to the top. If that is the case, there is only one Marketing Specialist that you will need to hire, and that is me. Don't waste more of your time and send me a message.
Let's get started already!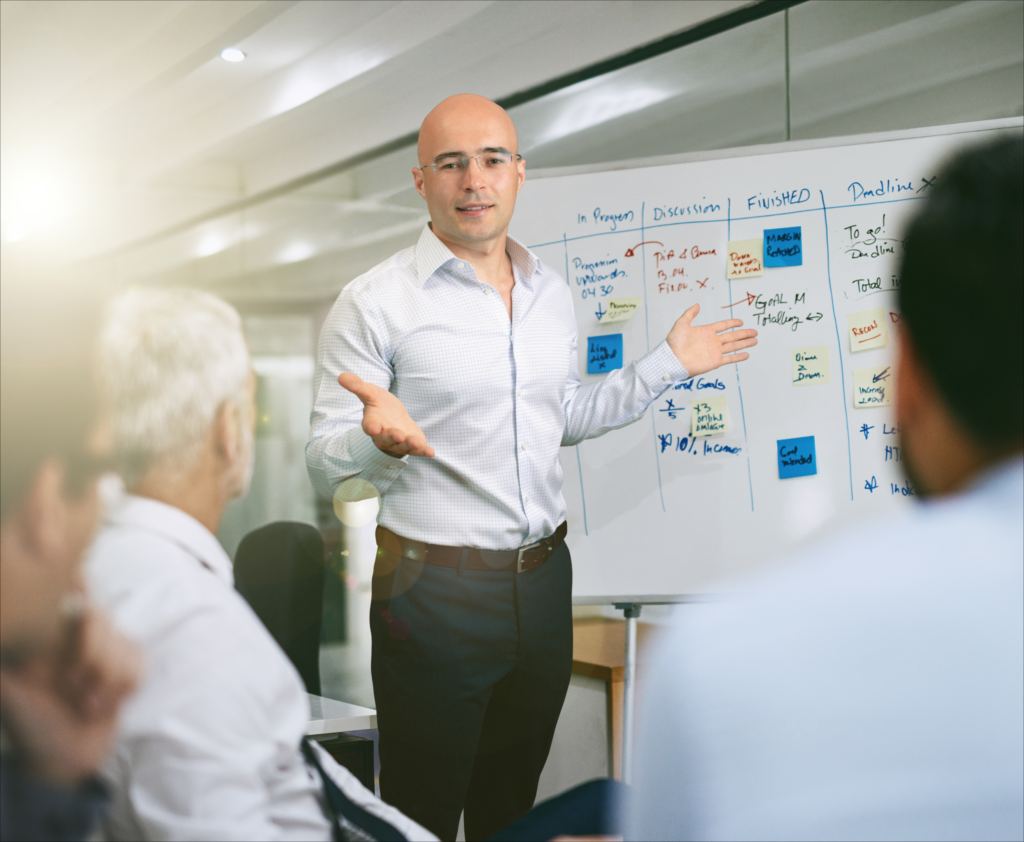 Also, I highly to recommend to read the following articles:

E-Commerce 40/40/20 Marketing Rule and How It Will Help You

The Power Of Priming In Marketing – A Great Tool For Advertising

E-commerce Subscription Marketing Ideas from Successful Brands