Nowadays, anything can be bought on a recurring monthly plan. For example coffee, clothing, food, wine, jewelry, etc. Over the past decade, E-commerce subscription companies have doubled down on the subscription model to monetize their relationships with customers. We will share with you some Subscription marketing ideas from successful brands.
A subscription business model is one that charges customers a recurring fee, usually monthly or yearly, for access to a product or service. But on a deeper level, E-commerce subscriptions are about strong customer relationships. It turns customers into loyal followers who become reliable sources of recurring revenue. In fact, the longer a customer uses your product or service, the more valuable they become to you.
Like any other services or products, we can put special offers to attract clients into subscribing.
#1 E-commerce Cosmetic Subscription Marketing Strategy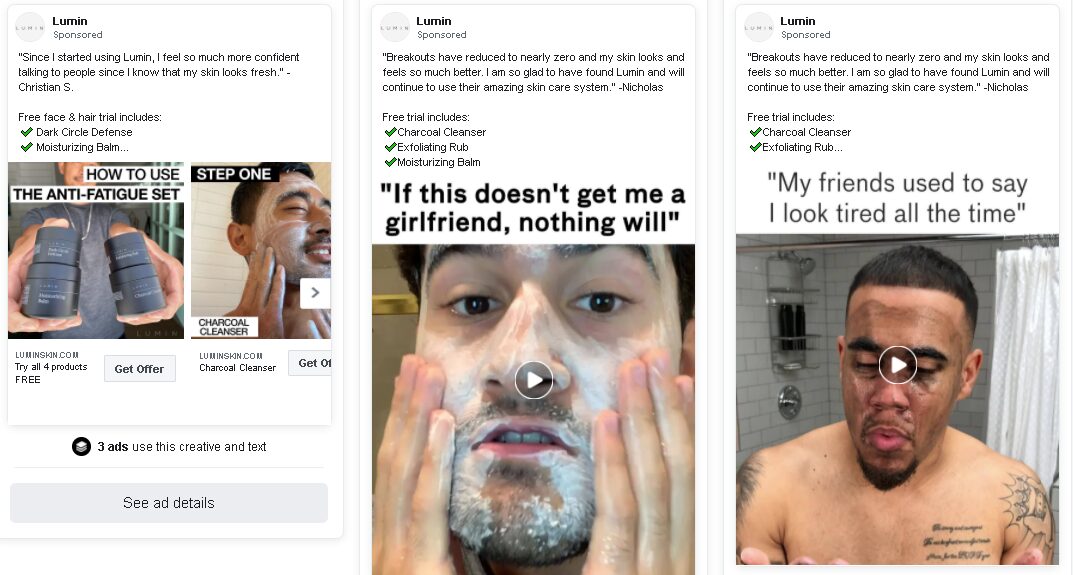 First, Lumin Skin entices customers to their subscription services with advertising on Facebook. In the advertising, they use a review of an actual customer that at first was skeptical of the subscription offer. They make it more believable by putting a video of the customer, giving feedback on products and services. This will make other potential clients want to try these products. The marketing offer used here to attract clients is the Free Sample, offering a one-month free trial. If the advertising convinced them to click on the Call To Action button, Shop Now, they will land on a page where the offer is.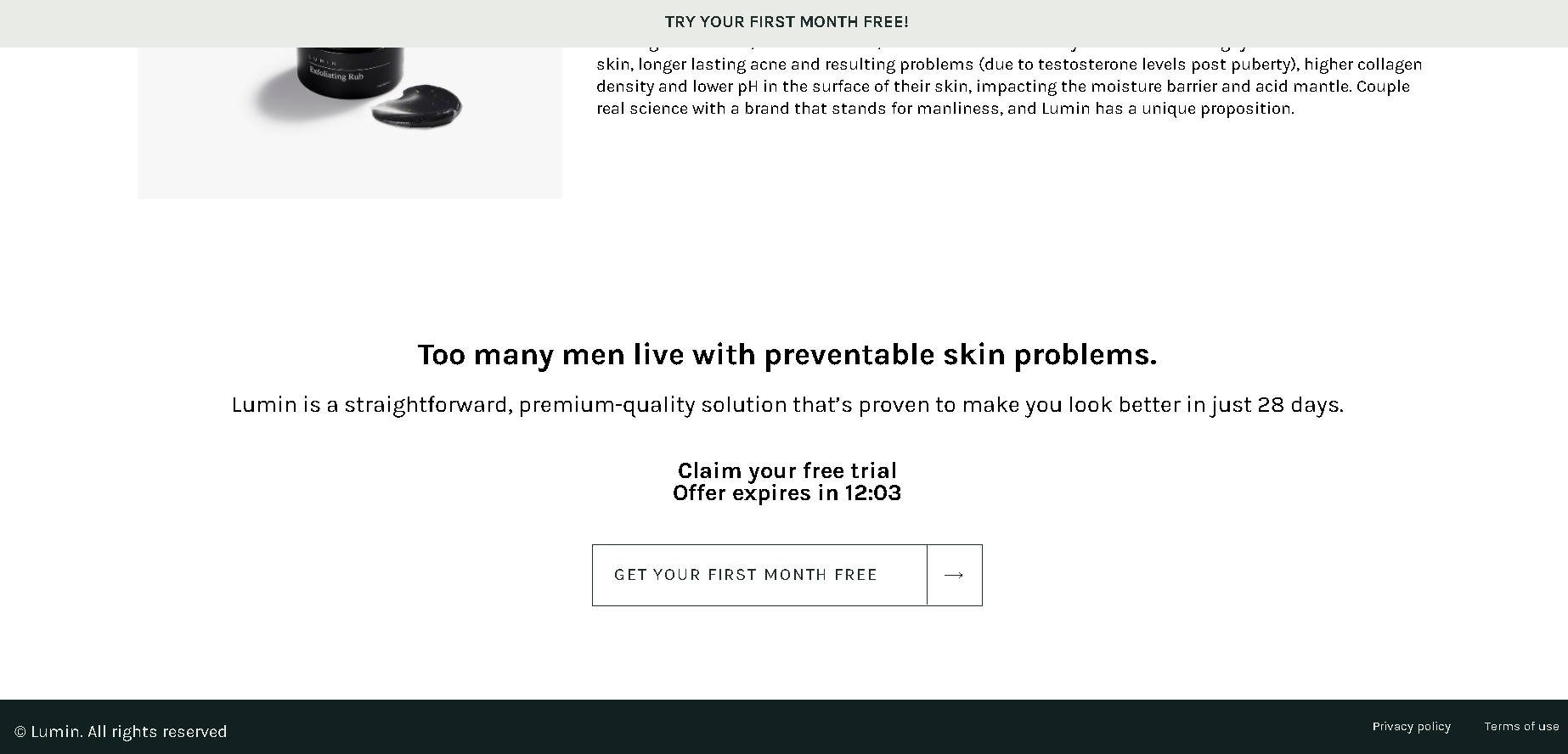 In the image above we can see how Lumin Skin uses two marketing offers that will make customers giving it a try.
First by using the Free Sample strategy. Free sample marketing is the act of giving products or services away to prospective customers for free. In this case, Lumin Skin gives a free month for the customers to try products. Giving out free samples to the target market is a way to gain a lot of customers. This happens because you effectively get your product or service into the hands of the people who are most likely to want what you are selling. People will try something new if it doesn't cost them any money.
What they will get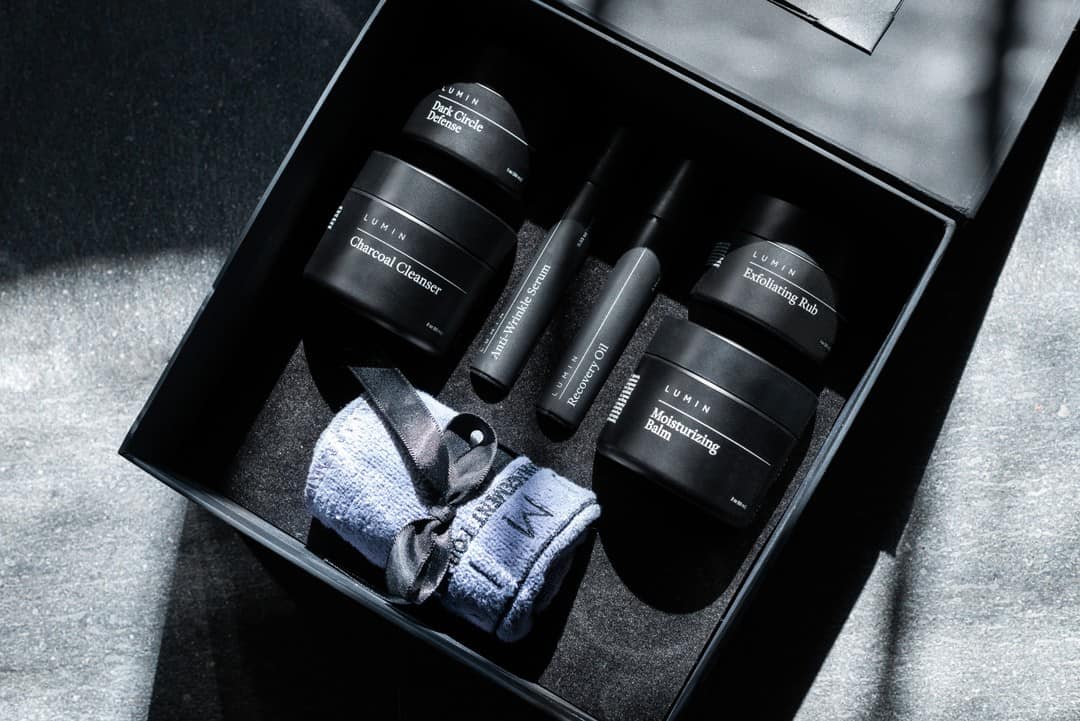 Customers will get expert-curated products developed by the best in LA and Seoul that are all tailored to your skin type and even skincare concerns such as wrinkles and dry or oily skin. For the free trial, customers will get to choose between 3 different sets:
Second, by using the scarcity effect, Claim your free trial – Offer expires in 12:03. The Scarcity Effect is the cognitive bias that makes people place a higher value on an object that is scarce. When the customers know that your products are available in a big quantity they place a low value on the products. Scarcity is associated in our brains with something positive, luxurious, and exclusive. We automatically assume that it is scarce because everyone wants or has already bought this product and thus it must be a good product. Simpler, scarce objects arouse our interests and immediately become more desirable than a product that is always available. Scarcity is both a simple and powerful motivator to encourage your browsers to become buyers. With a few small changes to your digital marketing, you can improve the speed, value, and frequency of conversions.
#2 E-commerce Coffee Subscription Marketing Ideas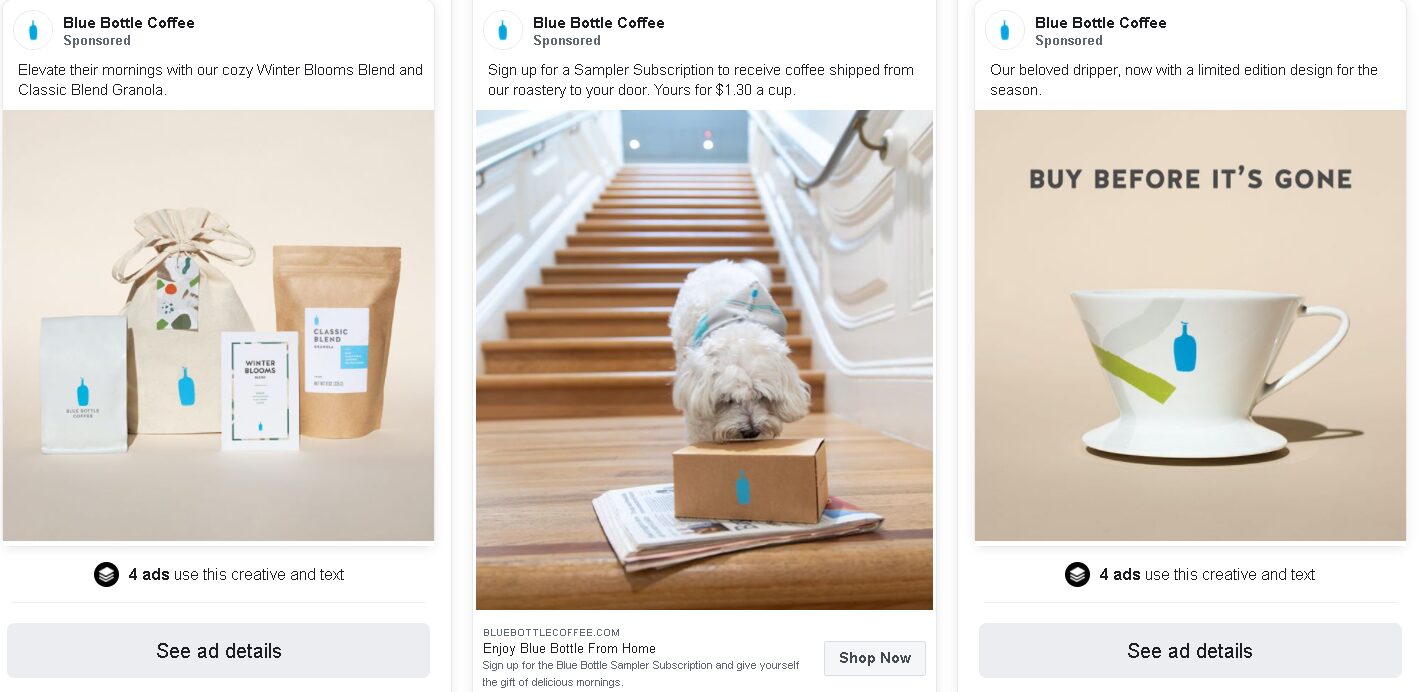 Blue Bottle Coffee is using the Free Shipping strategy in advertising on Facebook. This is a good way to gain a lot of customers because everyone likes free shipping. Research shows that 73% of online shoppers say free shipping is what they want to see at checkout. Two out of the three shoppers said they would buy more online if they knew they could return items with free shipping. Of course, to offer these services free, you'll need to set your pricing and business model to be suitable.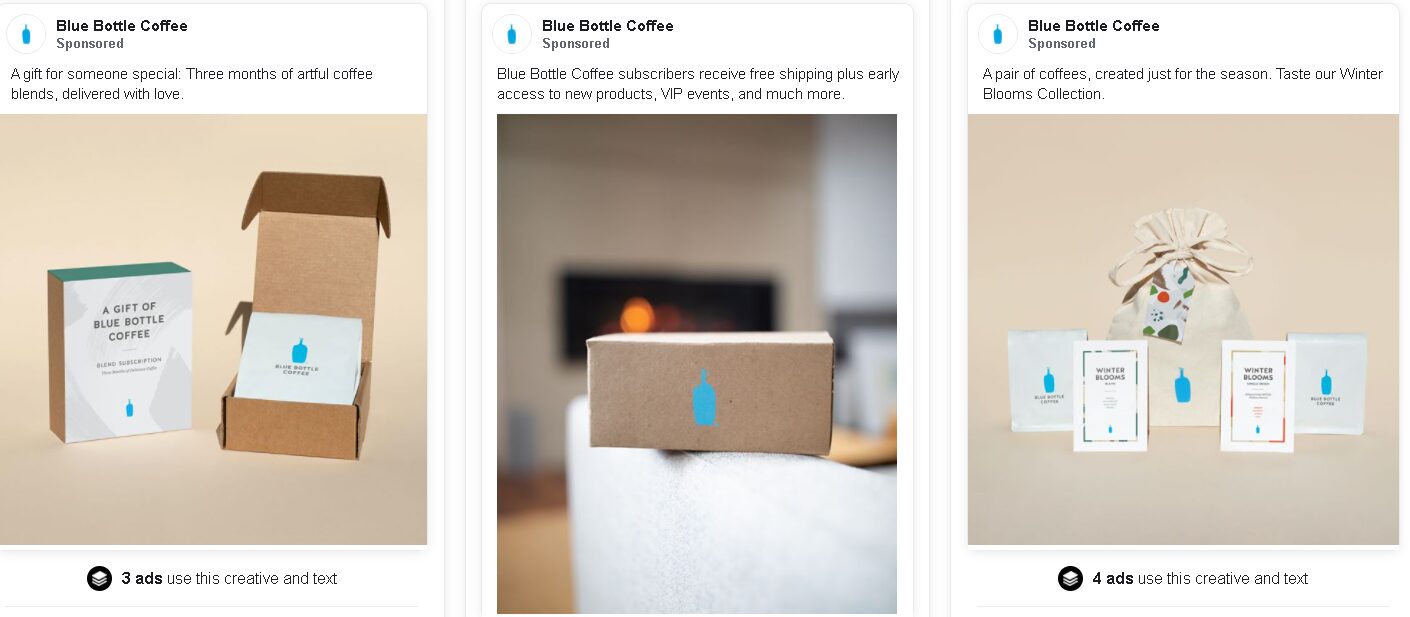 They entice clients even more with early access to new products, VIP events only for subscribers, and the promise of other services that will benefit them. If the potential buyer presses the Call To Action button, Shop Now, they will go to the subscribing page.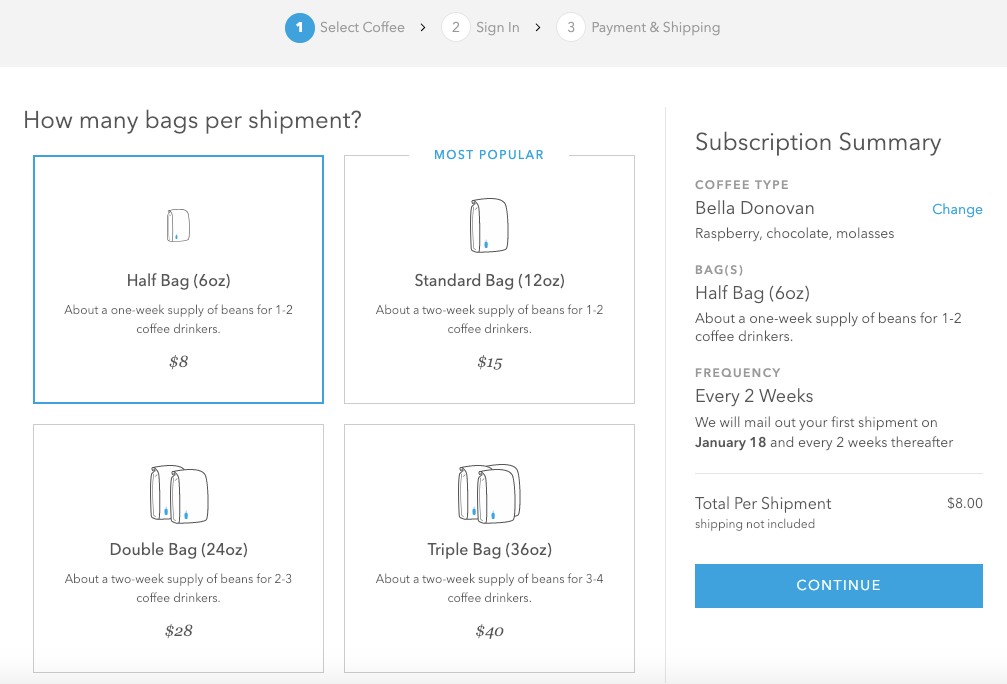 The customer lands on the page and then chooses how many bags he wants to get, what coffee type, and how frequently does he wants his coffee to arrive home. After this, he will make an account for the site. For that, the customer needs to create a username and password and introducing contact information like e-mail, mobile number, address, etc. The last step is choosing the payment method, credit card, cash, or other methods. The shipping will be covered as promised, and like that the client will become a subscriber of their services.
#3 E-commerce Jewelry Subscription Marketing Strategy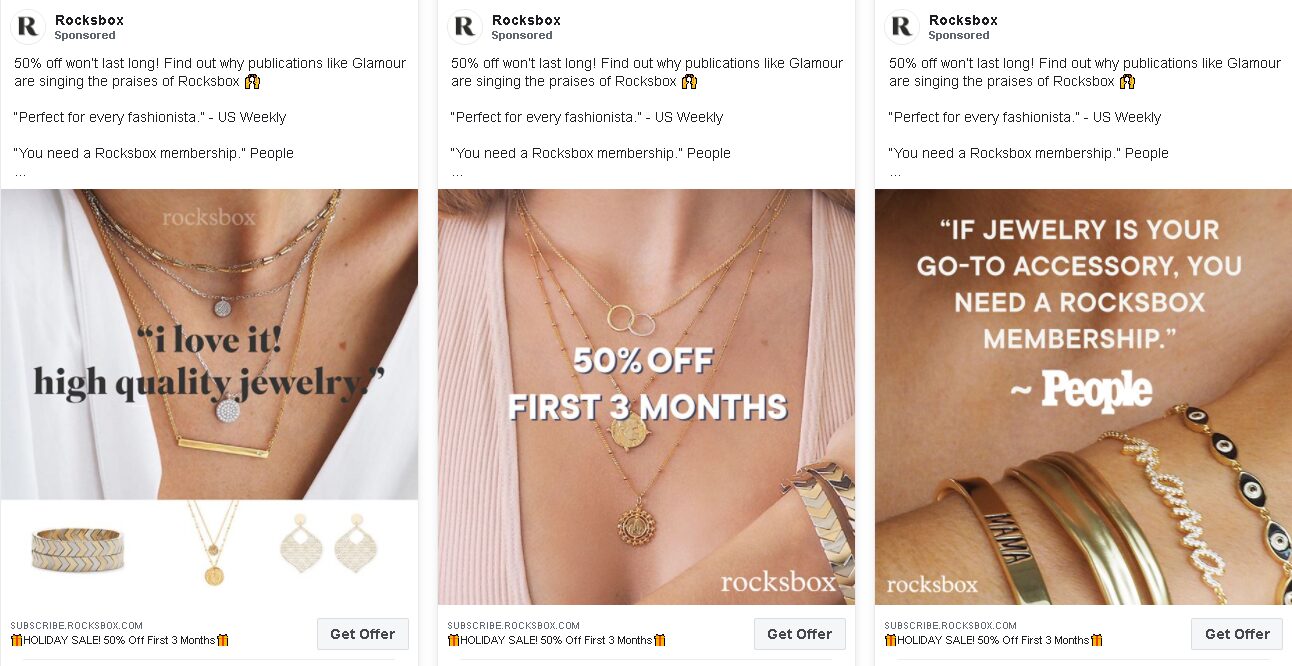 For the Jewelry Subscription, we have Rocksbox example. In the advertising on Facebook, they tell everyone that Rocksbox was awarded for the best jewelry subscription box. This comes as a confirmation that they have great products and was selected as the best in 2020. Along with this statement also comes the Percentage Discount Strategy. Offering a 50% discount for the first three months of subscription. According to researchers, 57% of shoppers say they would not have made a first-time purchase from a new retailer without a coupon. This will encourage even more customers to subscribe. When customers click on the Get Offer button they will be redirected to a landing page: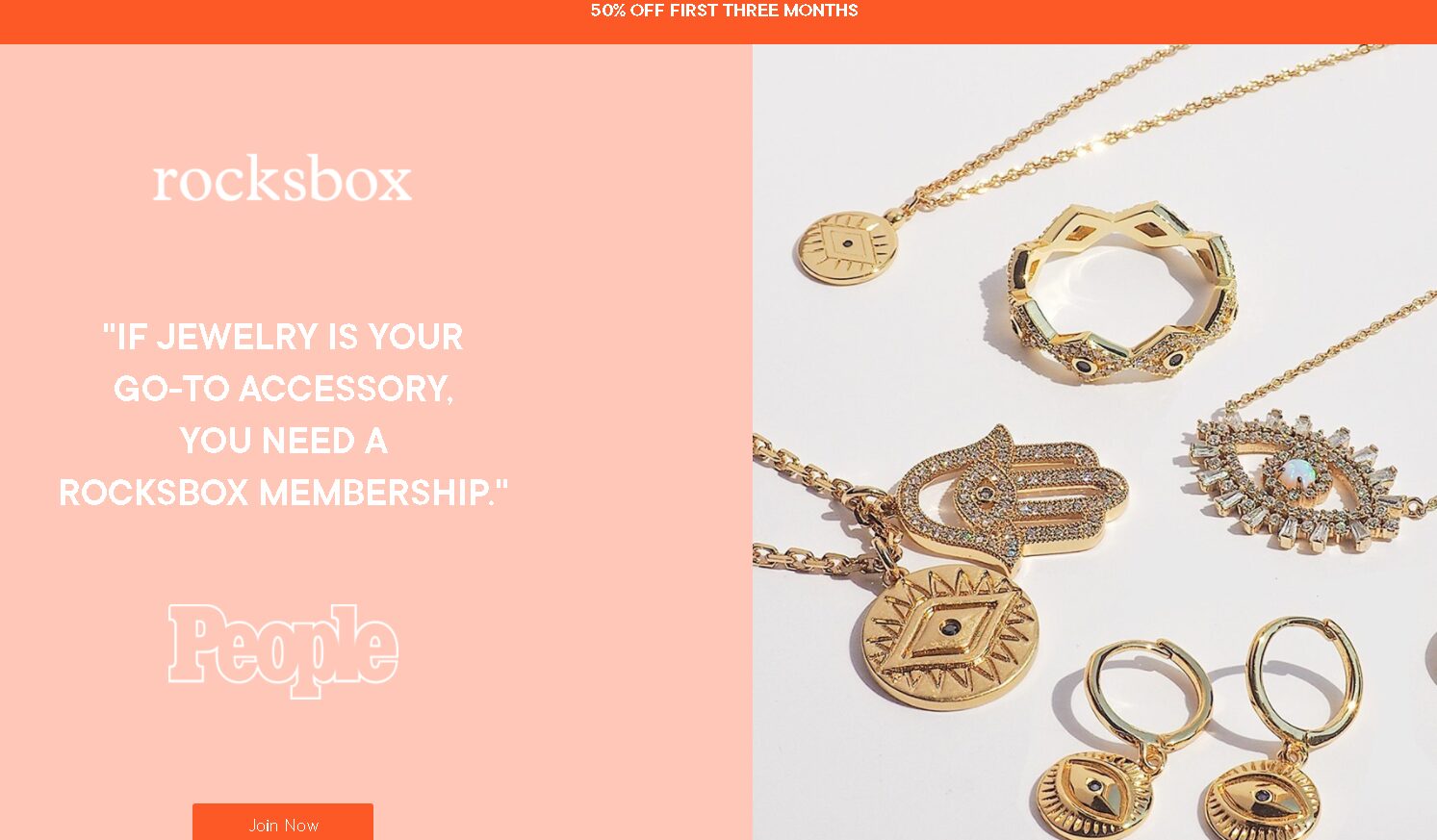 Here you will see a Join Button to subscribe to Rocksbox and get your 50% off for the first three months.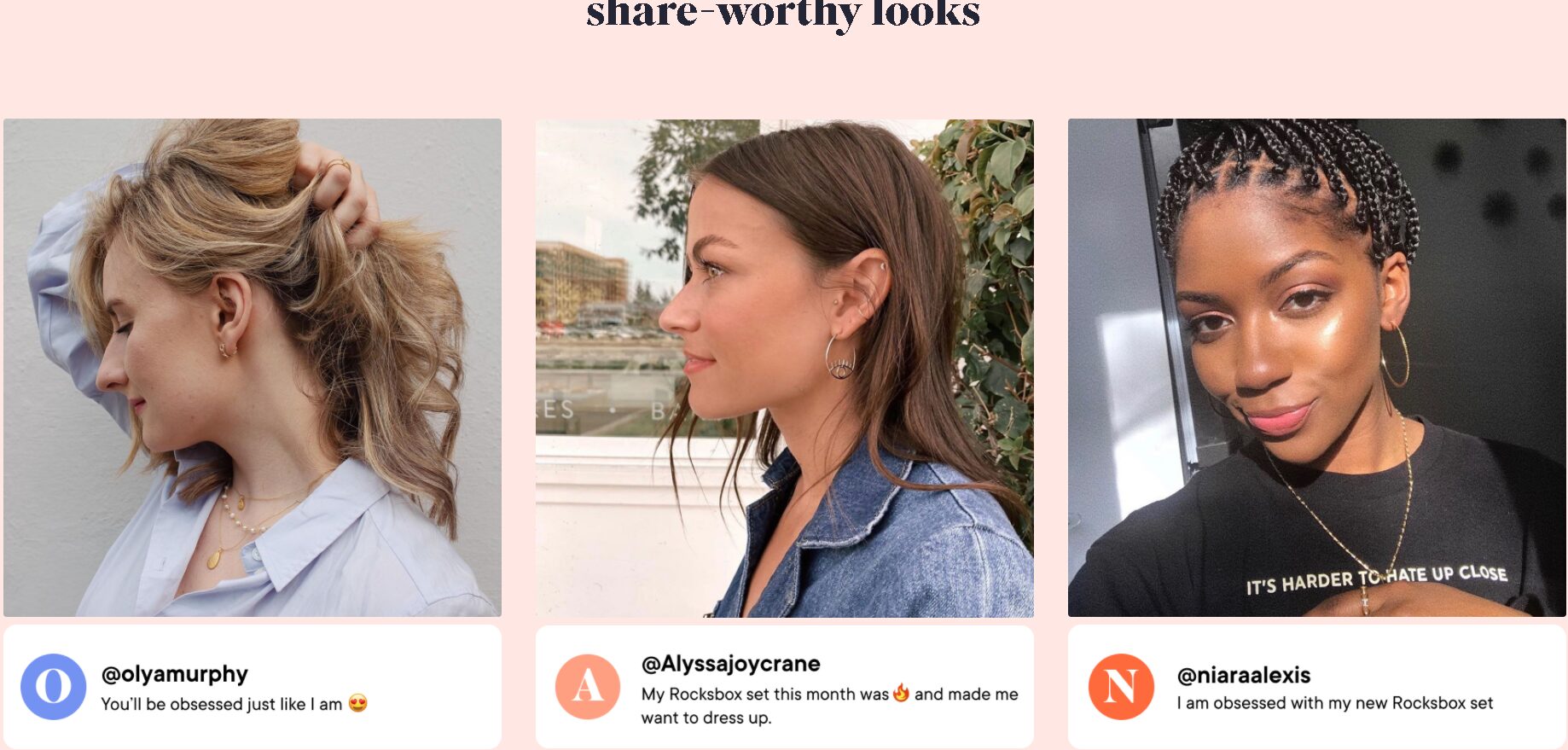 To make the potential customer more trustworthy towards the brand, on the landing page they have put different reviews and feedbacks from actual clients with photos of rented jewelry from Rocksbox. This contributes to the subscription of a new customer.
#4 E-commerce Food Subscription Marketing Ideas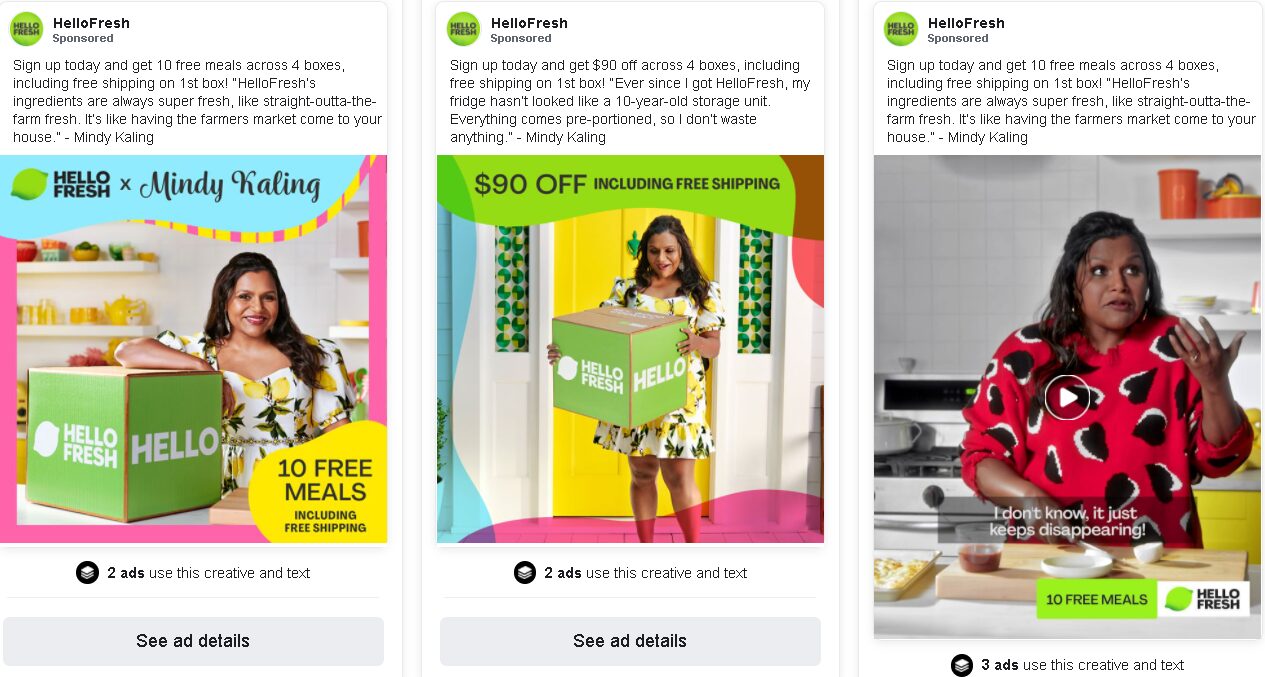 For the Food Subscription example, we have an interesting advertising strategy from Hello Fresh. In the advertising, we see 10 free meals offer with 4 boxes and free shipping for the first box. This covers the Buy One Get One and Free Shipping strategies.

The interesting part is that they have a collaboration with a known American actress. Mindy Kaling is known for the popular series, The Office. To entice even more potential customers, Hello Fresh puts in the ad a testimonial on behalf of the actress. This good feedback from a well-known person will benefit Hello Fresh and will make potential customers be even more interested to try the products. When potential buyers click the Get Offer, it redirects to a landing page: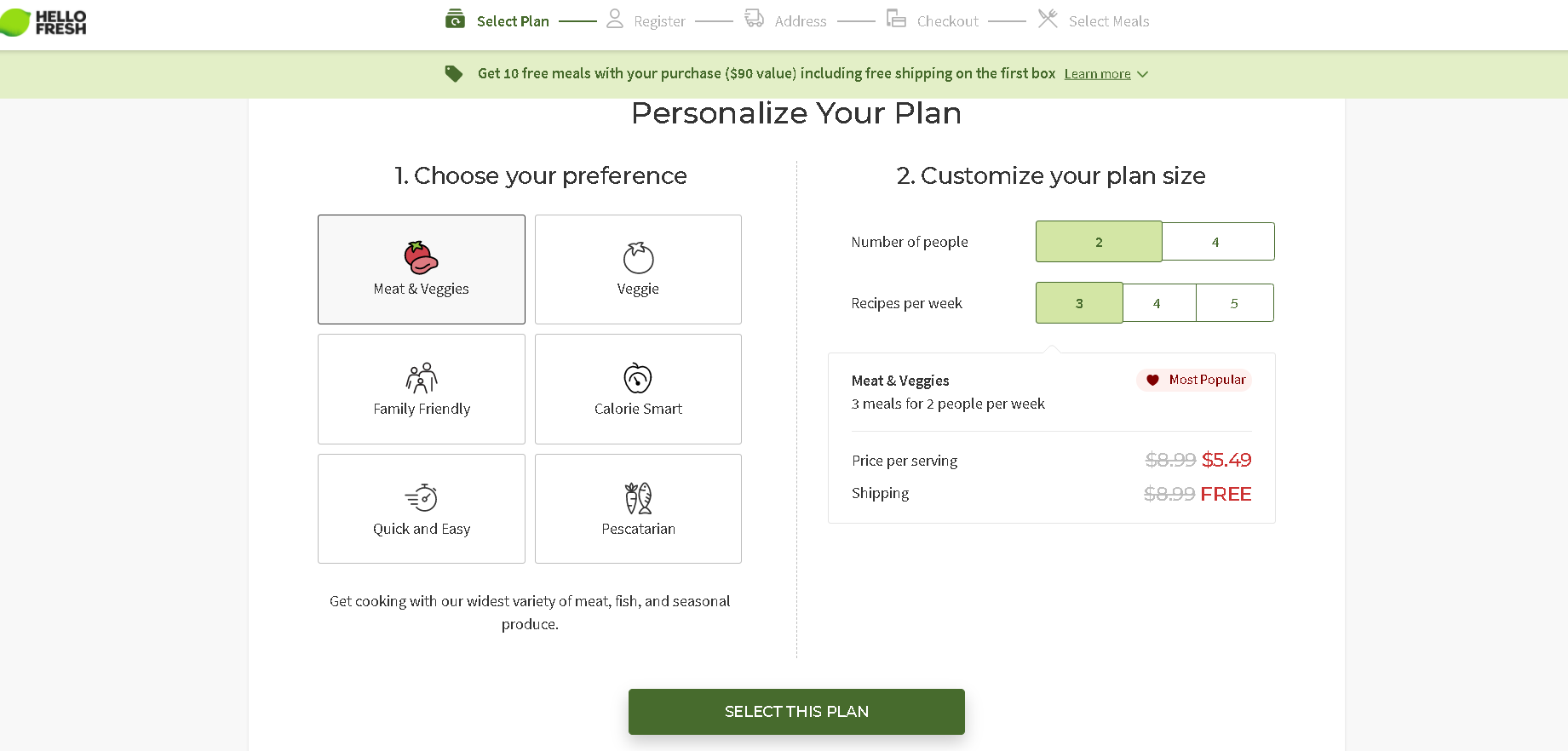 On the Landing Page, the customer can personalize his meal plan according to what Fresh Hello offers. After selecting the plan, you will go to the Register step where the client will create an account or sign with Facebook or Google account. The next step is the Address information, then Checkout, and the last step selecting the Meals as the customer pleases.
#5 E-commerce Luxury Clothing Subscription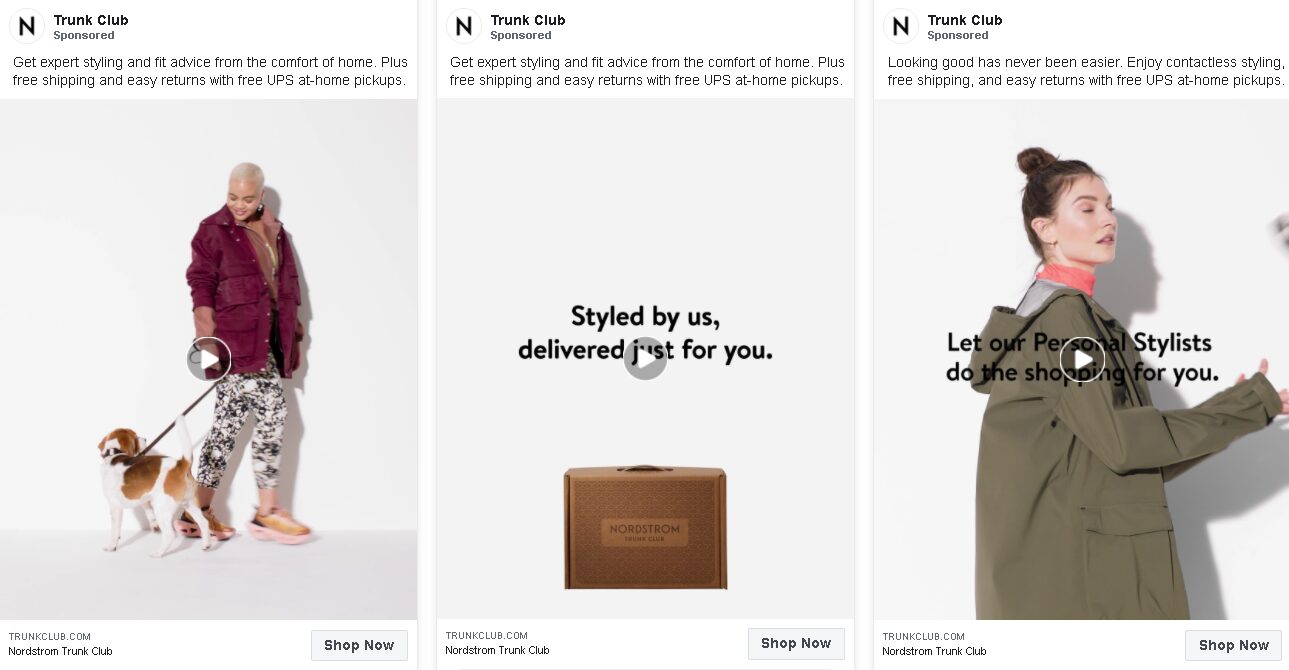 For the Luxury Clothing Subscription, we have the Trunk Club example. In this advertising Free Shipping and Free Returns attract attention. Another strategy to sell is through Free Style Quiz. It will get the client through a series of questions with the purpose of helping to find the right style. If the potential customer clicks the Shop Now button, he will be redirected to a landing page with the style quiz.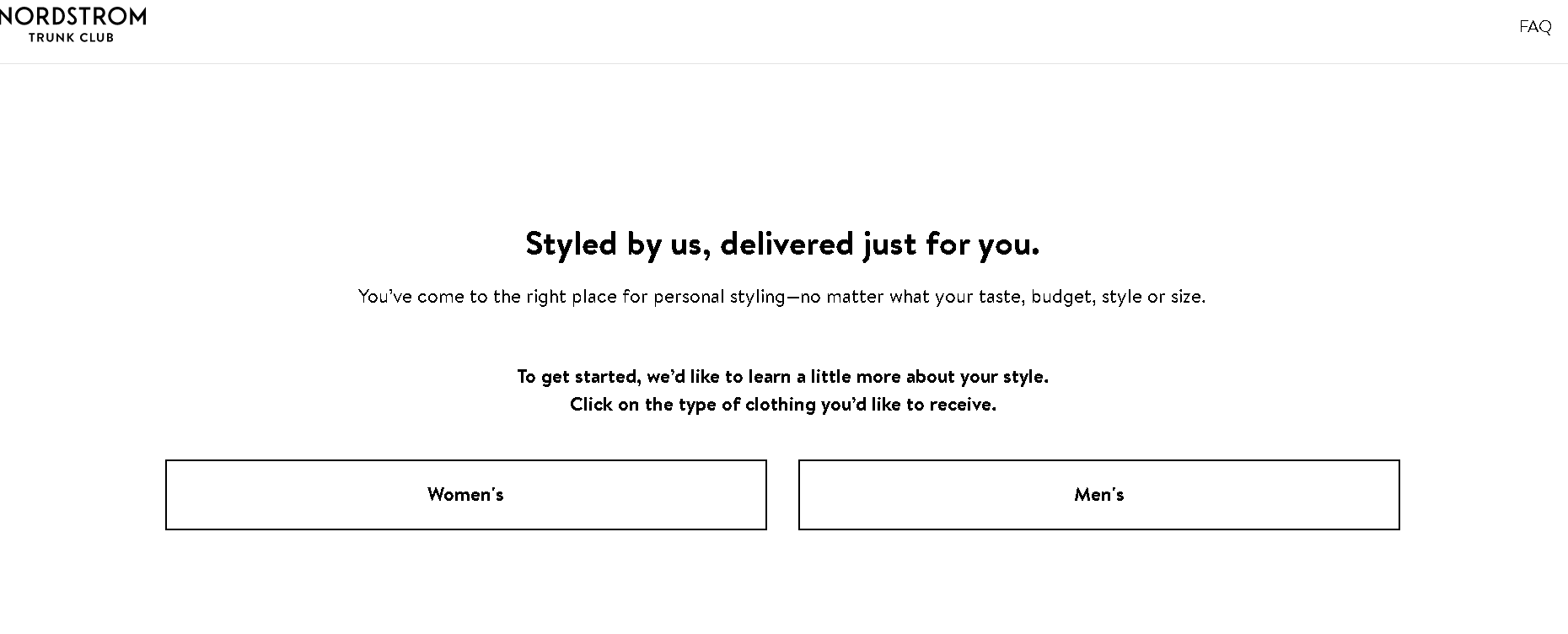 On the landing page, the customer will have to choose his gender type. Trunk Club will have a series of questions with images and styles of clothes where the potential customer will choose.
For women: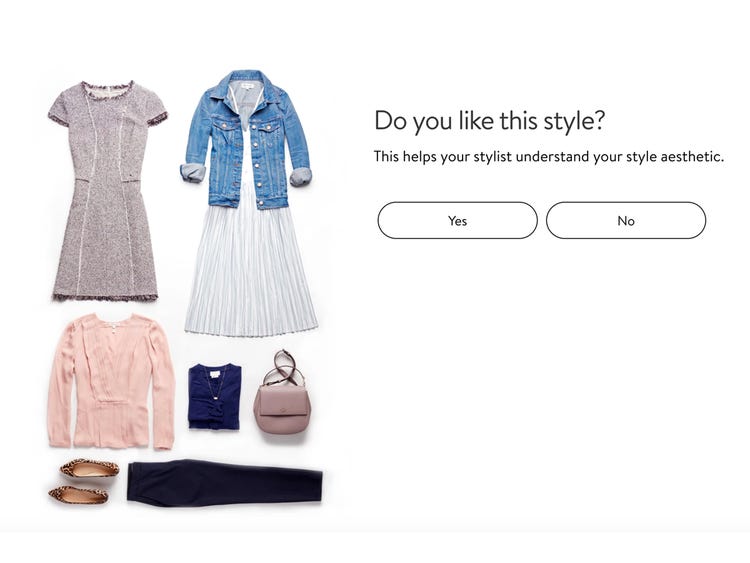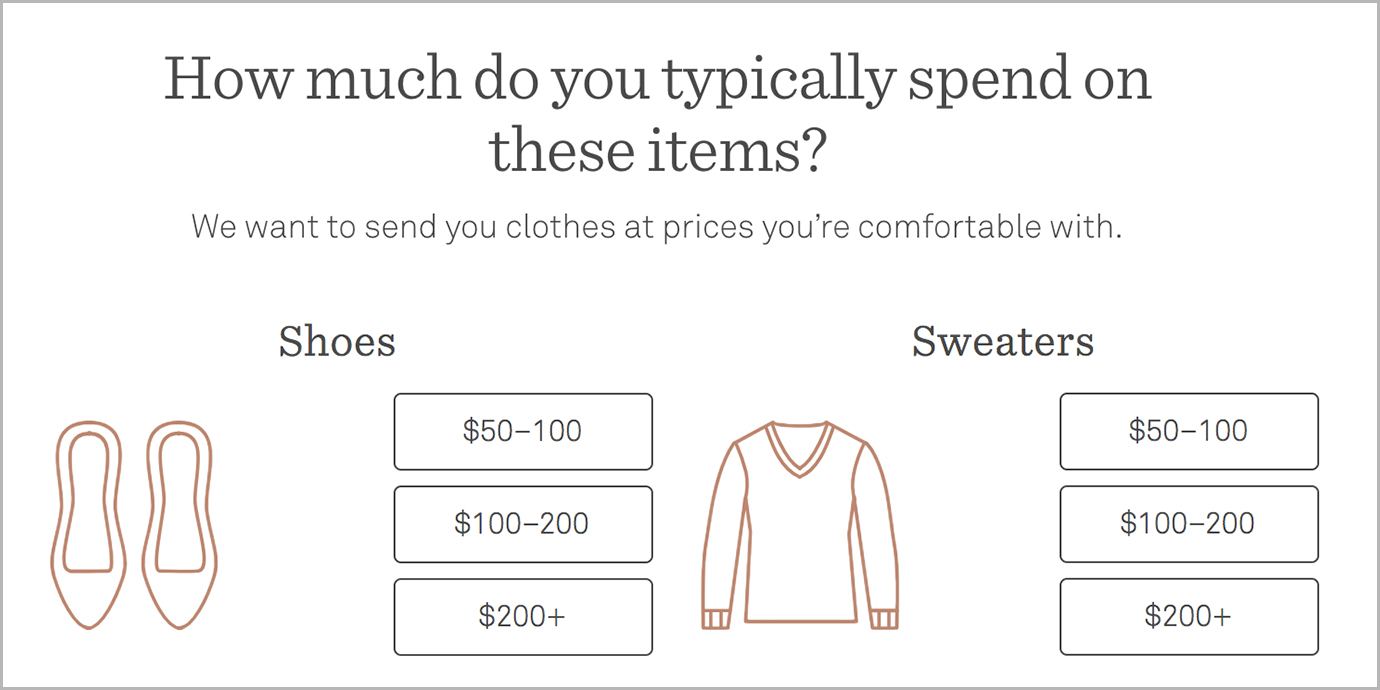 For men: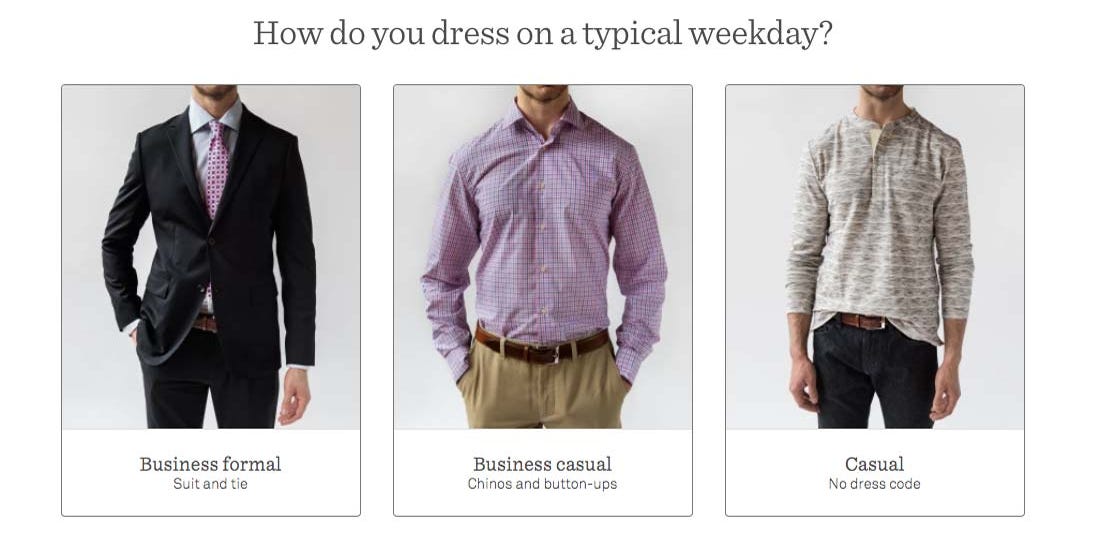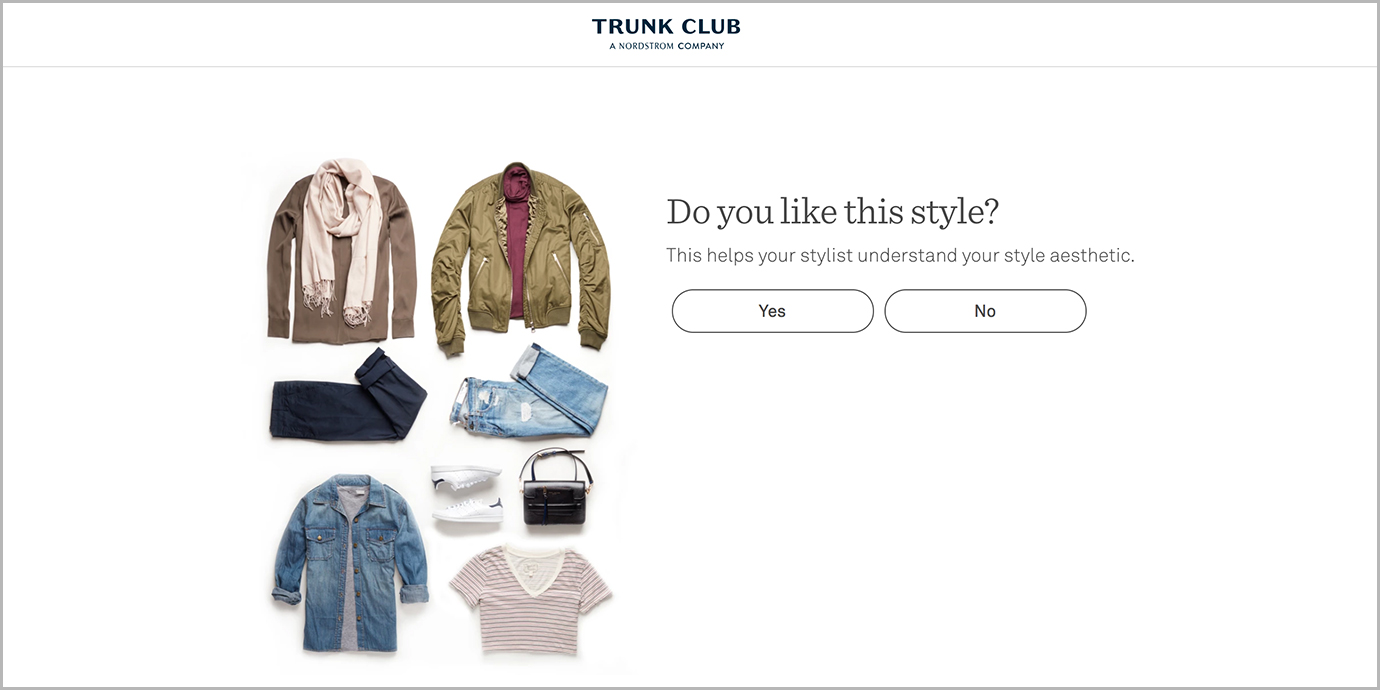 At the end of the quiz, the customer can specify how often wants the trunks to be sent, for example, one time, or every one, two, or three months. Next provide a name, zip code, mobile phone number, and email, and create a Trunk Club password. From there, the stylist will message to find out if the customer wants anything specific.
#6 E-commerce Wine Subscription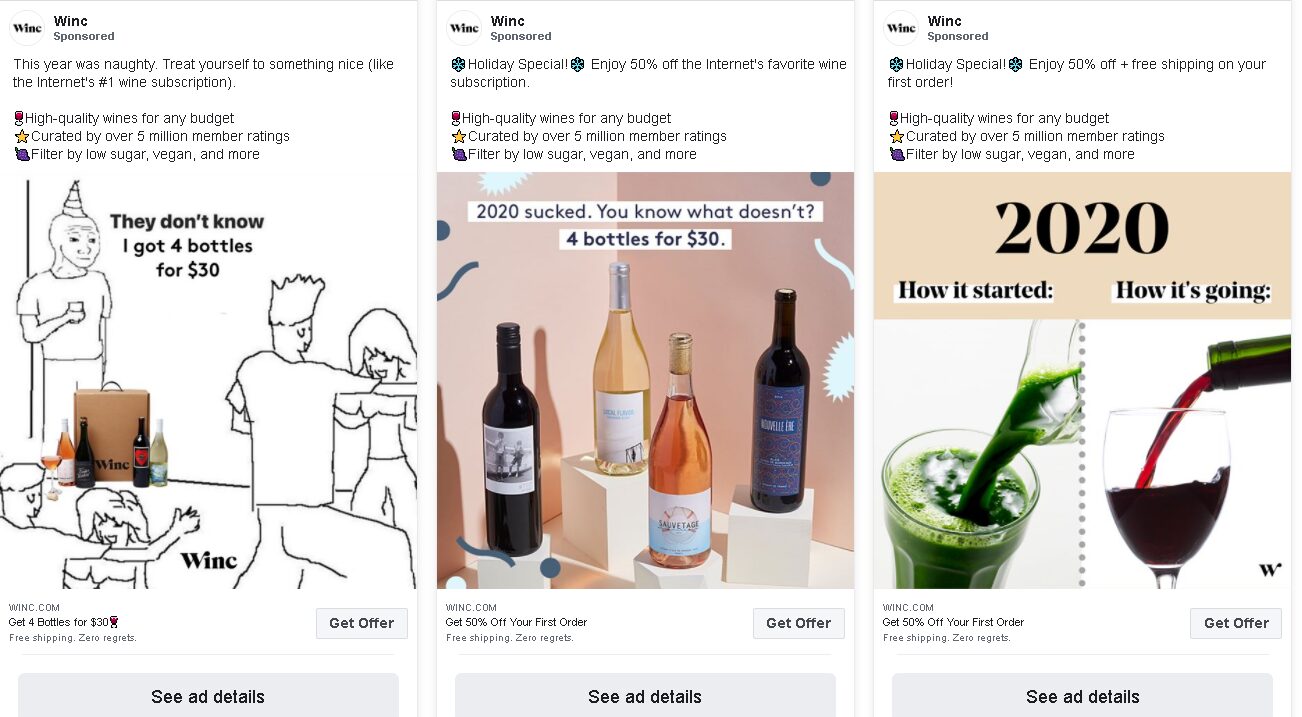 For the E-commerce wine subscription, we have Winc's example. This advertising is made for the holiday season with a 50% discount offer for the first order. We see three bullet points showing the strongest traits to impress potential customers. Added to that, a good message appears on the image to stir up interest for customers that were affected by this year: 2020 sucked. You know what doesn't. 4 bottles for $30. If the potential customer clicks the Get Offer button, he will be redirected to a landing page: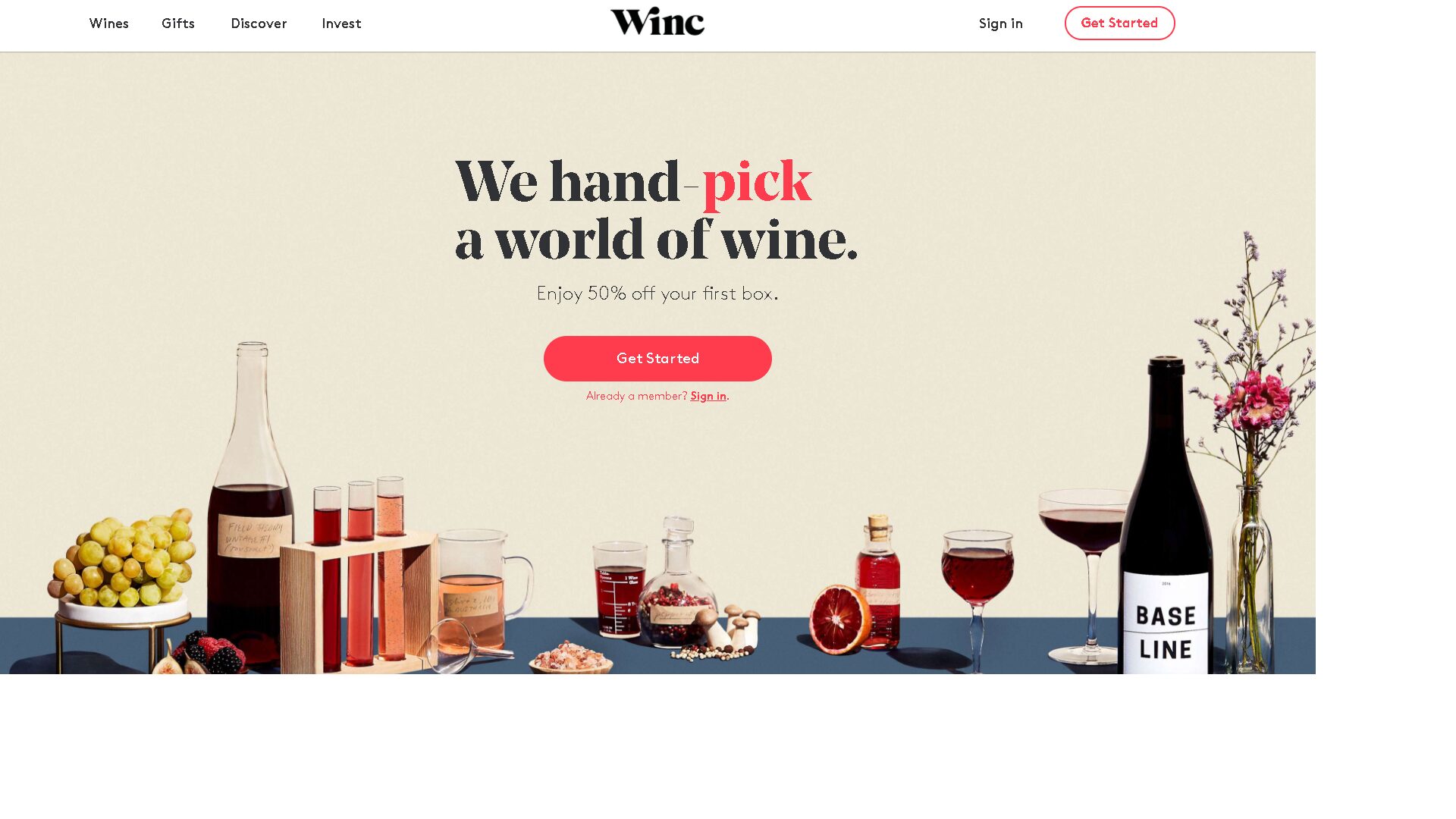 When customers arrive at the landing page a series of questions will appear by pressing the Get Started Button.
Every question has a purpose in finding the best wine recommendation from Winc for the potential customer. To see the recommendation, the customer must complete information: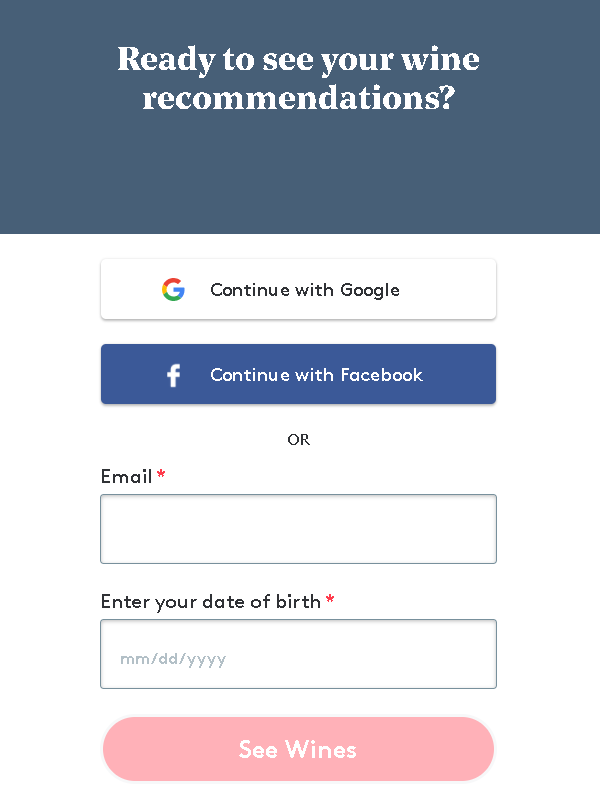 #7 E-commerce Subscription For Kids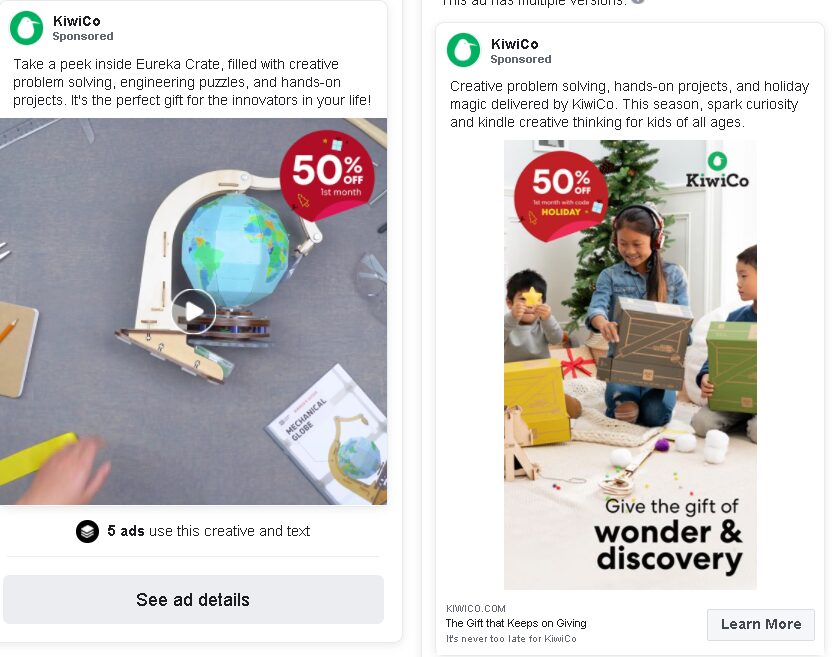 Kiwico is another e-commerce subscription example. This advertising is also made for the holiday season with a 50% discount offer for the first order. The products are a little bit different from your ordinary kids' toy, and a careful explanation can be found in the description so the customer understands what they'll get.
If the potential buyer clicks the Learn More button, he will be redirected to a landing page.

On the landing page, the customer needs to press the Get a Crate button if he is interested in subscribing. Kiwico explains how these toys are made to inspire young innovators.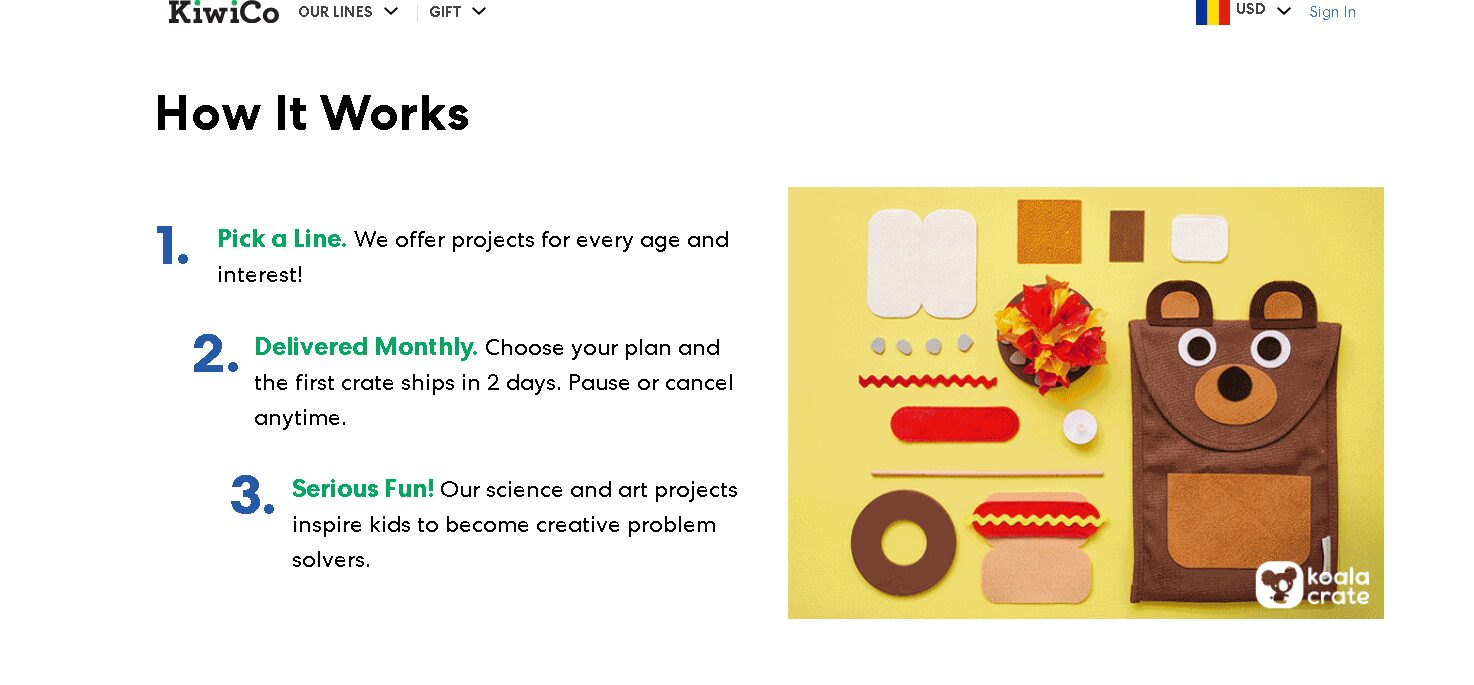 The customer can find more about the toys and how the process will look like by scrolling down on the landing page.
Conclusions
In order to attract clients into subscribing, you need to find the proper offer and combine advertising with good aesthetics, added to a powerful Call To Action. Try to mix these and switch offers according to your niche and seasonality.
If you found this article useful and need help with implementing marketing strategies and ideas, get in touch with our team.
Other articles that you may find interesting: Ecommerce Offers That Always Help To Increase Revenue, Profitability & Conversion Rate; Digital marketing for luxury brands during the CRISIS; B2B eCommerce Marketing Strategies for Social Media.