Offering promotions and special offers to your potential customers is an effective method of driving traffic to your E-commerce store. Also, it helps to get new customers, and growing revenue. These online sales can encourage new visitors to become loyal and repeat customers.
Popular E-commerce Promotions Ideas:
Buy-one-get-one (BOGO) offers
Percentage Discounts Promotions(Percentage Discount & Dollar Value Discount)
Free Shipping offers on products
Product Bundling offers on e-commerce sites
Today's online consumers are more knowledgeable than ever. The fact that there are more online buying options than ever can often take extra persuading to get your visitors to click the checkout button. In this context, your E-commerce promotions will be one of the most valuable persuasion tools available to you. Every online shopper wants a deal and to know they are getting the best price possible when making their purchase.
Now that you understand the role of special offers and promotions on an E-commerce website, let's take a look at some powerful and simple promotions that will work wonders. Be aware that what works in one industry may not work in another so you have to choose carefully. For example, you can't do offers for luxury brands. It diminishes the brand perception.

#1 Buy One, Get One Free(BOGOF)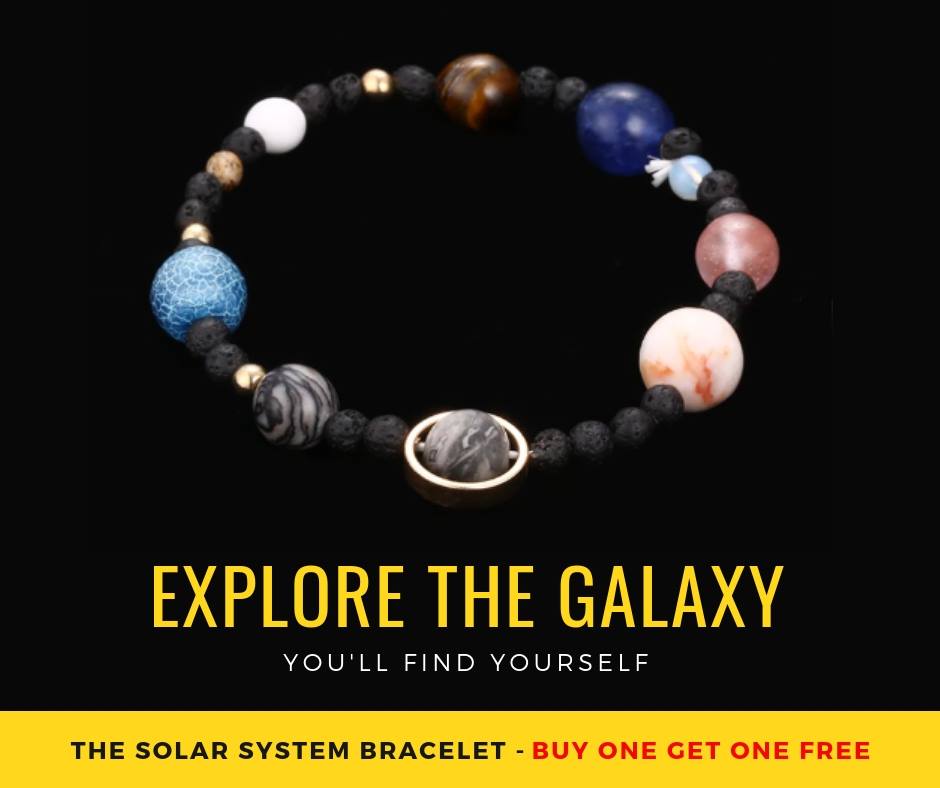 Everyone likes getting items for free. Shoppers generally overvalue the benefits of free even when compared to higher-quality items at a discounted price. That's when Buy One, Get One Free (BOGOF) is born. This is a proven sales tactic with many variations. It creates a sense of urgency, pushing customers to buy. Also, a flash offer prevents customers from getting used to buying on the discount terms. The Buy One, Get One Free strategy is a great discount technique that can increase the conversion rate by two-three times.
The benefits of BOGOF
BOGOF e-commerce promotions have two benefits. It helps you clear out specific inventory, which helps your cash flow, and is generally more profitable too. By giving away a specific product in a sale, you can move some of your older stock that you are struggling to sell otherwise. Also, getting cash for slow-moving stock means you can reinvest that cash elsewhere. This is a powerful tactic that can boost your marketing campaigns more efficiently.
One of the successful online promotions is BOGOF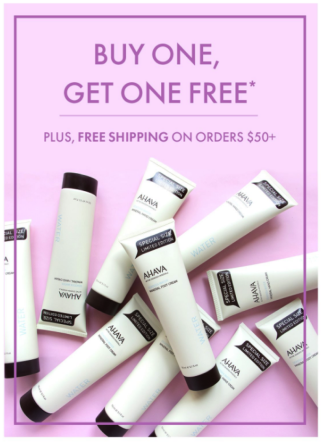 People who utilize Ahava products will want to take advantage of this deal and stock up. The design is clean, and the Call To Action(CTA) is clear. The offer to get free shipping also encourages bulk buying. We will talk more about free shipping in another point bellow.
Adding a free product will give your customer the impression that they're receiving a better value, while psychologically priming them to have a positive opinion of your company after the transaction. At the same time, it will create an incentive to spend more money each time they frequent your site. According to Shopify, the BOGOF feature is one of the top performers. If executed properly, you can see higher sales, bigger orders, and better conversion rates. A well-executed Buy One, Get One deal is a solution for scaling a brand while keeping a healthy profit margin and a higher conversion rate.
#2 Product Bundling Offers on E-commerce Sites
Product bundling is a type of upselling and cross-sells strategy that entices shoppers to order more items and enjoy the benefit of a bundled pricing. This strategy works because shoppers will perceive that they will save more money by buying two or more items together rather than purchasing them one by one. It's also one of the most used strategies to increase a customer's average order value.
Let's look at an example from BaubleBar's "Positive Vibes Special Pack!" product bundle. It allows customers to select 3 bracelets for a lower bundled price.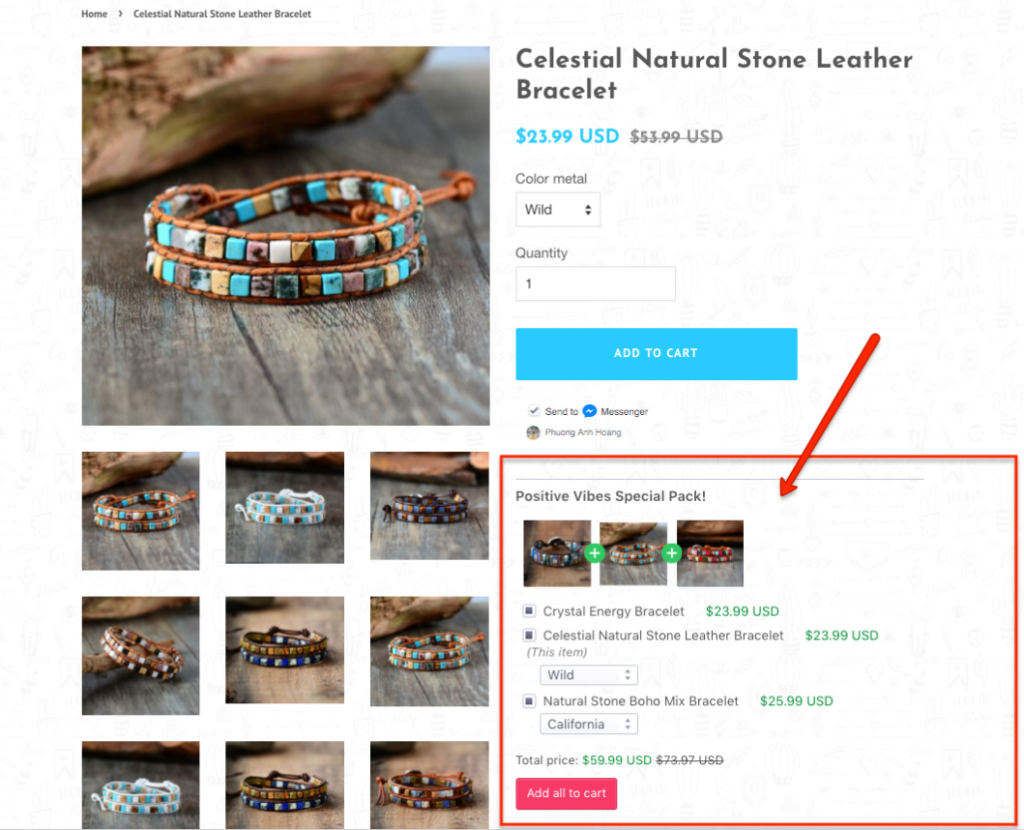 #3 Free Shipping E-commerce Promotion Strategy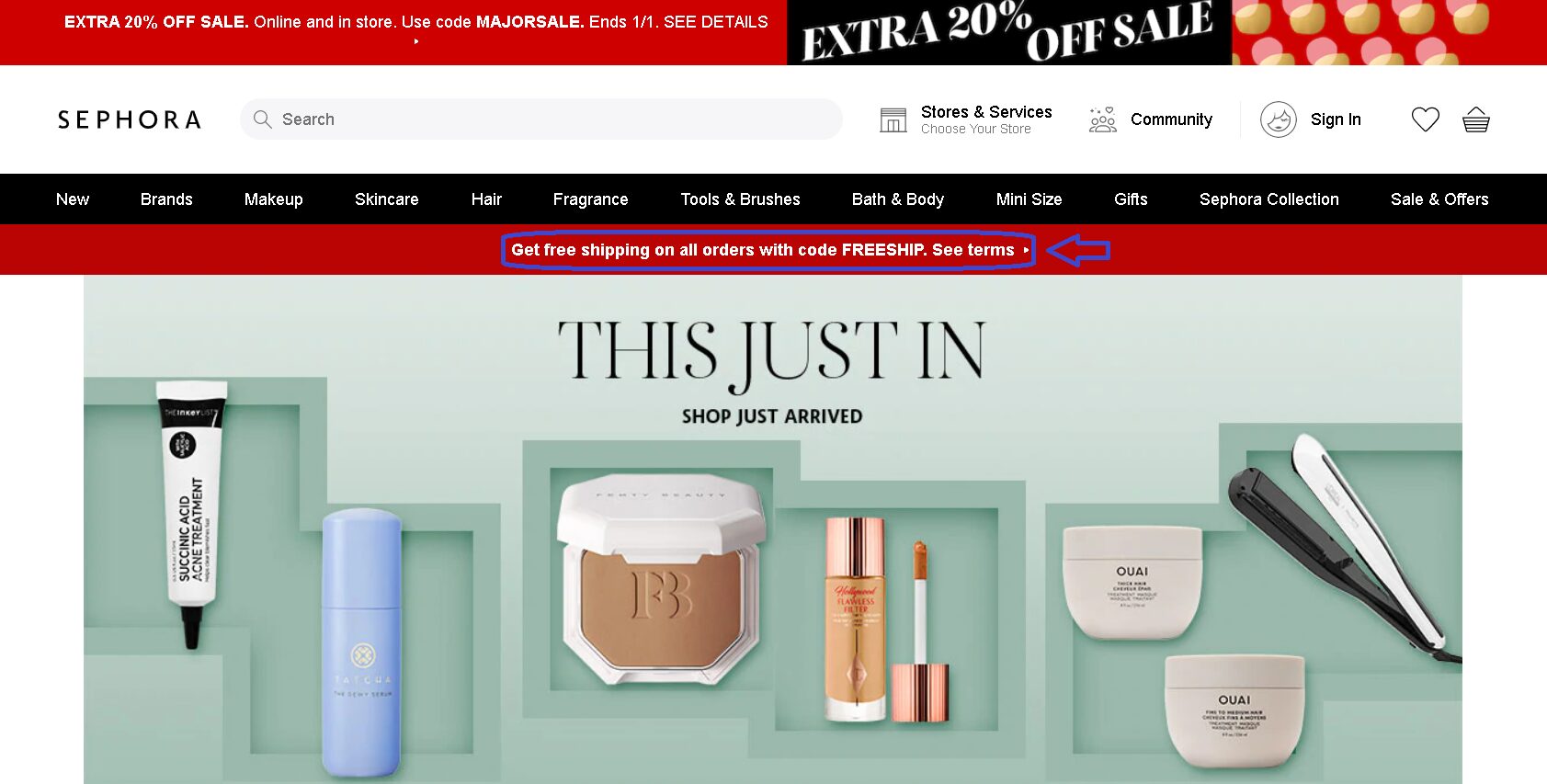 Everybody loves free shipping. Extra shipping charges during the checkout produces cart abandonment. This is also known as the Achilles' heel of the E-commerce website. Apart from eliminating an expense many of your visitors may be expecting, free shipping can simplify the entire sales process.

Research shows that 73% of online shoppers say free shipping is what they want to see at checkout. Two out of three shoppers said they would buy more online if they knew they could return items with free shipping. Of course, to offer these services free, you'll need to set your pricing and business model to be suitable.
As long as you do it right, free shipping is a good idea. Here are some tips for a successful free shipping strategy to use as your E-commerce promotions.
Determine how much you need to sell to be able to provide free shipping. You need to factor the shipping cost into your cost of the product and find out if it's realistic. The last thing you want to do is to lose money. This metric will help you discover whether you can afford site-wide free shipping or need to get creative with the options below.
Set a minimum buy threshold. To qualify for free shipping, the purchaser must buy, for example, $50-100 worth of merchandise. In this model, you can guarantee that your profit margin on each order will remain high, while still providing free shipping.
Use free shipping as an incentive to buy during a short marketing campaign. You don't have to offer year-round free shipping. If you're going for a seasonal push, try it for a week or a month. When you give them this offer while they're in buy mode, you have a better chance of scoring success with it.
Free shipping on returns. One of the best ways to overcome buyer's remorse is to offer free shipping on returns, as I mentioned at the beginning. It's a huge relief to know you can send it back with ease that sweater you ordered which turned out to be the wrong size. Free returns don't have quite the same sell potential that free shipping does, but it can work. It can work well if you sell merchandise that has a high likelihood of buyer's remorse or return rates (e.g., clothing, footwear, etc.)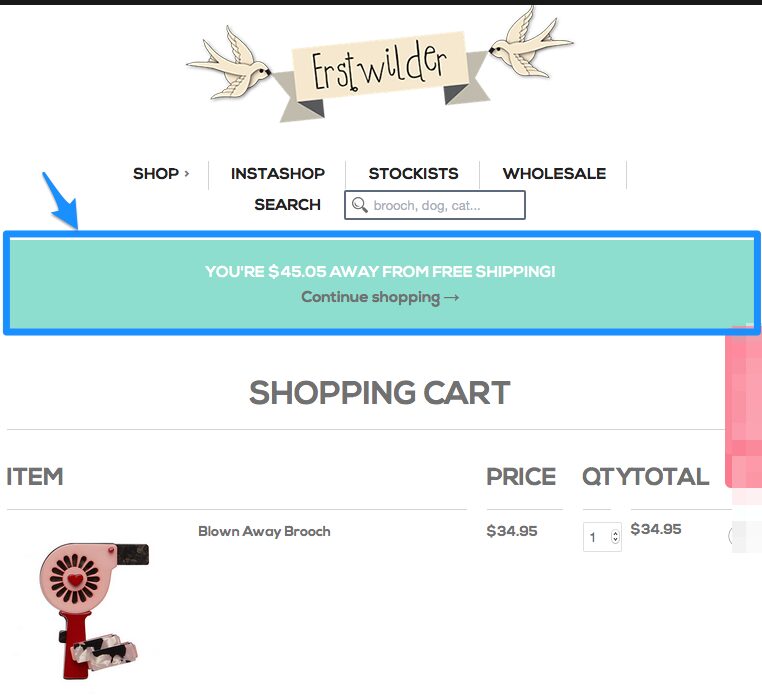 For better efficiency use the bar presented above to encourage customers to buy more.
#4 Percentage Discounts Promotions
According to researchers, 57% of shoppers say they would not have made a first-time purchase from a new retailer without a coupon. This means that if you're not offering any discounts for your E-commerce store, you could be isolating over half of your potential customers.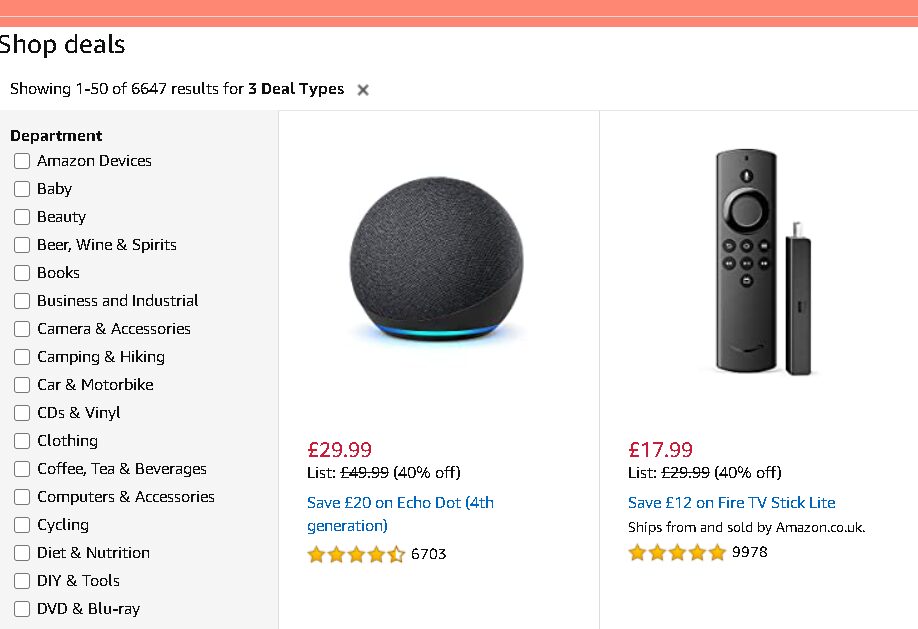 You can choose to offer a certain percentage off of a specific product, or off of an entire order. Use a smaller percentage of discounts to get your customer's interest. Larger discounts, like 50% off or more, are good for liquidating inventory that isn't selling otherwise.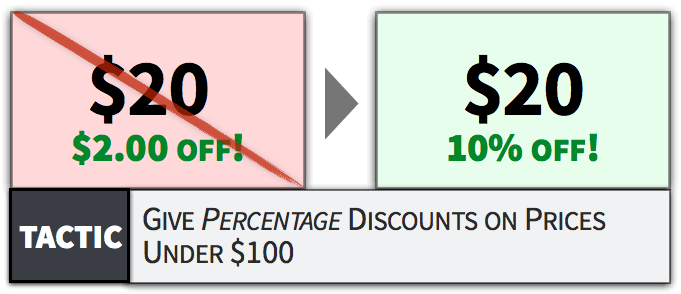 You can choose between offering a percentage discount or a dollar value discount for individual items. If the item that you are discounting costs less than $100, use a percentage discount. If it costs more than $100, use a dollar discount. According to Shopify, this strategy provides a higher perceived value which improves sales.
A dollar value discount, such as offering $10 off, can make customers feel like they're getting "free money" rather than saving it. This discount can generate up to 170% more revenue. Also, can generate up to a 72% higher conversion rate than a percentage discount, according to one study from Entrepreneur. This discount can work in two ways. You can make it static, or make it dependent on how much a customer spends. You can do that by offering $10 off orders over $100 and $25 off orders over $150 at the same time. The second way can increase the average purchase value by encouraging customers to add more to their carts to receive a bigger discount.
When To Use E-commerce Promotions Strategies And Special Offers
There are certain times when E-commerce promotions can have an even greater impact on sales.
When scaling a brand
Weekly / Monthly / Quarterly
Pre-launch (of a website, of a new product, or anything else applicable)
Holiday / Seasonal Promotions (Black Friday and Christmas, but also any holidays or seasons that align with your brand)
Abandoned Cart – Target abandoned carters via email marketing with special offers to seal the deal
Email / Newsletter Subscription Offers – Include special offers and promotions exclusive to those on your email list. Advertise this on your site to encourage newsletter and email list sign-ups
Social Media Engagement Incentivisation (e.g. Like us on Facebook for a 10% coupon)
First Time Visitors – Create special offers for those making their first visit to your site
Customer Loyalty – Reward repeat customers with special offers
Exit Intent – When a user intends to exit the page, you can create a special pop-up offer to make them stay on the site and make a purchase
In conclusion, no matter what kind of promotions you offer your customers, discounts can be very effective. You can drive customer loyalty, boost word-of-mouth marketing, and help your business grow.
If you found this content useful and need more information or help in implementing Marketing Strategies and Promotions, get in touch with our team.
Other articles that you may find interesting: 5 EyeCare Marketing Strategies That No Marketer Will Dare Tell You; Digital marketing for luxury brands during the CRISIS.