In the eyecare practice, to be successful in the long-term, marketing is an investment that must be made.
Eyecare marketing strategies can be overwhelming when you lack the time and resources to start and execute campaigns. There are many ways to create a strategy for your practice effectively. Below you have five eye care marketing ideas to start doing now.
1# Quiz Eye Surgery Advertising Ideas
Having a strong offer in the Eye Surgery domain is a must. Give your client the feeling that he is in good hands. One way to make it happen is a Quiz Marketing Strategy. It tells your client indirectly that you want to find his problem and give him the proper solution.

For example, let's take a look at this Advertising from Optical Express.
In the description of the advertising, we find essential questions that every person who is wearing glasses is trying to figure out the answer: Ok, I've heard about Laser Eye Surgery, but how can I tell if this is what I want and need?
After Optical Express hook the viewer up, they make a Call To Action to Learn More about the test and find out if this is the right service for them.
Let's find out how the quiz looks like.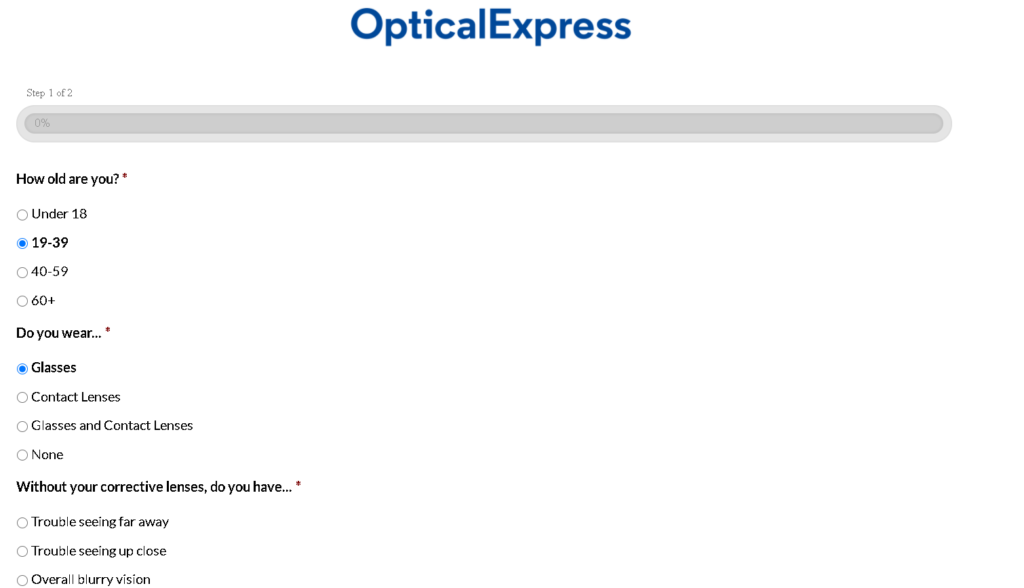 Clicking the Learn More button will send the potential client to a landing page where the quiz will take place. This is step one out of two.
The first Step creates curiosity and desire in finding the answer. They have a few questions that don't cost too much time to answer.
After the potential client checked all the questions, on the next step he will find this: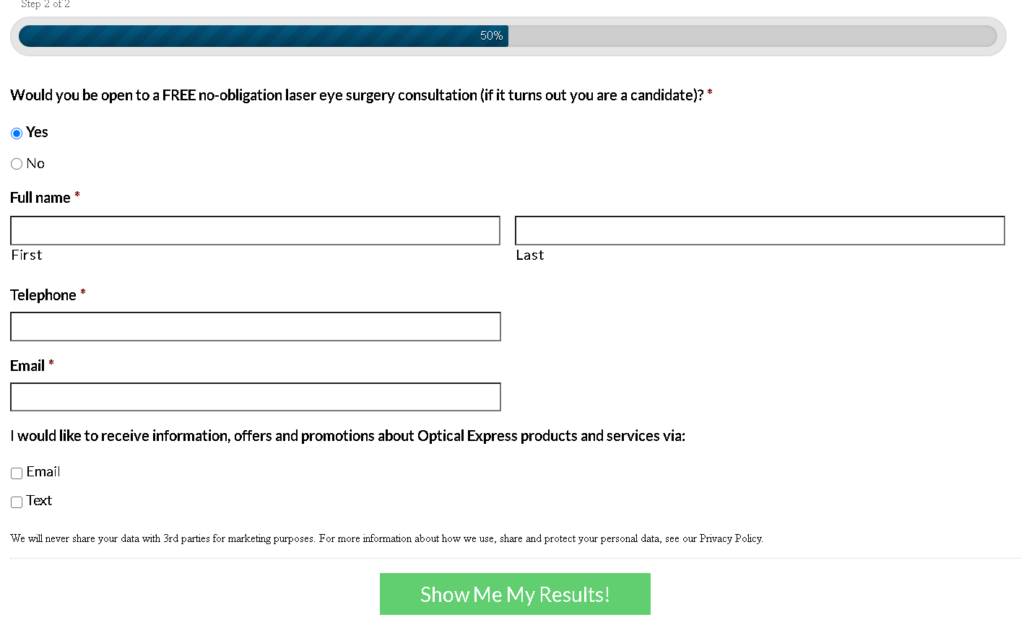 The second step comes out a little disappointing because it asks to complete further details to learn the answer. But, since the potential client passed halfway in the majority of cases, he will make a second step to learn the answer. It's a psychological trick that makes it easier to increase the conversion rate. Putting everything only in the first step makes your conversion rate much lower. Complex things, like completing too much stuff make the user give up.
Another thing we have here that hooks up the potential client in completing this second step is a FREE Consultation Sample.
A free consultation is a sales tool. Like any sort of sales tool, you need a strategy if you want it to work. This mentality is very important but is also easy to overlook.
Try not to solve your prospects' problems for free.

The purpose of a consultation is to understand your clients' situation to see how and if you might be a good fit to help them. But remember that the actual helping part should come after they've paid you. Consultations are not and should not be brainstorming sessions where you take care of your client's problems for free.
Let's take our example. If you're an eye laser clinic, your free consultation might explore whether a client has a severe problem with the eyes or not. Likewise, it's a chance for you to provide an explanation of how you work with clients and how your service can help them solve their problems.

Coming back to our example from the image above, the client inserts their information in the fields presented; their credentials – full name, and contact information – telephone and email address. After completing all the fields required and click the green button, the client can book the FREE Consultation. Also, Optical Express has a new LEAD to transform into a customer.

This Quiz Marketing strategy presented above is a good Lead Generation campaign that converts well, because of the good use of the two-step test and the free sample consultation.
#2 Importance of a Landing Page on Strong Offer
A landing page is a standalone web page created for an advertising campaign. Where visitor lands from advertising. Normal web pages have many goals and encourage exploration, but landing pages are designed with a single goal or Call To Action (or CTA, for short). This way landing pages are the best option for increasing the conversion rates of your eyecare marketing campaigns while lowering customer acquisition costs.
Let's take a look at an example.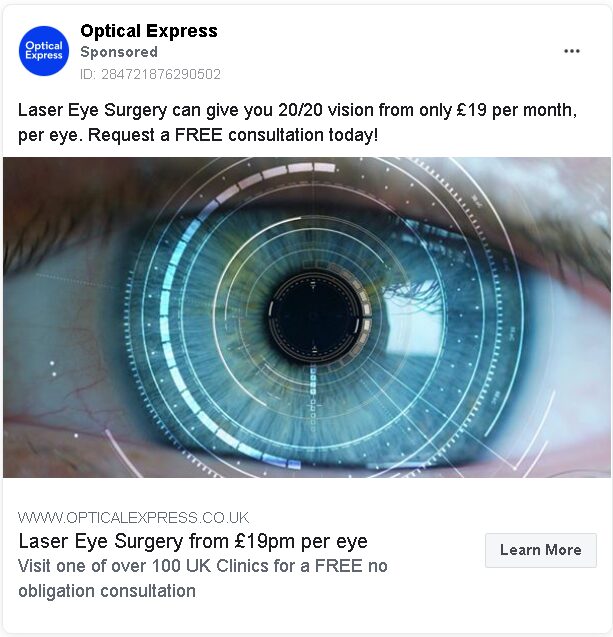 To attract potential clients on our landing pages we need to run advertising. In the advertising example above, they make a bold statement that Laser Eye Surgery will bring the client a great benefit for a lower price. Added to that we have the FREE Sample strategy that is very effective in marketing. This is enough bait to convince the potential buyer to click on the Learn More button. Now let's go to the Landing Page and see what happens there.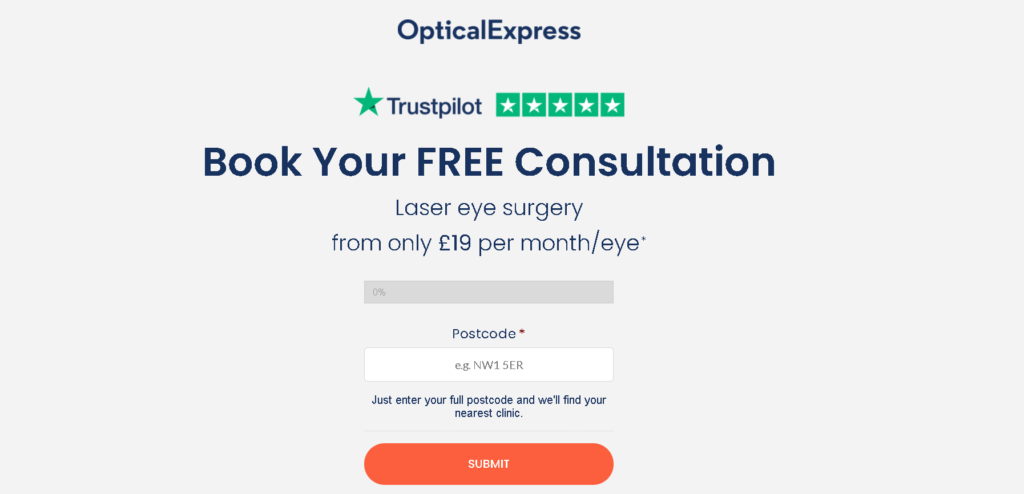 The first thing we see when we land on this page is the CTA written in bold so you can't miss it. The client will put specific information to help him find the nearby clinic to claim the FREE Consultation. Yet, the client wants some proof that you are not a scam. So they start investigating more on the landing page. This is where YOU need to pay attention to. Now is the time to give them proof and powerful guarantees.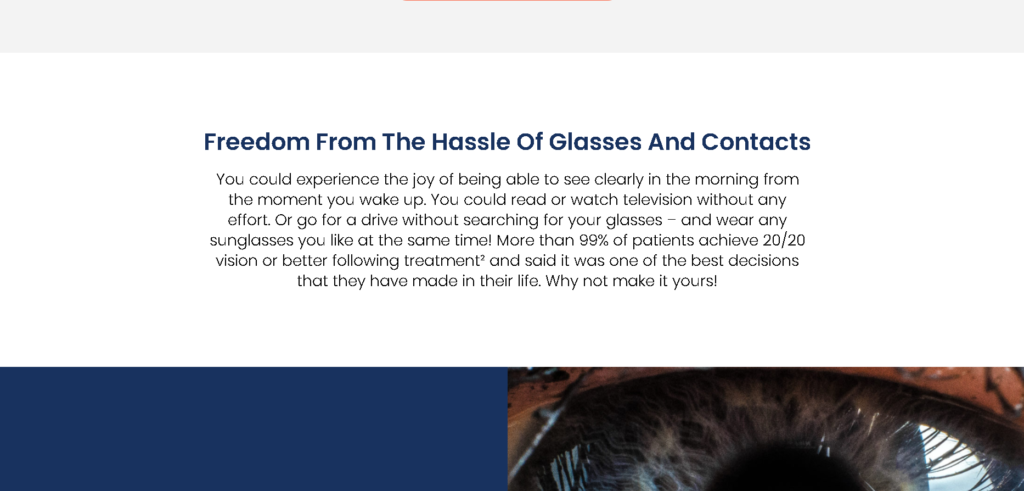 The image presents the benefits of this service, followed by a powerful guarantee. This statement makes the client more relaxed. It gives him more confidence and builds more trust in the clinic.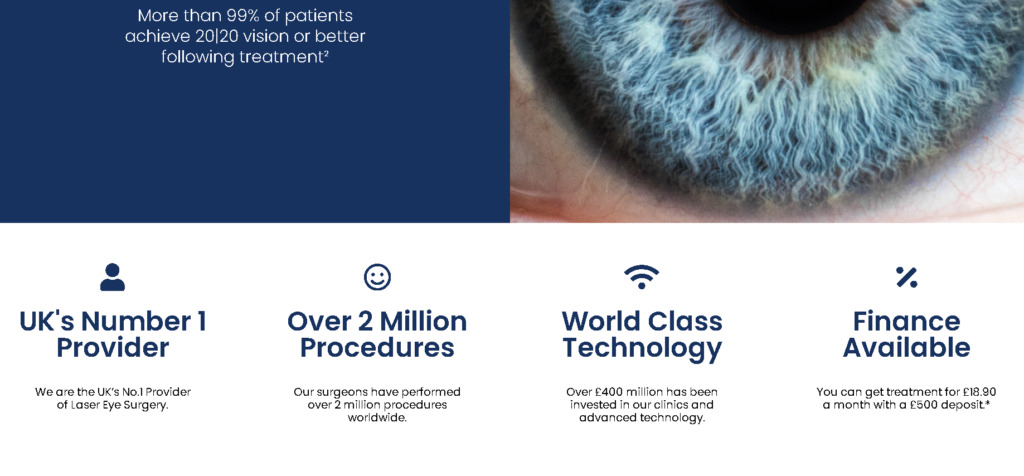 If the client was still skeptical of this free consultation, the next scroll he will find the ultimate social proof and credentials. Each of these four bold statements creates trust. This encourages him to submit details for the free consultation.

Let's make a quick recapitulation. The landing page is very important on a strong offer, and for you to create a good landing page you need:
a powerful CTA (Claim your FREE Consultation);
a powerful guarantee to make the client more trustworthy towards you;
social proof that will make your potential buyer reach out to you through your landing page. Social proof can be a video of the customers, can be a video of you consulting other clients, reviews from existing customers.
#3 Customer Lifetime Value(CLV) and the Importance of this Metric
This metric represents the total amount of money a customer may spend on your products during their lifetime. Why is this so important? It helps you make the right decisions on how much money to invest in attracting new customers and retaining the existing ones.

For example, the CLV of an Eyeglass owner might be as much as £5,000 if they are happy with the glasses and the services that the opticians provided him. He will end up buying several pairs throughout the years. The CLV of a regular coffee drinker might be even higher than that, depending on how many cups of coffee they drink a day and where they buy it.

CLV is about how much you should invest in a customer to maintain and keep your relationship. If you estimate one customer's CLV to be £200, you wouldn't spend more money than that to try to manage the relationship. It wouldn't be profitable.
Calculating CLV
Now that I explained why it is so important let's take a step further and find out how we can actually calculate the CLV and put it out for a test yourself:
CLV = average value of a purchase X number of times the customer will buy each year X average length of the customer relationship (in years).

A customer with eye problems who buys eyeglasses from your optical store might be worth:
£400 per pair of eyeglasses X 1 pair per year X 8 years = £400x1x8=£3,200

And the customer who wants sunglasses or computer glasses :
£150 per pair X 1 pairs per year X 4 years = £150x1x4 = £600

So who should you be paying more attention to? Clearly, the customers with eye problems in your database. This is just an example. There are many more details to consider. For example, you may target people who are interested in expensive frames from well-known brands, and that way your CLV will be much higher.

Exercise for yourself:
-Try calculating your CLV for your typical customer and find out who you should be investing in and who you should not.
The Value of Knowing Your CLV
Calculating the CLV for different customers helps in many ways, mainly regarding business decision-making. Knowing your CLV you can determine, among other things:
How much you can spend to get a similar customer and still have a profitable relationship
What kinds of products customers with the highest CLV want
Which products have the highest profitability
Who your most profitable types of clients are
Together, these types of decisions can considerably increase your business profitability.
As a final say, you'll build a more profitable, successful business by focusing on attracting and retaining long-term customers who will become advocates for you, as well as repeat buyers.
#4 The Power of Aesthetics in Marketing
Aesthetics in Marketing deals with understanding aesthetics beyond its visual association. This makes it relevant to product designing strategies. It is a powerful source for the impressions and reactions that customers have about an organization or a brand. A well-consolidated identity based on aesthetics can start gaining and keeping the clients.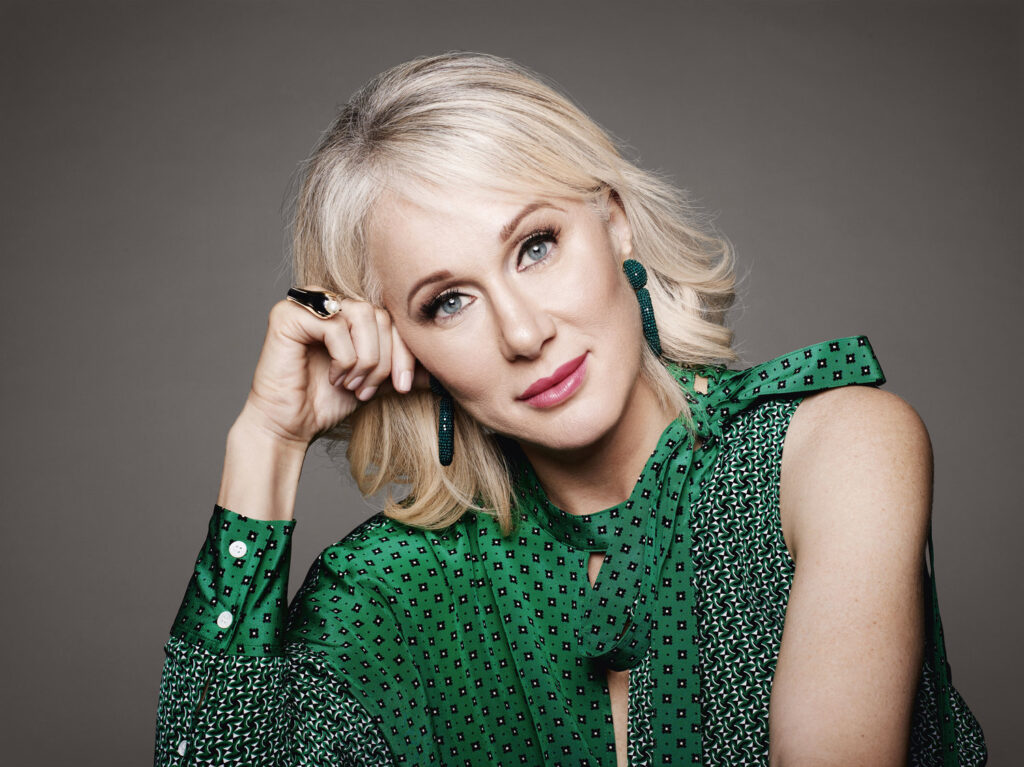 "There is no great brand without good Aesthetics."

— Pauline Brown (Moët Hennessy Louis Vuitton)
---
Let's take a look at an example.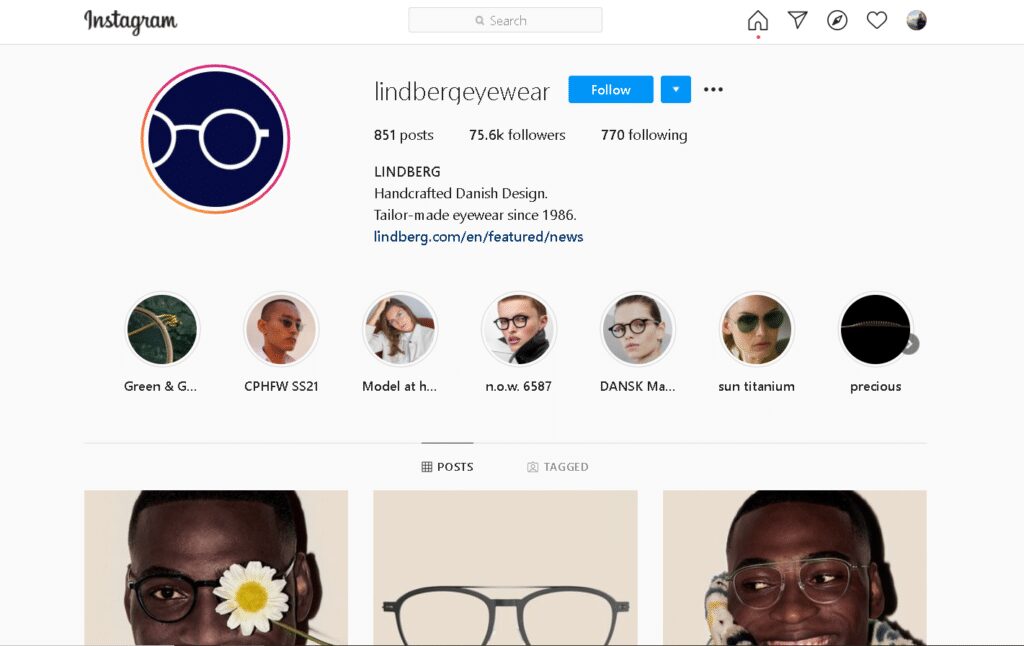 Lindberg is an eyewear brand that focuses on good aesthetics which helps to attract more buyers and get an unfair business advantage. They have well-structured posts that when put piece to piece gives a harmonic view. Another benefit of good aesthetics is keeping them on the Instagram page and coming back to see more and share photos' with their friends.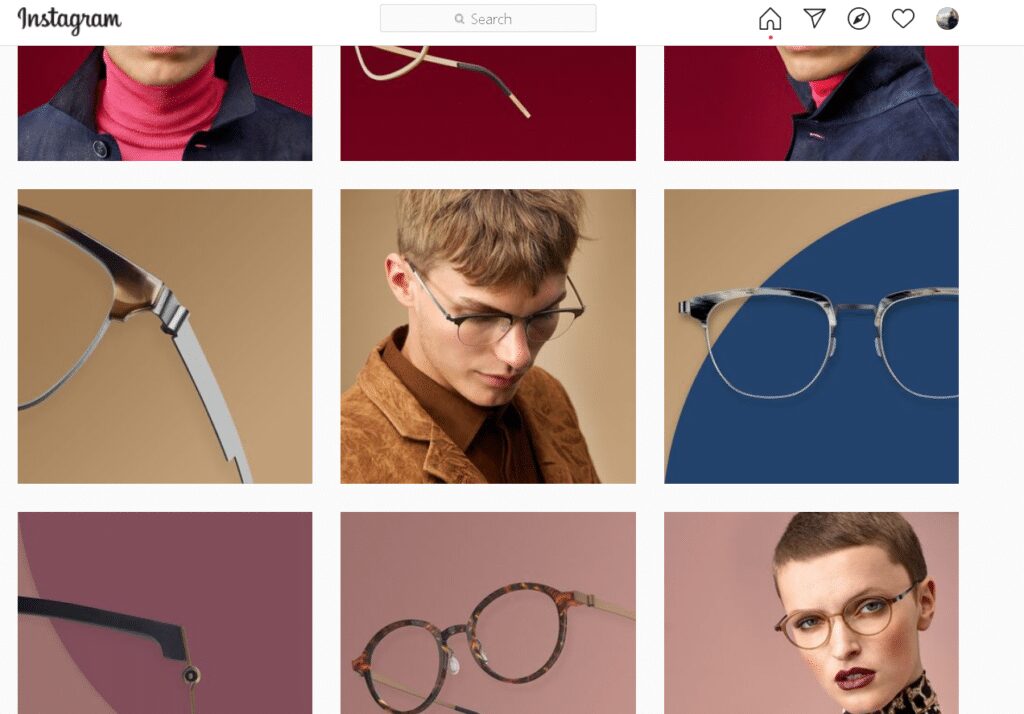 Because of this, it can enhance your eyecare marketing strategies.
According to over 40% of consumers, aesthetics makes customers more likely to share a product image or video on social media. That means the power of aesthetics not only affects the experience of your consumer, but it also affects the likelihood of that consumer sharing the experience and perpetuating your product.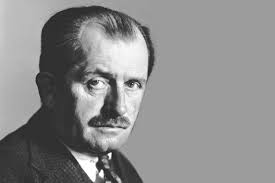 "Design must be functional, and functionality must be translated into visual aesthetics without any reliance on gimmicks that have to be explained."

– Ferdinand Porsche
Whether you understand your brand's aesthetic or not, your brand is perpetuating one at all times. But you will only grow if you learn how to make it work for you rather than against you. With a deeper understanding and a commitment to radical clarity in communication, brand meaning, and purpose, you can elevate and grow your brand. Putting the aesthetic first is the key to creating iconic brands that transcend category. Also elevating your product with a defined cultural meaning.
#5 Marketing is Not Enough – Customer Relationship Manager (CRM) and Sales Pipeline

For this last topic, I want you to stop thinking about marketing for a second and think about selling. Because you can't make a profit if you aren't making sales, correct?
Having Sales CRM in place is exactly what all sales managers need to make sure the team reaches potential clients as fast as they sign-up for the offer or asked something.
CRM helps you to safely and centrally store your contacts, sales opportunities, activities, and scheduled plans in one place, and have uninterrupted access to the database from multiple locations.
CRM helps you create a Sales Pipeline.
A sales pipeline can help you visualize your sales process. It will show you where in the sales funnel all your deals are, where deals are stalling and which sales activities are bringing in the most revenue. It makes goals easier to achieve by breaking the sales process down into small, trackable tasks.
After the prospecting phase, where you generate leads through ads, public relations, or other promotional activities, you must put the prospects' information in CRM where you will have different stages that will help you close the deals.

1. Lead In
This step is where you put the contact information from your lead that you want to be in CRM. You will create a contact with the prospect information and all data that you found out from your prospecting phase. To get to the next step you need to make your first contact with your prospect. Sometimes this is a face-to-face meeting, sometimes it's over the phone.

2. Approach
You move the prospect in this step after you've made the first contact. Afterward, schedule a meeting to introduce potential buyers to your offerings and solutions. At this point, you want to evaluate if there is a strong business case for the lead to receive a proposal.

3. Proposal
In here you put the leads that are qualified to receive a proposal. Make your proposal by summarizing how your company can help with the potential customer's needs. Prove how the prices you propose deliver more than enough value to compensate for the engagement cost. Also in here, you can update information if a negotiation takes place. Discuss with the client, adjust pricing, and manage expectations to come to an agreement on a mutually beneficial partnership.

4. Deal Made / Sale
Finally, in this step, you close the sale and move toward order fulfillment. What you can do after is to invest in providing exceptional service during onboarding. It is best to track the account's progress from time to time. At opportune times, you can cross-sell existing customers on new services and upsell them on premium solutions. When the contract is about to expire, you can explore renewal options with them. A good thing to do also is to ask for referrals to other potential customers, from your happiest clients. If they were happy with your services and products, then they will tell the others about you.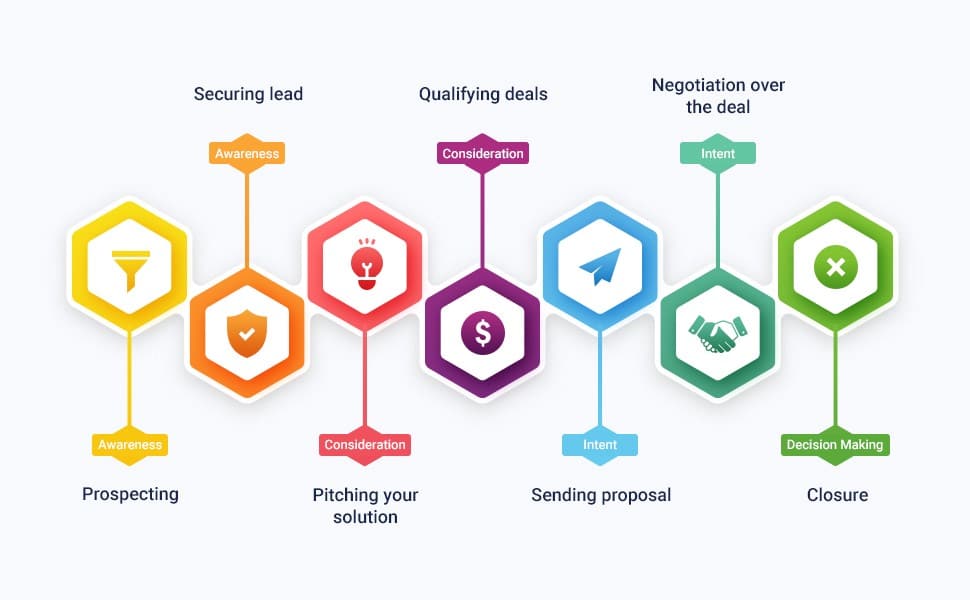 Believe it or not, even though CRM systems are not that cheap, in the long-term they actually help save up money, or you can say it helps you earn more money.
In conclusion, if adopted and used correctly, CRM is going to boost the performance of any sales team, and will help salespeople to excel in 4 areas that are critical for them:
better search, sort, and qualify leads;
follow up on sales opportunities systematically and on time;
prioritize and rationalize follow up activities;
increase the target reach rates faster.
Finally, CRM enhances sales people's mobility, as the database and all your work-related activities can be accessed on multiple devices and from different locations.
For more information on marketing strategies, get in touch with our team.
Other articles that you may find interesting: 10 Eyewear Marketing Strategies for Social Media Proven by Successful Brands; Digital marketing for luxury brands during the CRISIS.