The subscription service industry is booming.
Less than a decade ago, the public was particularly reluctant to use their credit cards online, let alone sign up to repeat subscription purchases. After relentless marketing, irresistible deals and quality products, online natives now see subscriptions as second nature.
From food to crafts, instruments to lessons, almost every ecommerce product can now be bought through an online subscription. But as the industry has grown, so has the competition. Effective advertising is vital to successfully marketing these subscription businesses and helping them to stand out from the competition.
We've analyzed online ads from some of the most successful subscription businesses and identified the key elements that should be part of your subscription business marketing strategy.
Video Streaming Subscription Business Marketing Strategies
Amazon Prime Video
Amazon Prime Video ensures that they promote exclusivity when composing social posts. Their use of the phrase 'only available on Prime Video' is frequently used. By giving people no other option than to use their services, they're increasing the likelihood of new customers signing up. To ensure this technique is effective, they choose their exclusive partners wisely. They must be highly desirable films and shows that are already popular with the public. This comes with a higher price tag that effective marketing must help pay for.
Their most recent example is the second Borat film. After great success when it first launched, the second film was likely to draw the attention of the public. Social post messaging reflects the franchise's very familiar tone of voice and the hilarious teaser videos remind you of why you loved the first show. It's highly likely that this partnership will have brought many new customers to Prime Video.
Amazon also examines topical and emotive subjects like voter suppression with a film called 'All In: The Fight for Democracy'. They use social proof in the form of reviews to boost the credibility of the show. They also waited for the most opportune time to launch the show. In this case, they released it just before the US election had its biggest ever voter turnout.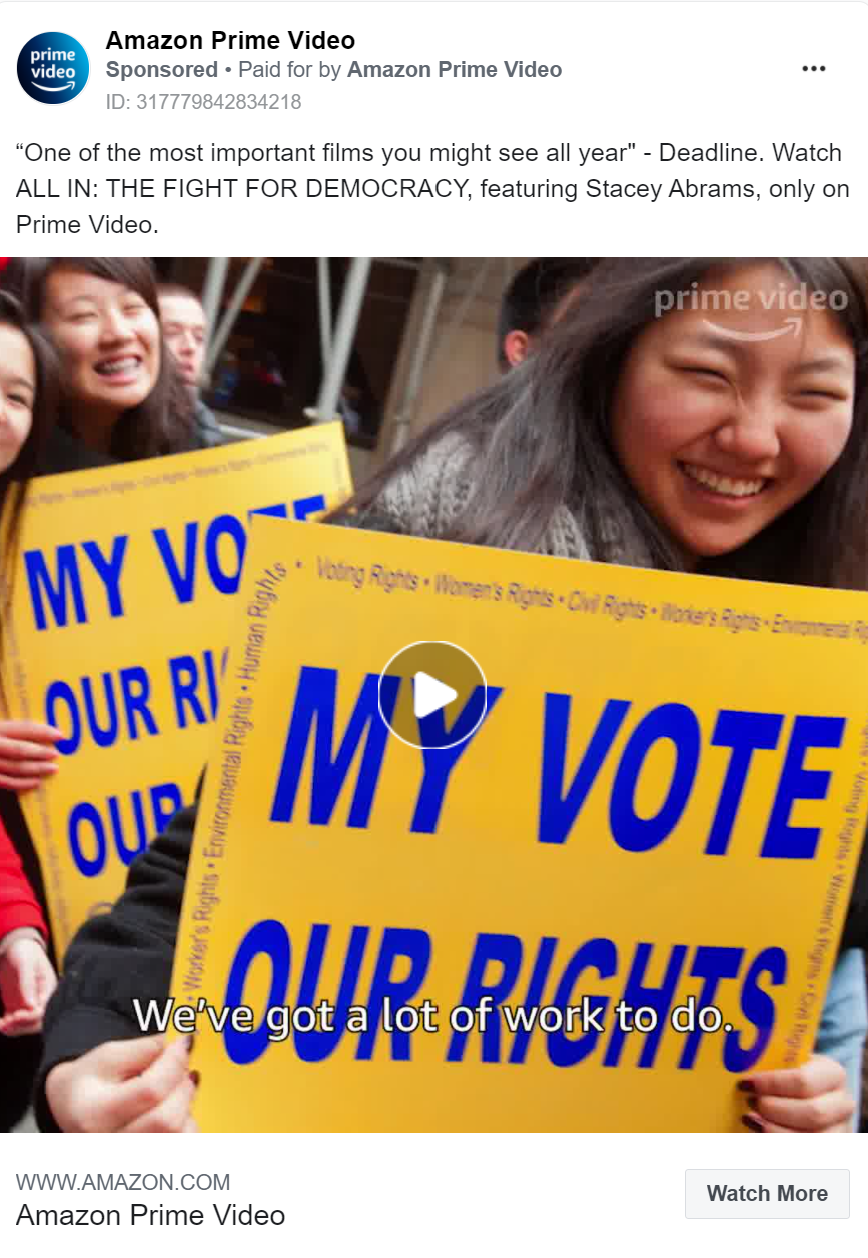 A key offering for all subscription services is free trial periods and easy cancellation. Subscription services are a relatively new offering and these offers were required to overcome the public's initial reluctance to sign up for a repeated online payment. This offer now serves to tempt new customers with a zero-risk trial. In the ad below Prime Video offers a 7-day free trial with the ability to cancel at any time.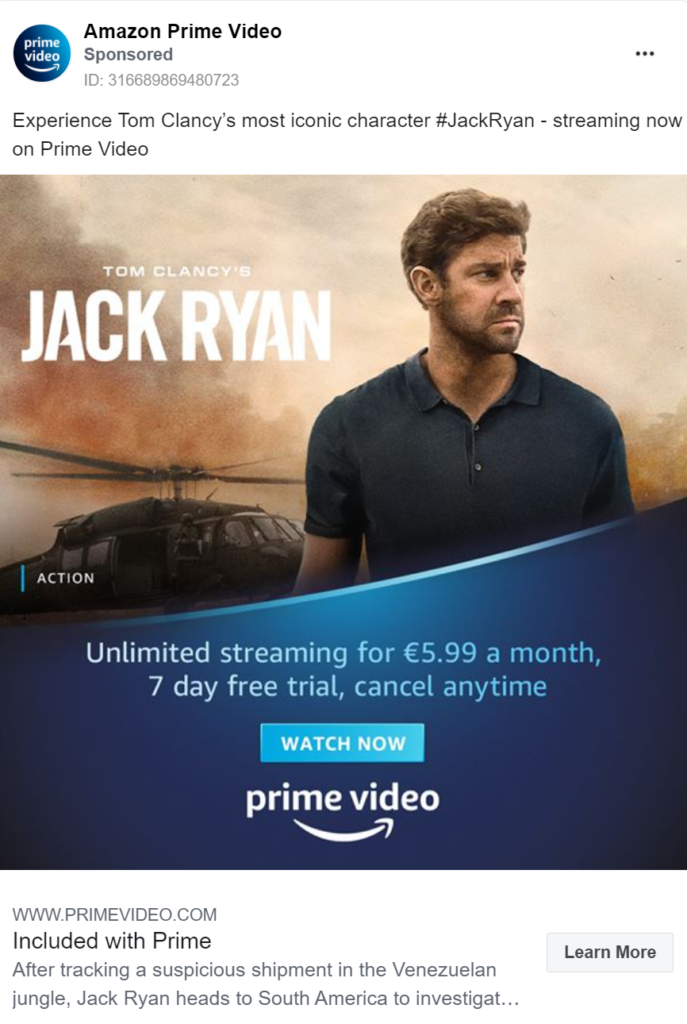 Britbox
British TV subscription service, Britbox, makes their ads more visually appealing and interactive with carousels. Carousels stand out from other social posts, grabbing attention and promoting interaction. By displaying half the ad, viewers are drawn to click the arrow to see more. Once they've interacted with the ad once, they're likely to do so again and follow links to another site.
The carousel feature also allows them to convey several selling points without it seeming overpowering. They promote 'binge-worthy boxsets', 'all in one place', 'no contract' and 'no ads' and 'try free for 30 days'. As a new, less-established service, Britbox offers more than the standard 7 day free trial. It offers a full month!
Like Amazon, Britbox have used images of their most well-known actors and shows to grab attention. The carousel as alone features some of the UK's national treasures including David Attenborough and Judi Dench, as well as the world's 'sexiest man' Idris Elba.
Music Business Marketing Strategies
Amazon Music
Amazon's subscription service for music streaming focuses on the huge range of songs they provide – over 60 million songs! Amazon knows what matters to its audience: range and high-definition audio quality.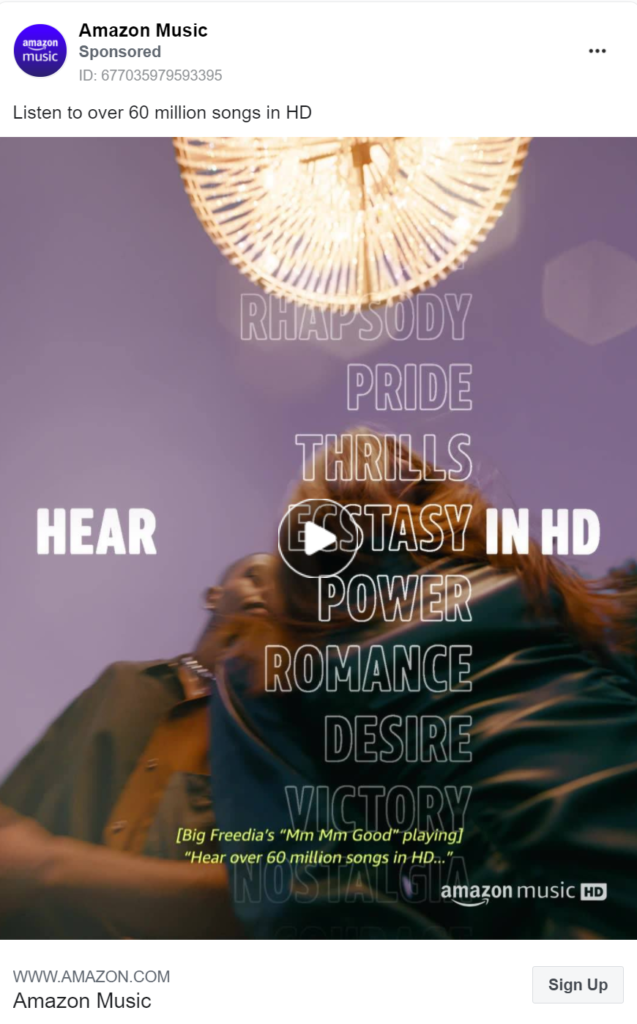 They use their keen understanding of their audience to create unique content and posts that interest them, like the Rolling Stones podcast. They also grab new customer's attention and build brand loyalty by supporting causes like Pride Week. By knowing what makes your audience tick, you can connect with them on a deeper level and encourage repeat business.
Spotify
To entice new customers, Spotify offers their main streaming services for free. Once customers sign up to the free but ad-filled service, Spotify are able to advertise their premium subscription service to these warm leads. They even offer a trial of this premium service for free.
They tailor their social imagery and graphics perfectly to their various target audiences and offerings. By using young graphics for their free services and more sophisticated graphics for their premium services, they're able to better catch the attention of their relevant customers.
Grooming Subscription Business Marketing Strategies
Birchbox and Harry's
Both of the grooming subscription businesses we identified chose to promote their posts about causes as opposed to their products. This may be to boost brand loyalty or connect with their audience on a deeper level. By being a company that understands and promotes its corporate responsibility you can gain more committed followers.
Birchbox, a subscription cosmetics company, focussed on supporting Pride Month. While Harry's, a razor subscription service, has been working with charities to reduce soldier suicide by promoting mental health services for veterans with PTSD.
Education Business Marketing Strategies
Masterclass
Masterclass, a high-end subscription based webinar business, focuses on promoting its high-quality teaching partners From world renowned tennis players like Serena Williams to conservation experts like Jane Goodall, Masterclass does not have to try hard to promote its services. Of course, well-known teachers will have come at a high cost to them and their marketing must ensure that they get the highest value possible out of these collaborations.
Their social posts certainly try to capitalize on their teachers and make them a key feature of each post. Each has a recognizable face known for their skills. Skills the audience wish to share. The posts celebrate the teachers, noting their successes. From Nobel Prize-winners to National Geographic Photograpers, messaging ensures that readers are aware of their teacher's reputations.
Masterclass uses numerous techniques to sell more; they frequently use limited-time offers to push fast purchases, they upsell to current customers, and they promote their products as a gift creating a demand for their premium services.
Udemy
Udemy uses ubiquitous subscription business marketing techniques to promote their courses. They promote limited-time offers, new customer discounts, and quality products to ensure new and repeat custom.
They also advertise their course as a life hack suggesting they will help you 'learn piano in 3 weeks', 'master a skill in no time', 'sound like a pro right from the start', and 'learn in weeks not years'. The younger, online generation are used to instant gratification and Udemy promise exactly that. Why wait to be a master when you can simply subscribe to their courses?
News Business Marketing Strategies
The Economist
The Economist uses A/B testing for its ads to effectively promote their news subscription service. By posting very similar adverts and testing their effectiveness, they're able to hone their ads and boost return on ad spend. Below they post the same ad, changing only the background colour to test which catches more attention and produces more subscriptions.
They also have an introductory offer to reduce the risk for new customers and offer added value with a free notebook.
The Independent
Rather than providing a short-term offer like many other companies, The Independent offers a bargain – 50% off an annual subscription! When teamed with messaging about current popular topics, attractive videos, and promotion of its unique selling points these ads should be particularly well received. 
How to Successfully Market Subscription Services
No matter what your subscription service provides, several elements of marketing strategies are vital for online success:
Offers – Tempt new customers with time-limited offers.
Trials – Remove the financial risk of signing up for new customers.
Quality – Promote the quality of your services, be that your high quality audio, world renowned teachers, top class actors or exclusive content.
Upsell – Promote premium services to current customers.
Knowledge – Know what matters to your audience. Don't just focus on selling your product. Boost brand loyalty and meet corporate responsibility by supporting causes that your audience care about.
Test – Use A/B testing to test your ads effectiveness and evolve in response.
For more information on marketing your subscription business, get in touch with our team.