Now, during the pandemic, all the retail stores are closed, and we are getting lots of interest from retailers who want to sell more jewelry online. However, a digital marketing agency or expert can't guarantee you fast results with your marketing. Jewelry and Luxury brands that are getting good online results now are those who already invested consistently during the years in advertising.
Probably many of you know, besides a marketing agency I also have a family business in a jewelry niche. It took me almost 5 years of investing in digital marketing for the family brand, so now we are happy to close retail and make sales online. Even before the pandemic, our eCommerce was outperforming the retail by X5-X10 in sales, because of 4 years of continuous investing in digital marketing. I never paused our digital marketing campaigns since we started.

You can get fast results, maybe negative or positive, in any case, you have to grow the results (Return on Advertising Spend), and it's a long term investment strategy.
Now, it's an excellent period to start the long term investment, advertising cost is cheaper by 20-40% for the high-end jewelry niche. You can see it in the image attached below: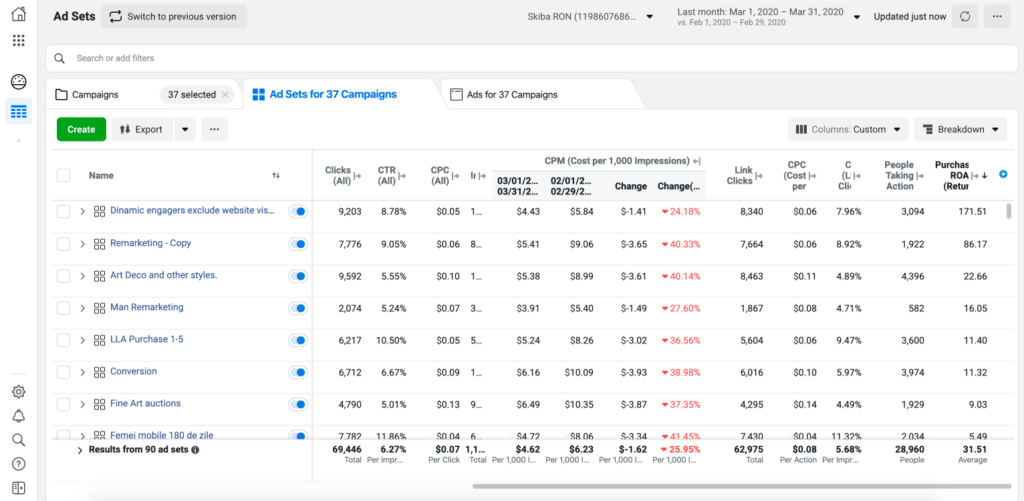 You also can notice, in 2020, we are getting high returns from advertising jewelry online. For instance, there is a marketing campaign on the top, where every dollar invested in digital marketing brings us $171 in revenue.

But take a look at our ROAS during the start in 2016 average return was 6 in comparison with 31 we are earning now in 2020.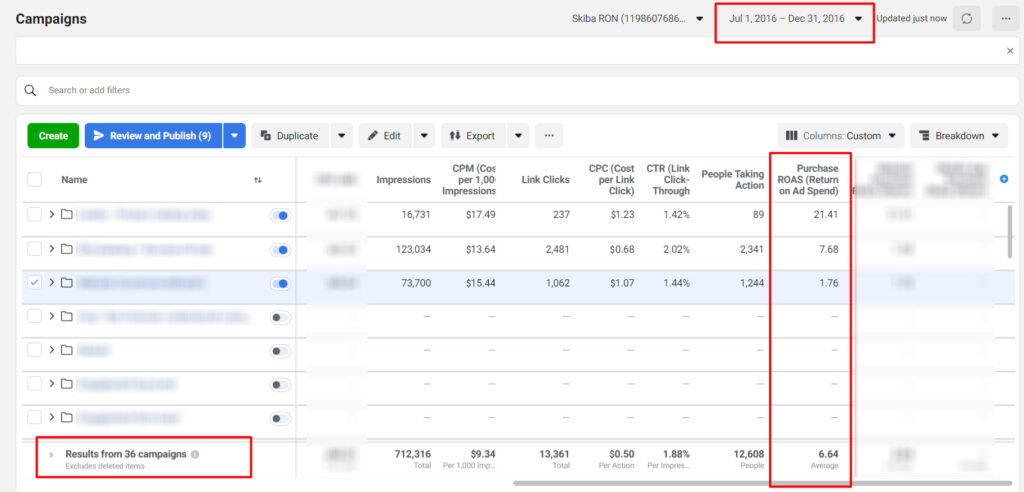 That's why I'm saying it's a long term investment, of course, you can speed up the process of online growth by investing more into marketing and by doing all sorts of marketing experiments to figure out the product, the strategy and the type of marketing campaign that will bring the best possible return on advertising spent.
I have accounts where I tested over 1000 hypotheses to figure out the best way to get a higher return on advertising spent, and this is just for Facebook and Instagram.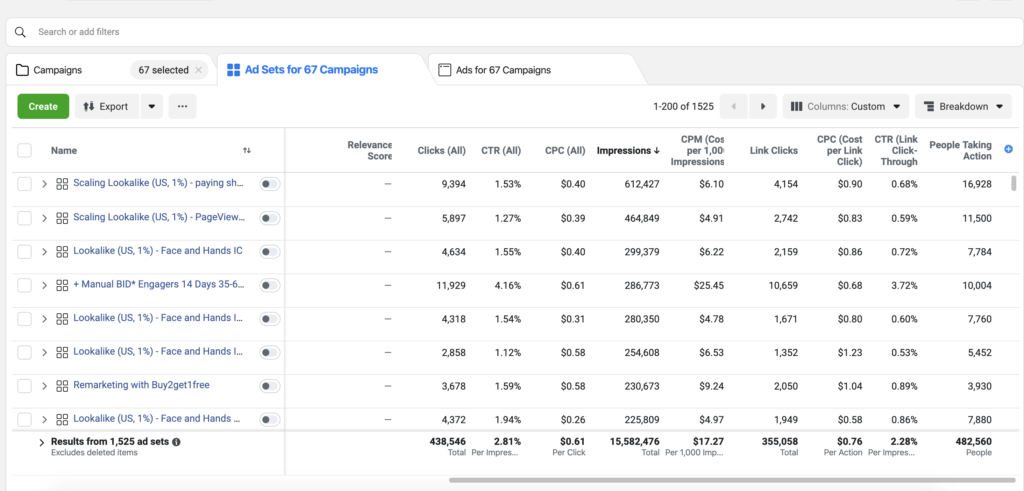 The lack of experimenting and the lack of marketing data understanding, management, and optimization may lead many jewelry business owners to give up from advertising online in the first months when they are getting negative results: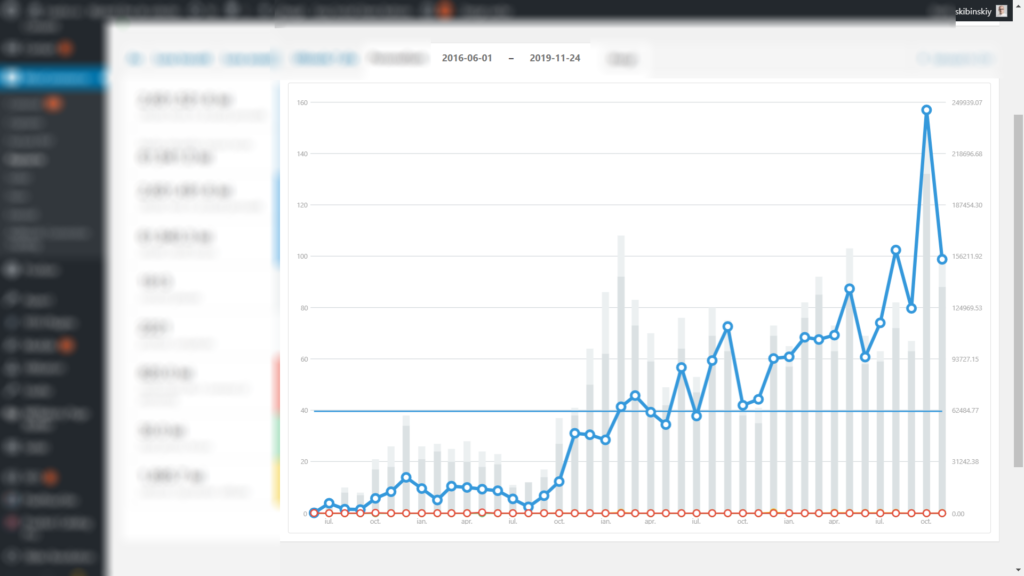 Digital Marketing Channels for Jewelry and Luxury Brands
People who are making better profits are those who diversify their investment portfolios. How can you apply the same methodology to jewelry marketing?
Simple. You have to diversify your marketing strategies and channels. Even if someone told you that you have to focus only on one, it could be wrong. Becouse if you focus only on the one, you will never know what potential is hidden in other channels. My suggestion is to cover at least a few marketing channels at a time. When you figure out which one brings a higher return on investment, focus on them.
For instance, I diversify marketing strategy using the following channels. Almost every channel is profitable.

Facebook Ads
Instagram Ads
Youtube Ads
Google Search Ads
Google Display Ads
Google Shopping Ads
Pinterest Ads
Content Marketing and SEO
Amazon Ads
Affiliate Marketing
Influence Marketing
But why we need to diversify? Diversification gives you a clear image on how to grow your profitability faster. Diversification gives you data about which product has more considerable potential to sell online and higher ROAS. For instance, some of your products are not going to be successful on Facebook and Instagram but can be successful on Google Shopping Ads.
Digital Marketing Profitability for Jewelry
In the developed eCommerce markets like the USA, UK, competition is high. The most important thing that can make you profitable fast is your designs and the way you "package" them. When I say package, I mean the creative part that includes video, photo, and copywriting.
For instance, a video where you demonstrate the process of creating specific jewelry from scratch has more chances to convert that a simple photo. As a result, to bring more profits. If you wish to be a profitable fast, focus on finding designs that bring a better return on investment, and advertising format that converts better visitors into buyers.
Sometimes you have to test dozens of marketing campaigns to validate and figure out the design that will allow you to be profitable fast! To understand which product or marketing strategy will make you more profits, you have to use hundreds of KPIs (Key Performance Indicators) to make smart decisions based on data. Let's discuss them.
Digital Marketing for Jewelry Investing and Analytics and Product Validation (KPI's)
Digital Marketing is a massive volume of data to understand and optimize. Every marketing channel provides sophisticated analytics so that you can track your KPIs. For instance, when you are starting to invest in digital marketing, you have to validate your products and see which one is worth advertising on Facebook and Instagram. Let's stay you have a product that costs $5.000 and let's suppose that your profit margin is 2000$. So' if I'm going to invest 2000$ into advertising this product and I don't get any ADD TO CARTS after spending the first 250$ something is wrong with the product, and I have to promote other products or try new marketing channel and strategy to improve ATC indicator.
It's really important to make a decision based on data. Without data, there is no way to win this game.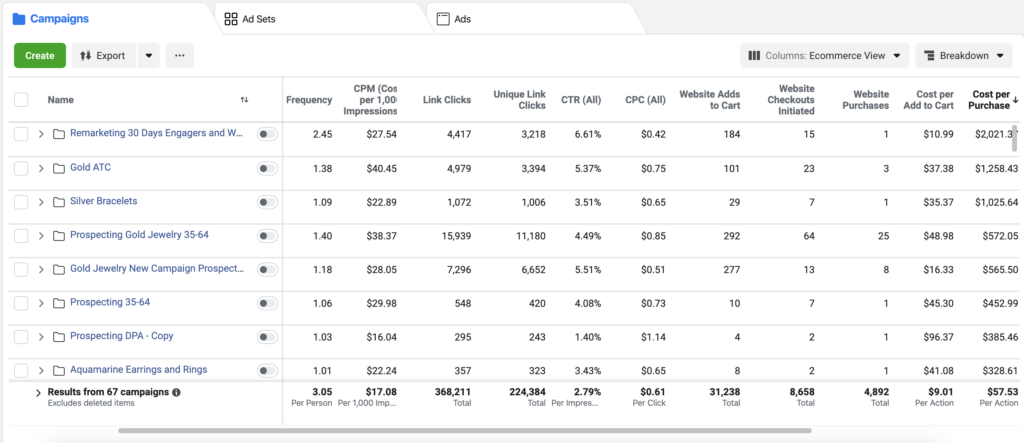 CPC (Cost Per Click)
You can reduce customer acquisition costs by optimizing the cost per click. Typically by advertising different creatives, formats, and messaging. The more attention you get, the lower the cost-per-click.
ATC (Add To Cart)
A vital indicator. If the product does not receive ATC after significant spending, something is wrong with your product or website.
IC (Initiate Checkout)
The next step after the ATC, if your product simultaneously receives ATC and IC, then you are in the right direction.
CPA (Cost Per Action)
To optimize the cost per purchase, you should test various products, audiences, creative ideas, on both levels, advertising itself and the product page. It takes time, but in the end, worth every penny invested.
CR (Conversion Rate)
The conversion rate is everywhere. In many cases, with the same marketing budget, you can double your income by increasing your conversion rate. That's why conversion optimization is so essential!
ROAS (Return On Ad Spend) – Return on investment in advertising
Return on investment in advertising is another indicator, and you should always grow it. The higher it is, the more marketing budget you can allocate. The more impressive your results will be.
CLV (Customer Lifetime Value)
If ROAS is not favorable at first, think about CLV. For example, your product costs £10,000 with a profit margin of £4,000. The same amount of £4,000 you spent on client acquisition, it means you are at a breakeven point. However, you know that the customer will continue to buy soon, and will recommend you to his friends, which in the end will make your marketing company profitable in the long run.
AOV (Average Order Value) – Average order value
An increase in the average order value moves business from being unprofitable to profitable. If you do AOV optimization, at the end of the year, you can notice an increase in revenue by 10-20%. Usually, online businesses increase AOV through upselling, cross-selling, post-purchase upsells. Or, for example, when you offer free delivery for orders over a certain amount, which also dramatically increases the average order value. For each business, AOV optimization has different approaches.
If you spy on the Cartier website, you can notice that 75% of the software systems that they are using are related to data analytics, management, and optimization: https://builtwith.com/cartier.com
Marketing is about data, and you, as a business owner, have to live with it every day.
Jewelry and Luxury Retail Sales vs Jewelry and Luxury Online Sales
My aim is always to increase retail sales using digital marketing strategies, actually to sync Digital and Retail so they can support each other in growing the business. Now my family eCommerce jewelry business outperforms retail, but at the same time, digital marketing helps to bring more customers to buy high-end jewelry from retail.
For instance, we have customers coming from other cities to visit our retail and buy luxury jewelry in person. Using digital marketing, we are able to reach our ideal customer and make him driving hundreds of miles to buy something from our store. Every retail visitor is also invited to check our website and follow us on social media, and many of them are ordering online afterward.
Digital Marketing Jewelry and Luxury Business Mindset
Focus on long term goals. You will get fast results, yes, it's possible, but it doesn't mean they will always be positive and consistent as a short term strategy.
Sometimes you have to witch your mindset and focus on LCV- lifetime customer value. We all know that in the jewelry niche if a person likes your products, they'll continuously buy. So if you spent all profit margins to acquire a customer, don't worry. Think about LTCV. Moreover, to make a purchase, a customer needs many interactions with a brand. Your long term must support this. You must continue showing your ads on every platform and follow your potential buyer with remarketing campaigns to keep the fire. You never know when a person is ready to buy. For some customers, it may take one day to decide for other months and years.
I see many examples where customers continuously saw our ads, and after a year or two, they finally decided to buy. That's why you must have a long term marketing structure.
Keep in mind that 40-60% of sales are coming from remarketing – when you continuously follow your audience with advertising campaigns.
Read more:
Luxury Jewelry Marketing 1500% ROI from Facebook Advertising [Case Study]
Jewelry Advertising Mistakes, Analytics Examples, and Channels
How to increase high-end jewelry sales online without wasting money on marketing