Marketing is a mandatory aspect for a business to be successful. Without a proper marketing strategy, a watch company, and not only, could end up losing finances in capital and taxes. For every type of business, marketing is essential because it helps form a relationship between a brand and its target audience.

A good connection between a brand and its target means boosted sales and positive income. Another reason to have a fool-proof marketing approach is to create feedback. The target market handles generating income for a business. Thus it's normal that a company should listen to them.

For example, if a product has a positive outlook from customers, then it's safe to say there should be a priority in manufacturing these products. But, for a product with a negative outlook, rather than mass production and cause huge losses, this feedbacks will make a strong case for stopping production. Thus, minimizing losses. This is why you should plan a marketing strategy carefully. Capitalizing on strengths and controlling losses.
Global Luxury Watch Market Trends and Growths
According to Mordor Intelligence, the global Luxury Watch Market will grow at a Compound annual growth rate (CAGR) of 4.10%. During the forecast period (2020 – 2025).
The affordability of value watch brands makes them a popular fashion choice among consumers, across the region. The lower-priced and mid-priced watches are gaining market traction. This is due to increasing demand for "value-for-product" watches and accessories among women.
The demand for digital watches is stronger among young consumers. They are more aware of mobile and smartphone technology. Yet, the lack of higher purchasing power of the young consumers has led to companies launching digital watches at affordable prices.
Key Market Trends – Domination of Asia-Pacific in the Watch Market
China is one of the most competitive markets in the world, as it offers huge potential for manufacturers of luxury watches to get and compete. Rolex, Omega, Patek Philippe, Cartier, Longines are some of the prominent luxury watch manufacturers.

According to estimates released by the Federation of the Swiss Watch Industry, China is now the third biggest export market. Seeing the growth of 11.7 % from 2016. Also, the exports of Japanese watches increased in units by 5% amounting to 58 million units in 2019. It increased in value by 18%, amounting to CNY 163.7 billion, in relation to the previous year.

Moreover, the Indian watch market was targeted at men. But, with the increasing rate of female participation in the workforce, the demand for female and unisex watches increased.
Strong Brand Concept in Luxury Watch Market
Brands that were built in the past and had a strong run are still considered marketable by today's standards. Rolex is continuing its strong brand concept to continue attracting millions of customers.
Rolex started in the early 1900s through the effort of its founder, Hans Wilsdorf. Through hard work and trust in his concept, Hans Wilsdorf made his dreams come true in 1914. His watches gained class A certifications, which became the basis for a strong brand concept. The name Rolex was born, and since then, Rolex is synonymous with luxury and elegance. The company today is still the most popular brand when it comes to luxury watches.
Digital Marketing Approach
As the times are fast and evolving at a high pace, not using technology would be a severe loss. Digital Marketing helps provide companies to reach out to specific markets even if they're thousands of miles apart.

As one of the goals of a proper marketing strategy is to build a relationship with the brand and audience. Digital marketing is an approach that's sure to bring in immediate results. A lot of people nowadays are spending a considerable amount of time online. So, luxury watchmakers such as Panerai, for example, are making the right efforts by going online. Let's see some examples of digital marketing from successful watch brands.
Examples of Digital Marketing From Successful Luxury Watch Brands
#1 Panerai Watches Advertising Strategy
Compared to many other luxury watch brands, Panerai isn't as high priced as its competitors, and yet it remains highly rated. Officine Panerai or Panerai began as a watchmaking workshop in 1860. The Italian manufacturer didn't produce its first prototype watch until 1936. Despite being one of the oldest watch companies in the world at the moment.

Panerai's biggest platform is the cinema industry. Various celebrities have worn Panerai watches. From that, we name Jason Statham, Sylvester Stallone, and Bruce Willis. Bruce Willis was even screened in 2018's Death Wish sporting a leathered strap black dial Panerai Radiomir.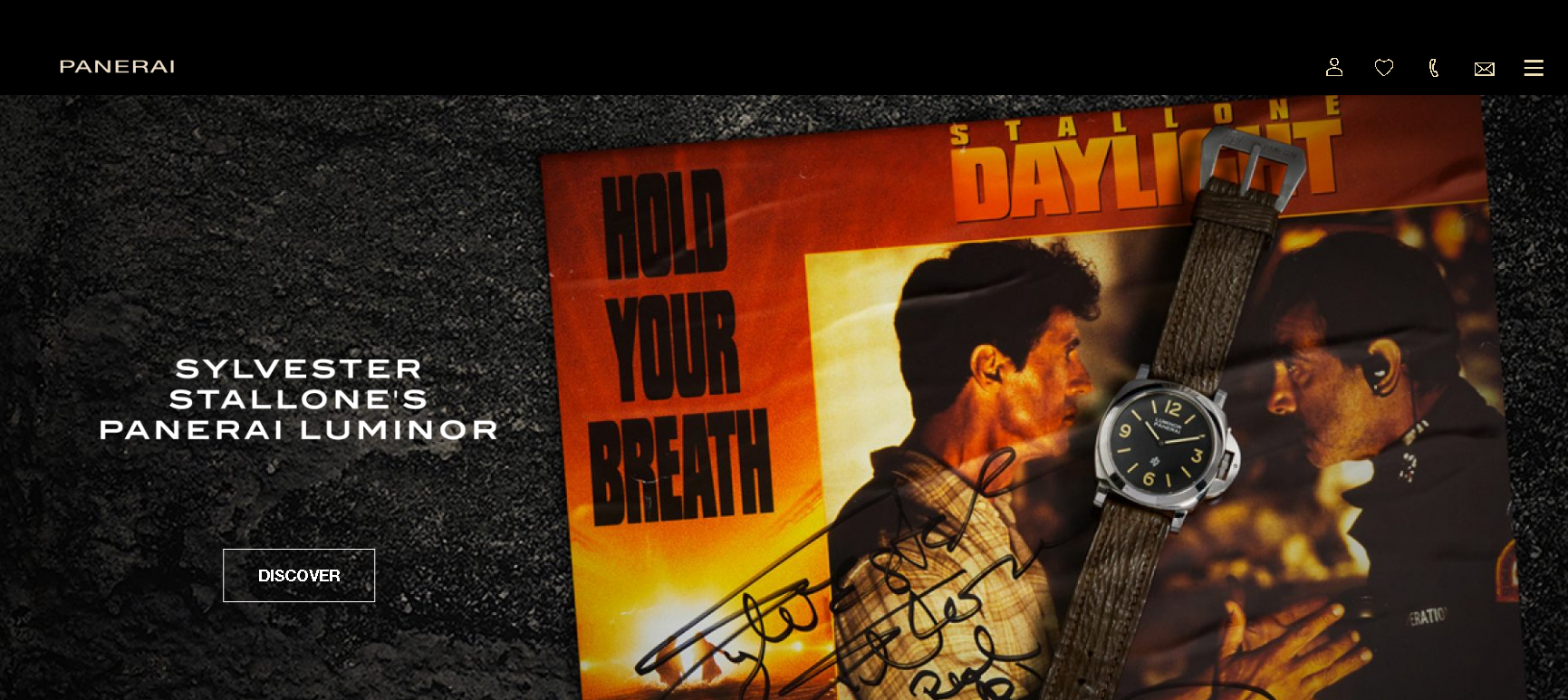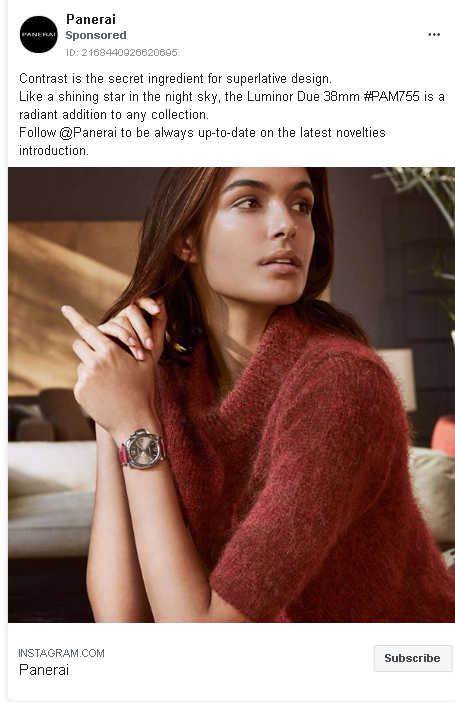 In this Facebook advertising, Panerai shares with customers why "contrast is a secret ingredient". Like a shining star in the night sky, the Luminor Due will shine bright on anybody's wrist, making it a valuable piece of a collection. If enticed by this ad and press the call-to-action button, subscribe, they will sign up for the newsletter. Panerai will send promotions, news, and other marketing materials to convince customers to buy products.
#2 Vacheron Constantin Watch Marketing Example

Vacheron Constantin is the oldest Swiss manufacturer and one of the oldest watch manufacturers in the world. They had an uninterrupted watchmaking history since its foundation in 1755. This brand has been creating custom-made watches upon request for generations. These unique pieces carry the manufacturer's philosophy to always strive for perfection. Also, a true desire to craft the most exquisite luxury watches.
In this video advertisement example, they put one designer of watches to share his ideas of ideal design. With this kind of ad, they hook potential clients by creating an understanding of how products are created. Also, creating a bond and more trust towards the company.
#3 TAG Heuer Luxury Watch Marketing
TAG Heuer is a Swiss luxury watch brand and manufacturing company. They are known for their roots in automobile racing, innovative thinking in the evolution of the chronograph. And, of course, their remarkable innovations in the watchmaking industry.

Tag Heuer invests in its promotion but, as a part of the strategy, always keeps the luxurious brand image in the mind. Examples of launched advertisement in a mass medium. Via electronic and print media in newspapers, magazines, hoardings, and television.

They became partners with high-profile events. For example, football, Formula 1 team Vodafone, McLaren Mercedes, etc. Apart from this, Tag Heuer also promotes their brand on digital media. Starting with Facebook, Instagram, YouTube, Pinterest, and LinkedIn to make its global presence.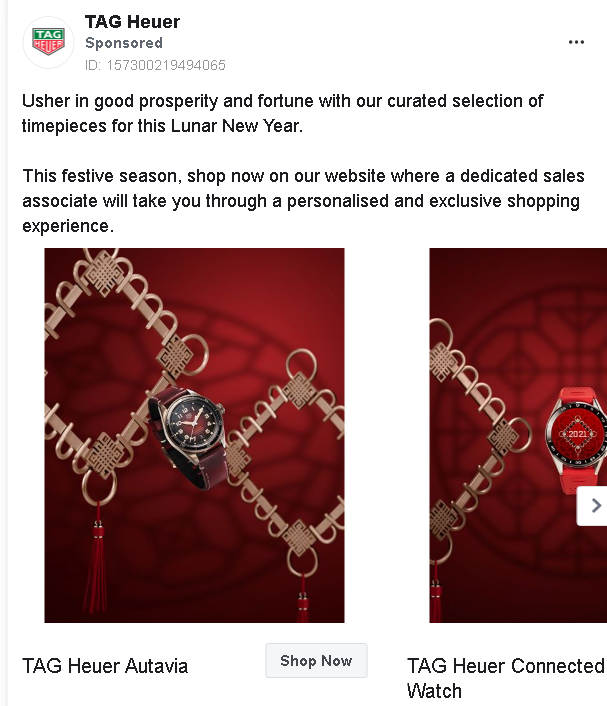 In the example above, TAG Heuer entices potential buyers with good aesthetic images from their products. Also in the ad description, there is a reference for the New Lunar Year. Also called Spring Festival, a festival celebrated in China and other Asian countries. It begins with the first new moon of the lunar calendar and ends on the first full moon of the lunar calendar. It encourages buyers to enter the New Lunar Year with good prosperity and fortune by buying a product. Also, it tells prospects that they will be assisted by a professional salesman. Making the process of buying exclusive and personalized.
#4 Jaeger-LeCoultre Marketing Example
Established in 1833 in the Swiss Jura Mountains, Jaeger-LeCoultre is known for its clever designs. One notable style features a face that flips over to protect itself within the watch casing. It is an excellent and very respected brand. They are also known as one of the most creative and inventive watchmakers in the industry. This because of their high complication watches and innovative designs.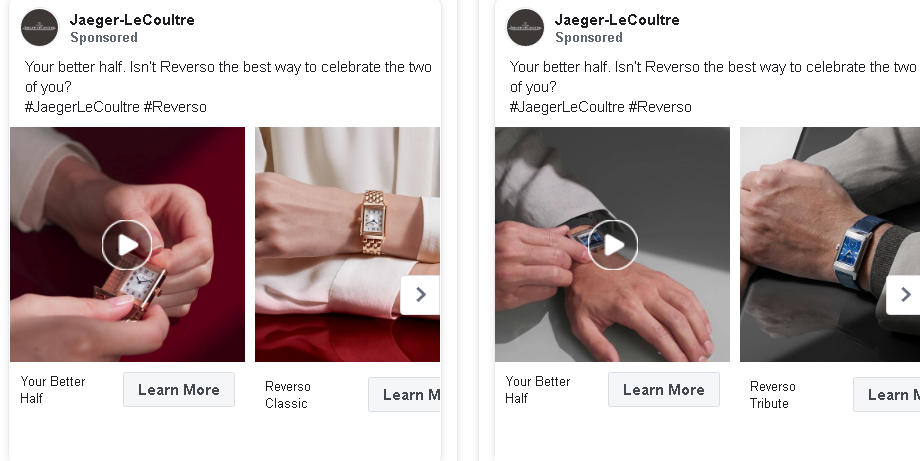 This advertising comes in two examples, for women and men. The ad description suggests that the other half of you can be one of the unique designs. Thus, will entice buyers to enter and find their better half.
#5 Hublot Watck Example of Advertising
Hublot is a Swiss luxury watches and accessories company founded in 1990 by Carlo Crocco. They went on to design and produce state-of-the-art watches with a unique touch for the luxury watches sector. Hublot was the one to introduce the natural rubber strap watches in the market. It took some years to work on this idea and another few to test its sustainability in various conditions. The brand came to be known as a synonym to fusion which blends tradition and modernity or innovation.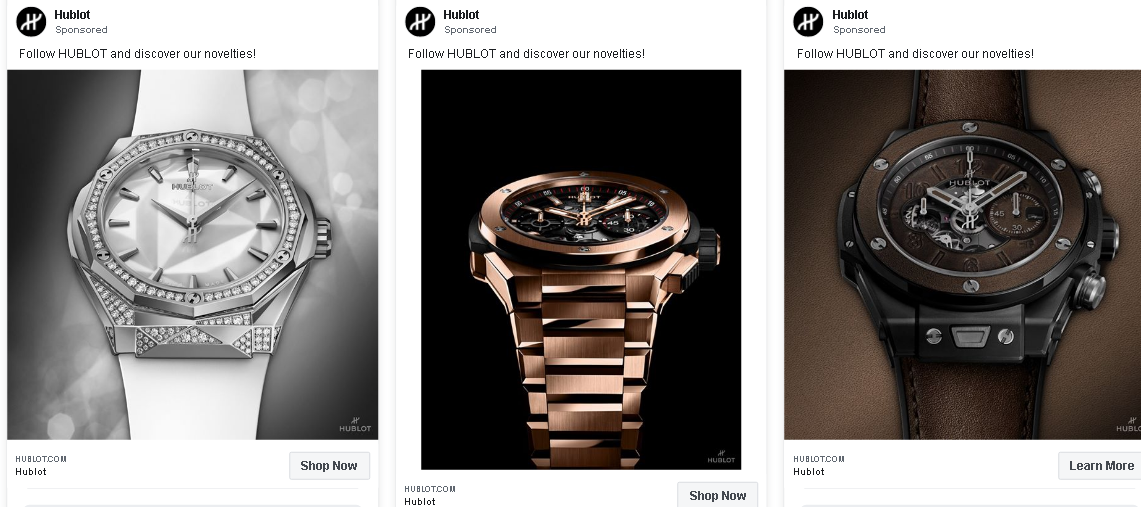 In this example, Hublot hooks up potential customers with good aesthetics of the products. Further, the ad description encourages them to follow the brand. As they follow the potential buyer will discover their novelties, which means the quality of being new, fresh, and interesting.
#6 Cartier Luxury Watch Marketing Example
Cartier is a French luxury goods company founded in Paris in 1965. Designing, manufacturing, distributing and selling jewelry and watches. Cartier always targeted high-end customers, and as time passed their customer base grew. The company has always targeted customers who are at the higher end of society and as a target base the royal families. This customer base is still maintained and they take pride in the quality of the product offered to customers.
In this Facebook video ad, Cartier promotes the watch collection by asking the target audience How far can you go for love? Inducing the potential customer that Cartier watches and love can go hand in hand.
#7 IWC Schaffhausen Luxury Marketing Example
IWC Schaffhausen is a luxury Swiss watch manufacturer located in Schaffhausen, Switzerland. This brand is best known for producing the high-quality pilot and aviation watches and using titanium in watchmaking. IWC is recognized as a forerunner in the watchmaking industry. They are committed to environmental protection and sustainable development.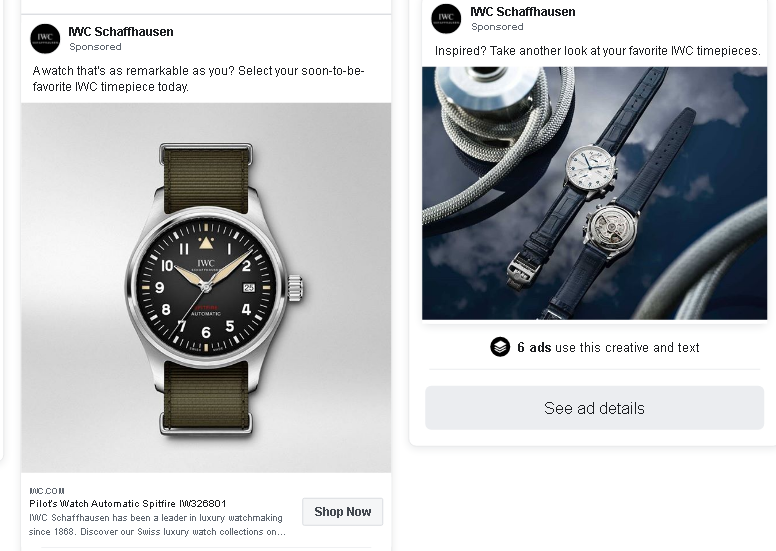 In this example, we have a good display of watches from the aesthetics point of view. Also, the ad description entices customers to enter the product page by telling them that these watches can be "as remarkable as you".
#8 Ulysse Nardin Marketing Example
Ulysse Nardin founded his company in 1846 at the young age of 23. His journey in horology started long before that, though, as his father was also a watchmaker. After years of apprenticeship with both his family and other professionals, Nardin decided to create his own brand.

His and his partner's focus went to marine chronometers, and given their track record, mastered this niche. Their first piece of exposure was winning a prestigious award at the International Exhibition in London. It wasn't long after that they were supplying their chronometers to navies and shipping companies around the world.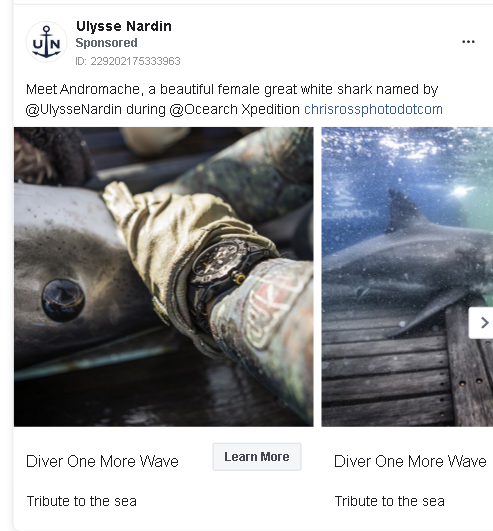 As a marine watch brand, they entice the target audience by showing great images of a scuba diving man wearing a product of the brand. Alongside it shows a white shark that was named by Ulysse Nardin.
#9 Breitling Example of Watch Advertising
Breitling was founded by Léon Breitling in 1884. This brand has been instrumental in keeping the time for the high-end consumer segments for over 100 years. The Breitling company has been distributing to customers with their products that serve as a testament to accuracy and toughness. Thus, often preferred in the aviation sector. Breitling promotes itself as a bold, noble and elegant as military lifestyle.
This video ad from Facebook shows how their watch design resisted an era and was embraced by land and sea. But now it has relaunched with a new design suited for the new generation. This video will hook up the target audience and will make them learn more about the relaunched design.
#10 OMEGA Watch Marketing Strategy
Omega Watches is a subsidiary of its owner company The Swatch Group. It was founded in 1903 by Louis Brandt. It has a reputation for quality, innovation, reliability, and precision. Omega is a watchmaker with a focus on professional and revolutionary products. It designs, manufactures, and markets watch for both men and women.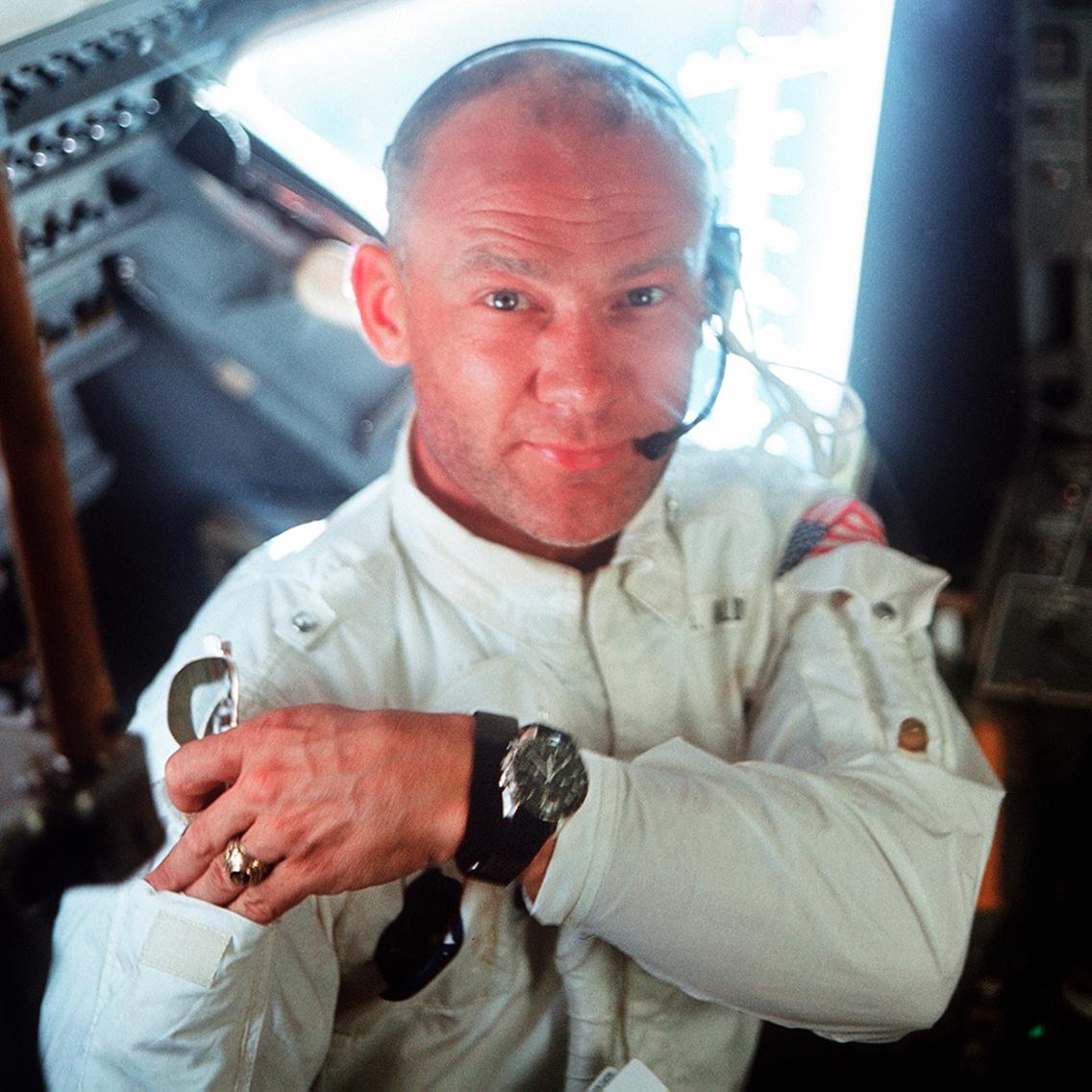 Interesting fact: The Omega Speedmaster, worn by Buzz Aldrin in 1969, made history by becoming the very first watch on the moon.
In this Facebook video ad, OMEGA introduces the new Constellation collection. This will entice the target audience with this unique color from Sedna Gold and the new design. Sedna Gold is the name OMEGA has given to a new alloy that blends three elements. Gold, copper, and palladium.
#11 Harry Winston Advertising Example
Harry Winston, Inc. is an American luxury jeweler and producer of Swiss timepieces. The company was founded in 1932 as Harry H. Winston Jewels, Inc. and changed its name to Harry Winston Inc. in January 1936. The company is named after its founder, Harry Winston. He was known as the "King of Diamonds".
This video ad inspires the target audience to "Celebrate your passionate love with a romantic song and Harry Winston diamonds". The message transmitted by the brand is "Love is a celebration" and refers to Valentine's Day.
#12 Benson Luxury Watch Marketing Example
Marcel Benson is the founder of Benson Watch Company. He designs beautiful timepieces meant to inspire people to spend their time doing what they love. Benson Watch Company offers sleek, modern designs centered around a true love of watches.
In this video ad, Marcel Benson invites potential buyers to stop scrolling and pay attention to what he has to say. He talks about a gift for Valentine's Day. Thus, to surprise a loved one he suggests gifting a Benson watch that will make him very happy and forever grateful.
#13 Breguet Example of Advertising
Founded by Abraham-Louis Breguet in Paris in 1775, the firm established itself as a watchmaker of some repute. Within five years, the brand's customers included Louis XVI and Queen Marie Antoinette. Today, Breguet is part of the Swatch family but remains true to the founder's principles of design excellence and innovation. Breguet watches are recognizable with their pomme hands and guilloché dials.
This video ad tells potential customers that Maison Breguet was founded in the heart of Paris. "Its history and architecture wonderfully represent the technicality and aesthetic codes that inspire the Tradition line". In other words, this will entice the target audience to learn more about the traditional collection.
#14 Longines Marketing Example
Longines is a Swiss watchmaker company based in Saint-Imier, Switzerland. The Longines brand positions itself as traditional and elegant, premium luxury watches. For the highly educated and high-income group.

Its ultimate selling point is "being the technical expertise born of tradition, elegance, and performance". They were the first brand to introduce the first watch with a timing mechanism that is triggered by an electric signal. Promotional activities include collaborating with sports events. Longines was the official timekeeper of the Olympics and many other sports events. Such events have strengthened its positioning as the brand of presence and elegance.
Say "I love you" with a beautiful Longines is the message transmitted by this brand for the target audience. They hook up potential clients for the upcoming Valentine's Day.
#15 Verdure Watches Watch Marketing Strategy
Verdure Watches was founded in 2012 by owner and designer Eddie Johnson. The Verdure name means "strength" which holds a high standard for style and elegance with comfortability. Specializing in luxury watches that anybody can wear on a casual day or with a 3-piece suit.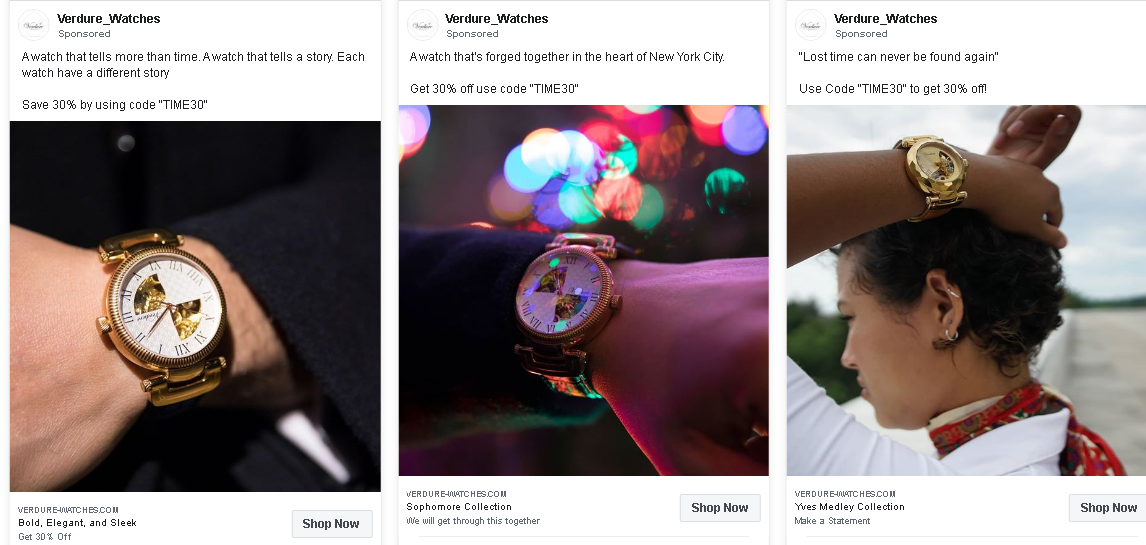 A watch that tells more than time. A watch that tells a story. This message, alongside an E-commerce offer, Save 30% by using code "Time30", is a great way to entice your target audience to try your products.
#16 Baume et Mercier Advertisement Example

This Swiss luxury watchmaker excels with innovative and affordable excellence. Baume et Mercier advertises on social platforms such as Facebook, Twitter, and Instagram. They are focusing on a core community of existing brand lovers.
190 years of watchmaking, and we haven't lost a second is a message for the target audience in this video ad. They hook up customers in showing how far they've gone and how can Baume et Mercier can help choose an everyday companion. Thus, with the help of the design, good aesthetics, and innovation they offer, potential clients will want to learn more.
#17 Bell & Ross Watch Marketing Strategy
Bell & Ross has become a benchmark in the world of professional aviation watches, despite being new to the industry. This brand was founded in 1992 as a university project between two lifelong friends, Bruno Belamich (Bell) and Carlos A. Rosillo (Ross). Both of them had the same vision of producing functional and durable timepieces. With their simple idea of function shapes form, they changed the world of horology as we know it today.

As inspiration, the French brand has drawn from the history of aviation and the military specifications. As a result, each product that rolls from the assembly line is produced with the highest visual and performing qualities.
In this video ad example from Facebook, Bell & Ross entice the potential customers by showing a close look-up of the new collection design. Showing good aesthetics and great design. They invite clients to discover the Br 05 collection by pressing the call-to-action button Learn More.
#18 Bremont Marketing Strategy
Bremont Watches are a British luxury watch brand. Their watches have strong aviation, military, and sports connotations.

Positioned as a quality British brand, targeting the modern gentleman. Fashionable, reliable in extreme conditions, and representative of the Best of British. Bremont is endorsed by the British celebrity and sporting elite, with a growing online footprint. Their unique selling proposition is their slogan "Tested beyond endurance". Thus, this permeates through their marketing communications.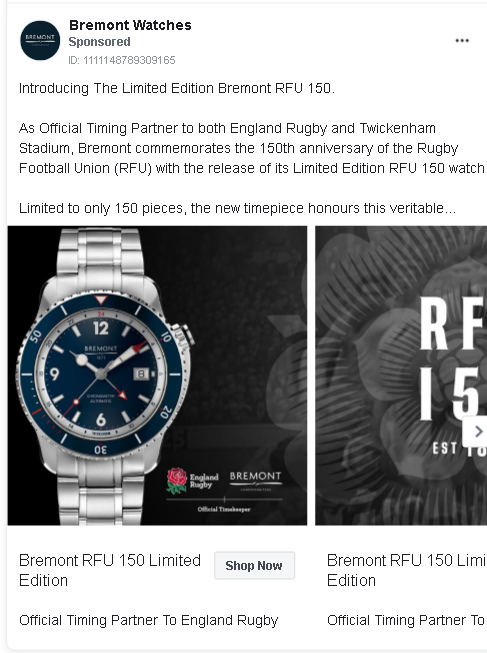 In this ad and video ad from Facebook, the brand entices the target audience with a new Limited Series watch. In commemoration of the 150th anniversary of the Rugby Football Union As Official Timing Partner to both England Rugby and Twickenham Stadium. Only producing 150 watches encourages clients to learn more and hurry and buy the limited series.
#19 Glashütte Original Luxury Watch Marketing
Glashütte Original is a prestigious German watchmaker founded in 1994. This watch brand represents contemporary German watchmaking art meeting the highest standards.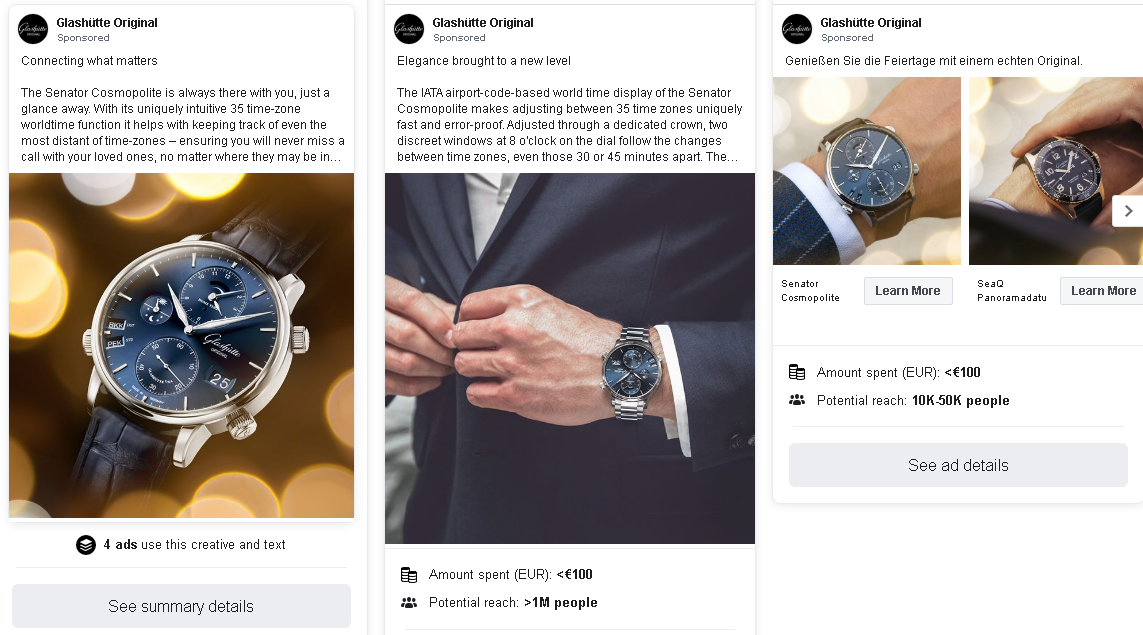 The Senator Cosmopolite is always there with you, just a glance away, is the message they want to pass on to the target audience. Thus, by telling the benefits of the intuitive 35 time-zone world time function, they hook potential clients. Ensuring they will never miss a call from a loved one again.
#20 Maurice Lacroix Watch Marketing Example
Over the centuries, Switzerland has earned a one-of-a-kind reputation. Thanks to the credit of the innovative spirit and perfectionism of its watchmakers. Maurice Lacroix is committed to upholding this tradition. And also and high standard of watchmaking craftsmanship.

It continues to grow, based on a winning formula. It consists of quality, reliability, ingenuity, and determination. Expressing through fresher designs backed by great technologies.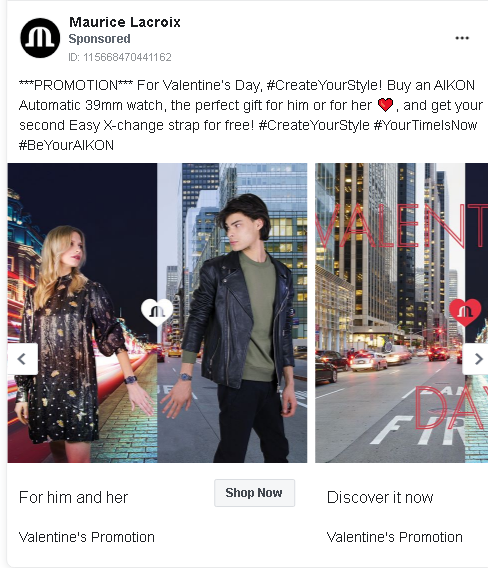 Here we have Valentine's Day promotion. They entice potential clients to buy the perfect gift for a loved one. And also getting an accessory for the watch for free.
Conclusions
Brands like Breitling, Panerai, and OMEGA all had different starts in the past. However, with a proper marketing approach, these companies went on to become very big in the luxury watches we know of today.
In conclusion, sing the power of digital marketing, creating a strong concept, attracting the right market, and focusing on strength are just a few ways that upcoming entrepreneurs should follow.

If you found this post useful and need advice on how to implement good marketing strategies that will increase your conversion rate, contact our team now and we will be more than happy to help you.
Other articles that you may find interesting:
Ecommerce Offers That Always Help To Increase Revenue, Profitability & Conversion Rate;
The Best Way To Market Handbag Brands to Social Media;