The focus for a small business is often on how to get their first group of customers to buy from them. They rely on traditional forms of advertising, such as print ads and coupon mailers, or even big banners on the side of the road. They think it's only a matter of time until customers will find a way to them because of how good is the offer.

While this strategy can also work well, there is a better and easier way. Small businesses should consider the huge marketplace of prospects online. No small business, no matter how new, should overlook this vast marketplace.

The group of potential customers that are online is a much larger group of people than you will be able to attract locally. Using digital marketing, you can reach an enormous audience in a way that is both cost-effective and measurable. Further in this post we will talk more details about some digital marketing examples and strategies that will help you increase conversion rate.
Short Market Analysis and Insights: Global Sneaker Market
North America is expected to hold the largest market share, followed by Europe of about 24%, based on market value. The global Sneaker market size is projected to reach USD 119,510 million by 2026, from USD 78,750 million in 2020, at a Compound annual growth rate (CAGR) of 7.2% during 2021-2026.
Marketing Techniques for Sneakers Industry
Crowdsourcing
This is a new advertising technique useful for the shoe industry. It involves using customers and fans to market products to the public. For example, Famous Footwear ran a Mother's Day campaign in which it encouraged customers to share a video titled -"A Letter to Mom" with their own mothers. A similar idea for smaller businesses is to offer customers a chance to submit their own videos, with the winner getting a free pair of shoes.
Design Your Own
Another technique to draw in customers is giving them an opportunity to design their own shoes. This makes your product unique and more personalized to their needs. NikeID does this on its website by letting customers choose from a list of colors and add their own icons or numbers. Again, for small businesses, a good idea is to let customers upload designs that are then printed on the shoes.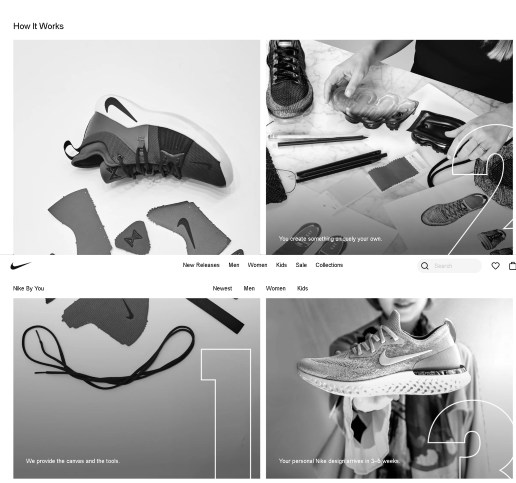 Social Media
Social media is an inexpensive way for small businesses to market their shoes. You can create a business page on Facebook, Pinterest, and Instagram. What you can also do is to post pictures of products that customers will be interested in and let customers post positive testimonials of their experiences with your shoes.
Digital Marketing Strategies From Successful Sneakers Brands
Nike Sneakers Marketing Strategies

Nike is the number one in the Sneakers Market. Everyone knows Nike. But hardly anyone understands how mighty it is compared to other global brands out there, like Adidas, for instance.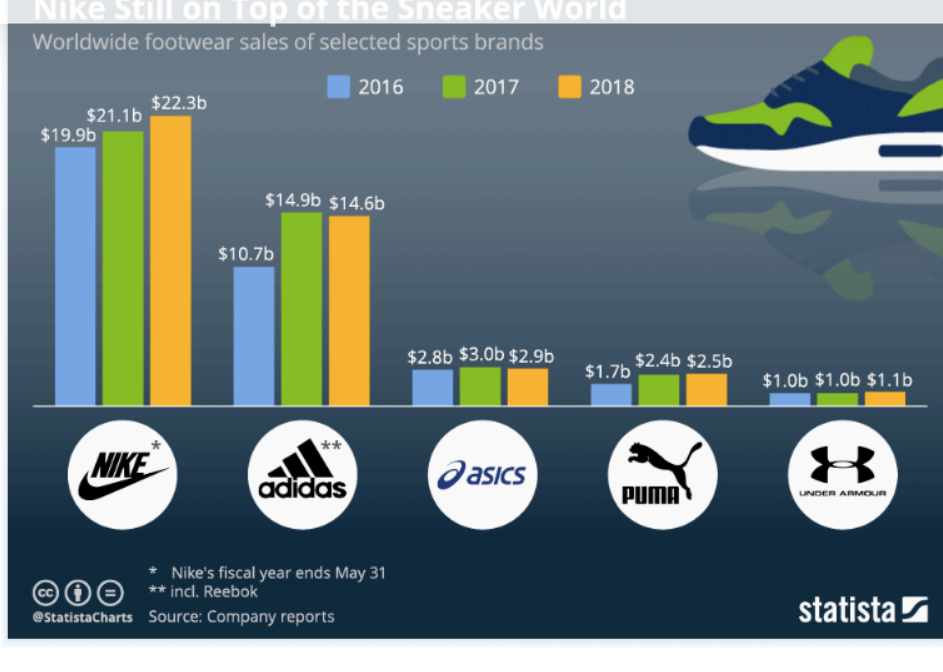 Nike has the largest market share in the athletic apparel industry, in North America, at around 27.4%. Until recently, had a whopping 96% of the market for basketball footwear), and continues to outpace the competition when it comes to sales.
In the example above Nike promotes a new and Innovative shoe. The Nike Air Zoom is designed for circuit training, HIIT, and another fast-paced exercise. Layers of support team up with Zoom Air cushioning to keep your foot locked in and comfortable as you lunge, jump, and push your way through every rep. So, they entice customers to find out more on the product page by showing details like the price and shoe design.

Nike's audience is versatile. It consists of rockers and rappers, artists and thinkers, entrepreneurs, athletes, and other individuals. Not only professionals but regular people too. So to speak to their target audience in the same language, Nike's ad campaigns use a voice to which their consumers are likely to respond.

One of many other things Nike does is quirky Influencer Campaigns. A SpongeBob collaboration was brought by them. This is another example that Nike is no ordinary, corporate brand. They're willing to show off their personality and quirky tastes. Also, NBA star Kyrie Irving teamed up with Nike and Nickelodeon to produce a SpongeBob SquarePants-themed collection. From a marketing perspective, this is a genius way of broadening your target audience to kids, and adults too, who are not sports fans.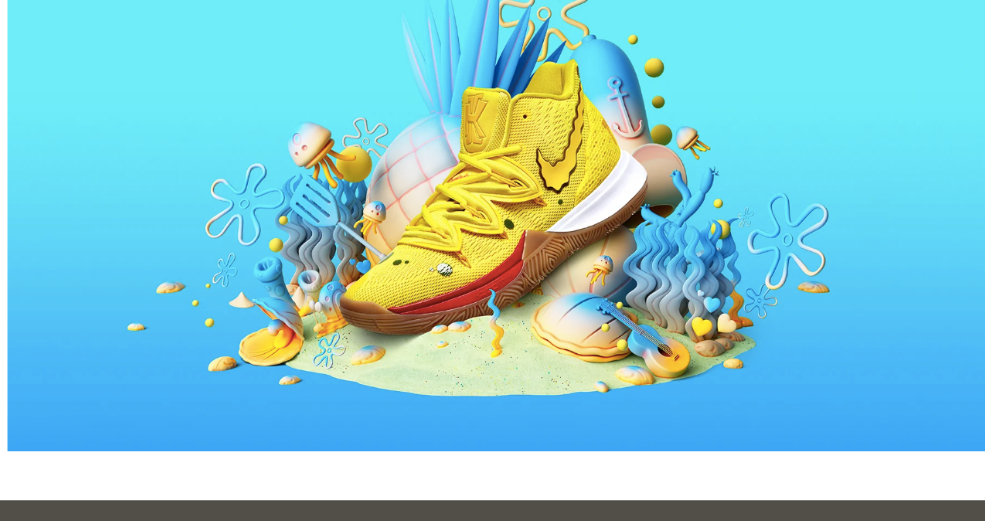 Adidas Marketing Example
Adidas is a German multinational corporation. They design and manufactures shoes, clothing, and accessories. It is the largest sportswear manufacturer in Europe, and the second-largest in the world, after Nike.
The last few years have been successful and profitable years for German sportswear firm Adidas. The brand has added $5.8 billion since 2015 growing at an average rate of 17.6% whereas Nike footwear has only added $4.3 billion at an average rate of 6.8%.
Adidas's five-year strategy issued in 2015 has the name Creating the New. Describing itself as a digital company, Adidas wants to be the world's best sporting apparel brand, meaning designing, building, and selling the best sports goods in the world. To achieve this, they use subsequent digitalization as the key part of their marketing strategy. The company spends 90% of its marketing budget on digital campaigns and social media.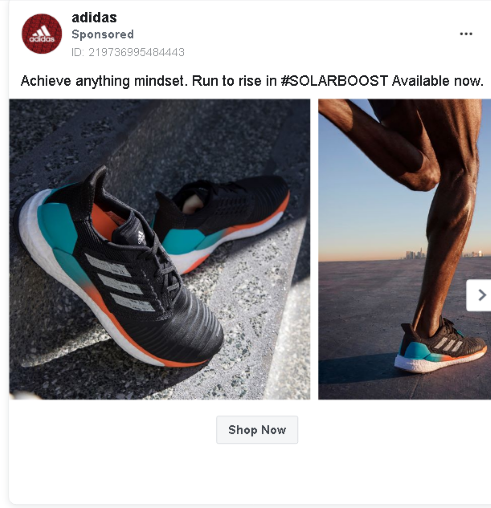 In the advertising above, Adidas promotes a new pair of snickers. Using good aesthetics for shoe design and an image of an athlete running with the new shoes in the morning light. For a boost of energy as the title inspires to – "Run to rise in #SOLARBOOST".
ASICS Digital Marketing Example
Founded by Kihachiro Onitsuka in 1949, the brand has a long heritage in sports based on the founding philosophy of the company. It operates on the belief that sport has the power to change lives. Anima Sana In Corpore Sano is an old Latin phrase that means "A Sound Mind in a Sound Body". This is where ASICS has derived and the fundamental platform on which the brand still stands.

In this Facebook ad, they hook potential customers up by telling them to start the new year healthy and doing sport. They entice with images of people running or getting ready for a run with their favorite ASICS sneakers.
Allbirds Sneakers Marketing Example
Allbirds was founded in 2015 and, in just a few years, has become a $1.4 billion eCommerce giant and a Silicon Valley darling. The brand managed to turn the tides by figuring out what made them different than any other shoe company. The focus was on where they could find competitive advantages, what measures they'd need to take to compete. And then making sure to deliver that to customers.
Allbirds uses advertising to highlight the key differentiable features of their product. First, they are made of wool, which is unique and also makes them very comfortable. Second, they're made of natural, sustainable materials, which has a strong appeal to a growing segment of customers. Third, the shoes are high quality, a consistent standard the company can maintain thanks to the Direct to garment approach. And last, they're stylish in a modern way, which comes through thanks to quality product photography.
The body copy references comfort with taglines like "A remarkable shoe that's soft, lightweight, breathable, and fits your every move". In a few words, Allbirds helps customers understand that the company's shoes are comfortable, natural made (of wool), soft, and cozy.

The next line takes it a step further, bringing in Allbirds' 30-day, no-hassle trial period.
"Give our shoes a shot for 30 days, and if you're not walking on cloud nine, we'll take them back—no questions asked."

The 30-day trial is a key part of the online shoe buying process. Leveraging this return policy on top of free shipping is what really helps Allbirds build trust with their audience. In other words, it removes the barrier of buying shoes online, sight unseen. If the ad is enough to entice a customer to click through, they will go to a product page where they can buy the products.
K-Swiss Advertising Example of Sneakers Marketing
Other sneaker companies like Nike and Adidas battle for dominance in athletics. They do this by partnering with some of the world's most famous sports stars. K-Swiss found an open lane in entrepreneurship. The company realized that young people today often aspire to create businesses, and they see grinding and hustling as a badge of honor.

To reach this audience, K-Swiss has partnered with influencers like Vaynerchuk and provided value to entrepreneurs. Whether it's through conversations on social media related to building businesses or creating original media content about entrepreneurship, K-Swiss forms real connections by providing real business knowledge while inspiring people to chase their dreams.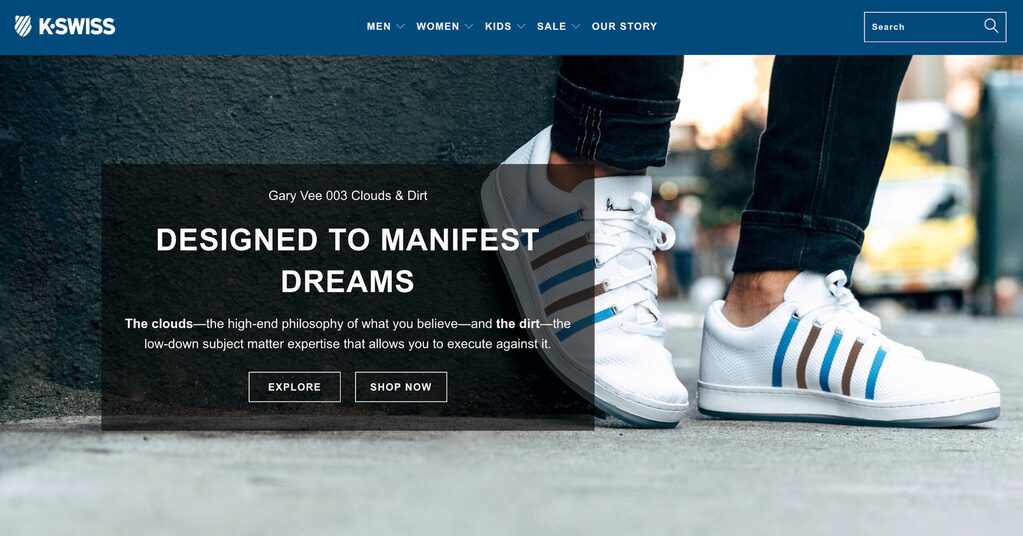 In the currently live campaign on Facebook, K-Swiss collaborates with an elite tennis player, Venus Williams. They call it "our greatest collaboration". In the advertisement, Venus gives feedback on the new shoes, granting for them.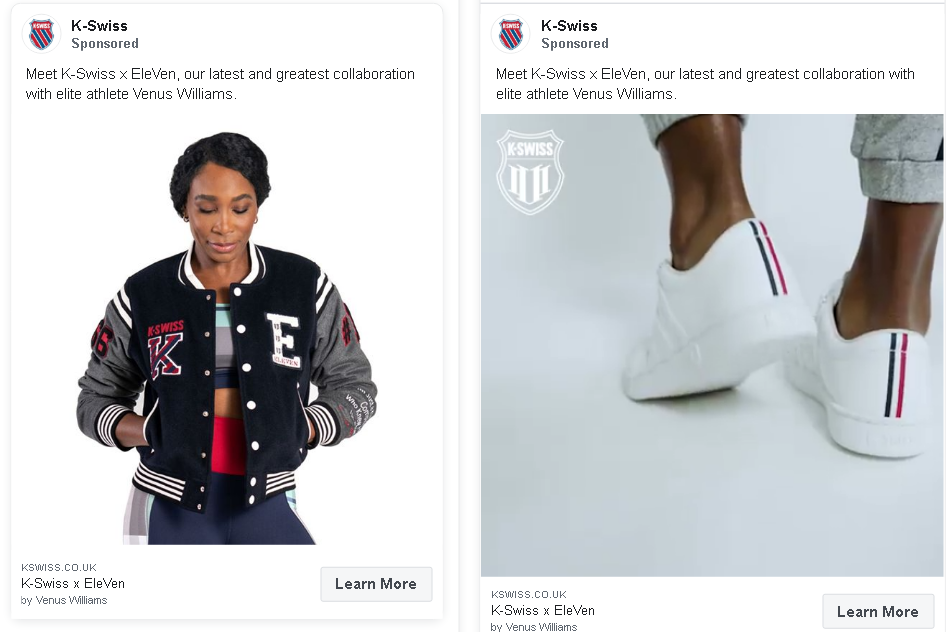 Under Armour Sneakers Marketing Example
Founded in 1996, Under Armour set about realizing its vision. "To inspire you with performance solutions you never knew you needed and can't imagine living without." It delivered on this promise to consumers by producing athletic apparel with new fabrics and designs. They positioned their products as "innovations built to perform". That because they geared towards comfort and convenience.

Also, Under Armour engages with audiences, sharing its corporate values, philanthropic initiatives, and ways in which buyers can get involved. This interaction goes a long way to earning buyers' respect, consideration, and positive brand perception. Thereby influencing long-term loyalty. This approach comes from the business' deep understanding of the care-about, motivations, and expectations of its primary customer base.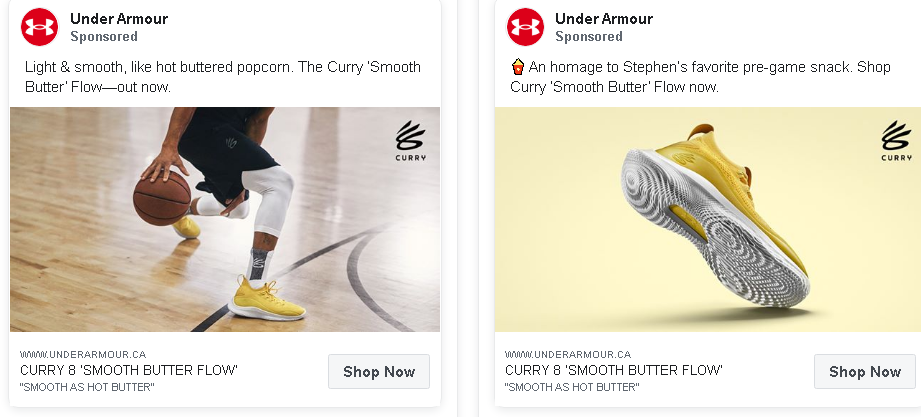 In this example Under Armour promotes their new sneakers in collaboration with a famous NBA Player Stephen Curry. The audience will be enticed by telling them how smooth the new sneakers feel, as smooth as Stephen's pre-game snack, hot butter.
New Balance Example of Sneakers Marketing
New Balance is a leading sports apparel and accessories company based out of the USA. The company was founded in 1906 by William J Riley. It manufactures sports footwear and is a well-known brand in the world. In the beginning, their name was "New Balance Arch Support Company" as it designed footwear that supported the foot arch comfortable and provided better balance.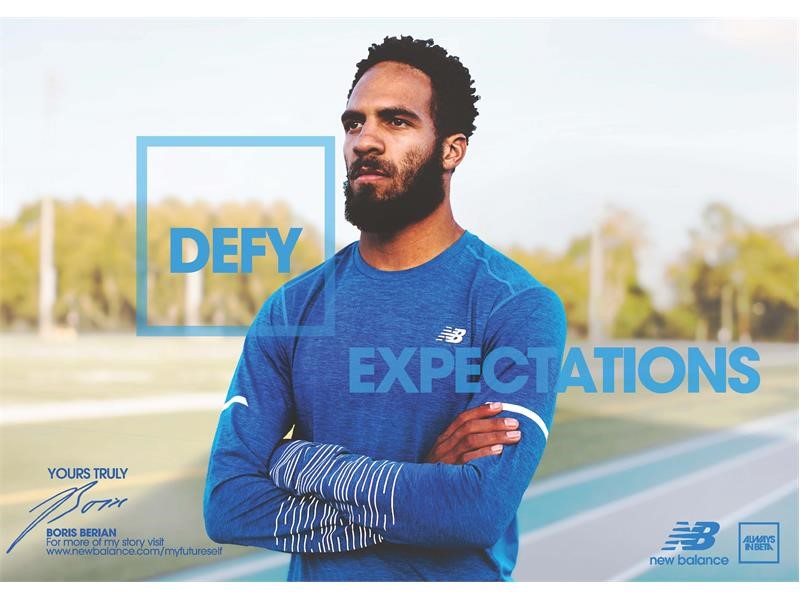 The products from New Balance it's advertising as technologically superior to the competitors. And also very appreciated by the athletes and professionals alike. They feature sports celebrities like Boris Berian, 2016 National Champion, in the #MyFutureSelf ad campaign. The horizontal stripes in the "N" of New Balance logo give a sense of motion and speed which the brand represents. The bright red color gives the logo a sporty feel.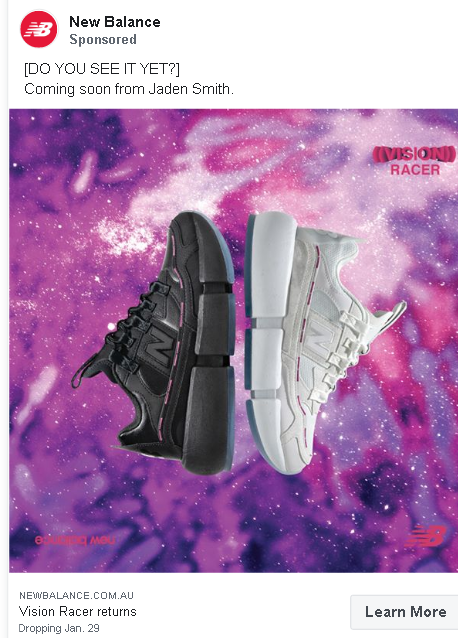 New Balance's current live campaign on Facebook brings a return of a sneaker model from Jaden Smith, Will Smith's famous actor son. They hook customers with an expectation for the new release.
Also, they promote a new innovating system that 3d scans customer's foot. By completing this analysis they can find the best fit for the customer in need.
Conclusion
In conclusion, if you want to increase your sales with marketing and digital marketing for your sneakers brand you have to use good marketing strategies. Such as Crowdsourcing, Your own design, social media engagement, social media digital marketing, etc.

This will help scale your business and reach out better to your target audience. Try to mix these strategies, get inspiration from the examples of other successful brands and find your own mix of marketing and value.

If you found this article useful and need advice on how to implement good marketing strategies that will increase your conversion rate, contact our team now and we will be more than happy to help you.
Other articles that you may find interesting:
Ecommerce Offers That Always Help To Increase Revenue, Profitability & Conversion Rate;
B2B eCommerce Marketing Strategies for Social Media;