Growth, Trends, And Forecast in Handbag Market
The global handbag market is forecasted to grow at a Compound Annual Growth Rate (CAGR) of 4.5% during the forecast period (2019 – 2024). All this growth in the handbag market is because of the rising fashion industry. Also, the increasing social media influence on the consumers from Instagram and Facebook brings potential consumers toward the market.

The majority of the global young adult population is engaged in these social media platforms. So, handbag companies are targeting their product range in this age group, 18-29. Some of the major players of the market are Christian Dior, Louis Vuitton, and Prada Holding, which are dominating the handbags market. We will show you further in this post some marketing examples from them.
Growing Demand For Leather Goods in Handbag Market

Leather is one of the most traded commodities in the world. There is a continuous demand from the fashion industry driven by footwear, luggage bags, and accessories such as handbags. Europe saw a rise in 3.5% of imports of leather handbags from 2012 to 2016.
Due to the increase in the production of light leather for handbags and its imports from Asian countries such as China, India, and Vietnam. Major importing countries of leather for handbags are the United States and Japan. India became one of those opportunistic markets for imports of leather handbags for major companies from the United States and Europe. This happened because of the high import tariff rates of leather from China in 2018.
India to Record Significant Growth in Handbag Market

Indian consumers are becoming brand conscious of their consumption choices. Especially those that reflect their style and personality. Thus, the handbag segment in India has seen an evolution in the recent past. The fashion accessories segment has gone from being a mere necessity to buy, to gain a foothold in the lifestyle shopping category. Another contribution to the retail market is the growth of e-commerce, with the facilities of online shopping.
How to Market a Handbag Brand
The right marketing plan is essential when it comes to informing potential consumers about your handbags. You should also make use of marketing tactics when interacting with established customers. This will ensure that consumers are carrying one of your handbags daily.
Cross Marketing
Work with another fashion company to create a cross-promotion campaign. As an example, you can feature a pair of shoes that would go great with one of your best-selling handbags. Take a photo of a scarf that would complement one of your larger handbags well.

Write a short description about how well these items go together. Provide the website for the shoe or scarf company underneath the product description. Exchange photos of your handbags with the other companies you're working with. In this way, other companies can promote you on their websites. Share this link on social media websites as well.
Blogging
Start a blog giving detailed suggestions for how to wear your handbags. Discuss various things starting with the materials the bags are made of, as well as your creative process when coming up with a new handbag.

It's also a good idea to write blogs on how to keep the contents of your handbag organized, or how to keep the material of the handbags looking brand new. You can also partner with established fashion bloggers to have your handbags featured on a blog that has thousands of followers. This will give your business even more exposure.
Examples of Handbags Advertising on Social Media From Successful Brands
Christian Dior Handbag Advertisement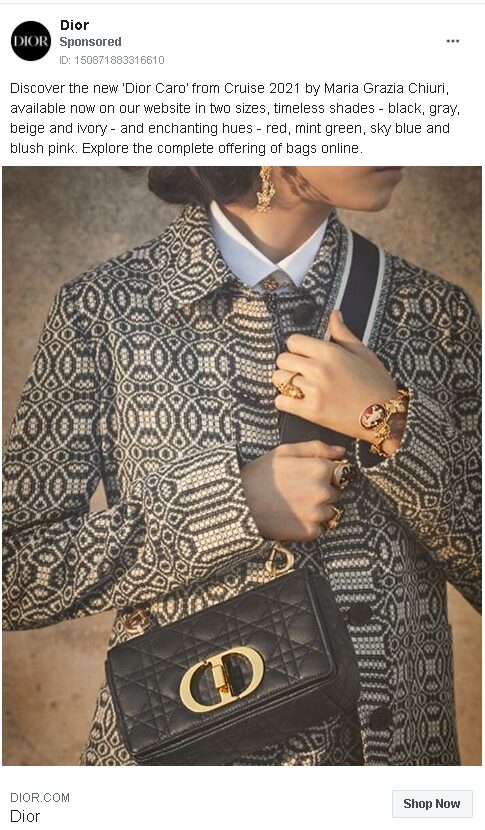 Christian Dior brand is one of the world's top fashion houses. They promote good quality. And that is what they share with you through marketing campaigns on social media.

In this video advertisement above used on Facebook, it shows potential buyers the process of creating a handbag. How is made and how much passion is put to create it. Potential customers will appreciate and understand more the value of the handbag. Thus, buyers will have more interest in purchasing the product.
Louis Vuitton Handbag Advertisement Example
Louis Vuitton is a premium luxury brand in the handbag market that sells the finest products. It makes 100% pure leather products and pays utmost care when it comes to design so it can't be imitable. Louis Vuitton chose to only make handmade products and not make machine-made.

Since customers perceive the company's products as high-value products, the customers are willing to pay the amount. They pay special attention to the quality of the material, the designs, and the make of the products. Thus, the cost price of the products goes very high. Since the target customers of the brand are elite and upper-middle-class customers, Louis Vuitton uses a premium pricing policy for its products. The brand and its product are a style statement and thus customers easily pay the exorbitant prices.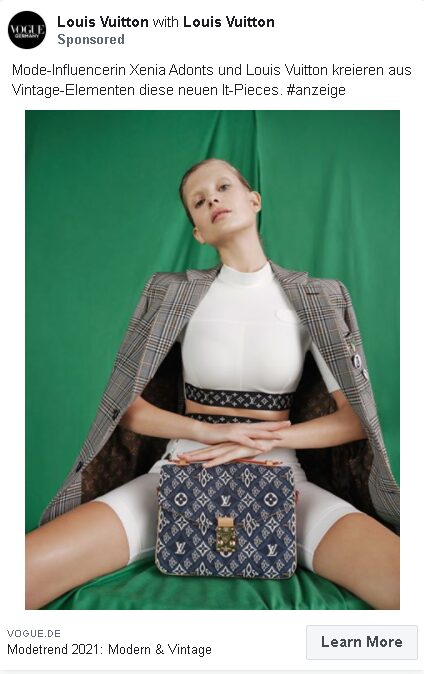 In the example above they made a collaboration with a model influencer from social media. Louis Vuitton benefits from this and will make potential customers be even more interested to try products.
Another example of an advertisement on Facebook also with a collaboration, but made as a video. Video ads will keep potential customers hooked and will entice them to learn more about products.
Coach Handbag Advertisement
Coach makes handbags from high-grade leather and the manufacture made with very strict standards. The skill level of the Coach employee is also high. There are no shortcuts in the manufacturing process. Also, there are no compromises to the quality of the materials used to make coach handbags.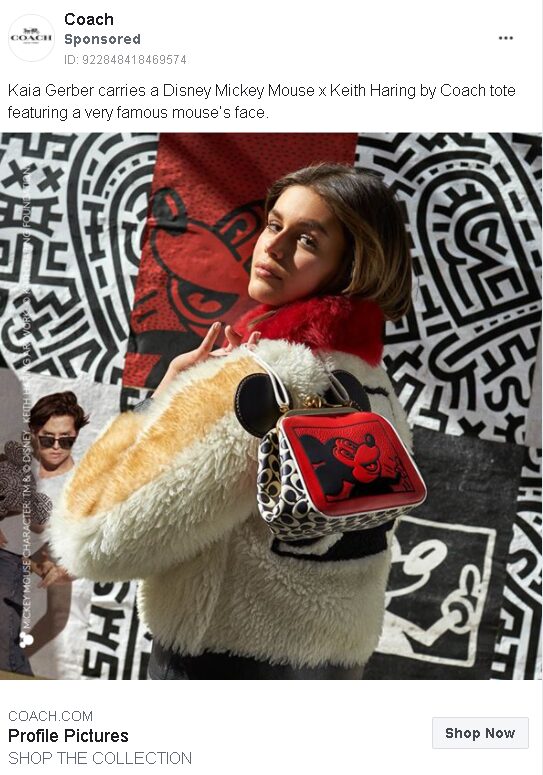 In this example Coach made a double collaboration. One with a fashion influencer that will entice other fashion enthusiasts to buy the product. Also, a collaboration with Disney for the product design. By creating accessories with well known Disney figures, such as Mickey Mouse, will result in potential customers being even more interested to try products.
Fendi Handbag Ad Example
This brand is one of the most known in the fashion industry, well known for the unique design they create. Fendi is a synonym of fur and revolution, attempting to provide furs for women of every social position.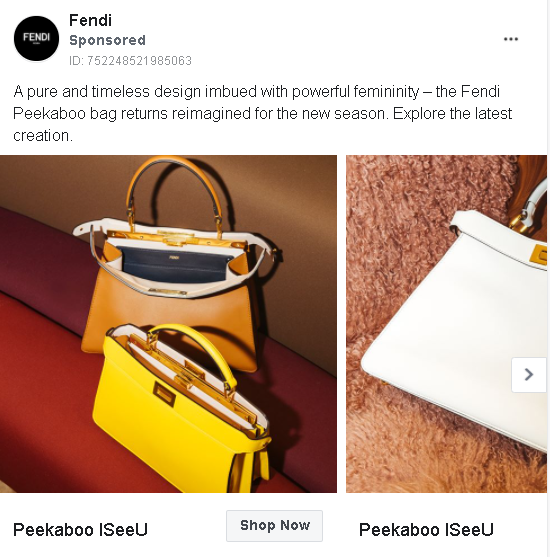 In Spring/Summer 2009 Fendi released their most iconic and best-selling product, The Peekaboo. It's sided turn-lock closure, contrast lining, and a long detachable strap that can be worn over the shoulder or held in your hand. This is still as iconic to this date as it was when first introduced. In the example above Fendi announces in an advertisement that their most iconic product returns reimagined for a new season.
Fendi doesn't use psychology tactics. The prices of Fendi are all rounded to a hundred, so Fendi does not use the strategy of .99c that is common in today's marketing. The prices are based on how much consumers will pay to be seen with what they perceive as a high value, prestigious item. Nobody will buy Fendi to carry their stuff around, they will buy it to show off how rich and tasteful they are.
Gucci Advertising Handbag Market
The Italian fashion and accessories brand was established in 1921 and is known for its offerings in the luxury segment. Its offerings are a symbol of Italian craftsmanship and are known for their quality, modern outlook, and attention to detail.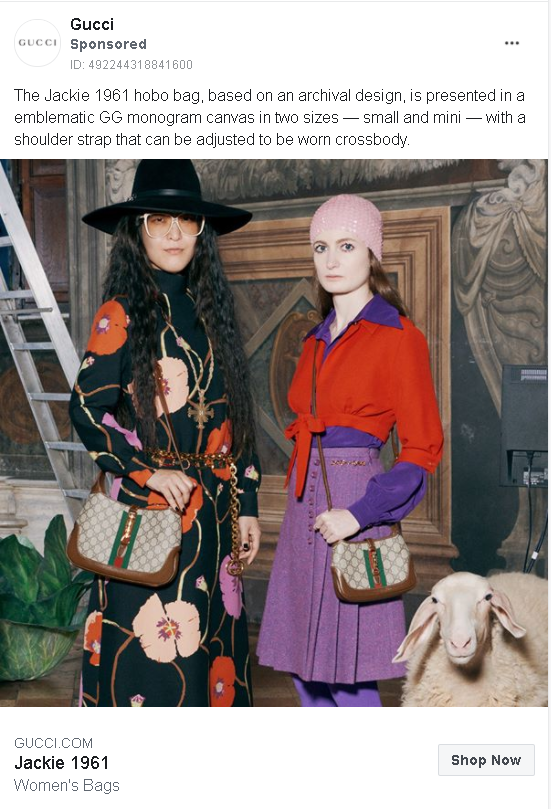 In this example, Gucci promotes an archival design of a handbag. All the aspects in the photo send you to the medieval background. As you can see they use a goat in the picture to stimulate your imagination.
Kate Spade New York Example of Handbag Advertisement
Kate Spade has maintained its brand voice across a variety of social media platforms. It has thematic boards on holiday gift guides, handbags, wedding parties, and colors on Pinterest. This is the most well-suited platform to post its photogenic products and fashion inspiration.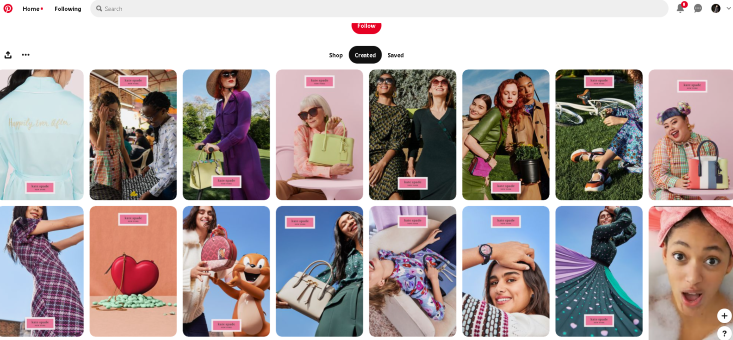 The Kate Spade Twitter has captions that maintain a personal voice, without seeming to be an actual individual. For instance, Kate Spade tweets about its latest products and campaigns, but the voice of the brand is upheld.

And, finally, Kate Spade's Instagram is full of photos that match the brand's aesthetic, as well as inspirational quotes for its target customers. Also, its messages seem to be natural and genuine, instead of being profit-oriented.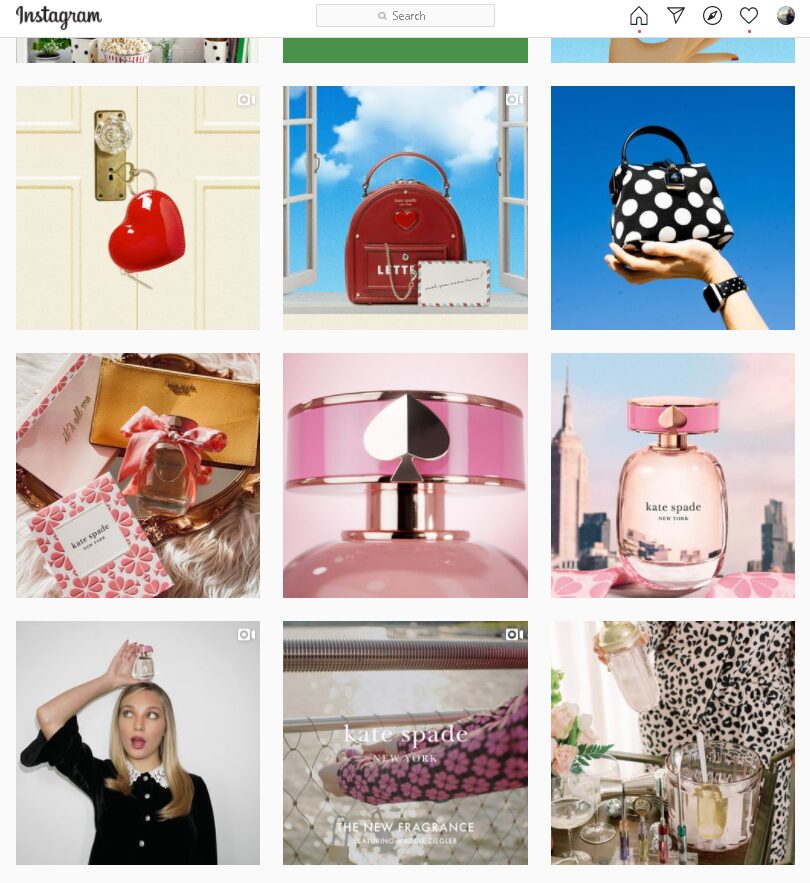 Conclusion
In conclusion, the handbag market is on an uptrend, and having a business in this industry is very good right now. Try to get inspired by the examples from this post: using aesthetics, collaborations for your marketing campaigns, coming up with a new design trend.

If you found this article useful and need advice on how to come up with good marketing strategies that will increase your conversion rate, contact our team now and we will be more than happy to help you.
Other articles that you may find interesting:
Ecommerce Offers That Always Help To Increase Revenue, Profitability & Conversion Rate;
B2B eCommerce Marketing Strategies for Social Media;