When you set out to redesign your website, there are some website redesign risks you must assume. These risks can be due to either the core challenges or the experts involved in the process. Extensive expertise is necessary for amicable resolution of the challenges to deliver a solid product.
Before delving so much into website redesign risks, let me share with you a few case studies that prove the benefits of website redesign. You can read our recent post on Website Redesign: Benefits, Facts, and Statistics With Case Studies.
Case #1
The first case study involves a content-based website redesign with A/B testing that improved traffic and revenues by 100% over a period of six months.

Five experts participated in this project. Their expertise drawn from different fields such as project management, creative, UX/UI and web design, motion design, front-end development, back-end development, SEO, and data analysis were synergistic to the exceptional results realized.
Case #2
The second case study involves the redesign of a Fine Jewelry E-commerce store. Seven experts: digital marketer, project manager, creative director, photographer, SEO strategist, Copywriter, conversion rate optimization expert, and full stack developer took part in this project.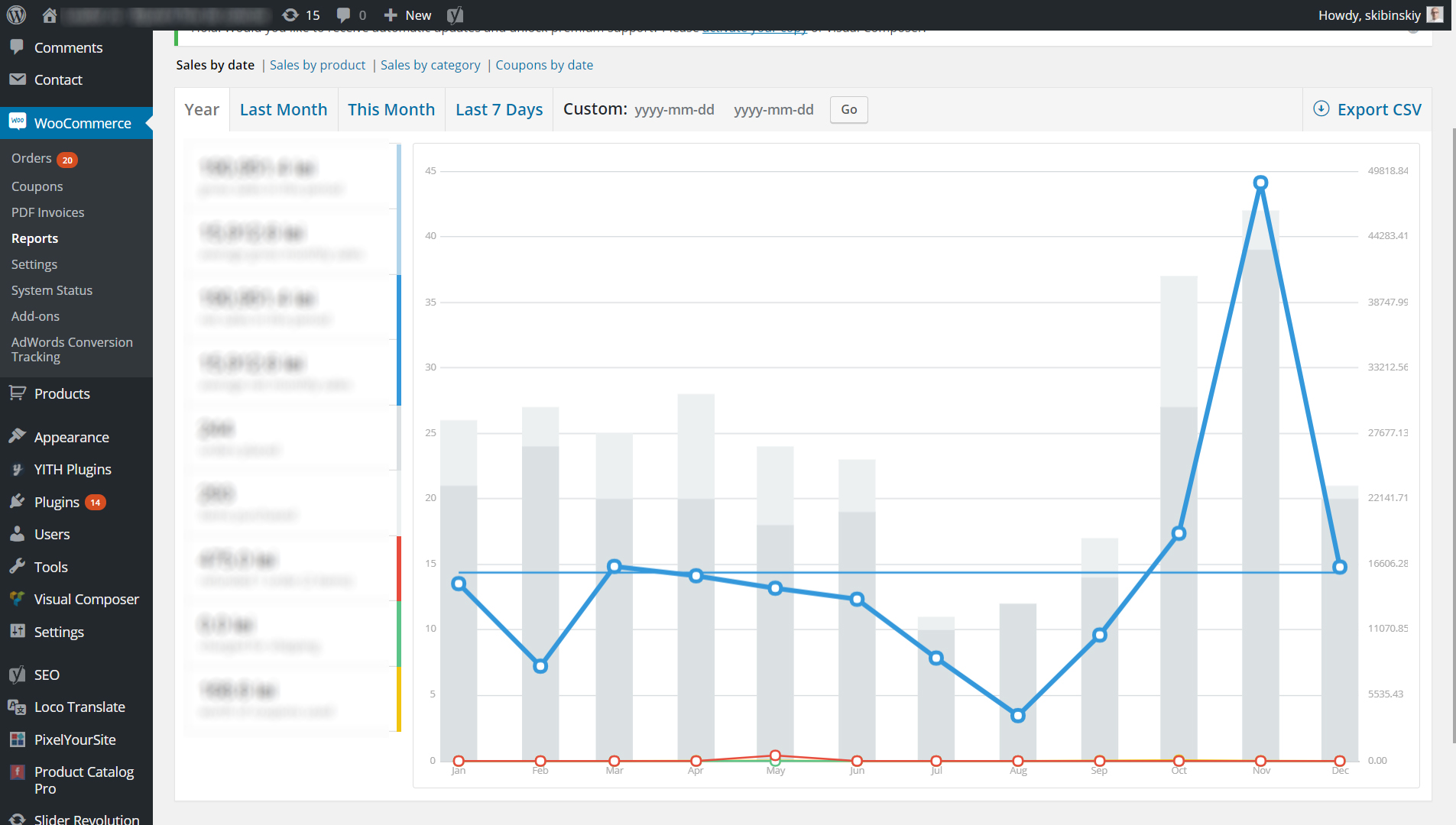 The team were able to improve e-commerce channel of revenue for the company by 500000 units per month in 2 months through a new website and Improved Facebook Advertising.
Additionally, the company already started seeing some positive results from the content strategy. Some of the competitive keywords such as white gold and old jewellery with diamonds are now on page one of Google.
However, we still working on it. I can say that we already sold 60% of unique fine jewellery items.
As you can see from these two examples, I want to demonstrate that:
Website redesign risks are marginally minimized if you have the right team behind the project. Whether you are building the website from scratch or you are doing a complete overhaul of the existing site, a multi-skilled team will make the sail smoother for your project.
The benefits of having the right team far outweighs going solo on a project of such a scale. The team works together and share skills that greatly minimizes the risks of the project going wrong.
When you work with a team, you will have the following expertise working together:
Digital Strategy Expert
Vertical and Horizontal research Expert,
UI/UX Designers Expert,
Graphic Designer Expert.
Iterative Prototyping expert,
Motion Designer Expert,
Visual Designer Expert,
Web and Mobile Development Experts,
Information Architecture Expert,
SEO, SMM, SEM and Email Marketing Expert,
Content Marketing expert,
Lead Generation Expert,
E-commerce Expert,
Remarketing Expert,
Persuasion Expert,
A/B testing and optimization Expert,
Data Analysis & Statistics expert, etc.
Consequently, working with a team helps in efficient analysis of generated insights. This is useful in creating functional connections that are necessary for formulating a solid digital strategy. As a result, the business success rate has a 99.9% guarantee, which makes it a worthy investment consideration.
Wait, just why are so many skills necessary for a website overhaul?
Well, some may argue that a simple website redesign is good enough. That depends on the Lifetime value you would want to derive from the website.
When you are in the business for the long-haul, you need to invest long-term. You can derive a higher lifetime value from your website by a strategic combination and implementation of the skills I will describe here below.
Great things in business are never done by one person. They're done by a team of people. ~ Steve Jobs
The biggest website redesign risk you can assume is to work with the wrong people. The problem is even worse if the team lacks the required expertise to take on the project. Your project will run into hurdles that you could have easily avoided by hiring the right team.
Working with the wrong team can drive up operational costs and create deadline issues. You will most likely end with a product that your target user does not want.
How many experts/skills do you need to reduce website redesign risks to zero?
Answers to this question can vary depending on the business challenges, possibilities, and opportunities. Generally, an ideal professional corporate or e-commerce website redesign needs a team of 5-8 full-time in-house and remote experts. It should be noted that these experts are multi-skilled and can perform an array of tasks.
Some of the experts that you will need to form a formidable team include the following:
1. Project Manager (The Head of Website Redesign Risks Mitigation)
The project manager is responsible for leading the team to achieve the set objectives within the set deadlines. He/she should not only be a good manager but also an excellent communicator. For instance, he/she should use project management software such as Trello or Jira to enhance efficiency.
The ideal project manager should be an aggressive entrepreneur with a digital design background. These features show a manager will have keen eyes to detail and ability to identify business opportunities.
Businesses thrive on developing solutions to problems. The manager should help the company capitalize on these additional revenue streams. Attention to detail will cut down business operation costs and improve KPIs.
The project manager steers the entire team and organizes effective interviews with stakeholders, employees, and customers. Additionally, the management team leads vertical and horizontal research to get adequate insights necessary for creating the right Digital Strategy.
Developing the right digital strategy based on strong insights will help the company avoid website redesign risks and create a higher LIFETIME VALUE.  Doing this will eliminate the need to REinvest money in something that doesn't work.
2. Creative Director
Creative director leads the creative team in the brand building process. The creative team comprises Brand Identity Designer, Web Designer, UI/UX designer, and an Illustrator.
The director controls all the creative aspects of the website design. He/she relies on the digital strategy and insights from the early stages to create a lasting lifetime value for the stakeholders.
The creative team supports Digital Marketing and Social Media Strategy departments by availing requested marketing materials.
Some of the activities of the creative team include:
Design and development of landing pages,
Optimization and A/B testing,
Graphic design,
Manipulation of images/photos,
Design and development of email marketing templates, etc.
3. Digital Marketing Strategist (The Second Head Of Website Redesign Risks mitigation)
The Digital Marketing expert draws insights from vertical and horizontal research to establish effective marketing strategies. The insights reveal the most effective combination of marketing channels that generate most sales and customer acquisition.
The role of digital marketing strategist is cut out as follows:
Search engine optimization,
Content strategy development and implementation,
Developing and implementing Linkedin Ads strategy,
Facebook Ads management,
Google Adwords strategy development and implementation,
Creating and managing marketing and sales funnels,
Creating and managing lead capture pages for lead generation,
Email Marketing,
Marketing Automation.
For instance, a few years ago I realised good ROI by using Content Strategy Channel for personal CMS Niche website (WordPress, Woocoomerce, Magento, OpenCart). In that case, the content targets developers, entrepreneurs, agency owners, and designers.
Look at the chart below,
This website was able to move from zero to 60000 visitors per month in two years with zero investment in SEO.

During that period, a small team of copywrites wrote 600 articles. A closer look into their metrics indicates that every article generates one customer per year (as you can see on the chart below). This also creates a serious brand awareness and self-promotion buzz.
4. Social Media Strategist
A social media strategist leverages the social media channels to increase outreach and achieve the marketing targets. He/she is responsible for creating high quality original posts for the company's social media channels.
Apart from creating and scheduling of posts, the strategist also responds to customer queries, asks for reviews, and  manages Q&A sessions. He/she should liaise with writers and designers to ensure top notch quality of the posts. Posts should not only be appealing but also informative.
By optimizing the relevant tags for the posts, the social media strategist should work in collaboration with the product development and marketing departments to create a buzz over new product launches. Design the social media strategy to achieve the company set marketing targets.
Data from across the social media channels inform monthly reports on traffic and corresponding ROI. Observable metrics such as user engagement provide the necessary feedback for content optimization.
The social media strategist is also responsible for forging strong networks with industry leaders and notable professionals. They also train internal teams to maintain a cohesive social media strategy. The team must stay up-to-date with the latest digital trends and social media best practices.
They should plan the social media strategy to achieve the company's marketing targets. The social media team must always stay on top of the game by creating, scheduling, and publishing high quality posts on all of the company's social media channels.
When used correctly, social media can generate tremendous traffic to a website. For instance, I created a blog that became extremely successful after implementing social media strategy back in 2014. I later sold it but you can see its stats in this file.
5. Professional Copywriters
Every serious company cannot underestimate the power of copy in their marketing campaigns. The copy is also important tool your company will use to convert readers into buyers.
In fact, good copy will generate more leads several months down the line with no additional marketing budget. This is because good copywriters understand customer psychology. They are able to create copy that triggers the desired effect, which may include signing up or buying a product.
To improve the conversion rates, get a copywriter who understands consumer behavior in that specific niche. This could be an in-house copywriter or you could outsource the work.
Message Architecture
When developing new content type, editorial style, or even the social media channels to use, do an audit first. Every marketing campaign should have a target and the message should be crisp.
Adopt a hierarchical architecture when developing your website. The hierarchy should be relative to importance and intended effect. Using a hierarchy will help you maintain consistent communications across all the channels.
6. UX Designer
UX designers are responsible for enhancing user experience. They work on the website design aspects that touch directly on how a user feels about a certain product or service. The team employs multiple approaches to address prospective user experience issues likely to arise from using the website.
The UX team is responsible for ensuring that the user can get all the needed items from one point. Achieving this is not easy because every user has a different taste and preference.
This calls for user-centric testing to observe the user behavior and remove any item that may compromise user experience. The aim is to create a product that imparts the best user experience from all perspectives.
For instance, when a customer lands on a non-existent page, he/she should see suggestions for relevant alternatives. The UX designer may also include a "Thank You" page post-download for subscribers.
Read this article to find out more about what a UX designer does and why you need one to minimize website redesign risks for your project.
7. UI Designer
UI designers are concerned with layout of the final product. They ensure that the menu is put in the right place, the buttons are the right sizes, the media and text do not run off the screen, etc.
The UI designer beautifies the UX designer's work and ensures that the website renders correctly on all screens. The UI team maintains the hierarchical organization of the website by ensuring that what is most important stays at the top.
For example, let's take a case where the website interface shows analytical data. The UI designer may decide to either create a static analytical dashboard or an interactive button to adjust the graph. Whatever they choose to use should be consistent across the website.
Consistency is helpful in determining how certain actions occur across the site. If it is an error alert for instance, the warning mode should be consistent to avoid confusing the user.
8. Interaction Designer (Motion Designer)
Motion designers are advanced visual designers. They create animated effects on the product that are triggered by specific user actions.
For instance, you may see some bubbles with additional information when you hover a mouse over Google maps. The visual response that the muse triggers is the work of a motion designer.
Motion designers are concerned with the visual feedback you get when you take certain actions while browsing the website. They create the effects you see on opening menus or browsing pages, or even going through slides on websites like Prezi. 
A motion designer needs a combination of skills and knowledge of multiple tools to achieve the desired effect. He/she should know how to:
work with a combination of colors,
use different type faces,
manipulate 3D and motion graphics,
work with tools like Adobe Illustrator, iOS, Quartz Composer, etc.
Having an expert with such knowledge will help you develop a product that is not only user friendly but also interesting to use.
9. Illustrator
An illustrator converts abstract lines into visually appealing works of art that portray the intended message. They can produce their work on different media depending on the one with the best output.
The illustrator produces artwork by using different illustration techniques such as orthography, isometry, and/or perspective. Constant collaboration is key to effecting the necessary changes for an improved output.
An illustrator, being an artist, can manage to work on multiple projects simultaneously. However, he/she may need to prioritize based on the deadline pressure and scale of the project.
You can see the work of an illustrator on this website redesign project for Slack by Ueno.co

10. Front-end Developer
A front-end developer is concerned with how the end-user sees the website once it is finished. Here we'll find a list of some of the tools a front-end developer uses to achieve his/her goal.
Some of the most popular tools include:
Integrated development environment (IDE)
Version controllers
Package management system
CSS frameworks and preprocessing units
JavaScript frameworks and preprocessors
Minificators, linters, and task runners
11. Back-end Developer
A back-end developer fully participates in the product's entire life cycle. He/she creates, manages, and debugs the code to remove errors and improve its integrity on an ongoing basis.
The back-end developer tests the system for UI quality and optimizes the system for better performance. Working with the front-end developer, they integrate both ends for smoother operations and enhanced user experience.
To ensure continuous improvement, a back-end developer trains the in-house personnel to continually gather usable data for implementation. They also develop and store core programs in the library for future (re)use.
The back-end development team should collaborate with the other teams to identify emerging technology trends  and develop solutions for them.
A back-end developer should preferably be a full stack developer with both front and back-end development experience. A working knowledge of the development languages like Python, CSS, Javascript, Java, PHP, etc. is a plus.
To assure quality of the product, the developer should:
be thorough in his/her work
have excellent problem-solving skills,
be time conscious, and
embrace teamwork.
 12. SEO Strategist
The SEO strategist is responsible for creating and managing content that the search engines will love. He/she manages a team of search engine optimization experts. This team is solely responsible for creating content that the search engines will love.
The team conducts keyword research and creates content management strategy. It also reviews the website for any SEO issues and recommends appropriate fixes to be effected by the other development team members.
They create content for the landing page, web content, blogs, press releases, etc., which is useful for link building. The team aims to increase the visibility of the website on the web and increase traffic to the website.
 13. Data Analyst
Websites generate a lot of data. It is the work of a data analyst to convert that raw data into meaningful information. The information will be useful in making decisions that will help the business to grow.
The data analyst regularly presents their information to the other team members to help them optimize operations. A data analyst should have excellent communication, report writing, and presentation skills. These will help the team to make a meaningful interpretation of the report.
The data analyst must pay attention to the minutest detail. Critical thinking is necessary to help in eliminating factors that will consume resources without generating profitable ROI.
14. Conversion Rate Optimization Expert / Persuasion Expert
Conversion rate optimization (CRO) is also called conversion optimization. It is the measure/proportion of visitors who arrive on a webpage and proceed to take the desired action on that page.
It takes a persuasive expert with an in-depth understanding of consumer behaviour to create a webpage that converts. This expert is very important when you wish to reduce website redesign risks and increase KPI for Ecommerce website. Such a person should preferably have a background  in sociology or marketing.
Many studies and books by industry experts document thousands of conversion optimization techniques. Some of the CRO resources I cherish include:
Hidden Persuasion: 33 Psychological Influences Techniques in Advertising

CA$HVERTISING: How to Use More than 100 Secrets of Ad-Agency Psychology to Make Big Money Selling Anything to Anyone
This list, though long, does not exhaustively list the web development process experts one needs to minimize website redesign risks. The uniqueness of each industry presents its own challenges and business potential. This needs a carefully analyzed integrated approach to minimize the risks and realize profitable growth.
In conclusion
Trying to reduce website redesign risks without a proper digital strategy is an exercise in futility. It is very expensive to invest in the wrong strategy or work with the wrong team.
The lifetime value you will get by hiring the right team is simply invaluable. A dedicated professional team will accelerate the success of your business. Such a team has both the capacity and experience to improve the ROI of your business unit.
When you get a team with the right combination of the skills we have itemized above, you will reduce your website redesign risks to zero.