When it comes to redesigning your website, you may ask what are the best website redesign companies? As for me, I would prefer to work with companies that deep understanding of Digital Strategy. Only such companies have the requisite expertise to reduce any website redesign risks to ZERO and significantly improve KPI.
The internet is so littered with website redesign companies that you will be spoilt for choice. You have to be very cautious when choosing the company that will redesign your website. Luckily, I have a list of five awesome website redesign companies whose services are supported web design, and creative awards.
As you are already aware, our own company, ALLDGT, also provides digital strategy and website design services. I am, however, sharing about these outstanding companies because of their creativity and ability to create powerful digital products.
Selection Criteria for the Best Website Redesign Companies:
When you are looking for the company to handle your website overhaul project, the following features should come at the top of the consideration list.
Strong expertise in digital strategy
Number of experts involved in the projects
Awards
Social Proof
The top five website redesign companies that satisfied our selection criteria include:
1. Ueno.co – Very digital. Much agency.
When it comes to website redesign, UENO is a company to reckon with. It is the website redesign company behind sleek websites and apps like Uber, Slack, Dropbox, ESPN Body Issue, Reuters TV, Verve, RedBull TV, Zero, among many others.
Their design work oozes expertise and class. It is one company that capitalizes on consumer needs to create a product that addresses their needs. Their websites have very high conversion rates because they totally de-clutter the dashboard. The consumer is left with the essentials, which delivers amazing results.
Look at this amazing motion graphic they delivered on the project they did for Slack. Slack is a growth company and nothing could have said it better than this graphic. It portrays teamwork and efficiency, for which Slack is well-known.
And here is their sleek new page:

You can see the rest of the project details on Ueno.co portfolio page: https://ueno.co/work/slack.
2. Work & Co – Digital Product Agency.
Work&Co is a web design company based in Dumbo, Brooklyn but also has remote offices in Oregon and Rio de Janeiro, Brazil. The company prides itself on building light pages (about 850 KB on average) by using AngularJS.
The company has delivered great results for big names in the web industry. Some of their clients include Virgin America, Facebook, Chase, Target, Google, TripAdvisor, Disney, among many others.
The company's strength relies on de-cluttering a webpage to the bare essentials. In doing all these, they do not sacrifice the aesthetics of the page due to the compact code they use for each project.
Here is the project they did for Virgin America.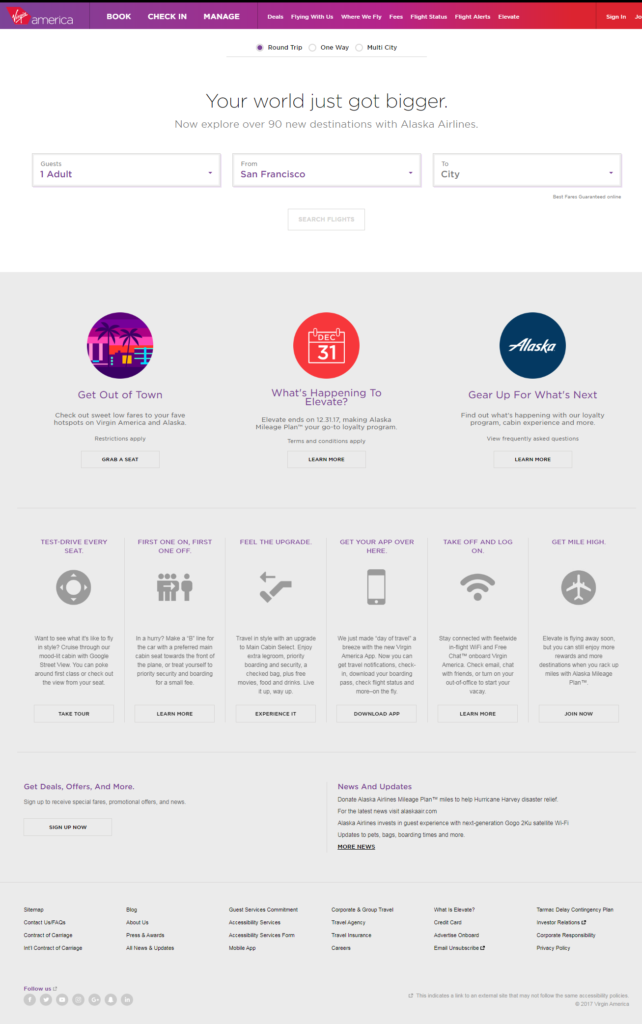 You can read about the full case study on their portfolio page: https://work.co/virgin-america
3. Blind – Brand Strategy Design Consultancy.
Blind is one of the boldest website redesign companies you will ever find. They do not fear large fonts and large images. Their boldness makes their work very memorable for the customers who arrive on their clients' websites.
They aim to make the work stick to memory at the very first instance. This they do because they know there's only one chance to make the correct impression.
They have worked with notable companies like Nike, Snapchat, Sony, Microsoft, Google, Honda, Wells Fargo, and many others.
Blind is one website redesign company that does not fear to carry out a complete website overhaul during a redesign project. They aim at creating an experience for the customer. This experience will help the customer to easily identify the brand the next time they see it.
Here is the website redesign project that Blind did for Ole's Fishing Lodge.


You can read the full case study here: https://blind.com/case-study/oles-hakai-fishing-lodge-rebrand/
4. Netguru: Building software for world changers.
This is the website redesign company behind Trello design. Trello is one of the largest productivity SaaS companies in the world. NetGuru has won several notable awards such as Deloitte Technology Fast 50, Forbes and Inc.
They are the company behind many notable company website designs including SaaS companies like Whym, Intellection, and Trello. Other companies they've worked with include Seahub, Vendr, Tourlane, and many others.
They aim to create an experience for the customer that they will not find elsewhere. Their design aims to produce a product that is easy to use because they value efficiency and productivity.
When they redesigned Ikea website, they were aiming at giving the user better experience with the shopping platform. The navigation looked much better and the customer can find what they want right in their own country.

On Trello, Netguru created an experience that the customer could not find elsewhere. The navigation panes are easy to use and the interface is de-cluttered. The user can easily track projects from inception to completion.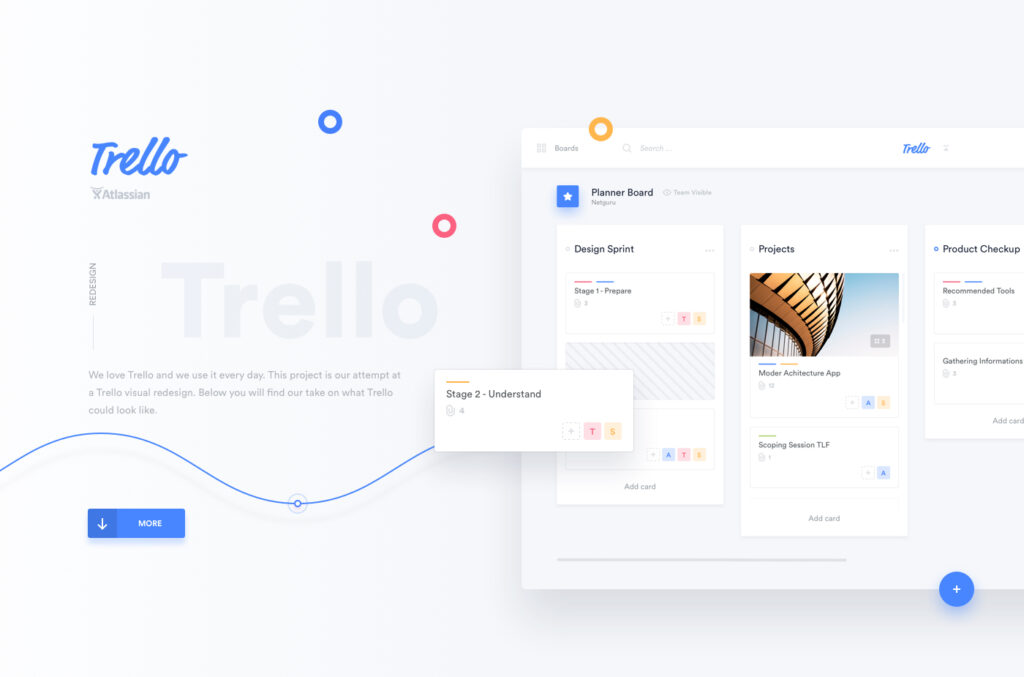 Here are the links to the website redesign concept case studies by Netguru:
Ikea: https://www.behance.net/gallery/52433389/Shopping-made-personal-IKEA-online-experience-concept
5. Norde Digital Agency
Norde is another special website redesign company that you need to look out. This company goes big on small details of their projects. Whether it's an app icon or design critique, they do not leave anything to chance.
They have worked with the major app and website companies like MegaFon, White Russian, Ink Project, Jobly, Academix, Fantasy Football, among many others.
If you are looking for a sleek dashboard for your website, you need to check out Norde's portfolio. For instance, check out this sleek dashboard they created in one of their projects.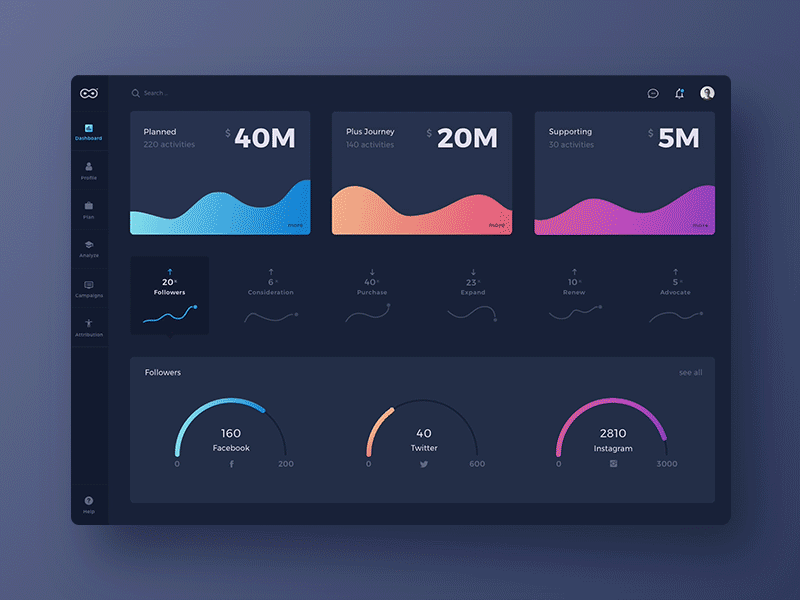 Check out Norde's full portfolio on Dribble: https://dribbble.com/norde
Conclusion:
Website redesign project requires a good team of experts and strategy based on strong insights. If you have to choose of the best website redesign companies, go with one that has the expertise and strategic thinking. This list contains the creme de la creme of the website redesign companies. They offer the best yardstick you can use to evaluate the company to redesign your website.