How luxury eCommerce brands, such as Cartier, Bvlgari, and Rolex, sell expensive products online via simple Add to Cart – Checkout – Purchase buttons. Let's call it an automated process. I will be using this term many times in this blog post. The blog itself will not be easy to understand. Great things are always hard to understand or master.

Would you mind making a 10 min effort to read it few times and connect the dots?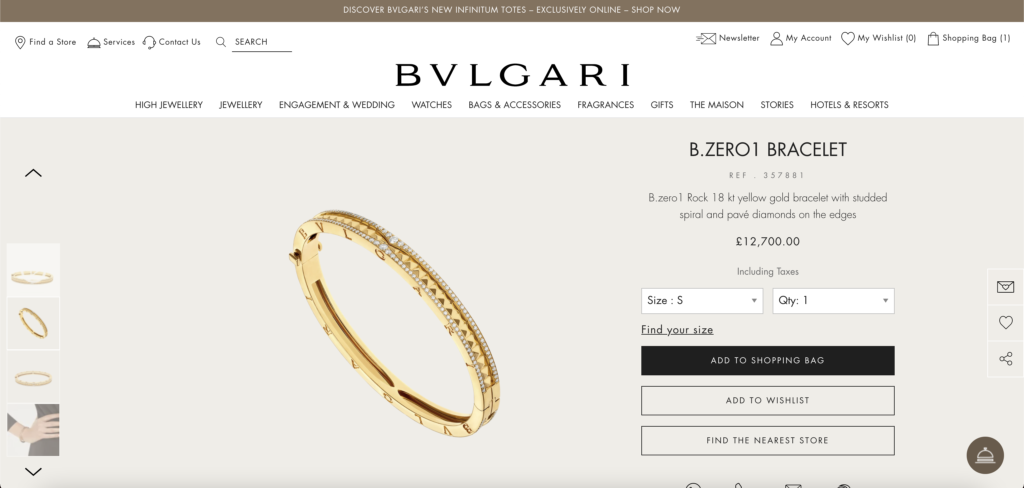 Let's start with one question.
Will You Be Able to Sell Expensive Products Using a Similar Automated Process?
Yes and No.

If you are not a well-known brand, it will be pretty complicated because impulse buyer is a rare phenomenon in the eCommerce world compared to Retail. In most cases, before buying a high-end piece from a new eCommerce brand, the client wants to chat via video call, phone, email, live chat, etc.

The client likes the product, but something is stopping him from buying. It's caused by a lack of trust in the brand, making the automated process less efficient for a new brand to sell expensive products. And it will be inevitably replaced by manual processes like speaking with the client on the phone, Zoom, and converting the phone call into an online or offline video appointment. All this is needed to gain the trust, win the customer's heart.

Established brands gain this trust over time through a sophisticated combination of organic and paid marketing strategies. That's why automated processes work for them. I show a part of the sophisticated marketing strategies in my free masterclass at www.alexskb.com.

The automated process will work well for existing clients since they already trust your brand. But the majority of the new clients should be acquired through a manual process when it comes to selling expensive products or services.

Cartier, for instance, combines both processes, automated and manual. They are still inviting new clients to call them or book an appointment: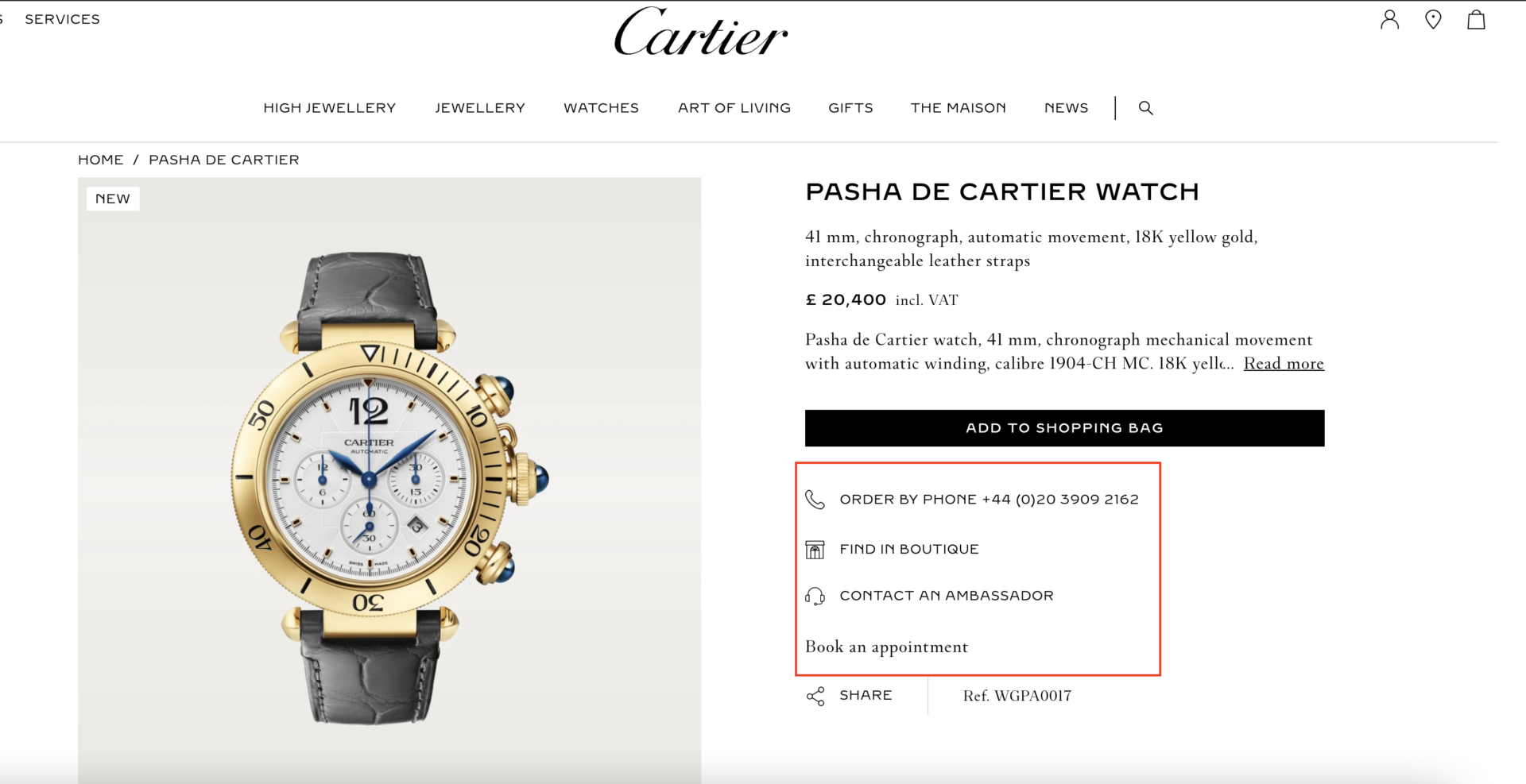 Now, let's talk about marketing objectives and what marketing experts will advise you to do.

All marketing experts will say that you need to build a brand first. This means investing millions in brand awareness as a marketing objective before selling directly via Add to Cart -> Checkout-> Purchase (Automated process).
But What Does Building a Brand Mean?
As for myself, the BRAND is built by the clients. Clients will develop your brand and do a significant part of brand awareness for you by offline and online word-of-mouth methods. Subsequently, the more clients you have, the more powerful you will be as a brand to influence more people to buy.

Now speaking in marketing objectives, you don't need to invest millions in brand awareness objectives and wait for years to get your first clients. You actually can sell expensive products much faster, in a maxim of 2-4 weeks from the start of your advertising campaign.

But here is the most crucial detail you need to know. This detail will save you at least 300K and one year of struggles and disappointments. As I said, the majority of the marketing experts will advise you to do brand awareness marketing objectives. But brand awareness campaigns as a marketing objective will not deliver a predictable flow of clientele.
I consider the Brand Awareness Objective an unsuitable choice for those who want to start doing online high-ticket sales and don't have at least a few million dollars to invest every month in brand awareness objectives without thinking about where the money goes.

Instead, I advise you to switch from the brand awareness objective to the book appointment objective, which will get your clients and also build brand awareness simultaneously.

Everyone dealing with high-ticket selling products or services must focus on online or offline appointments as a marketing objective. Even I do appointments using paid and organic strategies like Facebook /Insta Ads, Linkedin, Email, SEO, Content Marketing, etc.

This blog is a part of that strategy.

This advertising approach will give you clients fast. I said previously, the client is the one who will build your brand by the worth of a month using his methods of online and offline communication.

Booking the appointment is your next marketing strategy and objective!

If you disagree, you can advertise online, spend your first 100K without a sale on brand awareness everyone advising you, and then please return and reread this blog post.

I had already been there and had no one to explain this to me. I had to pay for my own mistakes with money and time, which is excellent for you. You don't have to make the same mistakes.

Ps. I'm glad to know that everyone reads this and gets tremendous value. It may be difficult to figure out how much it cost me to acquire this knowledge and share it for free with you. So if you get the value, do follow and support me everywhere. The more support I have online, the more I'll be able to share.
Below are some notable examples of companies focusing on the Book Appointment objective:
Harry Winston Doesn't Have ADD TO CART Button at All; They Have Appointments Only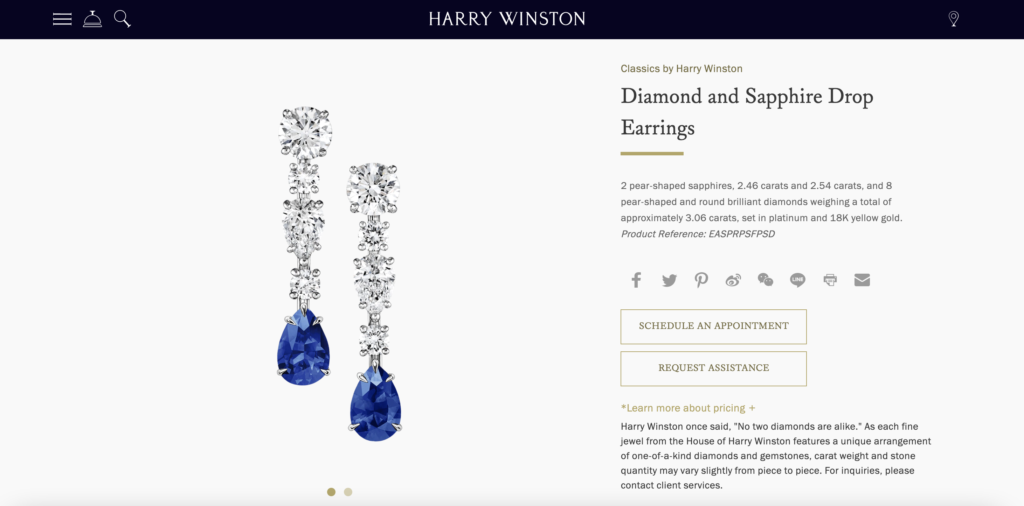 How Does David Alan Sell Expensive Products?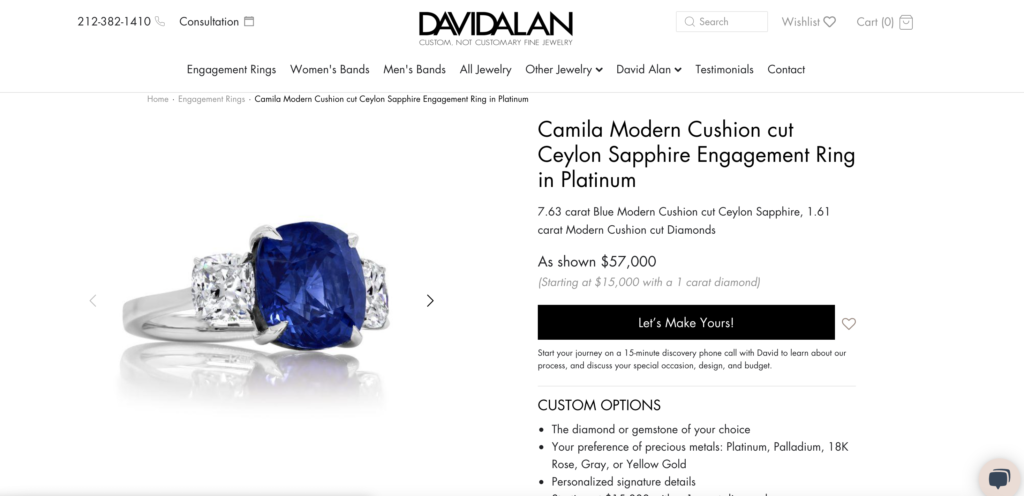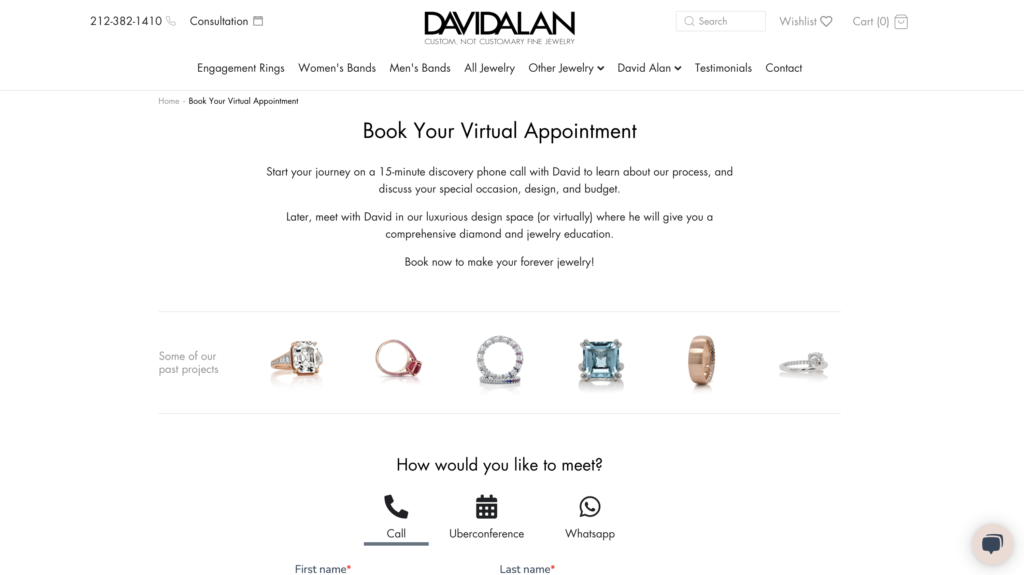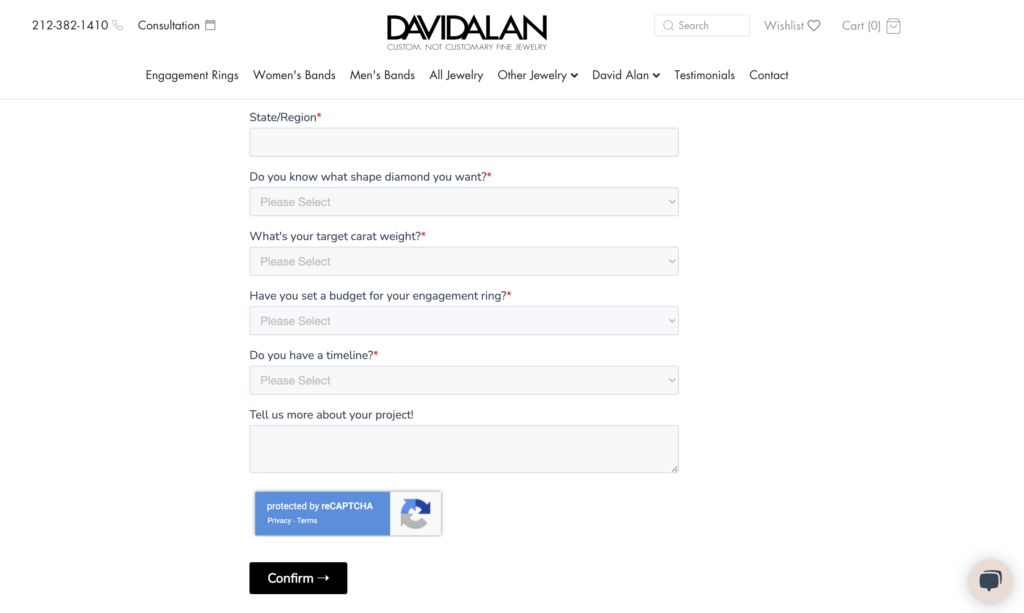 Even Boucheron Is Focusing on Book Appointment Objective While Selling This Tender and Majestic 100K Masterpiece
Boucheron is one of my favorite brands. I'm in love with the WLADIMIR cat ring. I love cats, and if my future spouse reads this, I will buy her this ring.

Another benefit of using appointments is that you position yourself as a luxury brand, which is not for everyone and is hard to obtain.

You must show prices on the website to qualify people from the start. Otherwise, you will be getting appointments from people who are not a good fit for you, and you will waste your time on useless meetings.
How to Advertise Expensive Products on Facebook, Instagram, Google, YouTube, Pinterest, etc
You can advertise expensive products almost on every marketing platform, but as I mentioned, your advertising objective will be booking appointments and not brand awareness.

Also, when doing luxury advertising, your goal is to tell a story and evoke emotions. You are selling feelings and stories about the product.

For example, Cartier is selling LOVE:
Also FEARLESSNESS:
Nowadays, commercial jewelry videos can be outperformed by a simple video recorded on the phone. If you know how to present your products, tell a story, evoke feelings, show a making-off process, etc., do it using a simple phone. It can be efficiently used in paid advertising so that you don't need to invest hundreds of thousands in commercial videos like Cartier to sell expensive products.
Craftmanship and Talent Accomplished with Nice Visuals
Shall you also sell love and fearlessness as Cartier does? Not at all. Craftmanship and talent are other "emotions" that are always in trend. People love watching and buying these two:
***This video is long and suitable for organic advertising on youtube, but for PAID ADVERTISING, make it no longer than 1-2 minutes.***
What Do You Need to Measure in Your Advertising Campaigns?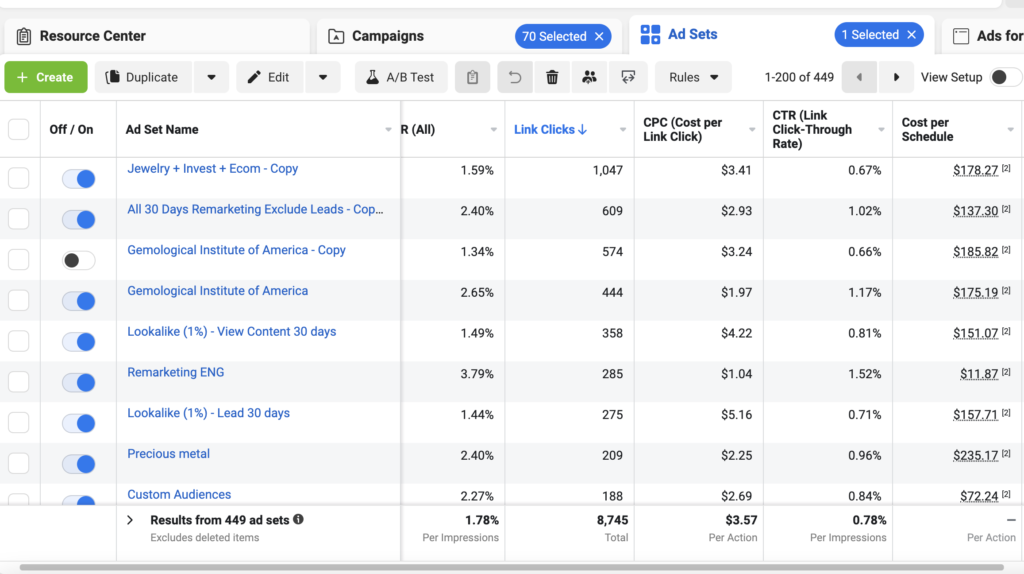 How to Handle the High-Ticket Sales Process?
All the appointments should be registered in your sales CRM (client relationship management software), so that you can manage and control every step during the sales process. Based on your business model, you can create different sales steps your team must follow and move your client from one stage to another:
Step 1: First meeting;
Step 2: First deposit paid;
Step 3: Design Stage (if you don't sell ready-made products);
Step 4: Manufacturing stage;
Step 5. Final payment stage.
Additional steps:
Follow up a step (In case a potential client don't show up in the meeting);
Retention Step (In case a client has other jewelry desires, you can create a particular stage/step in your CRM).
You can customize these steps/stages. They will depend on your sales process.

There are many CRMs like Zoho, HubSpot, Pipedrive. I advise you to play with a few and choose the one that fits your business needs.
Final Thoughts
If you sell expensive products or services and need a proven system to get more qualified appointments. Guess what? You can book an appointment with me directly at: https://www.alexskb.com/applynow, and if you are a good fit, we can work together.

Please take a look at my application process. It's not easy to complete. I especially ask qualifying questions because I don't want to invest my time with businesses that cannot afford my service or don't understand my level of expertise.

I advise you to do the same, qualify your leads before the call by asking the right question. In that way, you will close more deals and increase your conversion rate from an appointment into a sale.

*** You don't need to copy my application model. It's working for me, but it doesn't mean that it's going to work for you. You can ask fewer questions and get even better results.
As you see, I eat my dog food! And if you don't believe me, you are still skeptical. I kindly ask you to avoid applying. Just let other businesses book a spot in my calendar.