As a coffee business owner, you are constantly looking for new ways to invest and stand out in the competitive coffee industry. In addition, in a world where you have to beat your competition using digital marketing tools, we can help you take your business to the next level.
Probably you have seen our advertising (I'm sure you did) we address to coffee business owners:

This is going to be an "aggressive" article for you to digest. If you are not happy about aggressive tone, please don't read it.
However, this is your chance to discover the one guaranteed way to increase all your coffee sales to the moon! This is no-nonsense info because it is a guaranteed fact based on my experience. This post is dedicated to coffee Entrepreneurs who are not afraid to invest, not afraid of trying new and who are not afraid of being a high performer in their industry.
Let us start!
Tell me, please.
How much did you invest in starting a coffee business?
How much did you invest in buying a coffee roaster?
How much did you invest in coffee procurement?
How much did you invest in your employees?
What is the return on investment on that?
I bet you would agree it is VERY LOW!
Here is the reason why…
You have not invested in Digital Marketing specifically FaceBook Advertising. And if you have, chances are you have been doing it all 99% wrong.
Probably you invested in an ugly website that just represents your coffee brand but does not bring you any satisfactory sales that you can be proud of whatsoever. How a lovely coffee brand should look like? LIKE THIS:  https://alldgt.com/portfolio/javapura/
Maybe you invested a few bucks in online ads that didn't get any results, and now you are SCARED of any investment in any digital marketing strategies. Probably you also have no clue how to measure a digital marketing investment.
What that gets measured gets improved and accomplished!
Here is my last project I invested in Facebook ads and GOT 1500% RETURN ON INVESTMENT, STILL GROWING. 1000% from Facebook and 500% from in-store sales that are tracked as offline sales.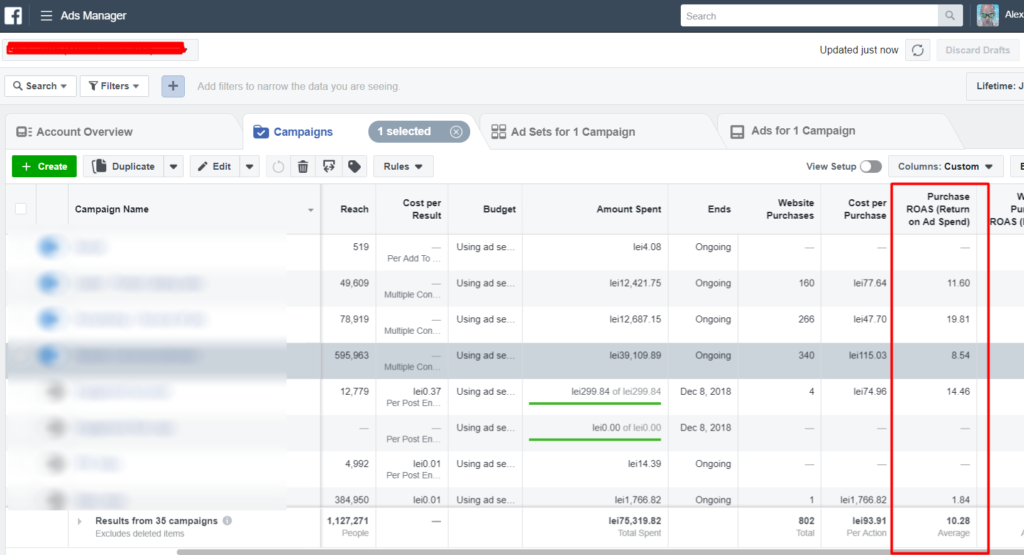 A HIGH PERFORMING COFFEE BRAND HAS TO BE LIKE a machine, every day producing sales for you and a steady flow of LIFETIME CUSTOMERS! 
A lifetime customer is a customer who is buying coffee or any coffee-related products every month, every week, every day!
In order to have that LIFETIME customer, you need to have 2 things in place: first, a highly performant e-commerce system and second, a powerful marketing funnel:
1. COFFEE SUBSCRIPTION + 2. Constant Facebook Advertising = Lifetime customers!
Those two are a must for building a community of people who are going to buy constantly from YOU = LIFETIME CUSTOMERS!  
Increase Coffee Sales With Snowball Effect – THE BIGGER IT GEST THE BETTER THE REVENUE IN YOU BANK ACCOUNT.
I WANT TO ASK WHY YOU ARE NOT INVESTING IN THE CREATION OF COMMUNITY?
IT IS LIKE BUYING A COFFEE ROASTER + COFFEE beans every month that BRINGS CUSTOMERS and builds this SNOWBALL EFFECT!
This metaphorical expression means:
COFFEE ROASTER = A REALLY POWERFUL and MODERN WEBSITE/BRAND as I mentioned before with a subscription SYSTEM.
COFFEE BEANS = MARKETING BUDGET FOR EVERY MONTH.
EVERY TIME I DO consulting with coffee business owners, I feel the fear of investing in that!
Well, my job as a marketing expert is to convince you to do it! Isn't this clear ENOUGH? There is NO better way than this one. You must believe in it, you must do it!
One single member can bring you: 250$ per year, possibly more if you are upselling additional products!  
1000 people in this community are:
250.000$ in revenue per MONTH
3.000.000$ in 1 YEAR!
How much to invest to get 1000 people for a coffee subscription?
How much do you think it is worth to invest in?
You can be breakeven in the first YEAR because you have to spend a lot on advertising to build a brand and a community. It's ABSOLUTELY NORMAL! Many are giving up in this first year!  But it gets more profitable once you build it! Just my word of advice: DON'T EXPECT A PROFIT in the FIRST YEAR! BUILD THE COMMUNITY FIRST- CUSTOMER BASE, TAKE CARE OF IT, AND THEN ENJOY THE LIFE and the BRAND that is WORKING FOR YOU and not vice versa -> you WORKING FOR THE BRAND!

You have to invest between 20$-250$ to get a 1-lifetime customer, depending on the country. Now, let us do the math. Let us take the maximum; this is for highly competitive markets:
You have to invest 250.000$  to get 1000 coffee subscription members who are going to bring you 3.000.000$ in revenue per year.
THIS IS at least 1,100.00% RETURN ON INVESTMENT! WHICH BUSINESS DEAL CAN BRING YOU SUCH a HUGE PERCENTAGE?! THIS NUMBER WILL GROW YEAR BY YEAR!
How long will it take to achieve these numbers?!
Maybe 1 year, maybe 2 years, maybe 3-5 years. Everything depends on how much you invest and how good you are optimizing your digital marketing strategy.
I know that only 1% percent of those who are reading this are going to invest in it! And if you analyze the best coffee players, the best performers in the niche, they are doing just exactly this! Here are a few examples:
https://bluebottlecoffee.com/
https://atlascoffeeclub.com/
START INVESTING in YOUR COFFEE BUSINESS WISELY TODAY. But before you do that, contact me via chat in the bottom right corner or via email: alexander@alldgt.com, and I will answer any questions you might have regarding this post.