Dear Business B2B business owners and managers who want to use Facebook B2B marketing. I prepared this post for you and I will cover the following:

1. How exactly to target-specific industry B2B businesses owners using Facebook Advertising.
2. B2B Marketing mistakes to avoid. If you will skip this, you will lose money on advertising.
3. B2B Facebook best practices and how b2b companies use Facebook.
4. Facebook B2B examples of advertising.
5. Facebook B2B Marketing Budget.
Before we start talking about facebook b2b marketing strategies, let me answer a few most common questions:
Does Facebook work for b2b marketing?
The short answer is YES. In comparison with LinkedIn and Google Adwords for B2B, Facebook is much cheaper for acquiring B2B deals.
What is the average b2b cost per lead facebook?
5$-20$ is considered an excellent result for B2B use facebook ads. 20-35$ is normal. Above 55$, you have to worry about your cost per lead. Something wrong with your marketing strategy, structure and targeting. Targeting is 70% is responsible for your cost per LEAD. The rest of 30% is your creative and offer. Here is an example of a B2B marketing campaign addressed to jewellery Businesses Owners.

What is a good CPC on Facebook ads b2b?
Depends on many factors. But those are the stats I have for today, before black Friday, in Q4, when the costs per click are x3-x5 higher than usual. The prices are almost the same when advertising for B2B in USA, UK, CANADA, AUSTRALIA and EUROPE: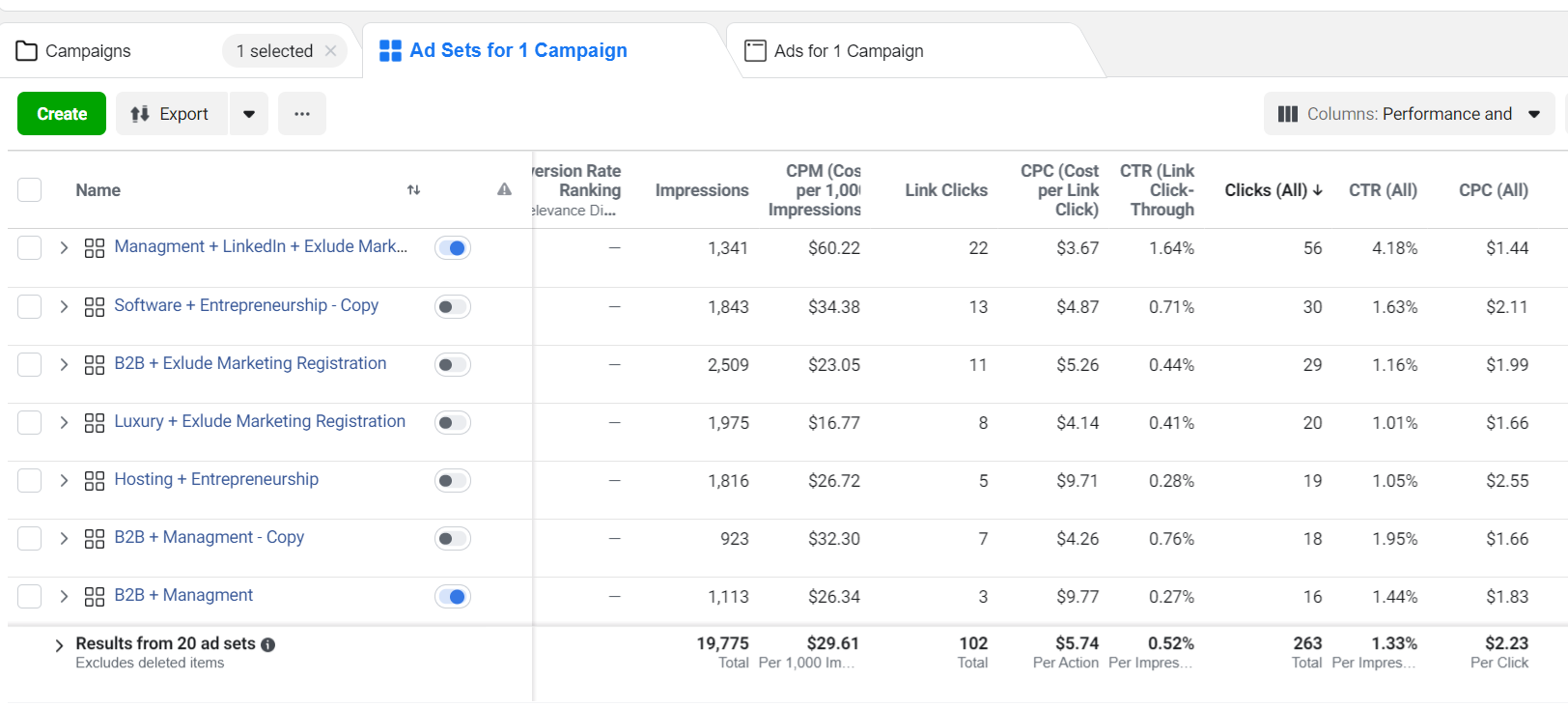 1. How to target-specific industry B2B business owners or demographic on facebook
If you are a software company and you want to target accountants, no problem! If you are a shipping company and you want to target eCommerce businesses no problem! I will show how to target B2B businesses from the following industries:
Accounting
Airlines/Aviation
Alternative Dispute Resolution
Alternative Medicine
Animation
Apparel & Fashion
Architecture & Planning
Arts & Crafts
Automotive
Aviation & Aerospace
Banking
Biotechnology
Broadcast Media
Building Materials
Business Supplies & Equipment
Capital Markets
Chemicals
Civic & Social Organization
Civil Engineering
Commercial Real Estate
Computer & Network Security
Computer Games
Computer Hardware
Computer Networking
Computer Software
Construction
Consumer Electronics
Consumer Goods
Consumer Services
Cosmetics
Dairy
Defense & Space
Design
Education Management
E-learning
Electrical & Electronic Manufacturing
Entertainment
Environmental Services
Events Services
Executive Office
Facilities Services
Farming
Financial Services
Fine Art
Fishery
Food & Beverages
Food Production
Fundraising
Furniture
Gambling & Casinos
Glass, Ceramics & Concrete
Government Administration
Government Relations
Graphic Design
Health, Wellness & Fitness
Higher Education
Hospital & Health Care
Hospitality
Human Resources
Import & Export
Individual & Family Services
Industrial Automation
Information Services
Information Technology & Services
Insurance
International Affairs
International Trade & Development
Internet
Investment Banking/Venture
Investment Management
Judiciary
Law Enforcement
Law Practice
Legal Services
Legislative Office


Leisure & Travel
Libraries
Logistics & Supply Chain
Luxury Goods & Jewelry
Machinery
Management Consulting
Maritime
Marketing & Advertising
Market Research
Mechanical or Industrial Engineering
Media Production
Medical Device
Medical Practice
Mental Health Care
Military
Mining & Metals
Motion Pictures & Film
Museums & Institutions
Music
Nanotechnology
Newspapers
Nonprofit Organization Management
Oil & Energy
Online Publishing
Outsourcing/Offshoring
Package/Freight Delivery
Packaging & Containers
Paper & Forest Products
Performing Arts
Pharmaceuticals
Philanthropy
Photography
Plastics
Political Organization
Primary/Secondary Education
Printing
Professional Training
Program Development
Public Policy
Public Relations
Public Safety
Publishing
Railroad Manufacture
Ranching
Real Estate
Recreational
Facilities & Services
Religious Institutions
Renewables & Environment
Research
Restaurants
Retail
Security & Investigations
Semiconductors
Shipbuilding
Sporting Goods
Sports
Staffing & Recruiting
Supermarkets
Telecommunications
Textiles
Think Tanks
Tobacco
Translation & Localization
Transportation/Trucking/Railroad
Utilities
Venture Capital
Veterinary
Warehousing
Wholesale
Wine & Spirits
Wireless
Writing & Editing
and others.
There are more ways to do it. I will share just 3 of them. Two are based on Facebook B2B targeting only. The third one will be a combination of LinkedIn and Facebook. This is the most powerful to get high-quality B2B leads from facebook.
Native B2B Targeting On Facebook: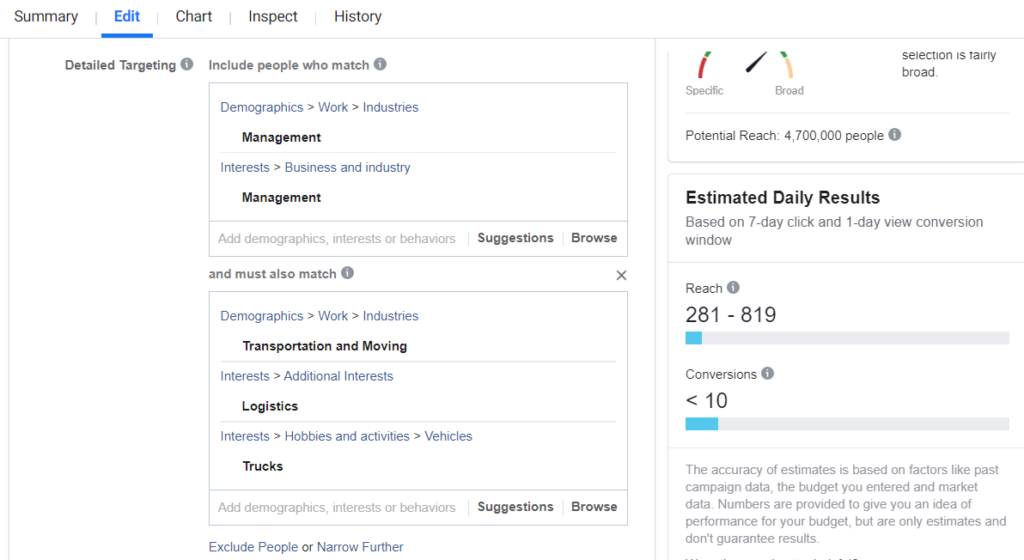 As you see, here I target potential managers from the Transportation industry. You can play with the targeting depends on your specific services or narrowing it further using "Narrow Further button". The same strategy applies to all industries.
Here is another example of the same principles we can apply for Ecommerce B2B targeting on Facebook: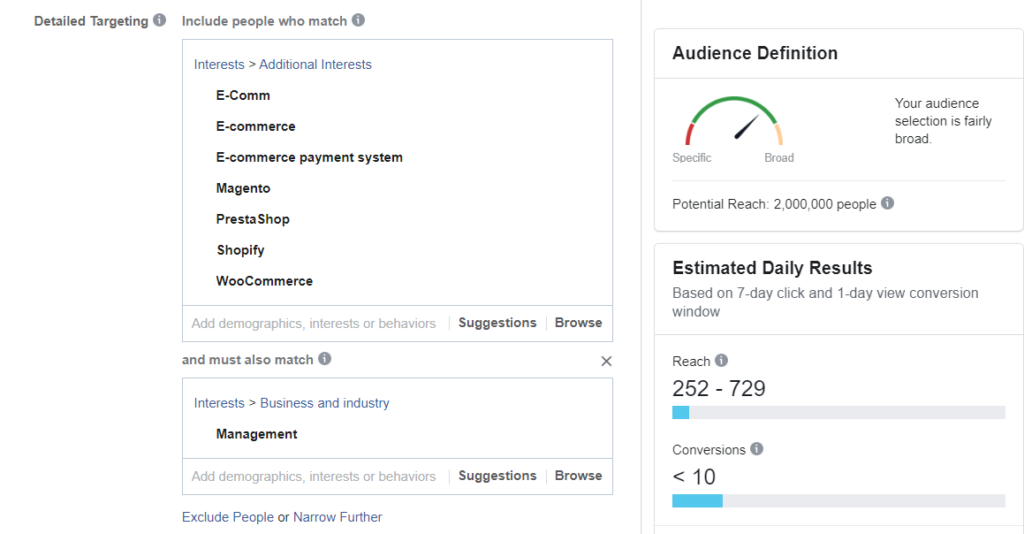 I targeted eCommerce Platforms, Ecommerce payment systems and General Ecommerce Interest. Further, I narrowed it down, for better B2B matching.
Facebook B2B Ads with Lookalike B2B demographics
Another, more sophisticated options, is officially called LOOKALIKE audience. You can call it a similar or custom audience.

Facebook has an excellent algorithm that will make you similar audiences based on different interactions.

Those are custom audiences that were interacting with your business at different levels:
– You can create B2B audiences based on people interacting with your Facebook or Instagram Page.
– You are able to create Facebook B2B Lookalike audiences based on People that were visiting your website or a specific page.
– You will be able to create similar audiences based on actions your B2B customer made, like press Contact Us button, or add to cart button.
– Based on your customer database or email database.

and many others. Let me show you an example of how I use it:
B2B Demographic Targeting Using Facebook + LinkedIn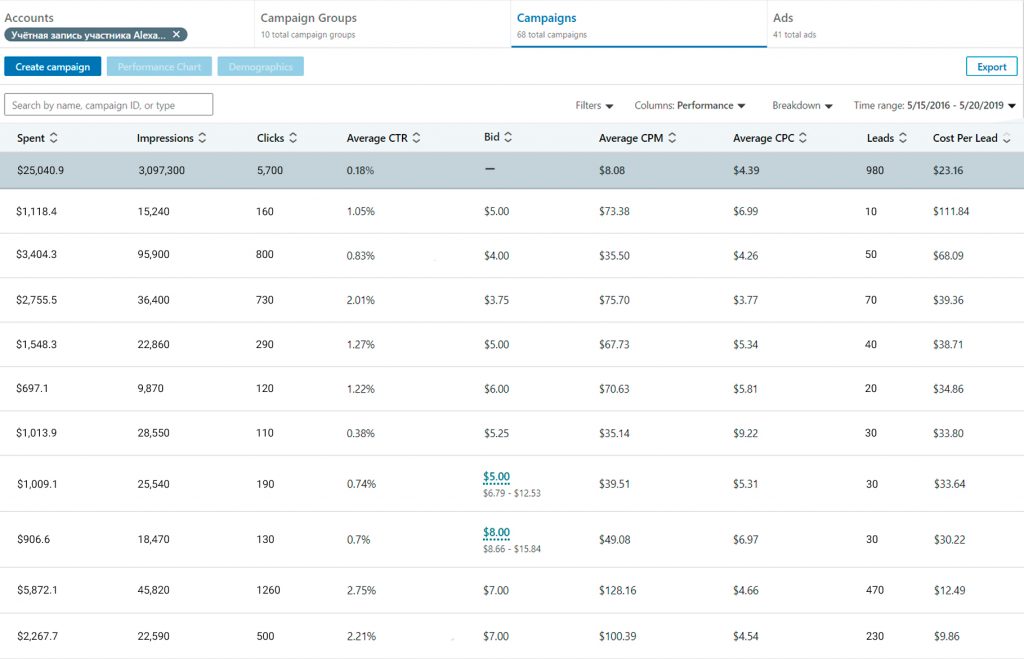 This is a long run.
1. And we need at the beginning create LinkedIn Lead Generation Campaign and generate at least 200 leads. The cheapest way to do it on Linkedin is to advertise a REPORT or a CASE STUDY. Facebook needs more data to optimize your audience properly.
2. Export the data from LinkedIn and Import it to Facebook:

Exporting from Facebook: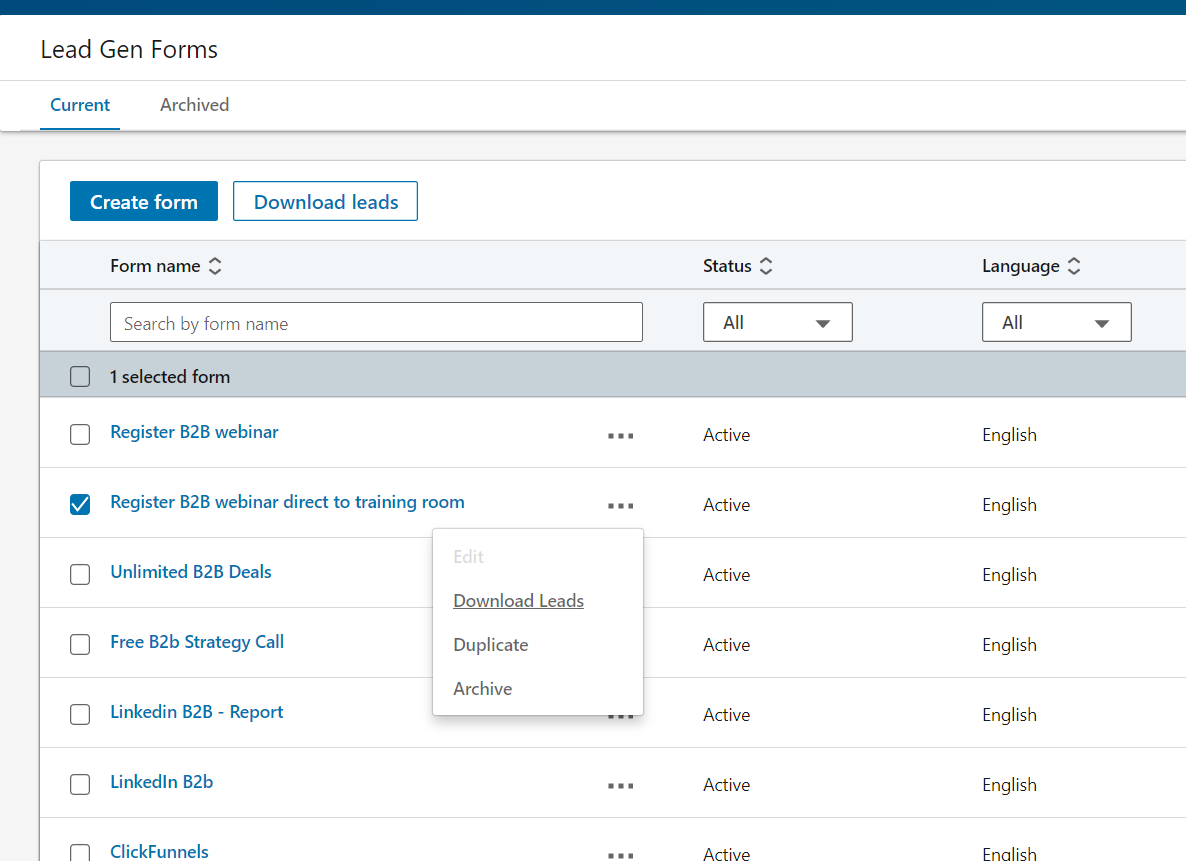 Import to Facebook: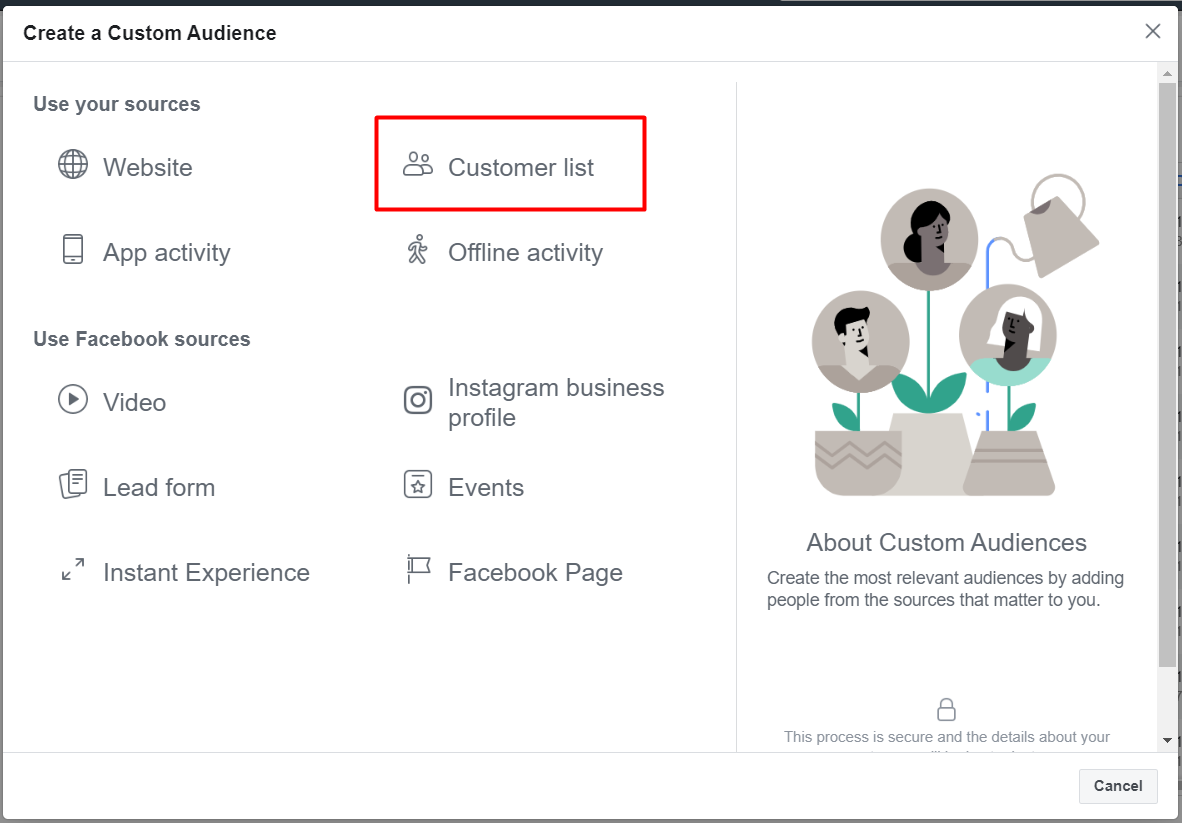 3. Create a lookalike audience based on this data.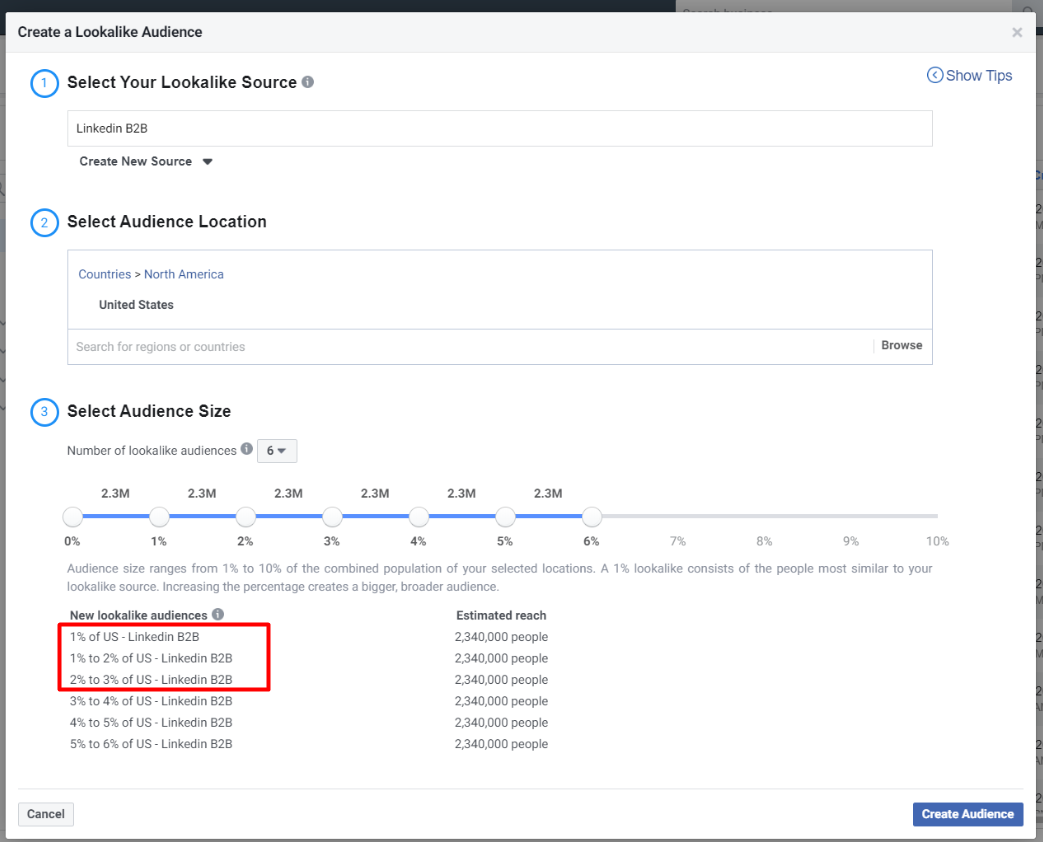 4. Use those audiences in your advertising. I recommend using just first 3 audiences 1%, 1% to 2%, and 2% to 3%. The rest is also worth testing.
5. Enjoy more sales, high quality leads at the lowest possible cost: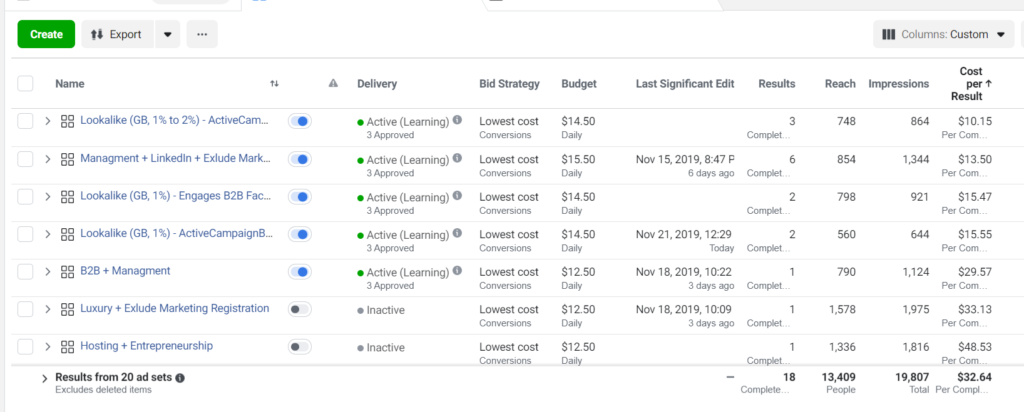 What are the benefits of such B2B advertising and targeting of Lookalike audiences?
– This strategy is used for Scaling your business or reach more and higher quality B2B customers, while with standard targeting it will not be possible.
– The lowest customer acquisition cost.
2. Facebook Marketing Mistakes to avoid, if not, you will lose money.
Not having a marketing structure:
3. Facebook best practices for B2B and how B2B companies use facebook:
Don't advertise without marketing structure.
Exclude women or man depends on the industry. One gender at a time when doing B2B.
Targeting by a specific age. 30-55 years old.
Start with only 1 placement. Facebook newsfeed only.
Stat with Testing different 2-3 different copy/images/videos for the ads.
Make sure your landing page is working properly on mobile.
Don't target just by Desktop. Use bot Mobile and Desktop.
Use remarketing campaigns for Engagers and Website visitors
Run-Value ads instead of Direct Service advertising.
Run Video Ads and Retarget those who watched 50% of the video with and offer.
4. Facebook and Youtube B2B examples of powerful advertising.
Video is the most effective instruments to create brand awareness. I strongly suggest using video at the top of your marketing structure! If you want to know how to use videos in a B2B marketing Structure that 100% works. Please read here the exact strategy for B2B video marketing:

>> Effective B2B Marketing Strategy using Facebook and Youtube VIDEO <<
5. Facebook B2B Marketing Budget
On some of my business/projects, I spent every penny, 100% of the profit, just to get business some traction. The industry standard is 20% from revenue, you have to allocate to all marketing channels among which Facebook as well. SALESFORCE a B2B SOFTWARE spends 48% of their 10.5 billion revenue in marketing as an example.
In conclusion:
Don't listen to any who are telling Facebook doesn't work. It works, but you must have a marketing structure in place. Ok? Without marketing structure, you will have low performance, high cost per lead and low or negative RETURN on Advertising Spent.