What began as a platform to connect people, now provides businesses with a captive, global audience of over 3.6 billion people. By 2025 this figure is expected to reach 4.41 billion!
Businesses today couldn't dream of not having a social media presence, and here's why:
"Eighty-nine percent of consumers will buy from a brand they follow on social, with 84% saying they'll choose that brand over a competitor." Sprout Social Index 
Social media advertising is used by 83% of B2B marketers, who rank it second in success to search engine marketing only.
For eCommerce businesses without a physical presence, social media represents the rare opportunity to connect with customers. As a result, social media should make up a sizable portion of all eCommerce companies' marketing budgets.
Not convinced? Let me explain ten reasons why you should make social media a key part of your eCommerce marketing plan.
10 reasons for investing in your eCommerce social media channels
1- Social media brings people to your site
Your social channels work like magnets, pulling consumers to your website. The top social networks have millions, if not billions of users. Whether customers find your page through organic or paid means, having a social presence allows you to be found by these groups.
Once a brand's been located and followed on social networks, Sprout Social Index found that 91% of customers visit the brand's website or app. 89% make a purchase and 85% go on to recommend the brand.
The presence of 'shop now' and 'get in touch' buttons on your channels gives customers an instant route to your website boosting this effect. From then on it's up to your website marketing strategy to lead them to purchase.
2- Maximize word of mouth sharing
Social media allows happy customers to share and promote your brand and products, turning them into Brand Ambassadors. Sprout found that 40% of customers find new brands on social media through their friends and family profiles. While 71% of social media users say that referrals on social channels have influenced their purchase decisions. Social channels provide an effective forum for word of mouth sharing, eCommerce brands must capitalize on this.
Businesses can encourage brand sharing by posting entertaining and shareable content. Smart brands have created such shareable posts that they've gone viral providing millions of dollars worth of free advertising.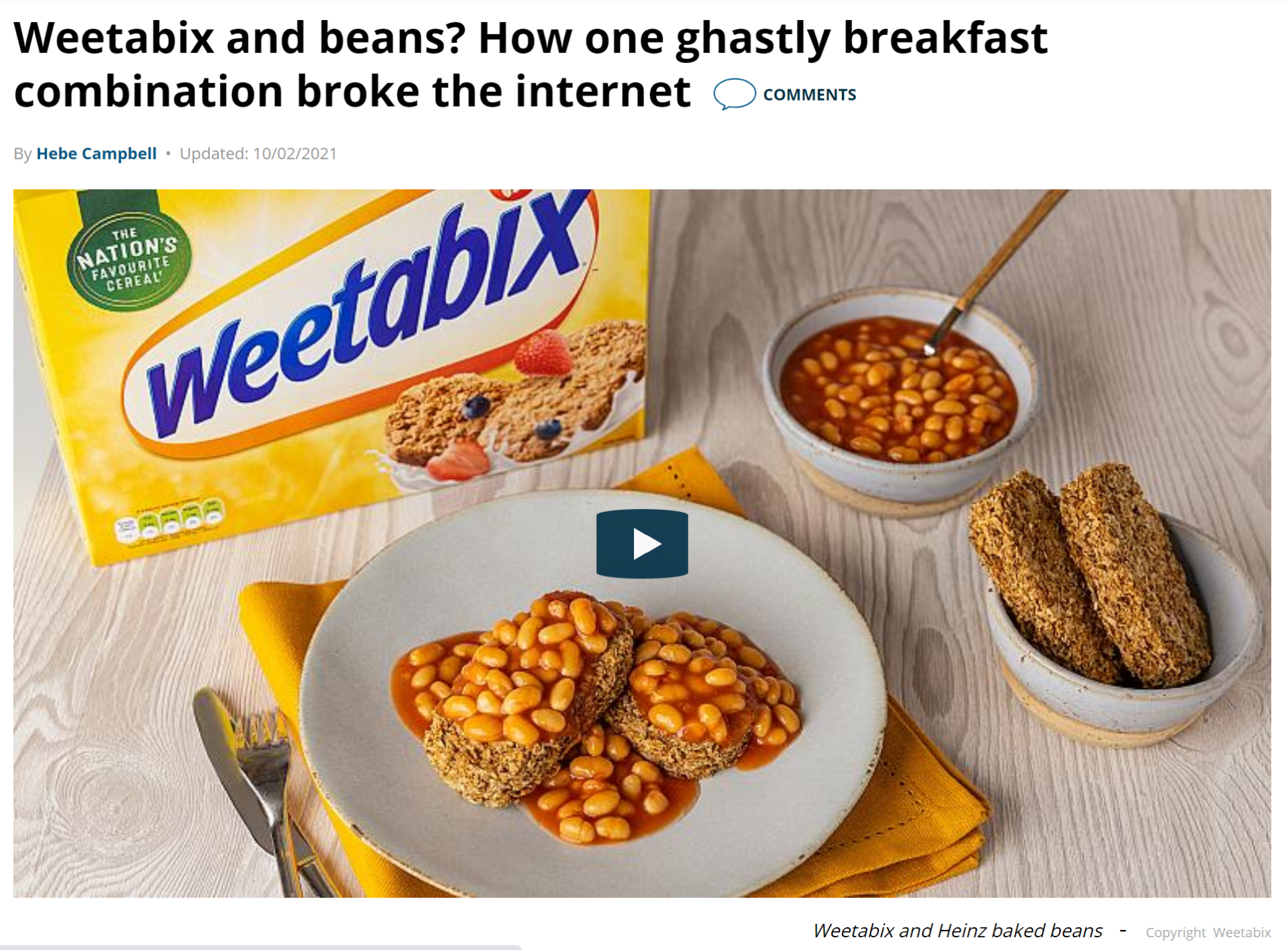 3- Enable product research
Your social channels can act as a resource for potential customers researching products. Search Engine Watch found that social media was used as a product research tool by over half of users.
For 16-24 year-olds, social media now out-competes search engines as their primary product research tool.
Ensure your social channels promote every element of your business so that customer research works in your favor.
4- Build brand relationships
Social media allows eCommerce companies to build closer relationships with their customers. It provides a rare opportunity to support and interact directly with customers through chatbots, which can be used to improve customer care. It also enables brands to promote their values and personality.
Let people know who you are and show off your brand personality. Just make sure that your brand tone of voice is authentic, and your posts are of value to your audience (whether that means educating, motivating, or entertaining them!)
5- Optimize sales with direct shopping
Direct shopping allows customers to purchase your products without leaving social media. Instagram, Facebook, and Pinterest now offer this feature, enabling frictionless shopping for those reluctant to follow links off their social site.
These seamless purchase experiences within social networks encourage spur-of-the-moment purchases by distracted consumers. As a result, low-cost, popular items see the most sales.
Facebook shops are customizable to reflect your business's branding, while Instagram Shop allows you to add product tags to pictures and live videos.
6- Provide social proof
New eCommerce brands often have difficulty promoting their trustability to potential customers. Social media allows the opportunity to provide social proof in the form of reviews, likes, and influencer recommendations.
By enabling review settings on your channels, customers can publicly rate and promote your brand. They can share your brand with their followers, or simply show their preference for your company by liking or following its page. This social validation can be the difference between your ad being clicked on or scrolled past.
Ensure you manage and monitor review pages, responding to all negative comments professionally. Poor complaint management in public settings can do a lot of damage to your brand. In comparison, positive reviews and other user-generated content can be used as promotional tools to further advertise your products.
 7- Benefit from relationships with other brands
Influencers provide further social proof by enabling your brand to be associated with their positive reputation. By sharing your brand they can instantly boost your reach to cover their own audience.
It's essential to pick an influencer who aligns with your brand and whose audience matches your desired audience. While the most popular influencers can be expensive to work with, collaborations with micro-influencers can cost you nothing more than product donations. Sprout found that over one-third of customers found new business accounts through Influencers.
In the example below, a musician has been paid to share an advert by the food brand Hello Fresh. It's likely that Hello Fresh identified that Popdust had access to one of their target audiences.
8- Listen to your customers and evolve using social data
Social listening allows you to see what your target audience is discussing. Use this information to develop your product range, marketing strategies, and customer service. It can also be used to identify new audience groups to tap into.
Social media provides a wealth of data that can be used to boost your marketing and sales strategies. Information on audience reach, likes, and clicks can all be used to help boost your return on ad spend. Find out more about what data to use.
"Social media allows us access to the unprompted feelings and opinions of users, something that quantitative researchers would generally have to collect through surveys or focus groups. This gives a huge scale of data available, in people's own words, for researchers to analyze." Pulsar Platform
9- Maximize ROI with great value, targeted advertising
Social media advertising is hugely cost-effective compared to traditional marketing techniques. With an increased ability to target advertisements, your campaigns will have significantly less wastage than print, radio, out-of-home, or television advertising, boosting return on investment (ROI).
From customer information like age and location to likes and attitudes, social media advertising can be incredibly specific, reducing your ad wastage. The better your understanding of your customer base, the more specific your targeting can be. The more specific your targeting, the greater your ROI.
Personally, I've spent a lot of time doing crafts and learning new skills through online courses recently. Social media is aware of that and now allows similar companies to advertise directly to me. I'm significantly more likely to sign up for one of these courses than most, making these targeted ads highly likely to achieve high ROI.
Had either ad been printed in a generic newspaper, or shown on a TV channel, there would be significantly more ad wastage as the ad reached both people interested and disinterested in courses and crafts.
Find out how eCommerce jewelry brands can best target their advertising on Facebook and Instagram in this article by our in-house eCommerce expert Alexander Skibinskiy.
10- Benefit from organic and paid traffic
Social media allows you to not only pay for features that will boost traffic to your profile but also enables marketing techniques that boost organic traffic. Organic social media strategies include promoting product reviews on your profiles, utilizing hashtags to help potential customers find your brand, and creating engaging content strategies.
To reduce the costs of success on social channels, ensure your organic social media marketing strategy is a priority, not an afterthought!
Conclusion
So have we convinced you about the benefits of social media marketing for eCommerce businesses? I thought so!
One word of warning, pick your channels wisely! It's no use spending time on Twitter when your audience is on SnapChat. Research where your audience is before investing in any social channel.
For advice on where to start with your eCommerce social media strategy, get in touch with our team.